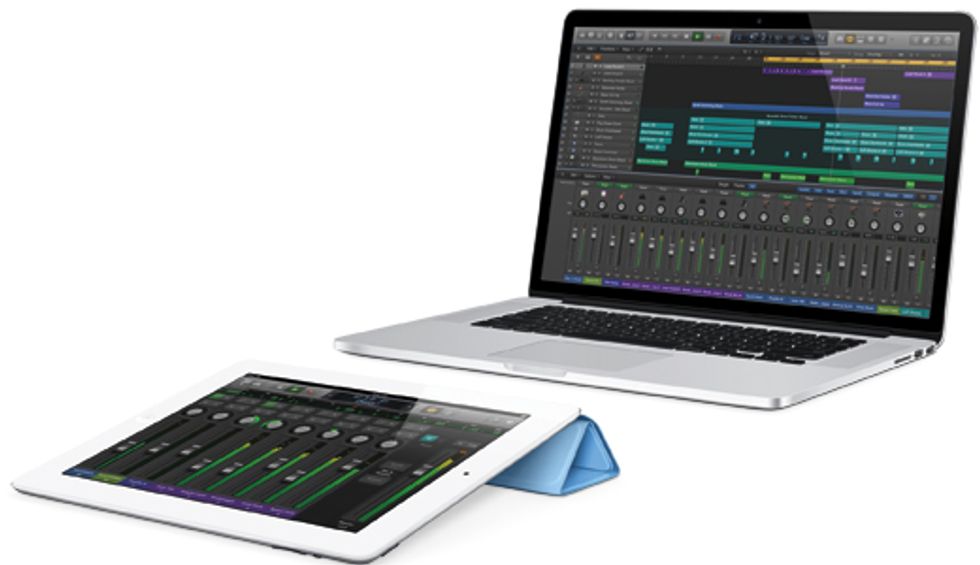 Recording suites such as Pro Tools, Live, Cubase, Logic, and their peers have grown so complex and competitive over the last few years that it can be difficult to pin down their individual personalities—especially with the quick pace of change in the increasingly micro-sized space. Even so, one of the most anticipated new releases in this niche is Apple's new Logic Pro X, which was announced July 16.
At risk of oversimplifying, Logic fans have always loved the program because, with its large included collection of plug-ins and virtual instruments, it excels as both a recording and compositional tool. It's also the digital-audio workstation (DAW) of choice for many musicians graduating from GarageBand, Apple's entry-level DAW. The just-released Logic Pro X (available for $199 from the Apple App Store) is one of the most ambitious Logic updates since Apple acquired it from Emagic in 2002. Over three years in the making, this version boasts a reimagined interface, powerful new recording and editing tools, innovative "smart" functions, and vast new sound libraries. It's also the first DAW to directly support Apple's Retina display and iOS (via Logic Remote, a free iPad app).
It's such an advanced recording suite that Apple's documentation runs well over 1,000 pages. So let's cut to the fretboard chase and talk about what's new here for guitarists and bassists. This overview focuses on three areas:
New and expanded guitar and bass plug-ins
New ways of choosing, creating, and combining guitar sounds
Other new features of interest to recording guitarists and bassists
A couple of caveats: Logic is a Mac-only product, and it only supports plug-ins in Apple's Audio Unit (AU) format. Furthermore, it requires Mountain Lion, Apple's latest operating system. It's also the first DAW to abandon support for 32-bit plug-ins (though you can expect the other DAWs to follow suit soon).
Also, a disclaimer: I'm a longtime Logic developer, so this article is not intended to serve as a Premier Guitar review of the application. We just wanted to be the first to bring you hands-on info on the guitar-centric aspects of this hotly anticipated release.
Here's a little video calling out some guitar and bass highlights. (If anything flashes by to quickly, don't worry—we'll revisit each area in more detail.)
With its charcoal gray background and saturated colors, Logic Pro X mirrors the look of Apple's other Pro Apps.

Guitar and Bass Plug-In Updates
For guitarists, the principal tone tools remain Amp Designer (an amp modeler), and Pedalboard (a virtual stompbox collection), both of which debuted in Logic 9. Their user interfaces are largely unchanged, though both can do a few new tricks.
Amp Designer's three existing mic models (Condenser 87, Dynamic 57, and Ribbon 121) have been joined by four powerful tone-shapers with highly contrasting EQ profiles—Dynamic 20, Dynamic 421, Dynamic 609, and Condenser 414. Watch the video below to hear how dramatically the tone shifts as I click through them.
Amp Designer, Logic's amp modeler, now offers seven virtual microphone models.

Meanwhile, Pedalboard introduces six new virtual stompboxes, including the plug-in's first two pitch-shifting effects: Dr. Octave, a Boss Octaver-style effect that doubles single-note lines an octave and/or two octaves below the played pitch, and Wham, a DigiTech Whammy-inspired effect that transposes your notes up or down by as much as two octaves.
Pedalboard, Logic's virtual stompbox collection, gets its first two pitch-shift effects, Dr. Octave and Wham.

Fans of spacier sounds will dig Flange Factory and Tie Dye Delay. The former is a more powerful version of Logic 9's Robo Flanger that lets you access secondary parameters such as sweep range and waveform type. There's also a manual control knob similar to the classic ADA Flanger pedal. Tie Dye Delay specializes in reverse reverbs, but it also has a tone control to simulate magnetic tape in varying states of health.
Attention, space cadets: Logic Pro X boasts a powerful new flanger and a trippy reverse-delay pedal.

Finally, Logic Pro X has two new virtual distortion pedals. Grit is a rough, ProCo Rat-flavored crunchmaker that excels at fizzy, '80s-rock highs. Tube Burner is a relatively subtle overdrive with two bands of quasi-parametric EQ and integrated bias and compression controls that can mimic the sputter of funky old germanium fuzz boxes.
Logic 9 introduced 10 virtual distortion and fuzz pedals. Now there are two more: the Rat-like Grit, and Tube Burner, a subtler but highly customizable overdrive.