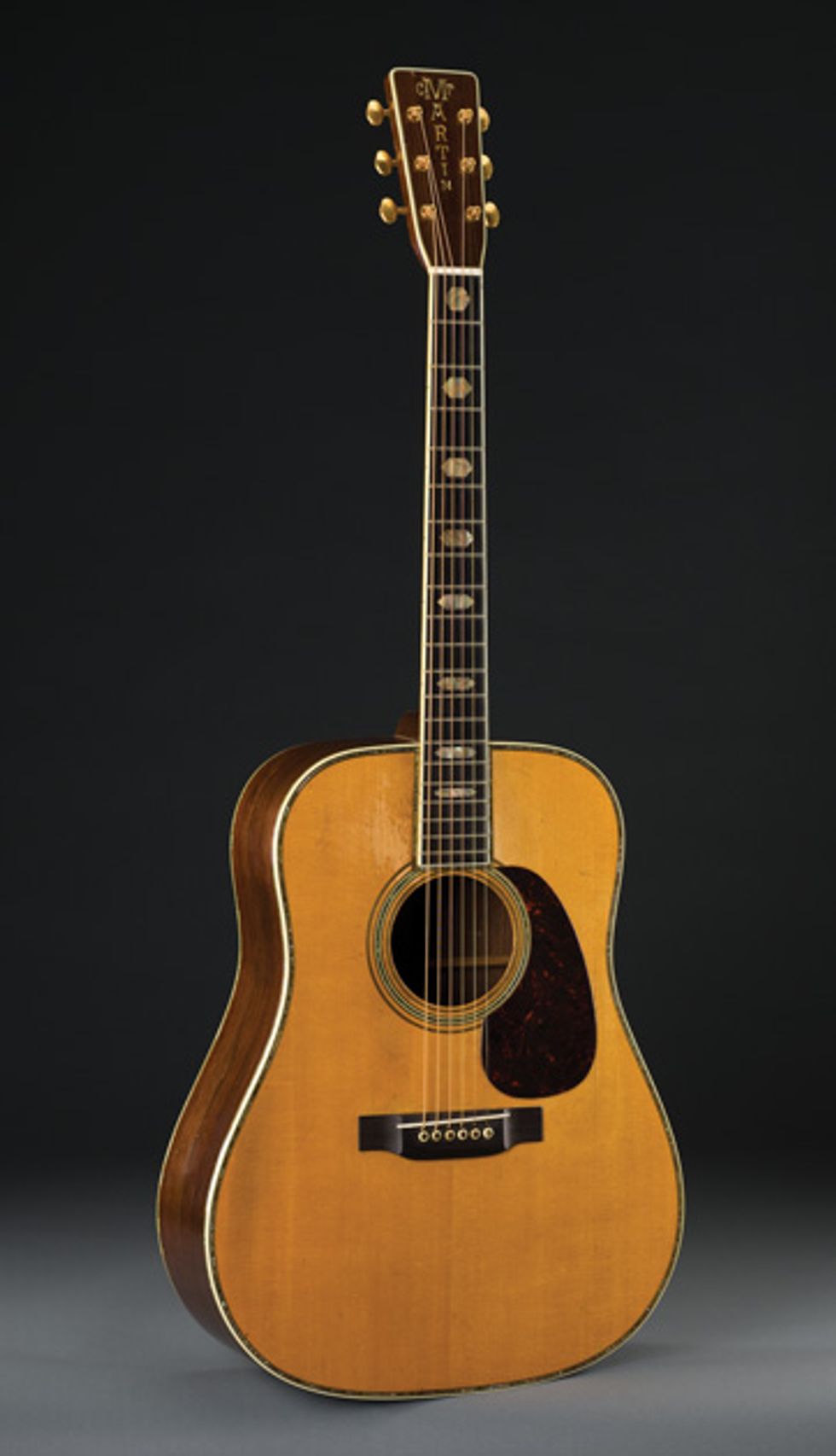 In 1933 Martin created a dreadnought-sized version of the top-of-the-line style 45 instruments, and the D-45 was born. It went on to become the most fabled of the great pre-war Martins. This 1942 specimen (#81578) resides in the
Martin Museum in Nazareth, Pennsylvania. Photo courtesy of C.F. Martin Archives.
In 1933, a singing cowboy from Oklahoma plunked down $200 and ordered a new guitar from the Chicago Musical Instrument Company. A few months later, he had the fanciest dreadnought Martin had ever built—the first D-45, serial #53177. Its structural features are familiar to guitar geeks everywhere: scalloped and forward-shifted x-bracing, Brazilian rosewood back and sides, Adirondack (red) spruce top, ebony bridge with ivory saddle, and a 12-fret neck with a slotted headstock.
But that description also applies to Martin's D-28, which was far more numerous in that era and only cost $100. What did the purchaser get for his extra $100? A lot of bling. His guitar had all the style-45 appointments—binding with abalone pearl inlays (on the top, back, sides, and neck heel), "boxed" inlay on the end piece, a completely bound fretboard with pearl inlays, a pearl inlaid rosette (as on the style 42), multicolored mosaic back strip, and an elegant torch headstock inlay by George H. Jones (aka "The Marquetrie Man") of New York. But the guitar also boasted extra pearl binding around the headstock and, inlaid in abalone pearl on the fretboard in script large enough to be seen from the back of the hall, the new owner's name: Gene Autry.
Total D-45 production from 1933 to 1942 was 91. Meanwhile, Martin built 148 D-28 guitars in 1937 alone.

At least one other musician was sufficiently impressed by Autry's new guitar to order one. In 1934, Jackie Moore (called "Kid" because he was only 12) ordered a D-45S (the Srefers to its special feature, a solid headstock). You might think that, with two famous players and all that bling, D-45 sales would have spiked. You would be wrong.
Pre-war D-45 sales were underwhelming. Martin didn't build any D-45s in 1935. In 1936 they built two custom models, #63715 and #64890, both designated as D-45S—although in this instance the S referred to a different special feature: a 16 1/4" body based on the F9 archtop. In 1937, Martin built two regular D-45s and a custom-ordered D-45S (#67460) with 12 frets and a solid headstock, a guitar that guitar dealer/historian George Gruhn remembers as "a particularly great one." The company built nine D-45s in '38, 14 in '39, 19 in '40, 24 in '41, and 19 in '42—the D-45's last year until its 1968 reintroduction. Total D-45 production from 1933 to 1942 was 91. Meanwhile, Martin built 148 D-28 guitars in 1937 alone.
Today, more than 80 years after Autry's D-45 was built, these 91 guitars are coveted by players and collectors worldwide. I wanted to learn what accounts for the fascination. Is it just their rarity? Are these pre-war D 45s famous only for being famous?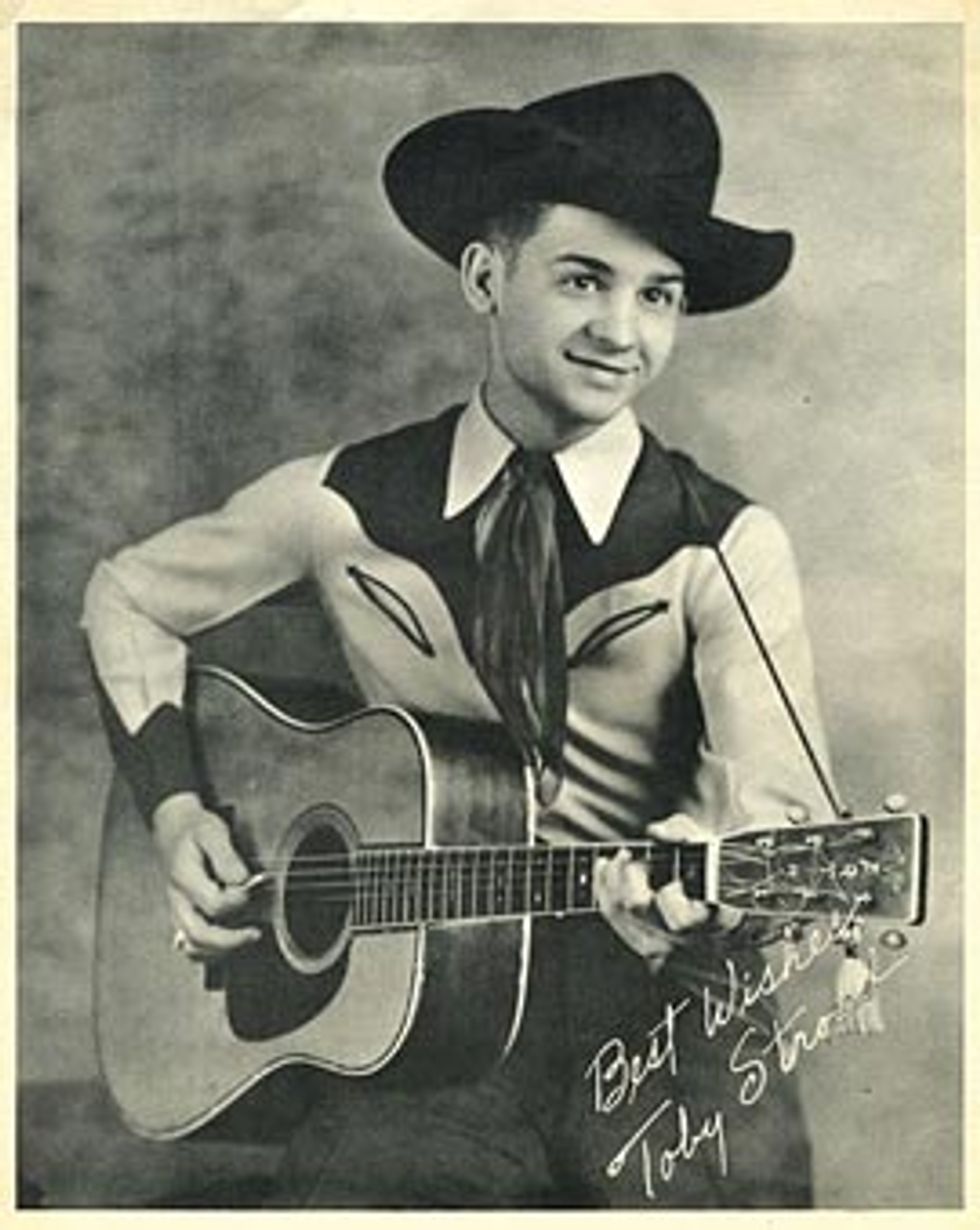 Toby Stroud was best known as a fiddle player—but he sure looks happy picking his beautiful D-45! Photo courtesy of C.F. Martin Archives.
Encountering a Classic
I pulled into Nazareth to find out. After a day with Martin Museum Director Dick Boak and the museum's 1942 D-45, I called vintage guitar historians, restorers, dealers, and players around the country. The first question I asked was, "What makes the pre-war D-45 such an object of desire compared to other vintage guitars, and even other vintage Martins?"
One thing quickly became clear: Martin guitars of the teens through the thirties have profoundly influenced many subsequent steel-string guitars builders. "My guitars are inspired by early American guitars," says luthier Kim Walker, who crafts rare guitars himself—his waiting list is over seven years long. "The American steel-string guitar has its roots in Martin. Even Gibson flattops are much more like Martins than they are like Orville Gibson's guitars."
Guitar historian John Woodland concurs. "From the mid teens through the mid '30s, Martin had their greatest period of innovation. To this day, the guitars designed during that period account for the majority of C.F. Martin's line. Many crucially important events happened during that time.Had they not, I doubt that Martin would have survived the Depression. The origins of the dreadnought can be traced back to 1915. The 45 series, Martin's most ornate style, dates to the beginning of the 20th century. Gene Autry was the first to request that they be joined, creating the first D-45."
Gruhn adds, "Martin guitars of that period are extraordinarily good—that's when they had everything just right. The pre-war Martin dreadnought, especially pre-1938, is considered the finest bluegrass guitar ever made—la crème de la crème."
Fred Oster, owner of Frederick W. Oster Fine Violins & Vintage Instruments in Philadelphia, has been involved with vintage instruments for more than 40 years. "These guitars were built by craftsmen who had been working for decades," he observes. "They had the best air-dried woods. They had generation after generation of accumulated knowledge. In the 1930s, the availability of the best in materials and that accumulated knowledge were present at one time and in one place."
One of the most remarkable things about these pre-war Martins is their structural stability over 80 years. It's impossible to know all the factors that account for this, but one might have to do with how the wood was seasoned. As Boak explains, "On the third floor and in the attic of the Old North Street Martin factory, there were racks for sets of spruce, mahogany, and rosewood for tops, backs, and sides. The warmth and relative dryness in the ceiling and attic helped season the wood."