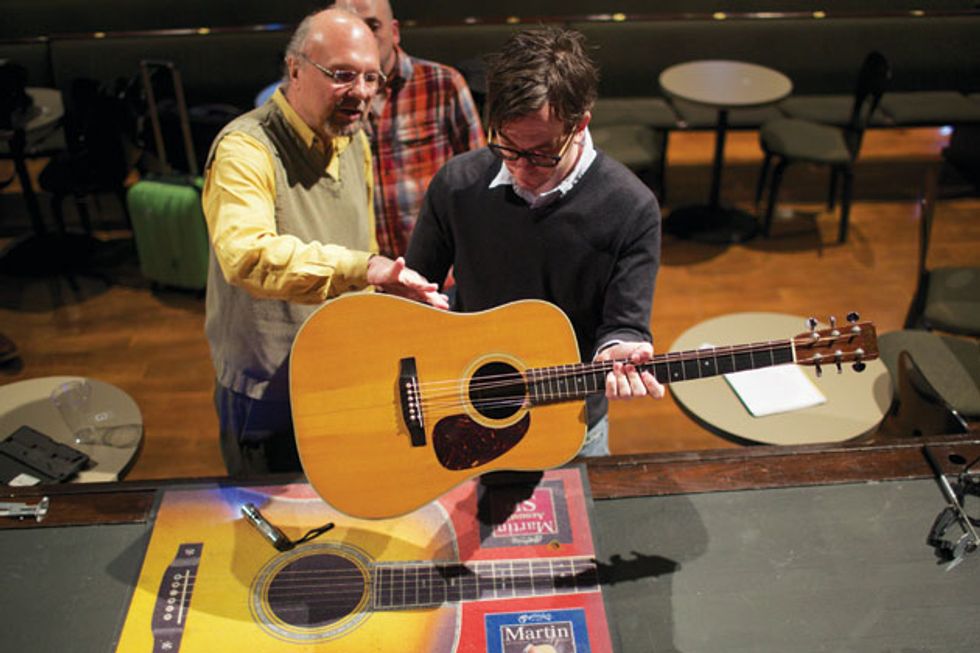 John Woodland inspects John Lennon's 1962 Martin D-28, the guitar Lennon used all throughout the 1970s
and on his last live performance. Photo by Zoran Orlic.
Leo Fender designed the Jazzmaster in 1958, and for 50 years musicians fell in love with its elegant shape and unique sound—and fell out of love with its temperamental and fickle bridge. A luthier and designer named John Woodland put in a lot of time thinking about this problem—and a lot of time trying to fix those challenging bridges. In 2008 he had a flash of brilliance. The result of that flash was the Mastery Bridge.
The Mastery Bridge seems to be everywhere now. It's on new and vintage instruments played by Nels Cline, Bill Frisell, Elvis Costello, Sean Lennon, Troy Van Leeuwen, Thurston Moore, Lee Ranaldo, and many others, and on boutique guitars from BilT, Fano, and others. "Before John," says BilT's Tim Thelen, "the best anybody could do was to use a modified Mustang bridge. If there was no Mastery Bridge, there would be no BilT guitars."
"When I do a design, I want as few parts on the guitar as possible, and I want those few parts to do a lot of things. I look for a simple and meaningful solution."

I met John, a recognized expert on the history of the American guitar, when I was researching an article about the pre-war Martin D-45 ["Pre-War Perfection," June 2014]. There was so much historical material to cover then that we didn't have time to talk about the accomplishment for which he is so well known among Jazzmaster and Jaguar players. But several months ago, between designing and prototyping the new Mastery Vibrato, John spoke with PG about Mastery Bridge and his life in music and lutherie.
How did it all start?
I'd been running the repair shop at Willie's Guitars in Saint Paul for 10 years, and had been working on the guitars of some very well known musicians who used Jazzmaster and Jaguar guitars. I did all the known mods to get the bridges to work, but when the guitars came back from tours, the tweaks were failing and the guitars were falling apart. I was frustrated by that and sick of maintaining the classic bridges—I wanted something bulletproof. One day I had a moment of clarity and quickly drew out a design for a two-saddle adjustable bridge with four intonation screws and posts that fit snugly in the diameter of the existing thimbles.
I'd known Jeff Tweedy a long time, but I didn't know [fellow Wilco guitarist] Nels Cline. One day Nels came in and we connected. I had a prototype of my new bridge design sitting on the bench. The saddles weren't even plated—they were plain brass. I took his Jazzmaster to the bench and leveled and crowned the frets, did some other adjustments, and put my bridge on. He was playing at the Dakota Jazz Club in Saint Paul with the Nels Cline Singers that night. I watched them play, biting my nails the whole time. At the end of the show Nels said, "I'd like to thank John Woodland, because what he did for my guitar today is incredible."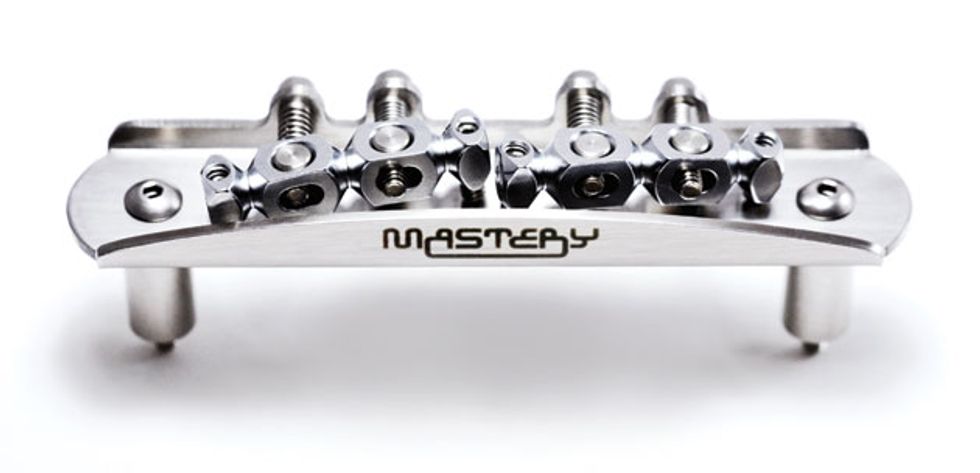 The Mastery Bridge uses four height-adjustment screws rather than 12, and fits Fender Jazzmasters and Jaguars
without body modifications.
Was that his famous '59 Jazzmaster?
It was a different vintage guitar he was using for that tour. Nels has around 15 Jazzmasters, I think. The famous "Watt" guitar [Cline purchased it from bassist Mike Watt] is actually a 1960 Jazzmaster, but so many people think it's a '59 that it just keeps getting referred to that way. Back then Nels and I were just getting to know each other, so I didn't work on Watt right away. After he'd been using the Mastery Bridge for a while, Nels told Sonic Youth about the bridge, and they started trying them too. I was experimenting with different materials and going through a product development stage for about eight months. At some point Nels turned Bill Frisell on to them. After that, Nels came to me and said, "You have to make this available to people." Until then, I had no plans to market the bridge. I just wanted a better solution for my own clients. Nels was the first professional musician to use it, though.