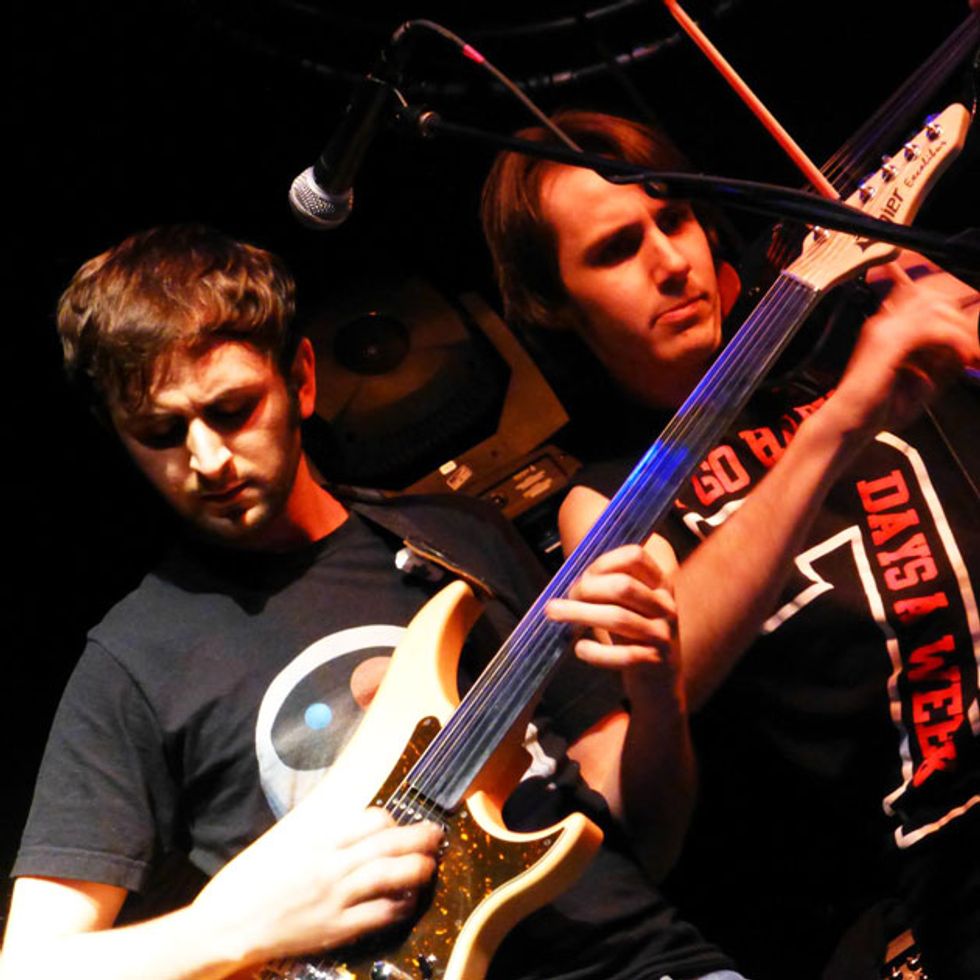 Tom Monda plays a Vigier Excalibur Surfreter fretless guitar. He insists it's not as hard to play as it seems.
"You just go for it and feel it out," he says.
North Jersey band Thank You Scientist serves up an eclectic stew of heavy alternative rock, unorthodox instrumentation, odd-metered weirdness, unabashed virtuosity, and accessible pop vocals. Amidst the madness stands wunderkind guitarist Tom Monda—Thank You Scientist's anchor, or chief culprit, depending on your perspective.
Monda is a monster who can hang with the shredders, nail intricate multi-finger double-handed hammer-ons, execute impossible lines at top speed and in unison with his band's violinist, employ an array of alternative and hybrid-picking techniques—and play his Vigier Excalibur Surfreter fretless guitar in tune and without breaking a sweat. He is equally at home playing standards in a straight-ahead jazz setting (on those gigs he uses a Gibson ES-335) or blowing through hard-bop classics like "Giant Steps."
Monda started his musical journey as an obsessive listener. As a child he spent hours rummaging through his father's record collection—Zappa, King Crimson, Yes, the Beatles, the Allman Brothers. "I started playing guitar when I was about 14," Monda told Premier Guitar. "Before that it never occurred to me that I could actually play music myself."
"There is something cool about the timbre of electric guitar and violin that I really dig. It just opens up possibilities."

But Monda learned fast. His first guitar was a beat-up Epiphone Les Paul. He played in garage bands and gained his musical bearings. He discovered the shredders—Steve Vai, Yngwie Malmsteen, Jason Becker—and practiced for hours and hours every day. He took classical guitar lessons, learned how to read music, and got his first taste of formal music education. He also studied with the then up-and-coming Ron "Bumblefoot" Thal. A few years later he had a bachelor's degree in music, a stream of gigs in disparate styles, and buzz-with-a-bullet with his band, Thank You Scientist.
Premier Guitar caught up with Monda on tour and between gigs to talk about his band's unique way of writing music, their influences, their new album Maps of Non-Existent Places, odd time signatures, gear, and his early days with Bumblefoot.
You studied with Ron "Bumblefoot" Thal when you were a teenager. How did that happen?
I was really into his music. I stumbled upon his solo guitar stuff and I was floored by it because it's so weird and cool. I was studying with a local teacher who knew Ron. He told me a couple of weeks into lessons, "I'm going to send you to Ron." He gave me Ron's contact information and I got in touch with him. I started taking lessons from him and that was a big musical turning point for me. We became friends and remained friends since then—I was 16—he taught me a lot about music and he was an important teacher.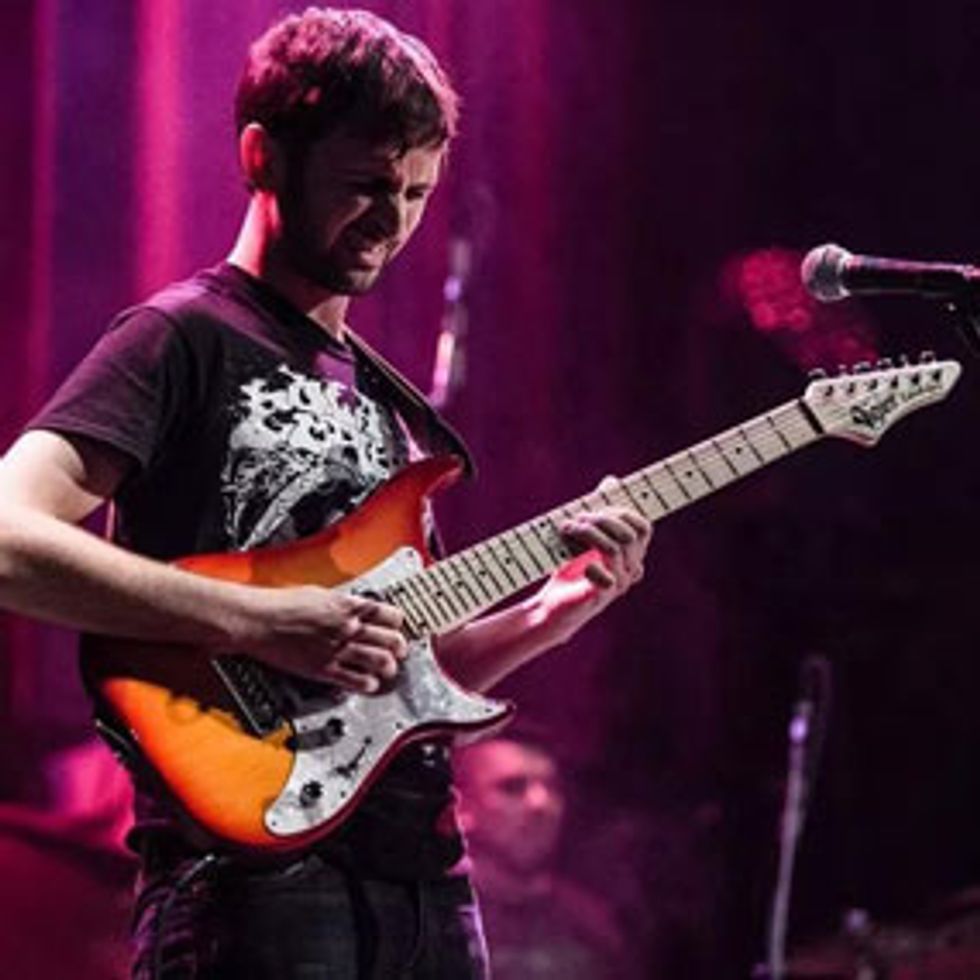 Monda's musical education included learning a little bit of every instrument—and studying guitar with fellow
New Jerseyan Ron "Bumblefoot" Thal.
Was Ron still a local teacher at that point?
He had solo records out and was doing his thing. He was producing a lot of bands but he was still a Jersey guy—a legendary Jersey guy—and he had a sizable following, especially in Europe. But this was way before he joined Guns N' Roses. He kicked my ass into shape about not just wanting to play guitar solos but learning how to write songs, learning about harmony, and all that essential stuff. I studied with him for a couple of years and then I got into jazz seriously. My degree is in music education with a jazz guitar concentration. I studied with a couple of great guitar players in college like Steve Benson and Dave Stryker. I also studied with Vic Juris for a number of years.
Did you study other instruments, too?
Yeah, and I think that was a vital part in shaping the sound of Thank You Scientist. I had to take orchestration classes and I had to learn a little bit on each instrument. Plus playing in jazz combos and doing jazz gigs on the side—writing for a [jazz] ensemble and in that context—I got used to having all those colors. I think that influenced Thank You Scientist in wanting to have all these other instruments that aren't normally in a heavy or semi-heavy rock band.
The instrumentation of the band is definitely unusual. Not so much having the horn section, but having the violin as well. Was that on purpose or did the band evolve that way?
That was on purpose. There was something about bands with violin that I really liked, like Frank Zappa's band with Jean-Luc Ponty, Mahavishnu Orchestra, and a few others. There's something cool about the timbre of electric guitar and violin that I really dig. It just opens up possibilities. We've been exploring the possibilities of the fretless guitar with violin. That's a really cool combination that's got a really unique sound to it because we can do the same kind of slurs, articulations, and cool sliding stuff together.