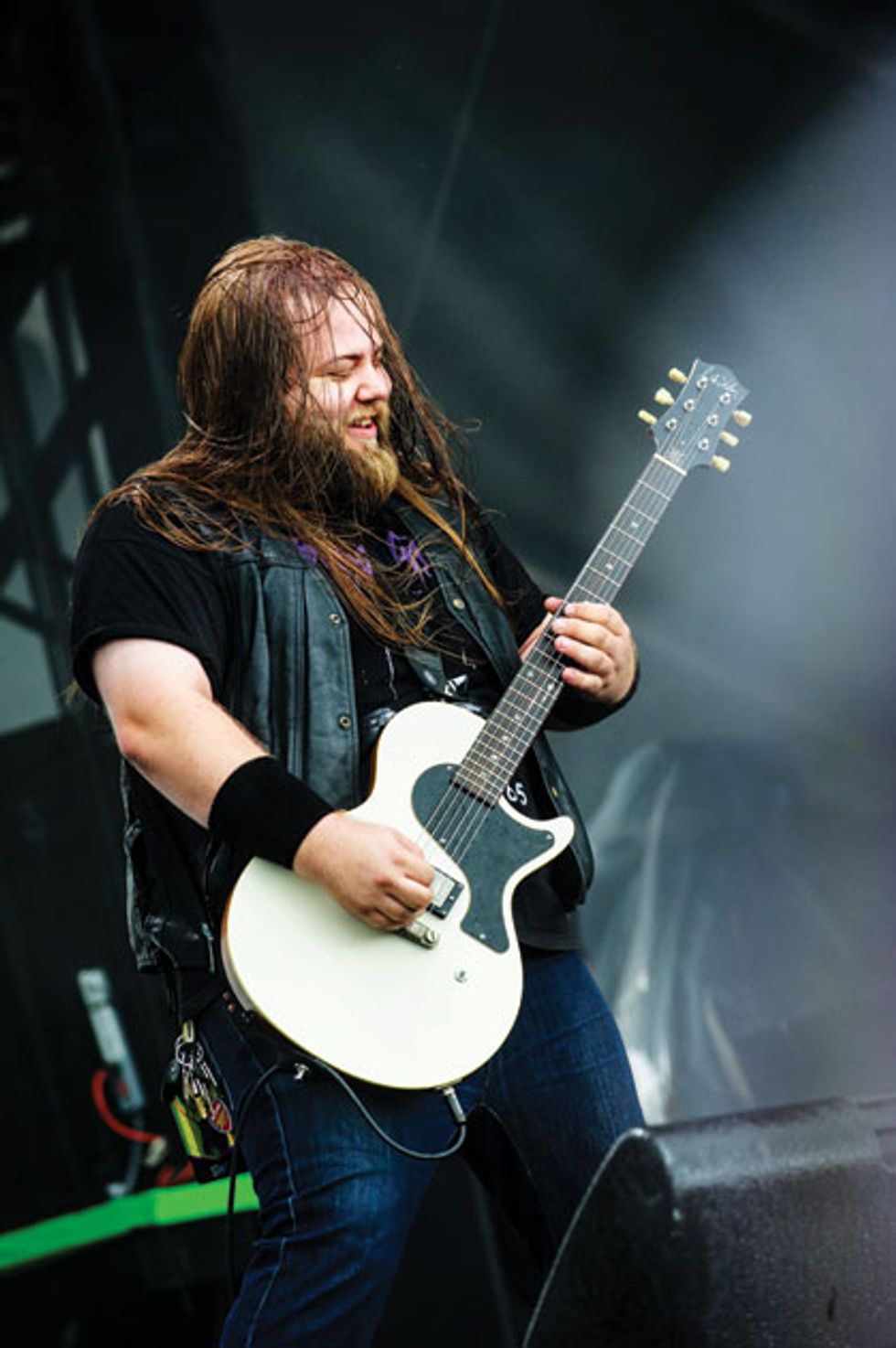 Along with his self-built guitar, this white Nik Huber Krautster was one of the main guitars Scott Middleton used on the Cancer Bats new album, Searching for Zero. Photo by Igor Vidyashev / Atlas Icons
Cancer Bats are a hardcore thrash-metal band from Toronto. The focal point of their all-out aural assault is the riff-heavy, pick-squealing, low-tuned playing of sole guitarist Scott Middleton. But for all the Cancer Bats' unrestrained energy and audience mayhem, Middleton is no guitar-smashing punk. He travels the world with an arsenal of high-end gear and a seemingly endless supply of boutique effects. And his tone is righteous.
Middleton started playing guitar at 11. "I bought Metallica's Black Album and just loved every song," he recalls. "I decided, 'I need to buy a guitar.'" He convinced his father to get him a cheap SG knockoff a neighbor was selling. "The guy threw in a Rolling Stones songbook, and that was the clincher," says Middleton. "My dad is a Stones fan."
Middleton and lead singer Liam Cormier started Cancer Bats in 2004. They toured North America nonstop and settled on their current lineup (with Mike Peters on drums and Jaye Schwarzer on bass) after recording their second album, Hail Destroyer, in 2008. It was a watershed album, earning top reviews in the metal press, millions of YouTube views, and a 2009 Juno nomination for New Group of the Year. (The Junos are Canada's Grammys.)
"To start with blocks of wood and then build an instrument that you write songs with is such a cool feeling."
But Cancer Bats don't rest on their laurels. After recording four albums with the production team of Kenny Luong and Eric Ratz, last summer they tried something new and hired legendary nü metal producer Ross Robinson (Korn, Limp Bizkit) to record their fifth album, Searching for Zero. The album continues in the heavy tradition, but breaks new ground, thanks in part to the influence of the band's alter-ego: Bat Sabbath, a Black Sabbath cover band. "We did a double headlining tour playing an hour of Cancer Bats and then an hour of Black Sabbath covers," says Middleton. "We co-headlined with ourselves."
Middleton is also a gear fiend. He loves to tinker with new equipment and spends days in the studio sculpting sounds and nerding out with gear. He has close relationships with various guitar, amp, and stompbox manufacturers. Just don't ask him to play a 7-string. "Guitars have six strings," he states. "Anything more than six strings is a harp as far as I'm concerned."
PG caught up with Middleton to discuss working with Ross Robinson, the quest for the ultimate guitar, studying lutherie in Spain, and Middleton's globe-trotting search for cool boutique gear.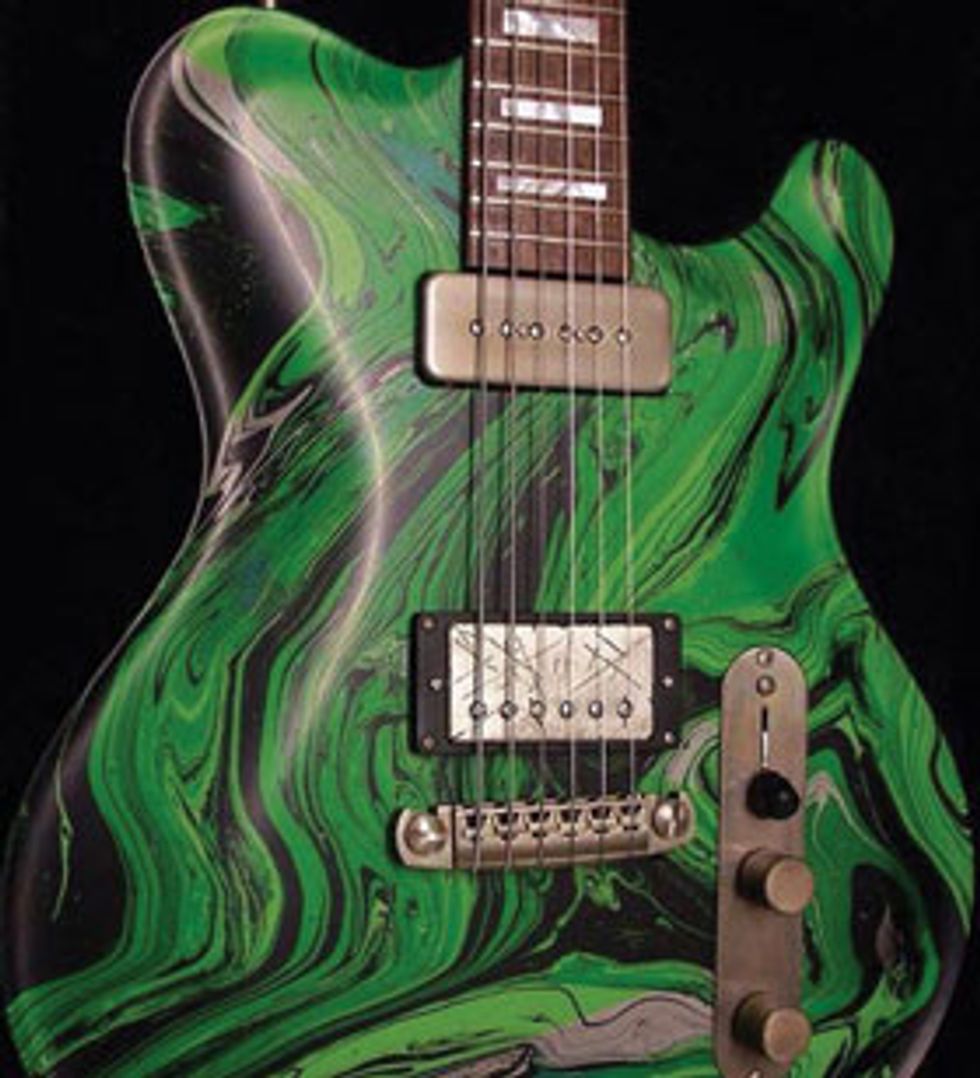 Middleton calls his latest Nik Huber guitar the Das Grüne Omen—the Green Omen. It's based on Huber's Twangmeister model and has a T-style body, carved top, and rosewood neck and fretboard.
Did you tour like crazy in the early days?
Pretty much our whole career. We come from the hardcore punk scene and that whole DIY ethic. We weren't thinking about big labels or tour support or any of that stuff. It was just natural for us to start bands, record our own demos, make our own merchandize, tour in a van, and just go and go and go. When things started happening and we got all these opportunities, we said yes to every single one of them. We made sure that we didn't have time to work jobs. We made the band our life and toured 200 to 300 days a year. Once we broke into Europe we were playing even more, and that opened up this whole world for us. When you're an independent band starting out, you have to get out to people. That's how you push yourselves on new audiences. And it's how you make your living, too.
You have great tone. How do you achieve it, and what do you do to distinguish your sounds between songs?
For our first four albums the one constant was my Diezel Herbert amp. I also used, starting with Hail Destroyer, [Canadian-made] Morris Amps. Glen Morris is a great guy, a local builder who's been repairing and modding my amps since I was quite a bit younger. He does all his stuff point-to-point, and he can sit with me and customize the sound coming out of the amp. He made something that complemented my Diezel perfectly. We would record both amps together and occasionally add a third amp on top for a little sprinkling of special sauce, or whatever.To differentiate tones, we audition many guitars. I would have five or six guitars with me in the studio, and we'd do a pass of the main riff with each one. Then we would blindly listen and see which one felt best in the track.
That must take a lot of time when you're recording.
Yeah, that's how we did the first four albums. Our new album with Ross Robinson was a bit different, though we still tried different guitars. I have a guitar collection now, and each guitar makes me want to write a different kind of song. I play differently on certain guitars. Now I know what the go-to guitar should be about half the time.