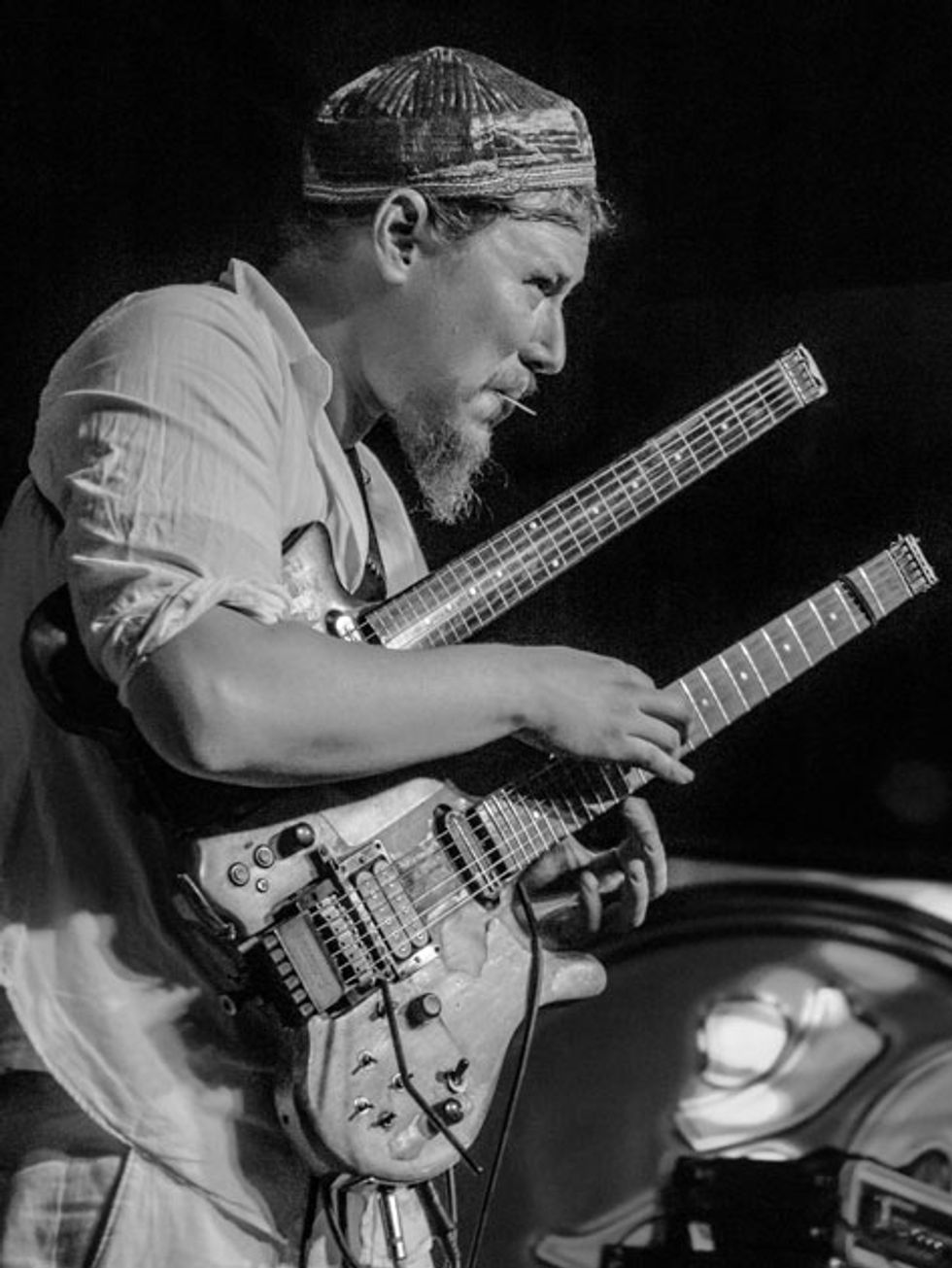 Photo by Scott Harris.
Consider the Source's music is an eclectic mix of '70s fusion, traditional Middle Eastern and Central Asian styles, prog weirdness, and metal intensity. Guitarist Gabriel Marin boasts insane chops, impeccable time, mastery of diverse traditional scales, rare fretless guitar fluency, and a gift for manipulating effects. He's also a hardcore gear junkie who tours with three pedalboards, 17 pedals, two guitar synthesizers, two amps, and a well-worn Jim Kozel custom doubleneck.
New York native Marin started on piano and picked up guitar at 16. A year-and-a-half later he was playing Yngwie licks. He earned a bachelor's degree in classic music from Hunter College, is a disciple of Indian master musician Debashish Bhattacharya, and studied with David Fiuczynski. "I saw a video of [Dave's] band Kif," Marin told Premier Guitar. "And I said, 'That. I need to get with that guy.'" Marin also plays an assortment of traditional acoustic instruments including ba?lama saz, kamancheh, dombra, dutar, tanbour, ?àn b?u, etc.
"Then I heard McLaughlin and Coltrane, and they were playing so well. They meant every note and there was no bullshit, even though they were playing super fast."

Marin and his bandmates—thumpmaster/bassist John Ferrara, and drummer/percussionist Jeff Mann—work non-stop. They tour relentlessly, and their upcoming album, World War Trio, will feature over two hours of new music. Its predecessor, 2014's World War Trio (Part 1) EP, showcased the band's prog chops and included the 25-minute composition "Put Another Rock in That Bag." The group recently reworked and recorded their first cover, Radiohead's "Paranoid Android." "The same language we use to write one of our own songs, we apply to a beautiful existing song," Marin says. "It's a really heavy tune for having been a hit song, so it was really fun to do."
PG caught up with Marin on tour in New England to discuss fusing traditional and modern music, fretless guitar, Marin's new custom Vigier doubleneck, Paul Vo's innovative new MIDI guitar pickup, traveling with so much gear, and the tao of playing really fast.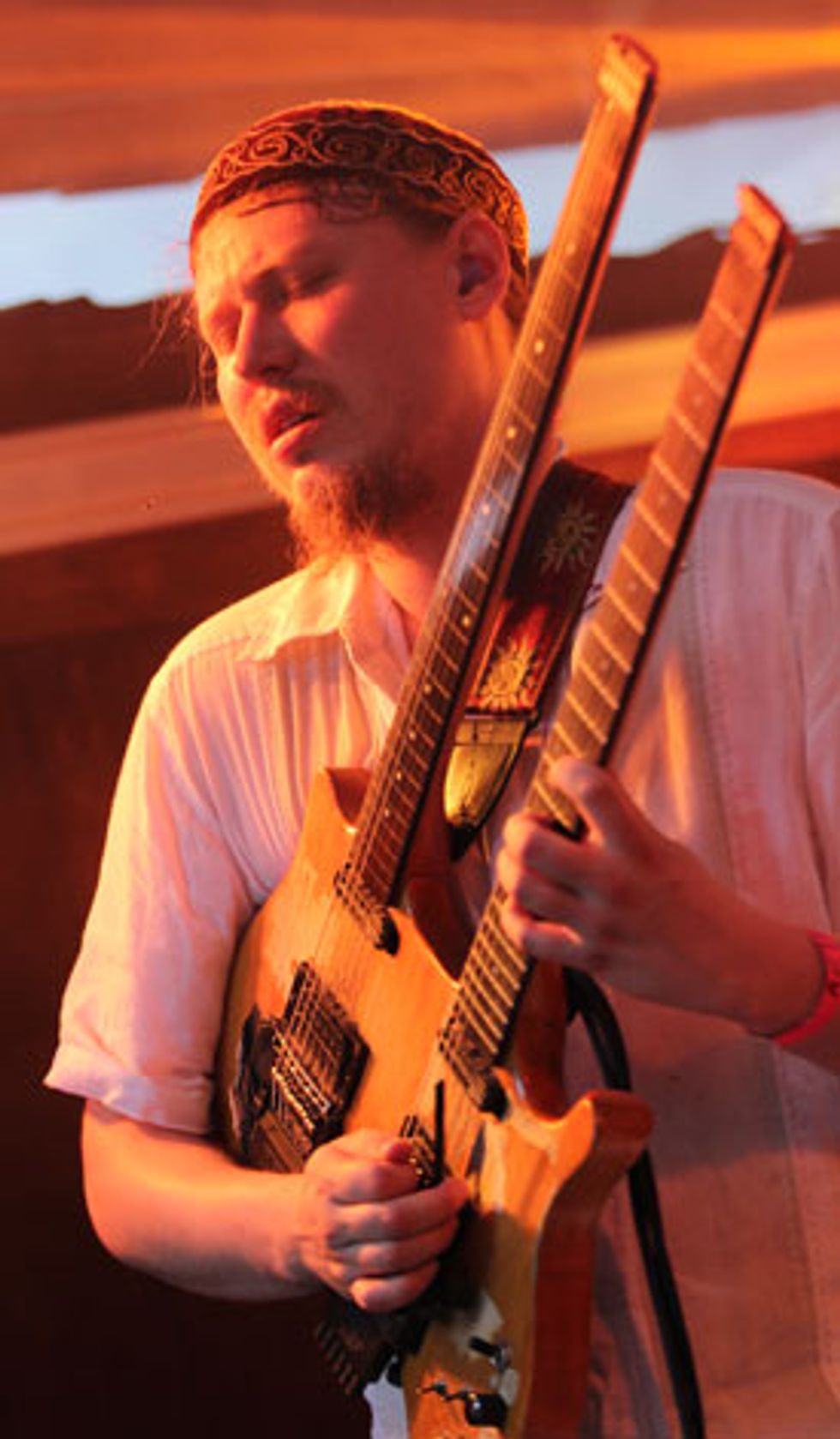 Photo by Greg Horowitz.
Who were some of your influences?
When I started off I was more into the rock thing, but I was always into different world stuff too. At first my influences were grunge guys and shredders. Jerry Cantrell and Billy Corgan were the grunge guys. I also liked Yngwie [Malmsteen], John Petrucci, and Steve Vai when I was a teenager. It gave me a lot of chops learning to play like that. I was 17, I'd been playing guitar like a year-and-a-half, and I could play Yngwie's "Far Beyond the Sun." I was like, "Oh, I can play anything!" [Laughs]. But then I heard [John Coltrane's] A Love Supreme and John McLaughlin within a two-month period, and it totally changed my music. The chops were so there, but it seemed to mean more. When Coltrane was playing fast lines, it wasn't, "Look at me playing this fast line." It was just a spiritual explosion of notes. I thought, "Okay, that's what I want to do." I was always uncomfortable with the shredders who put on a show—they would make faces and hold their guitar funny and stuff like that. That didn't speak to me. And then I heard McLaughlin and Coltrane, and they were playing so well. They meant every note and there was no bullshit, even though they were playing super fast.
You also play super fast.
I talk really fast. I say a lot of words. I play really fast, and I play a lot of notes. That's just the way it is. Some cats can say something concisely. It just takes me a while to get everything in.
You play many traditional acoustic instruments. How much of that comes out in your electric playing, in terms of techniques, scales, and modes?
That's a good question. The scales and modes, 100 percent. Anything I play ends up sounding like an Eastern instrument because of the trills and slides that are integrated into my playing from the last 10 years or so. It's just how I play now. But the right-hand techniques—like from the dombra and dutar—I can't really put those on guitar. It's funny, I'll play dombra or dutar or even saz for a couple of hours, and then pick up the guitar and expect to be ready to play, yet it seems as if I haven't played at all yet. It's just totally different.
I think that to do the fusion stuff right, you have to really get inside whatever music you're trying to fuse. I can perform a concert of Turkish or Persian music authentically, but then [with Consider the Source] I do things that would be considered weird. But I know that I'm doing that. I think it's important to learn to speak the language the right way first, and then do your own thing.
Once when I was studying Indian music, we were playing this raga. I ended it and, without even thinking, I slid from the minor third to the major third and kind of shook it. It was a little bluesy thing, and it sounded awesome. And my teacher yelled at me for 30 minutes about that because he viewed it as almost disrespectful. That really changed me. I decided, "Okay, when I'm learning this stuff, learn it the right way. When I'm performing it away from this, do whatever I want to it. But keep that separate."