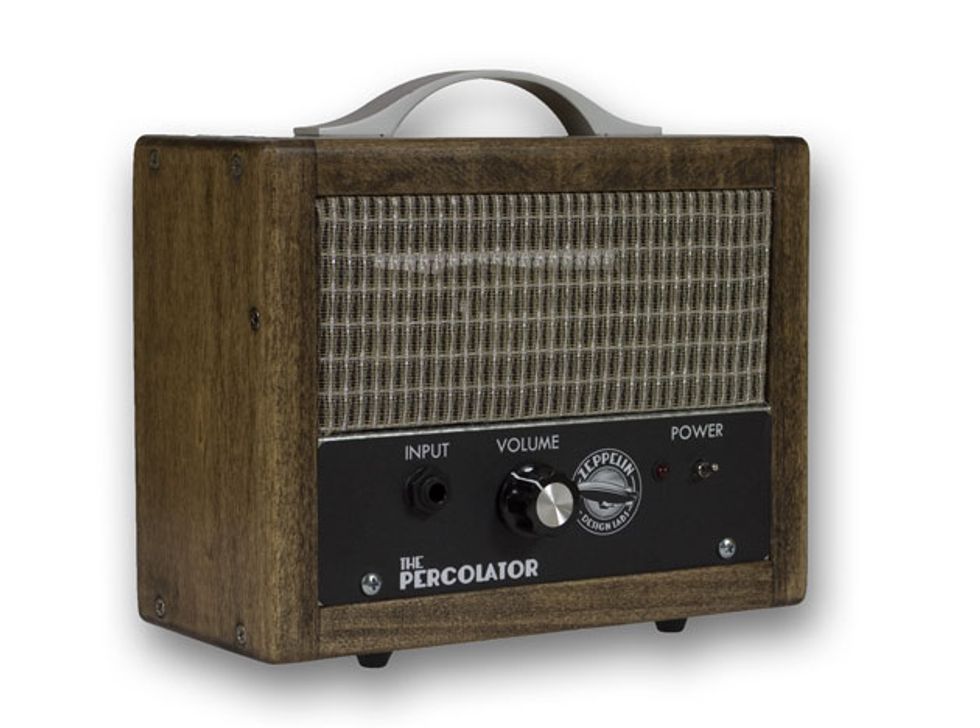 Chicago, IL (February 19, 2015) -- Zeppelin Design Labs of Chicago has released the Percolator, a 2-watt tube amp kit for electric guitar, cigar box guitar and harmonica. A matching 1x8 speaker cabinet is also available. Both products are offered as kits, or prebuilt and finished, which is unique among bedroom amp kits.
ZDL's designer Brach Siemens says his top priorities in product design are style and function. Stylistically, he aims for a classy, vintage look, utilizing lines, colors, textures and forms reminiscent of early 20th Century design. Regarding function, Siemens is himself an avid kit consumer and keeps a keen eye on ease of construction, high performance, and durability.
Features:
Unique one-tube design (NOS Compactron); the tube's internal topology is the same as the Fender Champ, but in one bottle!
Tone that ranges from cool and clear through warm and crunchy.
Beautiful solid wood cabinet can be styled and finished for a custom look.
Extensive, detailed online construction manuals and companion videos.
1x8 Cabinet includes a 25-watt Jensen C8R speaker.
Perfect for bedroom, apartment, project studio, or jamming with friends.
Direct sale to the consumer for attractive pricing.
The Percolator sells as a kit for $259; assembled and finished for $349. The 1x8 cabinet sells as a kit for $89; assembled and finished for $149.
For more information:
Zeppelin Design Labs