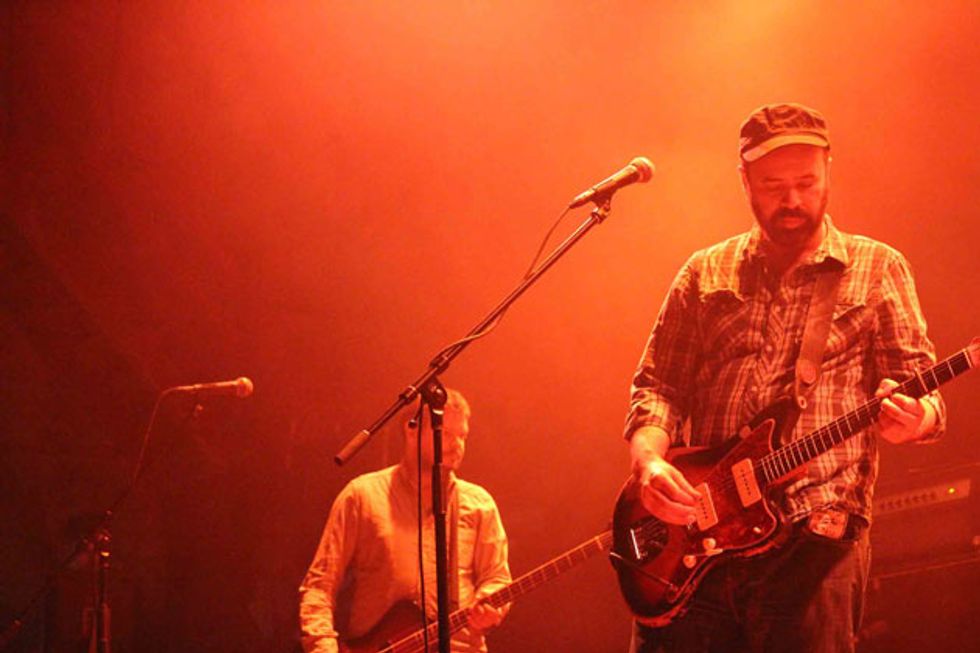 Adam Franklin's main guitars are a pair of original '62 Jazzmasters, but he also owns a rare Shergold Nu Meteor that he says is still in great condition. Photo by Liv Niles
Every decade or so, psychedelia returns in one form or another. Today, bands like Tame Impala, Temples, and Oracles carry the paisley-tinged torch. But back in the early '90s, the leading practitioners of lysergic guitar freakouts were Britain's so called "shoegaze" bands: My Bloody Valentine, Slowdive, Ride, Moose—and Swervedriver. (The disparaging "shoegaze" label stemmed from the accusation that the bands were more concerned about tapping the correct pedal than engaging the audience.)
Formed in Oxford, England, in 1989 by Adam Franklin and Jim Hartridge, Swervedriver came out of the gate swinging. "Rave Down," with its pounding guitars and machine-gun drumming, had as much in common with early punk as with psychedelia. Anyone yet to experience the one-two-three punch of Mezcal Head's opening tracks, "For Seeking Heat," "Duel," and "Blowin' Cool," is in for a grand sonic assault.
After a 10-year break, the band hit the stages again in 2008, leading the way for the current shoegaze revival. They've just released I Wasn't Born To Lose You, their fifth album, and their first since 1998's 99th Dream. Many fans consider the new record to be one of the band's finest moments. We sat down with Adam and Jim after a string of shows at the South by Southwest festival.
Who are your influences? Adam Franklin: Well, you have to love Jimi Hendrix. Marc Bolan's an interesting case. The other night I spoke with Steve Kilbey of the Church, who is a big T. Rex fan. We agreed that when Marc was doing acoustic stuff, he used really weird structures. Then he learned to play electric guitar and became less imaginative in a way. He became more rock 'n' roll, playing lots of E and A and blues scales. He was still a great songwriter, though. Sonic Youth and Dinosaur Jr. were influences as well. It was great that J Mascis could do something so melodic and noisy at the same time. And the Stooges of course.
Jim Hartridge: James Williamson! He's one of our original influences. We still play Stooges songs at soundchecks. He's also Johnny Marr's favorite guitar player, which is bizarre, isn't it? Johnny's such a light player, and James plays so hard.
"Everybody used to mention that we layer our guitars. I always thought, 'Why wouldn't you?'" —Adam Franklin

Franklin: He's intricate as well, though. You can hear it on the acoustic songs on Raw Power.
Did they influence the entire Oxford scene? Franklin:I don't know really, but I think of Ride as sort of a cross between the Stooges and the Byrds.
Swervedriver was the heaviest band in that scene. Did you guys feel like outsiders? Hartridge: Have you seen the film Anyone Can Play Guitar?It's about the Oxford scene, and how cohesive it was. At the very end there's a clip of me saying, "Ah, there wasn't really a scene at all, was there?" [Laughs.] But from the American point of view it might have looked like a scene, because the entire U.K. is a relatively small area.People know each other.
How did you two meet? Hartridge: Same primary school, same secondary school, same college and further education.
Did you grow up playing guitar together? Franklin: No. The first band I was in was with Si Quinn on guitar. His brother, Mick, was in Supergrass. Mick is playing bass with us on this tour, actually.The first time I ever played electric guitar was at his house when I was 16. His older brother, Simon, was in the Suspects. Mick asked me to join, and I said yeah, because I had a guitar, but no amp. The first riff I played through an amp was "Silver Machine" by Hawkwind.
Hartridge: I was in a rival band called the Bogarts, and we rehearsed in the same place. I was in a band with other people in the same circle. Our "Wheatley Scene." [Laughs.] Wheatley is a village outside Oxford.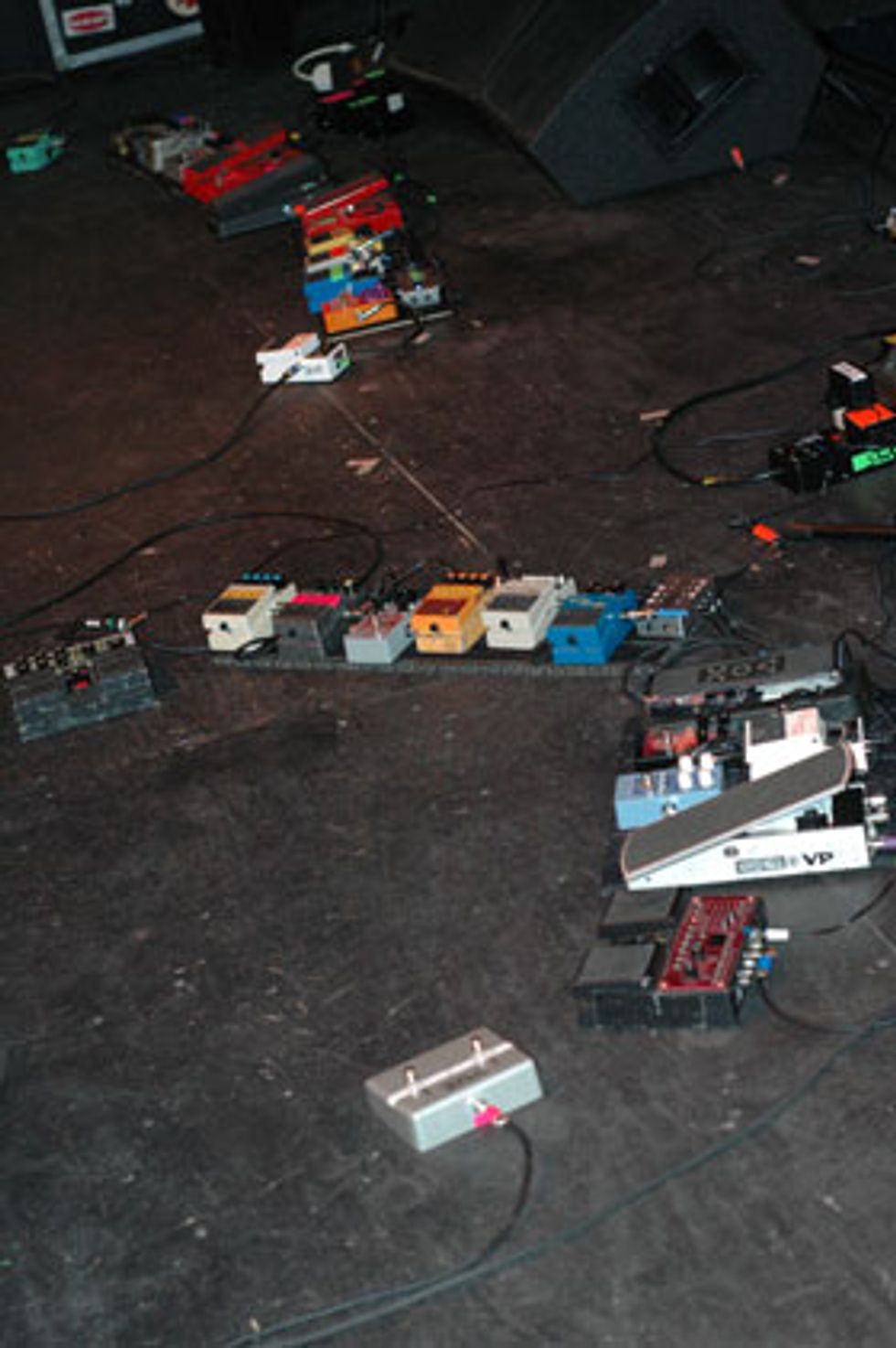 Adam Franklin and Jim Hartridge arrange their pedals in semicircles. Pedalboards are "just too dainty," says Jim. Photo by Alex Maiolo
When did you two play together? Franklin: We were a bit bored with our bands. It was the discovery of the Stooges that really kicked things off. At our first gig we played "Search and Destroy," "Chinese Rocks," "Louie Louie"—Stooges-style—and "Ramblin' Rose." That's it. When I was in bands before, if I did a guitar solo, it would be sort of like Hugh Cornwell from the Stranglers, or Robby Krieger. You can tell that they've worked it out in advance, whereas Jim would go off on an improvised thing. I was thinking, "How the hell does he do that?"
Hartridge: Maybe it was just laziness, never really bothering to work things out.
As things came together in what would later be known as "shoegaze," did you feel the bands involved had a common goal? Hartridge: Yeah. We moved to London, and suddenly we were surrounded by all these other bands, many that had moved from other places. There was also the "lurch" scene, which was London's equivalent of grunge—bands like Silverfish, Th' Faith Healers, Milk, who were doing much heavier things. "Shoegaze" was first used to describe a Moose show. There were light bands, like Slowdive, and heavy bands. We were friendly with all of them. I think we fell in the middle.
Franklin: Everyone was of the same mindset.We all mixed at the same pub in Camden: The Falcon.
Many of your songs are effects-driven. Do you compose with effects, or are they the icing on the cake? Franklin: We embellish massively with effects, but I think you could get away with playing our songs around a campfire on an acoustic.
Did producer Alan Moulder influence your sound? Franklin: Yes. Of course, we didn't know what we were doing, and Alan really does. We needed somebody to steer the ship in terms of production, and he made things sound big.
Hartridge: We'd get a good take, and Alan would say, "Okay, go away for a half hour." When we came back, everything sounded absolutely huge. It was like, "How the hell did you do that?" He got all the frequencies right. He found a space for all of the guitars. That's his forte, really: finding a way through the dense forest of sound.
Franklin: John Catlin, Alan's protégé, did I Wasn't Born To Lose You at Alan Moulder and [producer] Flood's studio. I assume he used our older albums as a reference point. Everybody used to mention that we layer our guitars. I always thought, "Why wouldn't you?" It seems pretty stupid to be in the studio and not do that for this kind of music. Anyway, John's got the same skills at placing guitars and all the percussive stuff after working with Alan for so long. He did a great job.