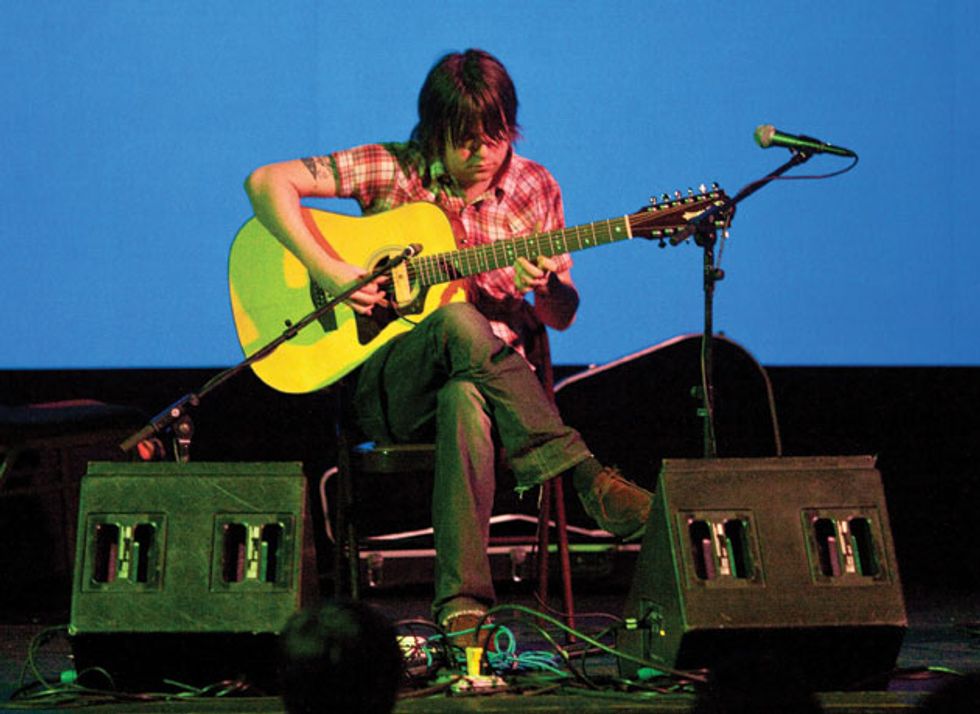 Blackshaw's first instrument was piano. "I used to play 12-string a bit like playing the piano with the sustain pedal held down—lots of open strings, never really bending the strings—and using similar kinds of chord progressions
and arpeggio patterns." Photo by Tim Bugbee / Tinnitus.
British musician James Blackshaw is one of the brightest new voices to emerge in the fingerstyle solo guitar resurgence of the last decade. In 2003 he made his solo debut with Apologia, which he self-released on CD-R and sold at the record shop where he worked in London. Reissued digitally and on limited-edition vinyl last year, the album finds Blackshaw playing 6-string tributes to American Primitive guitarists John Fahey and Robbie Basho, as well as country-blues pioneers like Mississippi John Hurt and Reverend Gary Davis.
By the time he released his second album, 2004's Celeste, Blackshaw had picked up the 12-string guitar and begun to explore gradually unfurling, longer-form pieces with suggestions of raga and British liturgical music, a direction he'd follow on Lost Prayers and Motionless Dances (2004), Sunshrine (2005), O True Believers (2006), The Cloud of Unknowing (2007), and other solo albums.
After years of investigating the 12-string, Blackshaw began to focus on playing nylon-string guitar and piano, and composing small chamber works. This creative shift yielded Love Is the Plan, the Plan Is Death (2012) and his 2014 score for the silent French film, Fantômas: Le Faux Magistrat.
It's not like I've never sung before—I often have in the privacy of my own home over the years—but doing it on a record,
doing it in public … terrifying!

Containing a handful of smart pop songs, Blackshaw's latest album, Summoning Suns, is even more of a departure. It's the first time he's written lyrics, let alone sung them. But the album's instrumental selections show that Blackshaw hasn't totally abandoned the 12-string guitar and the evocative sounds he creates with it.
PG recently spoke to Blackshaw to learn more about the 34-year-old's creative odyssey and how singer-songwriters like Harry Nilsson and Warren Zevon figure into his musical evolution.
Describe your formative musical experiences.
My mum bought an upright piano when I was little and I used to love playing around with it. I couldn't really get the coordination between my left and right hands, so I'd usually end up just writing a simple melody line or trying to copy something I'd heard on TV or on the radio.
My parents used to listen to stuff like the Rolling Stones and Neil Young all the time, so I grew up listening to music like that too, and when I was 10 years old, I asked for an electric guitar for my birthday. I never had lessons and didn't even figure out how to tune it properly for a while, so even back then I was coming up with alternate tunings so I could just use one finger and play barre chords.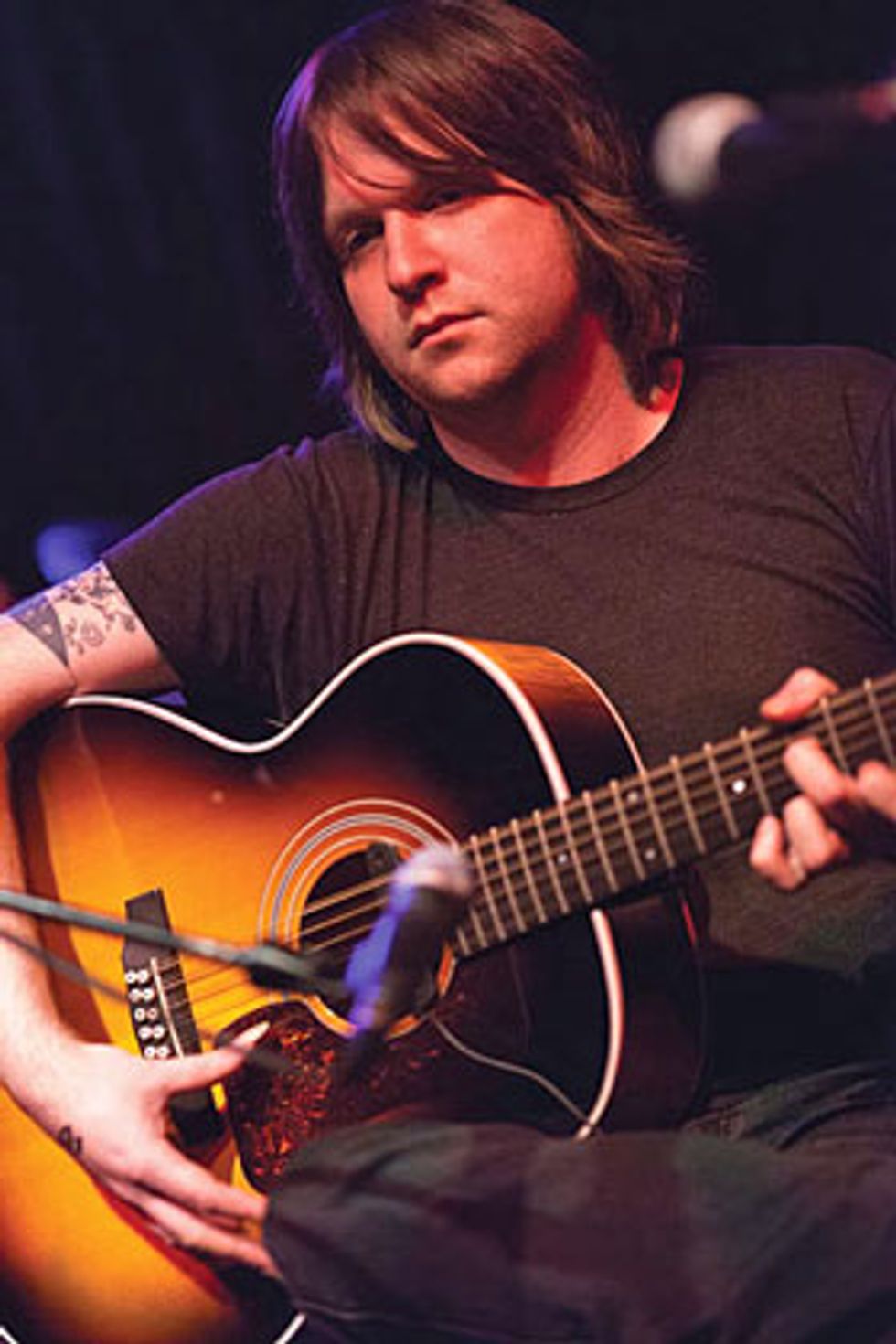 Photo by Tim Bugbee / Tinnitus.
In my early teens, I heard Nirvana and that threw open all sorts of doors for me. I started getting into American indie rock bands, punk, hardcore and some pretty underground stuff. It was like connecting the dots—from one band I might find out about another band because they shared members or they'd done a split 7-inch together. Or I might decide to check out everything on a particular label like Touch and Go, Gravity, and Kill Rock Stars.
I played guitar in a couple of punk-rock bands but none of them really went anywhere—some shows, a demo or two. I even played piano and bass in a couple of more unusual bands when I lost interest in guitar for a little while, but at some point I realized I wasn't very good at playing with other people. I wasn't very reliable at that age and I also had pretty fixed ideas of what I wanted and didn't want to do.
I first heard John Fahey through a friend when I was 16 and was pretty much in awe of how one person can do that with just an acoustic guitar. I even went to see him play in London shortly before he died. But it wasn't until I was around 20 when I was working in a record shop and wasn't playing in any bands that I really started to listen to his records, and I became pretty obsessed.
Through Fahey I heard Robbie Basho and a lot of old country blues too, but I was also listening to a lot of '60s pop and psych, ethnic music, minimalism, and contemporary classical music. That time in particular, while I was working at the record shop in London, I was just listening to so much stuff. I bought a cheap guitar and began to teach myself fingerpicking, trying to incorporate all these different things I was hearing.
Other than players like Robbie Basho and John Fahey, which guitarists are your benchmarks?
I love Baden Powell—my favorite guitarist ever—Elliott Smith, Tom Verlaine, and Wilko Johnson.