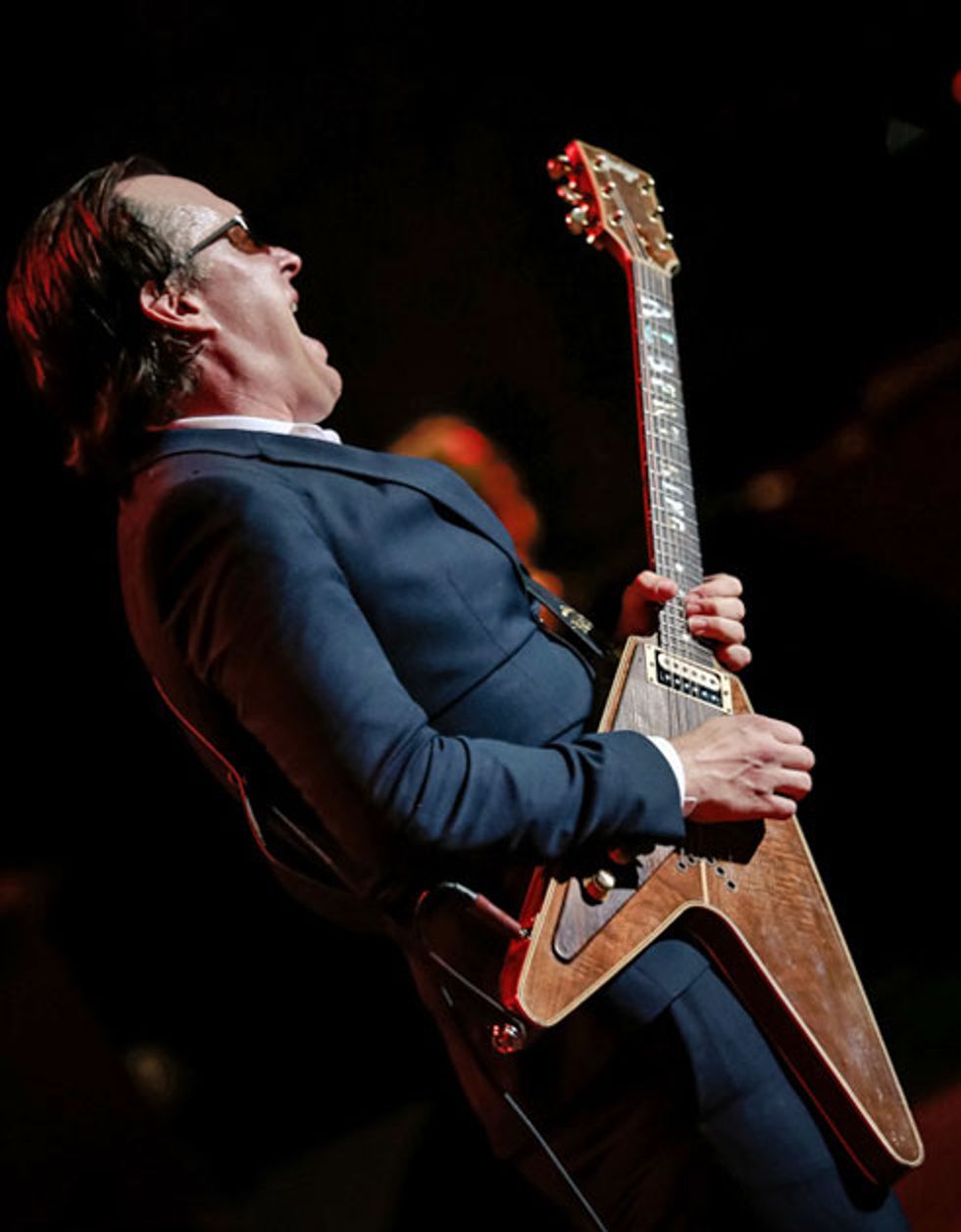 For his Three Kings tribute tour to blues giants B.B., Albert, and Freddie King, Joe Bonamassa switched up his guitar palette, ultimately favoring Flying Vs and ES-335s over his usual Les Pauls. Photo by Christie Goodwin
Guitar phenom Joe Bonamassa spent much of his summer on the road with a huge band—horn section, backup singers, and all—tipping his hat to a trio of late electric bluesmen who inspired him as a player and performer. As you may have guessed, the material for this Three Kings tour was culled from the collective songbooks of Albert King, Freddie King, and B.B. King. It included some well-known blues staples and deeper cuts as well. Bonamassa never got the chance to meet Albert or Freddie personally, but B.B.—who passed away earlier this year—was a friend and longtime mentor.
For those not well versed in vintage blues, the stylistic differences between "the three Kings" may not be immediately apparent. To aficionado Bonamassa, however, these differences are profound. "The only thing that they have in common," he says, "is their last name. Freddie's voice ranged from low to high. It was incredible. Albert was more of a soul singer. B.B. was a shouter. And, musically, they are about as different as can be."
"I brought two '59 Les Pauls on my tour bus, but they never came out onstage because they just didn't sound right for this music."

Though Bonamassa sang the Kings' songs on the tour and played guitars similar to the models they originally used, he says he had no intention of recreating their styles note-for-note: "This tour was a tribute to the three Kings, but we're not a tribute band. I wasn't trying to say I was those guys. We stopped short of dressing like them."
One guitar featured on the tour was actually owned and played by Albert King: a custom-made Flying V-style guitar nicknamed Lucy, on loan from actor Steven Seagal. According to Bonamassa, this was the Lucy that Albert played for most of the '70s and '80s. "Dan Erlewine built it for him in 1972," Bonamassa says. "It's a little unruly to play. Everything is upside down. Your arm's hitting the pickup switch. You're turning the tone knob down inadvertently." (King played left-handed, with the strings oriented in reverse.) "I try to limit the use of that guitar to only a couple of songs in the set. The other V I played on this tour was a 1958 Gibson. There are actually a lot of fake Vs out there, but you can trace this thing back to Kalamazoo. There are very few of them with real provenance. This one is no bullshit."
Joe Bonamassa's Three Kings Gear
Guitars
1954 Gibson Les Paul
1958 Gibson Flying V
1959 Gibson ES-345
1960 Gibson ES-345
1969 Gibson ES-355
1973 Gibson ES-355
1959 Fender Stratocaster (hardtail)
1966 Fender Stratocaster
1972 Dan Erlewine custom "Lucy" (Flying V style)
Two new Gibson Custom Shop ES-335s
Amps
Two 1959 Fender Twin amps
Two Fender Bassman amps (1957 and 1958)
Effects
Dunlop Joe Bonamassa Signature Cry Baby wah
Way Huge Overrated Special overdrive
Strings and Picks
Ernie Ball custom set assembled from singles (.011, .013, .018, .030, .042, .052)
Dunlop Joe Bonamassa Signature gold nylon Jazz III picks
While Flying Vs may seem to be made of more-or-less the same stuff as other solidbody Gibson models, Bonamassa insists they that they sound distinct. "At the beginning of this tour," he says, "I started playing a '58 V and realized I'd been missing out. They're fantastic instruments, and they're not Les Pauls. They're crisper and clearer because of the korina wood. Les Pauls have more low midrange, which is great for that growl. A V just whistles and howls like no other guitar."
Bonamassa jokingly describes his upscale Three Kings guitar arsenal as a "Mickey Mouse gear festival," but he insists his choice of instruments is always in service to the song. For instance, on Freddie King's "Going Down," he played a 1973 ES-355 much like the guitar that King himself favored in the mid '70s. Likewise, the walnut-hued '69 ES-355 Bonamassa played on some B.B. songs was the spitting image of the 355 King cradled in concert in Zaire in '74, as seen in the boxing-and-music documentary When We Were Kings.
It took a few live dates for Bonamassa to dial in his guitar choices, even after much trial-and-error during pre-tour rehearsals. "There's always theory versus reality," he says. "I brought two '59 Les Pauls on my tour bus, but they never came out onstage because they just didn't sound right for this music. My '54 goldtop with P-90 pickups sounded way better. You have this idea that one particular guitar will work out great for a song—and then it sucks. But by the third show, the cast of characters was pretty much set."
One avenue of sonic experimentation—amplifiers—turned out to be a dead end. "I had this vision of doppelgänger rigs," Bonamassa says, "and we just didn't get there. I had it all set up for rehearsals too, including two Lab Series L5 amps like B.B. used. I had the '69 Fender Dual Showman Reverb like Albert and a Fender Quad Reverb like Freddie. Quite frankly, none of it sounded very good. It was kind of a happy experiment gone wrong. I still have all the gear. I wouldn't say it was a waste of money, but it was not money well spent."