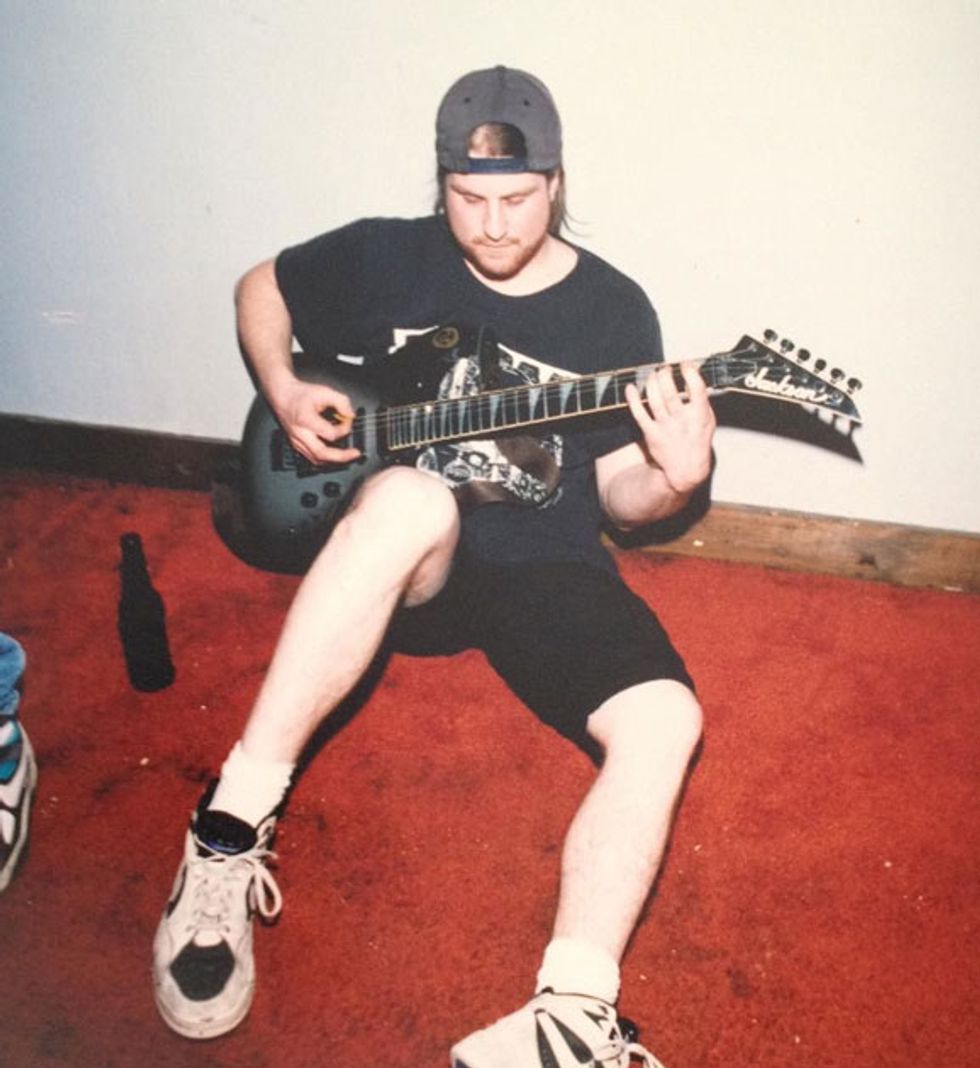 Chris "Zeuss" Harris warms up on his Jackson before a gig with his own heavyweight band, Doom Nation. "I like specific pedals to overdrive the sound," he says.
Pedals to the Metal
The right amps or amp modelers are crucial to crafting a fundamental sound, but they're not the only element in the tone-sculpting chain. Zeuss says, "I also like specific pedals to overdrive the sound. I always find a tone that seems to work to my liking that way. I'm currently using a Dead Horse Overdrive by Pro Tone Pedals that I absolutely love. Other ones that I like are the Maxon Overdrive Pro and the MXR Zakk Wylde Overdrive."
The beauty of using pedals is that they can be either the sole source of dirt or used to push an already raging amp. There's no single best way. "Sometimes with a lower-gain amp, you're using that to create more of the distortion or saturation," says Zeuss. "The pedal is creating most of the gain. I like this method because every pedal gives it a little different characteristic and gives you more of a unique sound. I could change to a brand-X overdrive or fuzz and it's like, 'Whoa!'—you've got another sound. Sometimes a pedal in front of the amp kind of compresses it a little bit and tightens it up."
Once a core sound is established, a little processing can take you a long way in terms of fleshing things out. Zeuss notes, "Usually on a lead solo, I'll have a little bit of delay and a tiny bit of reverb. If a guy is going to do a solo and be, like, 'Give me some effects,' I'll put in a little bit of plug-in reverb and plug-in delay, and that works perfectly fine."
Given how prevalent plug-ins are in studio environments, and considering their ability to precisely dial in parameters, are they the best option when recording? Or is your beloved Memory Man, for example, still viable? "I love pedal delays as well as plug-ins," admits Zeuss. "But unless it's something special, I'll use the pedal. Like a brand-X analog pedal that has crazy flavor that you'll never get in a plug-in—I'll track it like that because the artist is actually feeling the part."
"My favorites are a Shure SM57 and a Sennheiser MD 421. Those are my go-tos." —Chris "Zeuss" Harris

The caveat with using pedal-based delays is that most don't offer the ability to precisely calibrate delay times. At best, you'll get in the ballpark. But Zeuss explains that it's not necessary to always be clinically precise. "Sometimes that's what makes it cool—you get as close as you can. I'm a very 'it doesn't have to be perfect' type of person. On the best records ever—for example, a Led Zeppelin record—Jimmy Page would come out of nowhere with this sound, and if you heard that by itself, you be like, 'That sounds like crap.' But it made the part work. So sometimes it's like the delay is barely repeating on the beat, but it's cool.
"A lot of producers, new-school guys, are leaving it for the end," Zeuss continues. "They're recording direct from the guitar. I think that's cool, and it works for certain situations, but to me, since I also just mix records, sometimes people hand me a direct signal and say, 'Get me my sound.' It's like, 'How do I know what you sound like? Why are you leaving it up to me to make you sound like how I'd want?'"
Spot-On Miking
Once you've got an amp and effects rig, the next step is to get a quality microphone. After all, that's the device that captures your sound. An essential microphone for both Zeuss and Evetts is the workhorse Shure SM57, which can serve as a foundation, even as you add in other microphones.
"My favorites are a Shure SM57 and a Sennheiser MD 421," says Zeuss. "Those are my go-tos." But experimentation is always encouraged. "I have tried other microphones," he continues. "Sometimes I've even taken a condenser microphone and pointed it, like, maybe two feet away from the cabinet and at the center, and I've gotten a great sound that way. These days, I find that less is more. If I just put one 57 on one speaker, I can get the tone in 10 minutes, as opposed to having 50 microphones on a cabinet and you spend three days looking for this sound that you could have gotten in 10 minutes."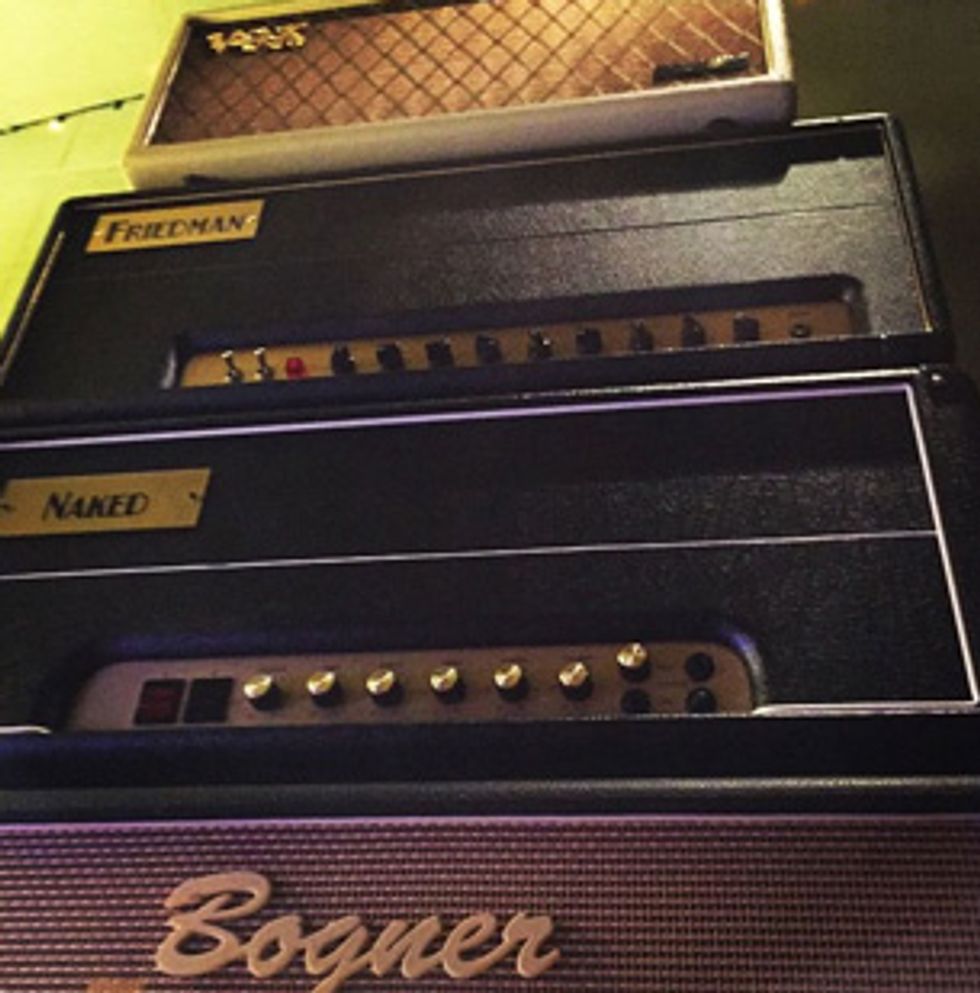 Evetts prefers to record with real amps pushing speaker cabinets. His own in-studio rack includes Friedman, Naked, Bogner, and Vox heads. He also likes Mesa/Boogie Mark Vs and original Peavey 5150s.
Microphone placement is critical in determining the sonic characteristic of a recording. Evetts offers several tips: "Center of the cone is obviously going to get you a brighter sound, and it gets darker as you go away from the center. But, again, like twiddling knobs, just move the microphone until it sounds good. Obviously if you're doing it all yourself it's a little more difficult, because you gotta move it, come back in and listen, and move it. If you have somebody there helping, you can have him move the microphone while you're playing and listening to the way the sound changes, because every little fraction of an inch makes a difference in the sound. You don't even need any EQ. You can get all the EQ you need by literally moving the microphone around and changing the angle."
In addition to setting microphones at the right spots, there are several other things to take into consideration. "The phasing has got to be right going in," Evetts notes of the sound phenomenon that occurs when recording two or more "versions" of the same sound via multiple microphones. Due to the different sonic qualities imparted by even minute positioning variances—even with two mics of the same make—the waveforms from both mics will not arrive at the listener's ears perfectly matched (i.e., they will be out of phase), so careful attention must be paid to placing the mikes at distances and angles that strengthen rather than weaken the overall impact of the guitar performance. "You gotta check it. If you're dealing with two microphone sources on two different speakers or whatever, they're never going to be 100 percent phase-aligned. The idea is to move stuff around so the phase works for you. As long as it sounds good, there's no right or wrong. I blend everything to one track anyway—even if I'm using four microphones. I don't leave options open for later, because I grew up making records on tape and I'm used to having a limited amount of tracks—even though I have plenty now with Pro Tools or whatever. But it's about committing: getting it right, getting it down, and not giving yourself 8,000 options later. That's not a good idea."
Listen Up
Gear and microphone placement are critical, but they are nothing without ears and savvy judgment—both of which develop and evolve over time, just like guitar playing. Evetts says, "You gotta check things on multiple sources to make sure they translate. It's about referencing against something else so you're not recording in a bubble. Compare what you're recording against other records—and listen on the speakers you're actually tracking with to see if you're somewhere in the ballpark. You're obviously not trying to rip off the sound, but you've got to at least be in the ballpark, in terms of quality, tone, and whatever. If you're not, try something different."
Zeuss adds, "The biggest mistake some engineers make is they put a bunch of microphones on a guitar cabinet and then they go into the control room and start listening to all of these microphones. But what does it really sound like? Sometimes it sounds awful and you're miking up an awful sound. I've seen some A-list engineers do that and I never understood it. What I'll do is listen in the control room to see how the microphone hears it. But my brain also heard it in the amp room with my ears, so I know what it really sounds like."
The makeup of the room also has an impact on the sound. "You could have a tight room and your guitar sounds a certain way, or you could have a big open room and you've got a whole 'nother sound there," says Zeuss. "The floor also has a lot to do with your sound. If it's wood or hollow, you're gonna get more of a low-end response. If it's concrete or stone, you're gonna get less low-end resonance."