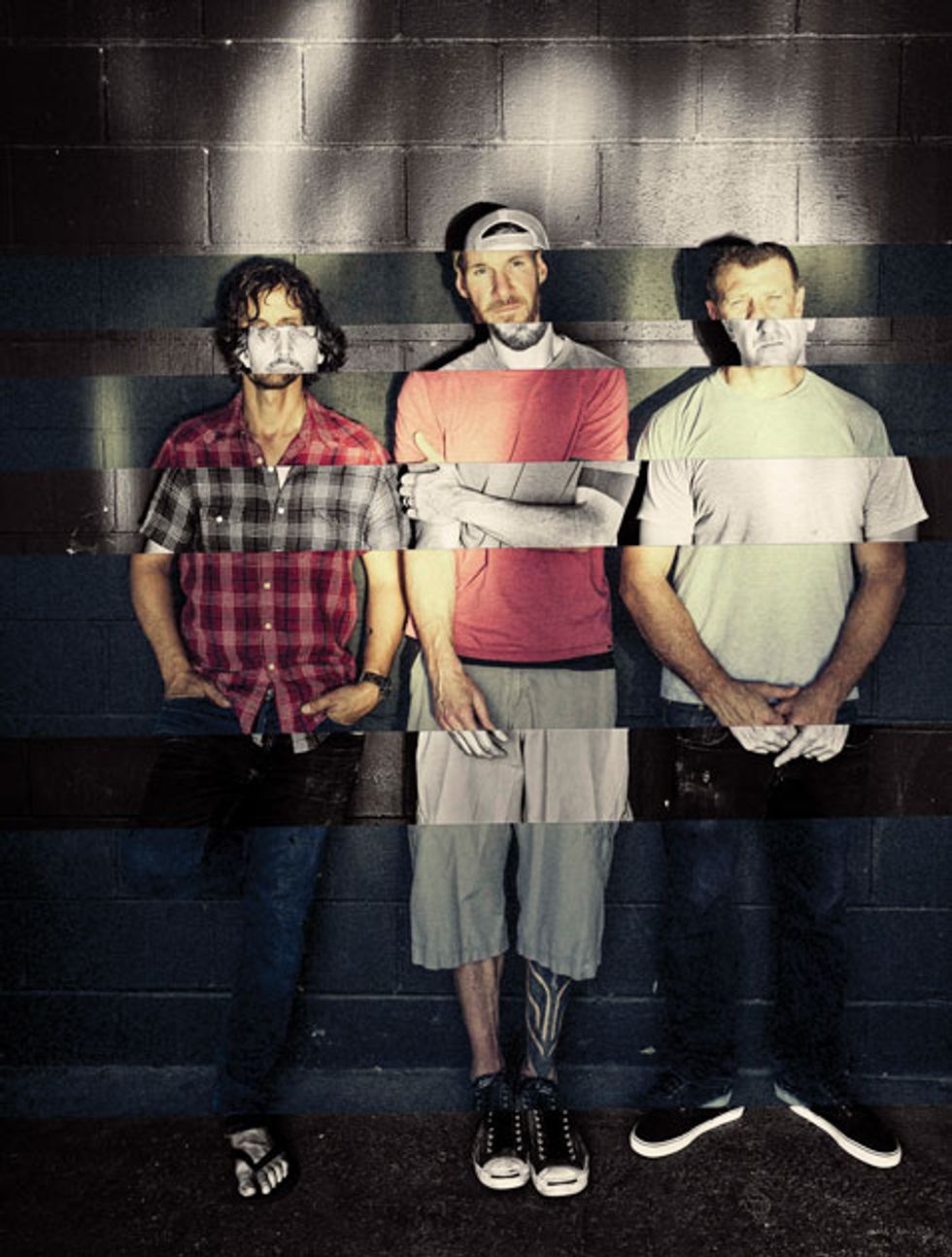 Wakrat is Tim Commerford (center) on bass, and French transplants Laurent Grangeon (left) on guitar,
and Mathias Wakrat (right) on drums. Photo by Travis Shinn
Tim Commerford's new band, Wakrat (pronounced "wokrat"), recently staged a protest in London in response to the Brexit vote, where they attempted to establish the "Republic of Wakrat" by planting a flag in Parliament Square's center. Last year Commerford lit himself on fire in Future User's "Mountain Lion" video. Back in 2000 he climbed the stage scaffolding at the MTV Video Music Awards in objection to Limp Bizkit winning the Best Rock Video award over his then-band Rage Against the Machine. Simply put, Commerford is a fierce, honest individual who wears his heart on his sleeve and likes to shake up the establishment.
From RATM's "Killing in the Name," with its "Fuck you, I won't do what you tell me!" call-to-arms chorus to Wakrat's recently released second single, "Generation Fucked," Commerford always seems to be in a band with a strong message. Though you'd think it takes a certain amount of acumen to launch an activism-motivated musical act, Commerford insists he's never had any preconceived notions of what he's going to do musically or otherwise. "Opportunities present themselves, whether it's Rage Against the Machine or Future User or Wakrat," he says. "It's just about going in a new direction."
Despite such uncalculating methodologies, Commerford has already captured lightning in a bottle twice in his career—first with RATM and again with Audioslave. His muscular, riff-oriented bass lines with RATM, the foundation of songs like "Bombtrack," "Killing in the Name," "Bullet in the Head," and "Calm Like a Bomb," have become such a part of the canon that they are as commonly played in music stores by aspiring bass players as "Stairway to Heaven" or "Enter Sandman" are by young guitarists. With Audioslave, there was less social commentary, but the music was no less potent. Commerford's playing on "Show Me How to Live," "Like a Stone," and "I Am the Highway" is more nuanced, the ultimate lesson in refinement—less is more to the nth degree.
"I'm proud of the amount of music I've been able to contribute in Rage and Audioslave, and I like to think I'm a little bit unsung."
—Tim Commerford

Last year Commerford launched a series of music videos (and ultimately an album via iTunes) under the banner of Future User, mixing EDM, prog, and his deft bass playing into a sound he dubbed "progtronic." It was a less high-profile, but equally compelling, studio-only project, exploring different genres of music than what he'd previously been associated with, and it revealed a lot about Tim's influence on his other outfits—the overall fierce attitude and socio-political messages behind RATM are present in songs like "Mountain Lion" and "Clockwork," for example. "I'm proud of the amount of music I've been able to contribute in Rage and Audioslave, and I like to think I'm a little bit unsung," he says.
Now comes Wakrat. Structurally, it's a completely different animal from any of Commerford's other bands, but it still features what's becoming his indelible imprint. The grooving, mammoth bass tone is unmistakable, but instead of channeling hip-hop grooves through the lens of hard rock, on Wakrat Commerford takes on jazz-inspired odd-time signatures and plays them with a punk-rock attitude. In songs like "The Number" and "Nail in the Snail," his bass snakes its way through frenetic timing, providing a melodic counterpoint to the mechanical precision of guitarist Laurent Grangeon and drummer Mathias Wakrat. Upon first listen, it would seem that the bass is the catalyst for the music, but it's actually Laurent and Mathias, both French nationals, who generate most of the material.
"Wakrat was not an idea of mine," Commerford candidly admits. "It was just being in the right place at the right time. So much of music and being a successful musician is luck, and I just got lucky." Despite this humility, Wakrat proves yet again that Commerford has been one of the most forward-thinking, influential figures in the bass community over the past three decades.
As he prepares to hit the road with the newly formed Prophets of Rage, it's an especially big moment for Commerford, as Wakrat will play an opening set on the tour. It's proving to be a welcoming challenge for the bassist, who will also sing in Wakrat while playing technically difficult bass lines. "In a couple of months, I'll be the best bass player I've ever been," he says. "I'm never going to be Jaco, but I'm going to be the best Timmy C ever."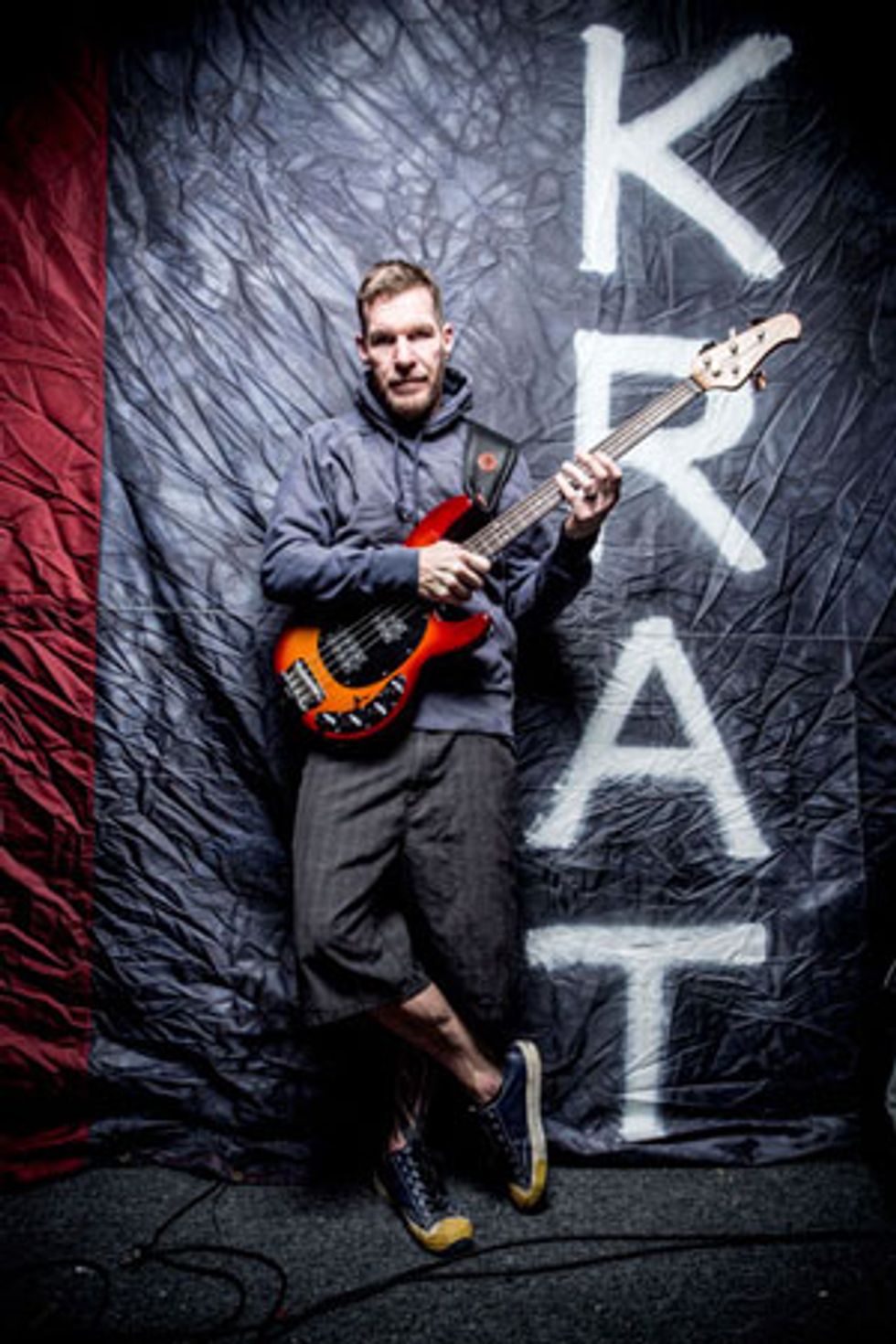 Commerford recently returned to playing Music Man basses. "I love Bernard Edwards and Louis Johnson and I grew up playing StingRay basses, but I hadn't played one in a long time. I love the way it feels."
Photo by Travis Shinn
Is it important to you that your music is socially relevant, lyrically speaking?
We have a wide spectrum of song topics, but they all come from the heart. "Generation Fucked" is sort of about the world we live in today, but it's really inspired by reading Plato's Allegory of the Cave and feeling like, "Wow, that's the world we live in." We're chained in a cave and we're seeing shadows on the wall and we're not really seeing what's behind those shadows. Maybe we don't even want to know.
How challenging is it nowadays to launch a new, original band like Wakrat?
It's never easy to play original music. It's always going to feel uncomfortable. Back when Rage first played, and we were mixing metal and punk with hip-hop, no one else was doing that, but we never worried about it. We just did it because we liked it and it worked out. I feel that same uncomfortable feeling in Wakrat. This music is like nothing else that's happening right now. Are people going to dig it? If they don't, that's fine. Every single song is full of cursing and if people don't like that, the lyrics are for them. That's how I feel. In "Pigs in a Blanket" the chorus is, "Fuck with me and I'll kill you all." I love that.
How did you meet Laurent and Mathias?
Through Zack de la Rocha. Mathias owns a restaurant in Eagle Rock and Zack lived right next to it. He knew that Mathias rode mountain bikes and said I should ride with him, so I did. I got to know him and I started inviting him over to my house for Thanksgiving and Christmas, and the next thing you know he's telling me he's a drummer. I never really took him seriously and then one day he came at me with some music that he and Laurent had recorded. It was actually great—it reminded me of the punk music I grew up on like Bad Brains, Fugazi, and Helmet. It also delves into jazz, which I love. I was blown away by the intricacy of the time signatures and the heaviness of it and how different it sounded.
Why is the band named after Mathias?
It's sort of like Van Halen or Fleetwood Mac or the Police. Stewart Copeland formed the Police and I believe his signature style on the drums shaped the sound of that band. And Mathias is exactly the same. His signature drum style shapes the riffs and the music we play. It's his brainchild. He put the band together.
Did you immediately hear how you would insert yourself into what was going on musically?
No. I couldn't really wrap my head around it at the start. I would listen to it, but it was super hard for me to figure out. I initially record the music in pieces using Pro Tools. I would play it for Laurent and Mathias asking, "How do you guys feel about this part for the verse?" I did the vocals in the same way. After doing it that way, we learned to play the songs as a band and I was able to sing and play them. I then said to Laurent and Mathias, "Now that we know these songs, we should play them authentically and honestly and record them from start to finish, sing them from start to finish." So we rerecorded the music and that's what we're now putting out. It's hard to play, but I figured it out.
So, you rerecorded the entire record?
Yeah. I was able to sing the songs on our demo recordings, which were a half-step higher [the video for "Knucklehead" features music from the demo version], but I would blow my voice out every time. I wouldn't be able to talk for a couple of days afterward. And then when we went to play them live I quickly realized the key signatures were too high. Now we detune a half-step, so we do dropped D tuning down to C#. Bringing it down that half-step really made it a lot easier to sing.