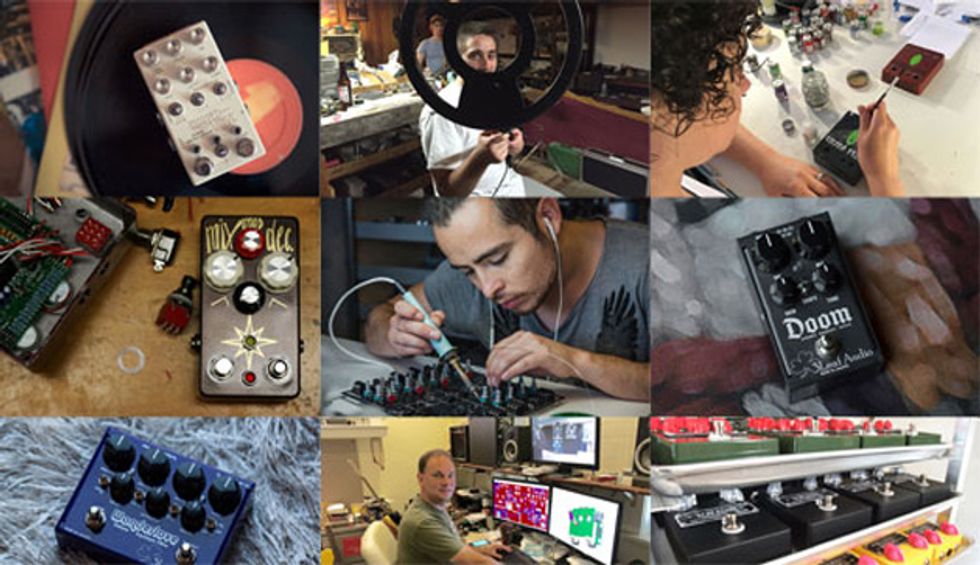 The electric guitar is electric, obviously, and that's what makes it special. The acoustic guitar may be natural and beautiful, but nothing compares to the crushing majesty of an amplified electric—dimed, maxed, and inducing deafness.
You know that.
But bluster aside, the electric guitar is also infinitely malleable. Since the '60s, when inexpensive effects hit the streets and made modifying your guitar signal possible, guitarists have been shaping, crafting, and modulating their tones. Those first pedals, like fuzz boxes and wahs, for example, were simple but effective tools that left guitar players pining for more. And more was to come, especially as technology improved and music went digital. But research, development, and production are expensive, so, for the most part, the big advances were made by well-funded companies and industry leaders. Like you'd expect.
Until now.
Parallel with the dawn of the new century is the democratization of pedal innovation. Basement tinkerers, experimenters, sonic misfits, and the curious set up small, one-man, mom-and-pop businesses. They developed new twists on old ideas, perfected old circuits, updated outdated technology, reinvented forgotten concepts, crafted newness from nothing, and radically altered the guitar-playing landscape.
In this roundup, we profile eight stompbox scientists. Their designs are different, sometimes unusual, and redefine what guitar pedals can do. Some are boutique treasures that emphasize appearances and look more like art pieces than guitar gadgets. Others are nondescript, but hide little monsters under the hood. All will transform your tone, challenge your assumptions, and afford you the tools to make better music.
Most of our builders are based in the U.S., although we went international and spoke with builders in Finland and Canada as well. We discussed their building philosophies, standout designs, popular pedals, the challenges and benefits of running a small shop, and the artists and new music their products make possible.
Are you ready? Make sure to take notes. Videos, manuals, demos, and reviews are already online for most of the pedals discussed. You might find your missing link—or multiple links you didn't know you were missing.