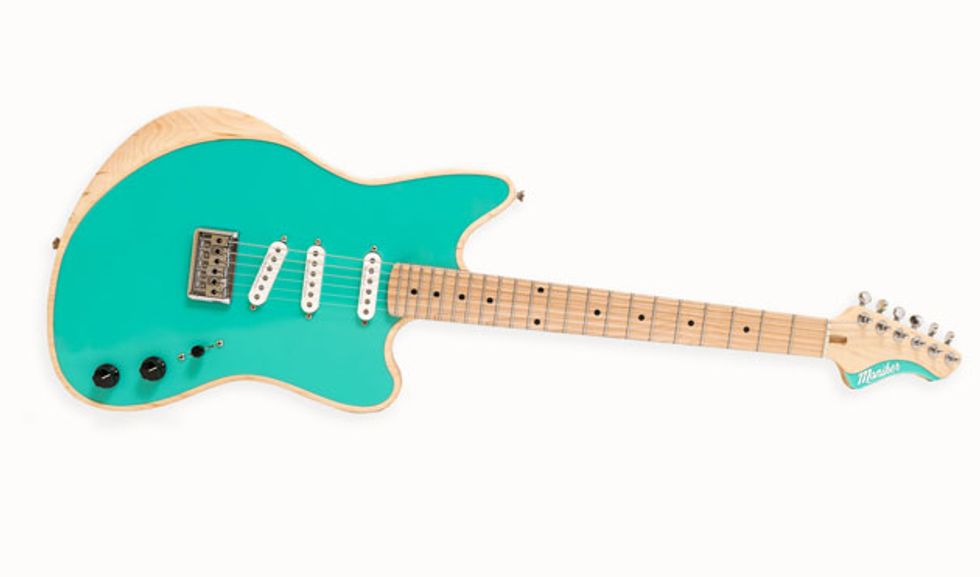 Austin, TX (October 31, 2017) -- Moniker Guitars has launched the Rival Series, a bold electric guitar design intended to "rival" any other on tone, feel and price. In striving to build a guitar focused on those elements, Moniker has reimagined the instrument and how it can be built in the United States at a retail price that is under a thousand dollars.
Rival Series guitars feature an offset body shape made of maple with a matching maple neck and fretboard. The inside of the body utilizes a unique chambering pattern known as "Rival Ribs" to add resonance and warmth to the guitar. The Moniker website allows you to choose one of six styles of Seymour Duncan pickups to dial in the exact tone you're looking for. On the outside of the body, the maple frames your choice of a colored Reso-acrylic faceplate. This creates a striking visual contrast between the faceplate and the natural wood. The hardness and reflectiveness of the Reso-acrylic top helps to bounce sound throughout the chambered body.
When it comes to feel, the first thing players notice is that the Rival chambering reduces the weight of the guitar to a mere 6.8 pounds. The acrylic top cuts away to allow for a contoured wood arm rest and a contoured neck heel allows easy access to the upper frets. Both body and neck are coated in a thin satin top coat to preserve the natural feel of the wood.
Customized Rival Series can be ordered through the MonikerGuitars.com at a retail price of just $879. The guitars are built in the same shop where Moniker has been building its Customer Series guitars in Austin Texas.
"Our experience with our Custom Series line is what led us to develop the Rival Series." says owner Kevin Tully. "We're fortunate in that we've had the opportunity to speak to every single one of our customers and learn what they're looking for. Beautiful finishes are important to many customers and on our Custom Series line, we spend a lot of time working on finish. But most people are just looking for great tone and great playability and they're on a budget that doesn't allow us to spend hours and hours on finish work. The Rival Series is the result of of prioritizing the fundamentals of the instrument and marrying them together in a clean and simple modern design. We're extremely proud of how it has come out looking, playing and sounding."
For more information:
Moniker Custom Guitars