Mateus Asato plays mainly Suhr guitars. This pink Classic S-style helped him earn a spot playing guitar with pop artist Tori Kelly. "I want the guy with the pink guitar," Kelly reportedly said after watching the audition videos.
Photo by Daryl Phj
The internet didn't ruin music, but it sure changed the rules. It destroyed the old ways of making money. It made bad fashion choices from 40 years ago easy to find. But it also opened doors and leveled the playing field. Anyone with a cell phone and an Instagram account—or Facebook, or YouTube, or whatever—has more opportunities now. True, you need to hustle and you must be creative. And you probably need to be really good. But if you're savvy and ready to work, the world is your oyster.
The guitar world's undisputed new media master is Brazilian native/Los Angeles transplant Mateus Asato. Asato owns Instagram. Okay, he's no Selena Gomez (Gomez has 128 million Instagram followers, which makes her the site's most followed person). But at 380,000+ followers, he's like the Selena Gomez of guitar. Asato built this following by putting up quality content, posting consistently—three times a week until his schedule made that impossible—experimenting, and studying his audience.
It doesn't hurt that Asato is also a monster guitarist. He has a distinct sound that informs his note choices and feel, but within that framework he seems capable of almost anything. Heck, just check out his posts online—his rhythmic sense is metronome tight and his funk comping is fantastic.
Watch Mateus Asato's guitar instrumental rendition of Crowded House's "Don't Dream It's Over" and you'll see why it has more than 1.6 million views.
He plays double-stops at warp speed, complex chord/melody arrangements, and difficult-to-execute contrapuntal voicings built on sophisticated jazz-influenced harmonies. His lead lines are super fast, yet tasteful and melodic. He goes back and forth between alternate picking, extended metal techniques, hybrid picking, and somewhat traditional fingerpicking—and he does that within the context of a song and sometimes within the context of a single line.
Asato is all over social media—and that's how he came to our attention—but he also works as a sideman for A-list pop acts. He's been touring with singer/songwriter Tori Kelly since 2015 and recently joined up with U.K. R&B singer Jessie J. "I'm rehearsing with Jesse J," he said earlier this year over phone. "It's a totally different gig—even though she has this R&B vibe—she's way more pop and her songs have a lot of guitar. I like it. It's very cool."
We spoke with Asato about his background, practice habits, and how he developed his superior chops. He told us about his audition for Tori Kelly's band and his time at Hollywood's Musicians Institute. He also gives tried-and-true advice on how to record professional-sounding videos and build a following on social media.
When did you start playing?
I was about to turn 10 when I started playing the acoustic guitar. It took me a year to make the transition to electric because my mom was like, "Let's see if you're going to like the instrument for real. If you like it, then I will buy you an electric guitar." I took private lessons in my hometown for a year and a half. It was informal and very chill.
"Now I have to work more towards the real life: releasing an album, doing more shows, guitar clinics—that's my goal now."
My first gig was in church. When I turned 13, the guy who led worship at the church saw me and said, "If you want to join us, I would like to give you the chance. I like to support new talent." I was totally down. In 2013, when I was 19, I decided to become a professional musician. I moved to Los Angeles and spent two years at Musicians Institute.
What did you study?
At MI I started learning theory and recording. I had lessons in Pro Tools, Logic—all that stuff. MI was very important to me because besides the knowledge, MI was also the platform for me to get the Tori Kelly gig. They were the bridge in between.
How did that happen?
The guitar director at MI, Stig Mathisen, got a call from Tori Kelly's musical director. He said, "We need a guitar player for a Capitol Records artist. Can you name a few students?" Stig mentioned me and two or three other guys.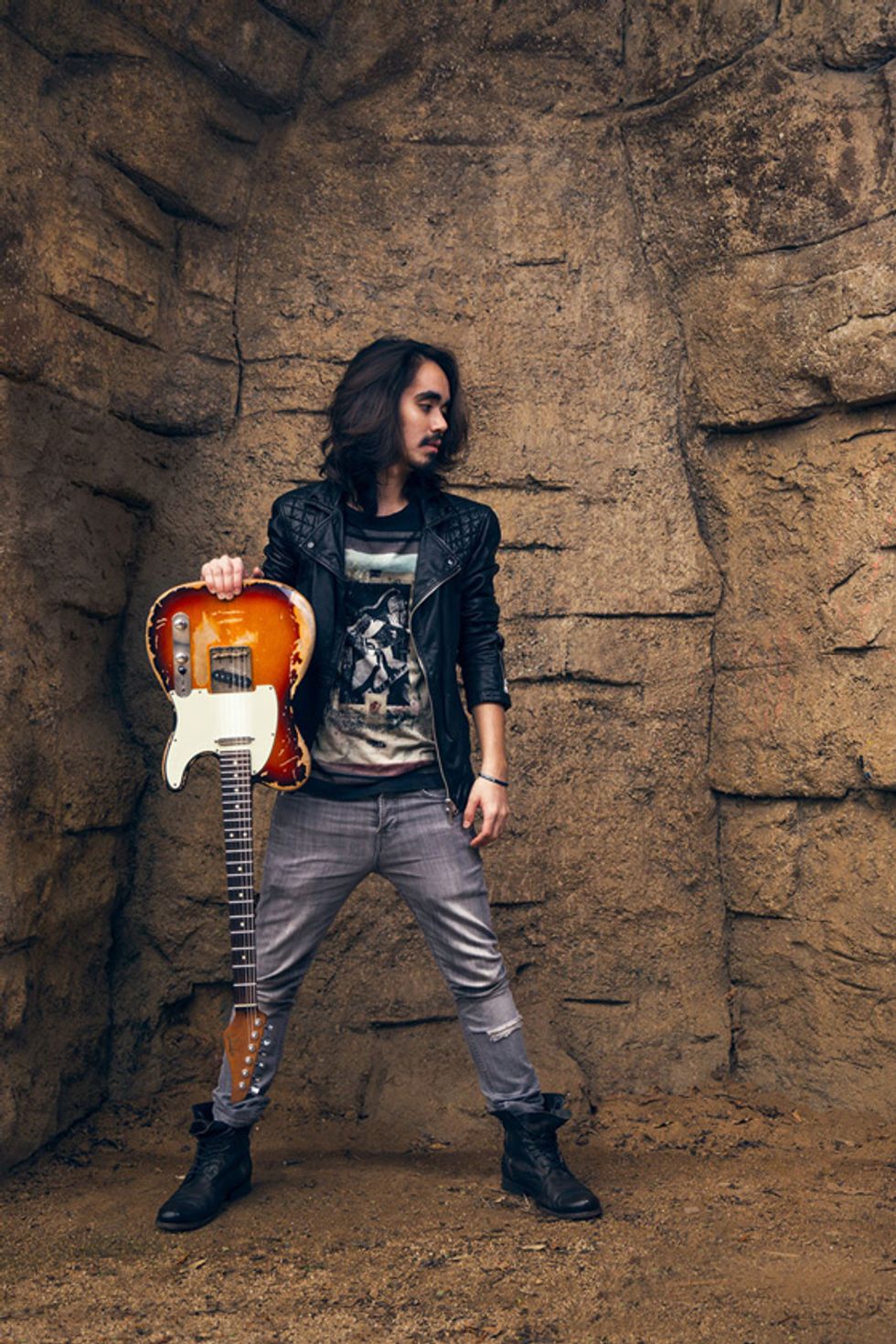 Brazilian-born Mateus Asato moved to Los Angeles when he was 19 to be a professional musician. He attended Musicians Institute and started building a following on social media before earning sideman gigs with Tori Kelly and Jessie J. Photo by Austin Cooper
Did they bring you down for an audition?
It was my first audition in my life, so I was very nervous. I had some classes at MI explaining how to behave at an audition, but every audition is different. With Tori, thankfully it was very chill. It was challenging because there was more than one musical director there. The musical director invited another musical director to join the audition. They were very picky. They were requesting a lot of creativity, like, "Imagine we have a song here and there is no guitar and we need an intro. What would you come up with?" They were asking for a lot of possibilities.
Was Tori there, too?
Thankfully she wasn't there, because if she was, I would've probably felt way more nervous. But they were filming everything. They showed the videos to Tori and she had the last word. She said, "That's the guy." The way she branded me was, "I want the guy with the pink guitar."
Talk about developing your sense of groove. What do you work on?
What helped me the most was playing with a real drummer, recording myself, and recording the rehearsals. This Tori Kelly gig was helpful because playing an R&B gig gives a whole different taste. My background in music was based on hard rock and progressive rock and the feel is very different. Rock players, we're always either very tight or ahead of the beat. But I remember in the first rehearsals with Tori, they were always saying, "You're rushing a little bit. Try to lay back and play a little behind the beat." So that was a very nice way for me to develop my skills. Also, I spent a lot of time working on Tori Kelly's guitar parts—recording myself so I could see the waves on Pro Tools or Logic, where I could sync to the metronome and could see if I was on the beat or ahead of it.
Do you use a click live?
We use a click. It's always there and we have to be very on point. Pop gigs have a lot of hooks, so you've got to be very tight. It's complicated sometimes but that's how I normally work. When I'm just practicing guitar, I don't practice much with the metronome, but whenever I'm working on a rhythm guitar section, that's when I start using the click.