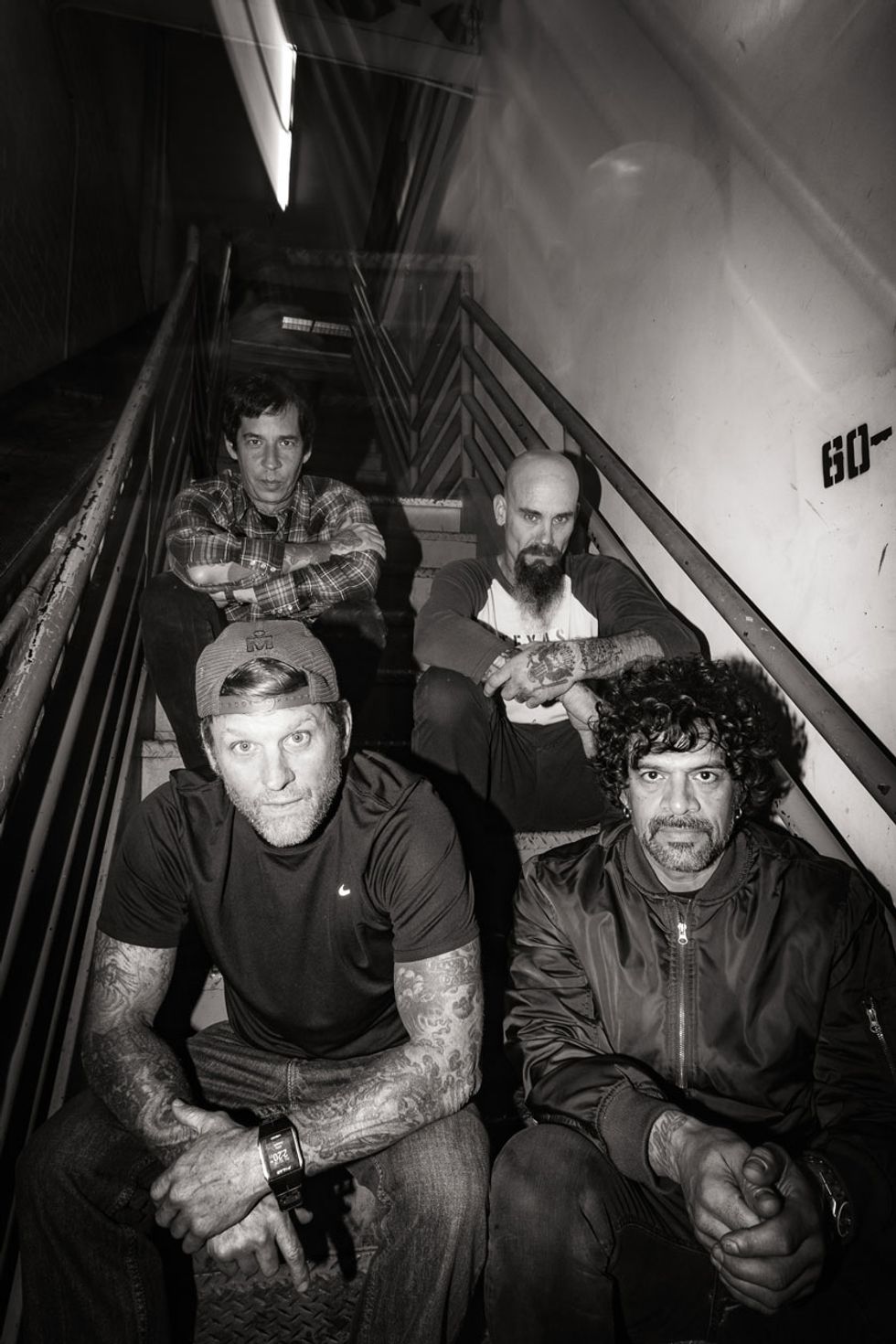 Hardcore heroes Bloodclot are, clockwise from lower left, singer John Joseph, guitarist Todd Youth, bassist Nick Oliveri, and drummer Joey Castillo. "We felt really comfortable doing what we wanted to do without too much concern for the direction," says Youth. Photo by Rick Rodney
American hardcore punk has traveled the world, evolved through myriad sonic and ideological trends, and returned to its origins many times since its inception in the early 1980s. The form has reached and influenced astonishing numbers of people since its days as a fringe movement, and while you may not always be privy to it, people from musical worlds as disparate as Moby and the Beastie Boys have deep roots in hardcore.
Despite the genre's far reach and the scores of famous alumni, its club of true originators remains a small one. And the group of musicians that was there for the advent of the genre and still continues to create new music in its tradition is smaller still. With the new supergroup Bloodclot, a few of the style's defining players and lifelong disciples seek to pump fresh hemoglobin into the body of hardcore the only way they know how: By returning to the roots they helped plant.
Fronted by John Joseph, original singer for the legendary Cro-Mags, Bloodclot's violent pulse is provided by ex-Queens of the Stone Age rhythmic punishers Joey Castillo and Nick Oliveri (on drums and bass, respectively), with hardcore lifer and guitar journeyman Todd Youth (known from stints in Agnostic Front, Warzone, Murphy's Law, Motörhead, and Danzig) handling 6-string duties. Bloodclot's self-titled debut finds the band forging hardcore that is incendiary, urgent, and contains the kind of power and conviction that's not only integral to this style of punk, but sorely lacking in 2017.
"As a 14-year-old kid I went to see Motörhead play and the Cro-Mags opened. When they played, between the crazy pits and everything that was going on and the energy onstage, it just seemed like the band was levitating." —Nick Oliveri
The union of these four serendipitously marks the completion of a circle dating back to the mid '80s, when their paths first started crossing. Oliveri cut his teeth on thrash-inclined crossover hardcore, and appeared as an excited, long-haired teenager in the music video for the Cro-Mags anthem "We Gotta Know." Castillo's career as a drummer began with L.A. punks Wasted Youth, and it was during an East Coast tour with that group that he first met Bloodclot frontman Joseph. While New York hardcore legend Youth's punk provenance requires little introduction, Bloodclot finds the guitarist returning to the genre (and the company of his former Danzig bandmate, Castillo) after recent years spent working alongside rockers like Ace Frehley and the late Wrecking Crew guitarist and country music icon Glen Campbell.
Premier Guitar sat down with Youth and Oliveri over slices of pizza at Scarr's in New York's Lower East Side—the neighborhood of Youth's and Joseph's hardcore education—to chat about writing and recording Up in Arms, Bloodclot's absolute barnstormer of a debut. They also discussed the influences that go into a record like this hardcore manifesto after so many years in the game, the infallible glory of an old Les Paul through a loud Marshall, and literally stealing the bass tone from the first Bad Brains album—right down to the settings.
How do you say something new and relevant in the hardcore idiom in 2017?
Todd Youth: Well, with this record, the four guys involved all lived through the era that defined that sound and were all a real part of that scene: It's in our DNA. I was actually there to see the Bad Brains at CBGB back in the day. John was a roadie for the Bad Brains. Nick saw the Cro-Mags for the first time when he was 14 and is actually in the video for "We Gotta Know," and I've known Joey since 1984 when he first came to New York with Wasted Youth. So we were all there for the beginning of this sound. That history means the whole thing comes naturally, because we're guys who helped to create it. John sang on [the Cro-Mags' debut] The Age of Quarrel—as important a hardcore record as there is—so we felt really comfortable doing what we wanted to do without too much concern for the direction.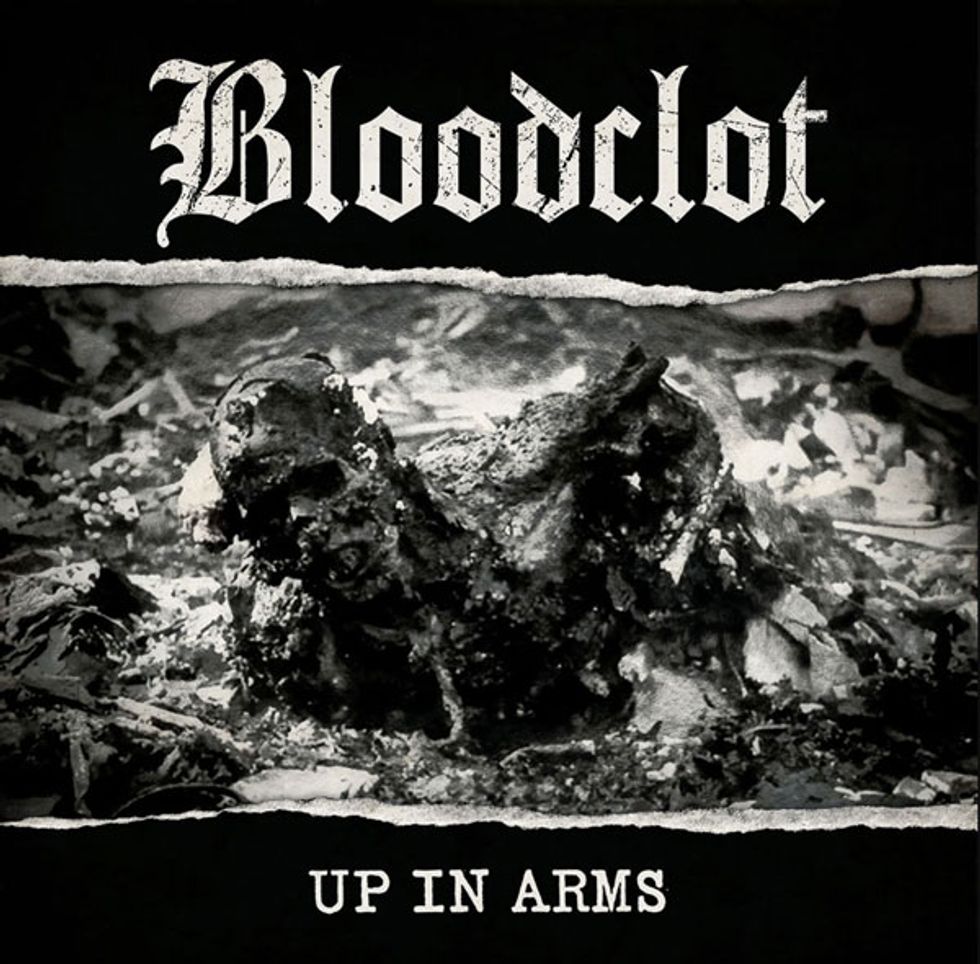 TIDBIT: After Up in Arms was recorded, all of Oliveri's bass tracks were reamped through an old Peavey Mark IV to achieve a more authentic vintage crossover hardcore sound.
I pay attention to the new bands, and there are some good ones out there, but a lot of these kids are going back and looking at the shit we did 30 years ago and intellectualizing it. This is an authentic statement from the people that helped to invent the thing. And there are riffs on this album that come directly from my past. For example, on the song "Siva / Rudra" … the "Rudra" half is the very first riff I ever wrote, when I was 12 and playing bass in Agnostic Front. I brought that fast riff —as it appears on "Siva / Rudra"—to [Agnostic Front singer] Roger Miret, and he slowed it down and it became "With Time" on the Victim in Pain record.
Nick, you and Joey have done a lot in the punk world since your respective departures from Queens of the Stone Age. But this is the first hardcore record you and John have done in a long time, right Todd?
Youth: I haven't done a true hardcore record since I was in Murphy's Law in 1994.
Oliveri: Since I left Queens, I've been trying very much to only play on things I really like. I love the Bloodclot record and I listen to it all the time.
I think it's safe to assume a lot of people that know you exclusively from your tenures in Queens of the Stone Age or Kyuss may be ignorant of your history as a hardcore musician and fan, Nick.
Oliveri: I've been a member of the Dwarves for 23 years now. The reason I left Kyuss was that it was already stoner-sludge stuff and the songs kept getting slower and longer, and I just wanted to play faster and shorter songs. I ended up joining the Dwarves at that point, which was perfect because I always wanted to play fast. That's the music that moves me!
I remember when crossover hardcore happened, I truly loved it. It had the raw power that I couldn't get really anywhere else. Bands like the Cro-Mags and Corrosion of Conformity, D.R.I.—that stuff came out when I was a kid, but I still think that period in the '80s was the best period of music. Bands like the Bad Brains were such a benchmark.