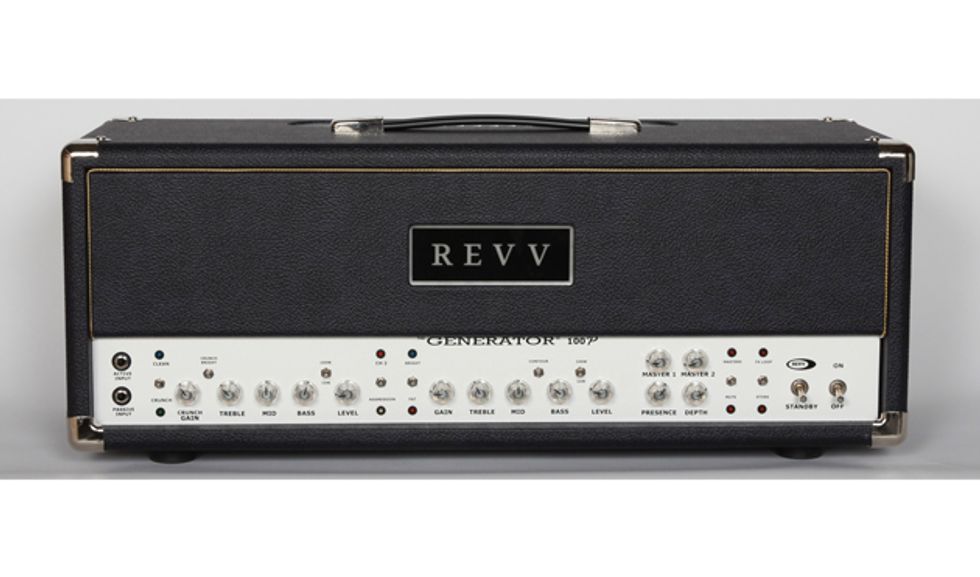 Winnipeg, Manitoba (December 18, 2017) -- Revv Amplification are back with their latest creation, the Generator 100P. After many customer requests to bridge the gap between their 4-channel flagship Generator 120 and 7-40 lunchbox head, the even more aggressive 100P is designed for both regular performers and home musicians alike.
"The Purple Channel on the Generator 120 is one of our signature features. It's very clear and articulate and sits perfectly in a mix. It doesn't really sound like anything else. We wanted to use our 100-watt platform to make that channel more affordable. The 100 is great for any size venue especially because it's variable wattage down to 10, and it has a few more features than our 7-40 lunchbox head. It wound up being a perfect fit and we're really excited to get this out there."
Features:
Two independent 3-band EQ channels. One switchable clean/crunch, & Revv's signature tight & clear high gain Purple Channel
Two Master Volume, Presence & Resonance controls
100/10 variable wattage independent per channel
Aggression, Mid Contour, Fat, & Bright voicing options
Full MIDI programmability
Programmable "presets" via proprietary footswitch without MIDI
100% all-tube analog tone
Tube-buffered serial effects loop w/ level control
Easy bias adjustment to accept many types of tubes
LED lighting for channel verification
Choice of tolex & chassis color; optional faceplate etching
Hand-made in Canada with quality components
The 100P's street price comes in at $2099 and can be purchased through many fine dealers or directly at www.revvamplification.com.
For more information:
Revv Amplification