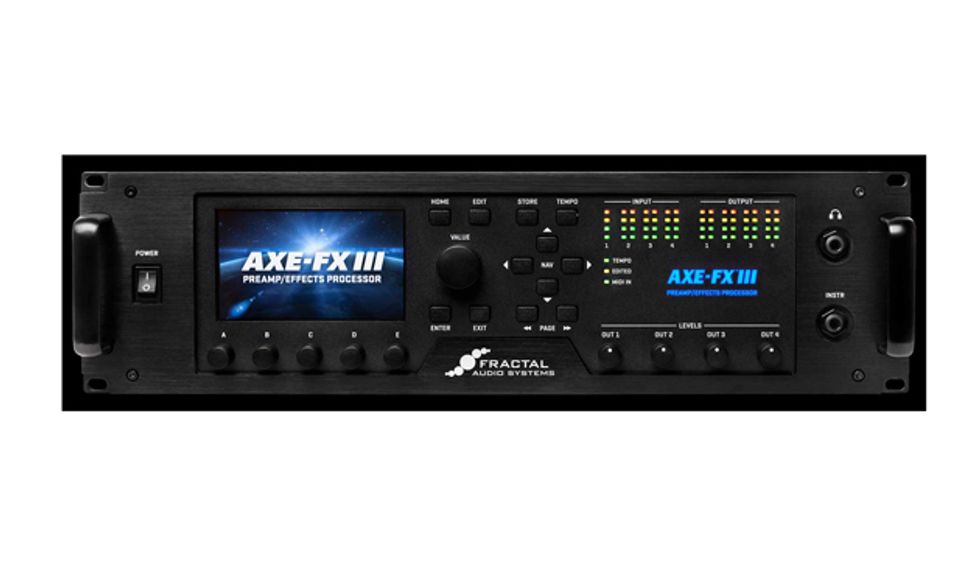 Plaistow, NH (Kanuary 31, 2018) -- Fractal Audio Systems, LLC located in Plaistow, NH is pleased to announce the release of the Axe-Fx III Preamp and Effects Processor. Recognized as the leader in guitar amp modeling and effects processing, Fractal Audio Systems has once again established itself as the preeminent producer of advanced digital signal processing products for the electric guitar.
The new flagship Axe-Fx III is packed with more raw power and features than any guitar processor ever created. The main attraction is our latest amp modeling technology, combined with thousands of UltraRes™ speaker cab simulations, plus an expanded suite of industry-leading effects. In addition, the unit features a totally new user-interface featuring a color display with five corresponding push-knobs. Other upgrades include an audiophile-quality signal path, vastly expanded I/O capabilities and routing flexibility, 8x8 USB capability with better performance than most dedicated audio interfaces, and much much more. Axe-Edit, the companion software editor/librarian, has also been updated to support the new features of the Axe-Fx III.
Fractal Audio is known for rock-solid reliability. The Axe-Fx III is housed in a rugged 3U steel chassis with a sleek anodized aluminum front panel. An illuminated "Axe-Fx III" logo proudly shows the audience your Fractal Audio colors. A new "FASLINK II" port is provided for single-cable interconnection with the new FC-6 or FC-12 foot controllers for "plug-and-play" control.
Introductory pricing is $2499.99 USD with availability anticipated in early March 2018.
For more information:
Fractal Audio Systems