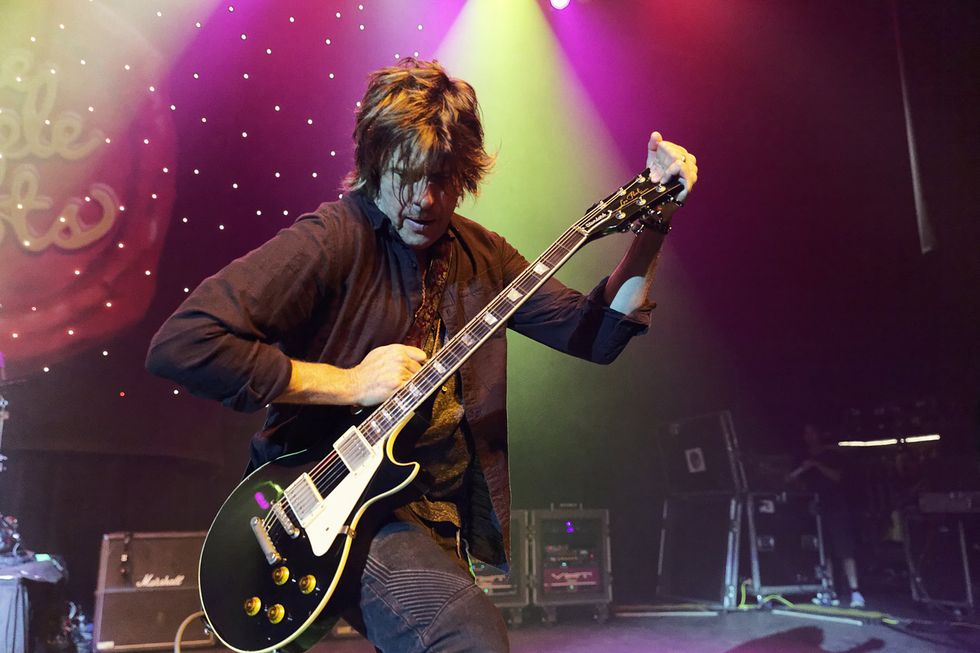 Dean DeLeo bends a note the hard way on one of his Gibson Les Paul Standards during a 2015 show at San Francisco's the Fillmore. DeLeo's tones come from a fleet of five Pauls, two Paul Reed Smiths, and a group of single-coils that includes T- and S-style Nelson models and a vintage Danelectro. Photo by Ken Settle
It's amazing how well you two brothers complement each other, weaving in and out of each other's parts in songs like "Guilty" and "Just a Little Lie."
Robert: Dean and I complementing one other is really a mutual respect for each other's talents and playing. I think it's a matter of when to say something and when not to say something. That comes from years and years of playing together and just trying to put our best foot forward, artistically, with each other.
You're both able to be interesting, musically and melodically, without ever getting in the way of the vocal melody, like in "Thought She'd Be Mine."
Dean: Thank you. That is one of the greatest compliments I've ever had. I appreciate that because we can easily get in our own way. I think you really need to let the song dictate what it wants or what it needs. It'll tell you. You just have to listen.
You strike a fine balance between riff-oriented ideas and letting the songs breathe— utilizing space, chord inversions, and chord changes—within the context of the same song, like "Six Eight" or "Never Enough," for example.
Dean: It's a concerted effort. What is the song telling you it needs? Once I become willful, in anything I do, once I put my mitts in it, I can fuck it up really quickly. You really have to listen to what the song wants to do. And there are many times where it's like, "I'm hearing this part here; let me try this." And I lay it down and it's played well, there's a nice tone, but then I'm like, "It's better without it." That's where you really need to put your ego aside, put your ability aside, and ask, "What is the song telling you it needs?"
"One of the most beautiful things about guitar is, I have so many different instruments to pick from—from a single-coil Tele or Danelectro or a Strat to a Les Paul with a PAF. Each one tells
its own story." —Dean DeLeo
Dean, do you approach your guitar solos the same way?
Dean: Yeah. Absolutely. And I also want to go very wide. Not only do I not want to repeat what I did on previous records, but I also don't want to repeat myself on this record. So, the solos are very different from song to song. And not just in tonality, but an entirely different approach—from "Just a Little Lie" to "The Art of Letting Go" to "Reds & Blues." One of the most beautiful things about guitar is, I have so many different instruments to pick from—from a single-coil Tele or Danelectro or a Strat to a Les Paul with a PAF. Each one tells its own story.
Do you work out your solos in advance or are they improvised?
Dean: If you go back to [2001's] Shangri-La Dee Da, I approached those solos very differently. I didn't even pick up a guitar. I didn't want to get into some kind of pentatonic mode and play a guitar solo per se, so I sat there with the song and I had a little recorder and sang my solos. Then I transposed them to guitar. That's why the solos on that record are a little more melodic. This record was different. I didn't have anything really predetermined. I waited to see where Jeff was going to leave off. I'm sort of playing off his vocals.
When tracking, do you go for a basic rhythm sound for the whole record or do you use different sounds from song to song?
Dean: I kind of know, once the song is at its inception, where I want it to go sonically. It's just about chasing that tone. For me, it's about getting what's going on in my bean [head] and making that come out of the speakers. That's the name of the game. And sometimes it works and comes along quickly—and it's nice when that happens. But sometimes you stumble upon a different tone, and you're like, "I kind of like that better." It's nice to have the ability to not chase your tail.

Guitars
Live
Five '88 Gibson Les Paul Standards
Two '60s Fender Telecasters
Two Nelson Guitarwerks T-Classics
Two PRS McCarty Semi-Hollows (with a piezo pickup for acoustic sounds)
Studio
'56 Danelectro U2 with lipstick pickups
Two-pickup '60s Danelectro double-cutaway
Fender '60s Telecaster with Bigsby
Nelson S-style guitar
'60s Kay
'60s Kustom
'60s Gretsch Country Gentleman
'50 Gibson J-50
'45 Martin 0-18
Amps (live)
Demeter TGP-3 Guitar Pre-Amp
VHT 2100 Classic power amp with EL-34 tubes
Vox AC30 with Celestion Alnico Blues
Two Marshall 4x12 slant cabinets with Celestion Vintage 30s
Effects (live)
Rocktron Intelliverb
MXR MC406 CAE Buffer
Dunlop GCB95F Cry Baby Classic Wah
Boss CE-1 Chorus Ensemble
SIB Varidrive Tube Overdrive Distortion
RJM Music Mastermind GT/10 MIDI Controller
Strings and Picks
Dunlop DESBN1046 Super Bright strings (.010–.046)
Dunlop Chrome Guitar Slide 318
Dunlop Delrin 500 (heavy pick)

Do either of you have any formal education as a musician?
Robert: None at all. Just being a good listener is an education. Being the youngest of a big family back in the early '70s, I was very curious about records and I remember some of the first records that I picked up and had the pleasure of listening to were by the Beatles and the Beach Boys. I heard that music back then and it was like the bell ringing. I was so amazed. And I had a very good understanding, at 5 or 6 years old, of rhythm and bass playing and hooks and lines and flavors and arrangements. It really caught, I would say, my ear, but it really caught my soul.
Robert, your bass lines can often be very active, but they only ever seem to enhance the song or melody, like in "Reds & Blues."
Robert: That goes back to most of the stuff that [Motown bassist] James Jamerson was doing on pop songs. I'm just amazed by what he got away with. If you listen to "It's a Shame" by the Spinners, I mean, that just blows me away. It's one of my favorite bass lines. Or "Ain't Nothing Like the Real Thing" [by Marvin Gaye & Tammi Terrell]. Wow! He's the guy that set the tone for everyone else. He's the highest up there for me.
I definitely hear his influence in your playing—especially in "Finest Hour."
Robert: It's the breath in between the notes, not actually what you're playing, to me. It's the breathing of the line that gives it its breadth and that's what always amazed me—the spaces in between and what people did with that.
Do you ever play with a pick or is it strictly fingerstyle?
Robert: I've been doing some outside projects, and one of them is with Matt Sorum from Guns N' Roses, who has a project called Kings of Chaos. We did some stuff with Billy Idol and that material is all strictly pick. I owe Steve Stevens for saying, "Hey man, can you play that with a pick?" I was like, "I don't know if I can, but I'll try." I really wrapped my head around it. It has a certain kind of percussive, aggressive attack to it that really fits those songs. I had a blast doing it.
Are there any pick players that ever stood out to you when you were growing up?
Robert: There are two, and they're completely different from each other. One is Chris Squire. I am constantly amazed by what he did with not only his playing, but also his tone. And then, Graham Maby's playing really stood out to me on the first two Joe Jackson records [Look Sharp! and I'm the Man]. "Sunday Papers" is some good, clever bass playing.
I read somewhere that your goal, as a bassist, has been to combine the feel of James Jamerson with the sound of John Entwistle. I think you achieved that on this album—especially on songs like "Roll Me Under." What's your secret?
Robert: With all the records we've ever made, I've pretty much used the same thing. In the beginning I had a '61 Fender Bassman head—it was actually Dean's—with a special-order Bassman cab that had the original JBL 15" in it. Unfortunately, it crapped out after we did the High Rise EP [in 2013] with Chester. So, I was panicking on what to do. I was so used to using that. So, I pulled out a '67 Ampeg B-15N I own and realized I had more low-end and a different midrange from the Bassman. I liked what it was doing, so I put a vintage Neumann U67 on it and used that.