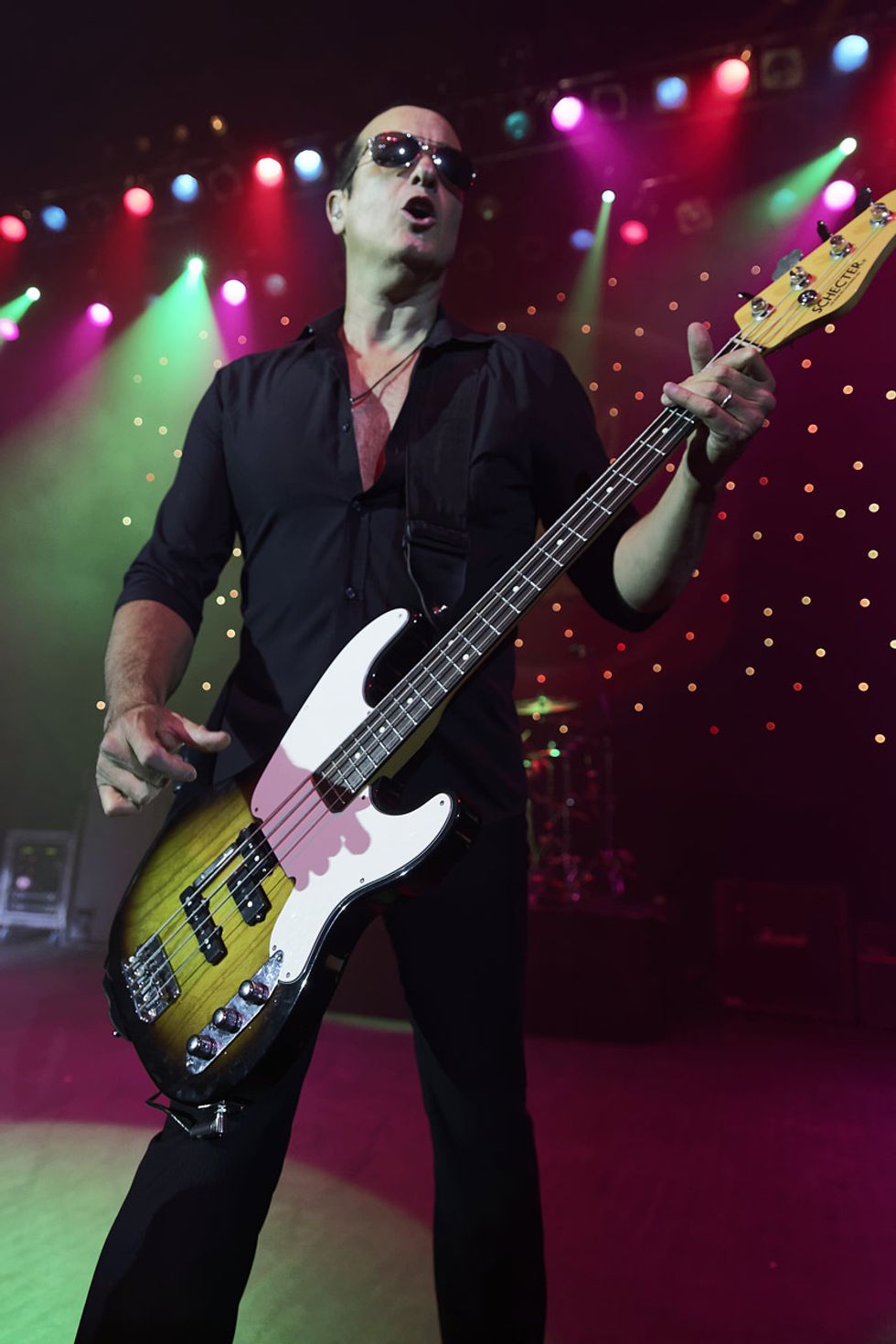 Although Rob DeLeo is playing a Schecter P-style here, his current stage basses are made by STP guitar tech Bruce Nelson and include a combo of Lollar P and J pickups with individual volume controls and one master tone. Bodies are 1-piece alder with a nitrocellulose lacquer finish. Photo by Ken Settle
Do you ever record multiple tracks for bass or is it just the one track?
Robert: There are three bass tracks on this record: the B-15N, then, on another track, I used the Little Labs Redeye direct box, and I have an Ampeg VT-22, which is essentially a V-4 in combo form. It's 100 watts. I take the speaker out of that and power the head into a 1970 Marshall 8x10. That's the growl that you hear. The midrange from the switches on the VT-22 gives you this notched kind of thing. Back in the day, during Tiny Music…, No. 4, and Shangri-La Dee Da, I was using the Bassman with the 8x10, and I was putting a wah in there and cocking it, which you can really hear in the bass tone of "Down" [from No. 4]. That's what I'm doing now, but with the VT-22 through the 8x10.
What basses did you use on this album?
Robert: I got a chance to use a lot of my basses. I have a very nice vintage collection that I got from a gentleman who'd been storing basses away for 30 years, and some of them hadn't been opened in 50 years [laughs]. Some are literally mint from the '50s, '60s, and '70s. They don't leave my house.
Are you cautious about dinging vintage mint condition basses?
Robert: I dare not sweat on them [laughs]. I'm going to invent something new, like the "arm sock" for when you're playing your vintage basses and you don't want to scratch them or sweat on them. What was that thing you put on, like a robe, and you watch TV?
"I'm going to come up with a bass Snuggie. You put that on your arm in case you don't want to sweat on your vintage instrument."
—Robert DeLeo
Snuggies?
Robert: Snuggies! Yeah! I'm going to come up with a bass Snuggie. You put that on your arm in case you don't want to sweat on your vintage instrument [laughs].
What basses are you playing live?
Robert: Dean's tech and our good friend, Bruce Nelson, is a very, very proficient luthier. We just recently played with Joe Perry and Joe's been playing some of Bruce's guitars. I had him build me a couple of basses and they're just amazing. They feel so comfortable, and he's building them from scratch. So, I'm using Nelson basses now.
How did you meet Bruce?
Dean: I went to Bruce's house only because he was setting up a friend's guitars. Bruce answered the door and within 10 seconds I was like, "Oh my god, I love this guy." He was so kind and knowledgeable. I was just about to go on tour with Joe Walsh and I said to him, "Hey man, do you ever go on the road? Robert and I are going out with Joe Walsh for a few weeks. Would you want to do it?" And he was like, "What are the dates?" He was working for Tom Anderson at the time, building guitars. So, I gave him the dates and he goes, "Ironically, your dates line up with my vacation." We've been pals ever since. He's first and foremost a beautiful human being. He's built me four guitars: three Teles and a Strat. This one Tele has Firebird pickups in it. It's an incredible guitar.

Basses (live)
Bruce Nelson-built Nelson Guitarwerks hybrid P/J-style basses (These include Lollar P and J pickups with individual volume controls and one master tone. Bodies are 1-piece alder with a nitrocellulose lacquer finish. They have a custom 12-gauge, steel-string, through-body bridge with 3/8" brass saddles and a 1/2" thick recessed steel string block. Nelson's neck plates are 12-gauge steel with six neck screws, and the necks are quarter-sawn torrified maple with Indian rosewood fretboards, block inlays, and binding. The frets are stainless steel, the nuts are brass, and they employ Hipshot Bass Xtenders.)
(Studio for Stone Temple Pilots)
1965 Fender P Bass with padauk fretboard on "Middle of Nowhere," "Just a Little Lie," "Six Eight," "Roll Me Under," "Finest Hour," "Good Shoes," "Guilty" (with Electro-Harmonix Bass Micro Synth), and "Meadow" (with Maestro BB-1 Bass Brassmaster fuzz)
1976 Rickenbacker 4001 on "Thought She'd Be Mine"
1971 Rickenbacker 4001 fireglo with flatwounds on "Never Enough"
1972 Fender J bass on "The Art of Letting Go"
1974 Fender Telecaster Bass on "Reds & Blues"
Amps
QSC PLX1602 2-channel, 1600-watt power amp (live)
Two Ampeg SVT-810E 800-watt extension cabs (live)
1967 Ampeg B-15N (studio)
Ampeg VT-22 (studio)
Effects
Line 6 Bass POD XT Pro amp modeler
Furman PL-8 Power Conditioner
Shure ULXD4D Dual Channel Digital Wireless Receiver
Strings and Picks
D'Addario EXL160 Nickel Wound Medium (.050–.105)

How important is your tech to your performance each night?
Dean: We're so in tune with one another. And he knows my guitars. He knows that on the black Les Paul he has to flatten the G string just a hair, and on one particular Tele I need to have the B string a little sharp because it's tuned to open D minor. He knows the idiosyncrasies of each guitar.
What amps are you using live?
Dean: I'm using the same stuff I have since day one. The live rig really allows me to cover a lot of real estate. It's so versatile. I'm able to get so many different tones just by utilizing the volume and tone off the guitar. I can cover all the albums and that's a lot of material. It's a VHT amp, run in stereo. I run that at 50 watts, 16 ohms. That goes through two 4x12 slant cabs with 30-watt speakers. That also goes through the Demeter tri-modal preamp, which gives me three channels. I can have a cool kind of semi-clean thing, depending on where the volume is on the guitar, and I can have a big rhythm tone, and I can have the third channel be a big blast-off, lead tone. That's running stereo, and then I have a Vox AC30 in the middle and it's set very clean—very chimey. My front-of-house guy runs the Marshalls full hard left and hard right and the AC30 is up the middle. When I'm playing chords I want to hear every string.
Hats off to Ken Andrews for mixing the record. He did an amazing job. Did you bounce mixes back and forth for feedback?
Dean: We felt it would be unfair to be in there, so we let Ken do his thing. We would go in at the end of the day and listen and give him a little direction about what we wanted, but it was mostly, "Do your thing, man." We would only tweak little things like, "Let's goose the top of the last chorus," but it was 98 percent done when Ken had us out there [to listen].
You recorded this album at your home studios. What did your engineer, Ryan Williams, bring to the table?
Robert: Ryan started working with us on our third record, Tiny Music… He was Brendan's [Brendan O'Brien, producer] assistant going back to '96. We reconnected with Ryan for this record. It's like having someone who knows exactly what we want. He's that bridge between Brendan and us. He really has that thing. I couldn't imagine working without him. He's that important.
Speaking of Brendan O'Brien, what affect did working so extensively with him early in your career have on you?
Dean: Let me tell you man, we learned a lot making our first five records with Brendan. He is notorious for working fast. I would want to do five more takes and he'd be like, "We're done, man. We're done with that one, we're moving on. Let's go. Next part." That was really instilled in us through five records. Brendan worked fast and efficient and he got the best out of us, quickly. That's how we learned to make records.
Stone Temple Pilots, with new singer Jeff Gutt, perform a stripped-down version of their classic "Plush" on Los Angeles radio station KROQ. But there's nothing low key about the shimmering, crunchy tones Dean DeLeo gets from his Les Paul Standard, or the rhythm section's punch on the choruses and finale. Hang in for Robert DeLeo's "shave and a haircut, two bits."