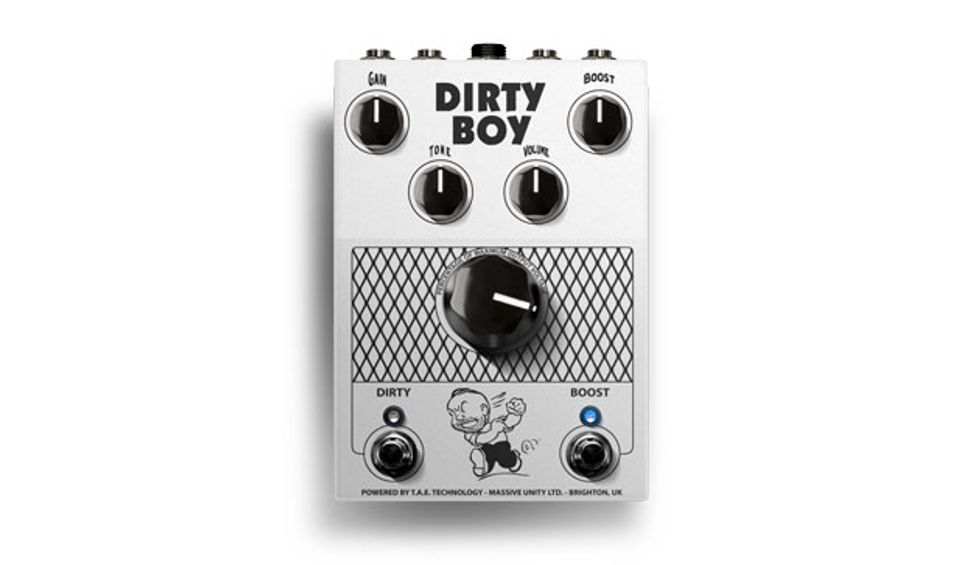 Madrid, Spain (June 21, 2018) -- Ready for Summer NAMM 2018, Massive Unity has unveiled the new Dirty Boy preamp, powered by T.A.E. technology (proprietary tube amp. emulation developed by Danny Gomez, engineer, musical director, and session guitarist).
Based on the classic amplifier, the Dirty Boy is a full analog amplifier simulator for line connection, a highly detailed preamp to your amp's FX loop, or even an impressive tube sounding booster/overdrive to your amp's input.
Features:
Powered by T.A.E. technology for a real analogue experience
20 dB switchable booster
Variac simulator
True Coil Transformer by LAA Custom
Preamp Output
Speaker Emulated Output (closed-back w/ 4x12 "Greenback")
Top-mounted I/O
Remote switching
Specs:
Input impedance: 1 MOhms.
Output Impedance: 6.5 KOhms.
Power supply: 9V external AC-DC adaptor
Dimensions (mm): 145 x 105 x 74
Weight: 400gr.
T.A.E.technology revolutionizes guitar recording and live shows in an ultra-compact design with amazing results. Used on pedalboards and studios worldwide by some of the finest players and producers. Available to guitarists and bassists needing both a professional alternative to their amplifiers and/or a responsive backup to their regular rig on an ultra-lightweight package with a real analogue experience.
Developed by Danny Gomez and Carlo Sorasio, handcrafted in Europe by LAA Custom, is available for 299€ - $352 (RRP).
For more information:
Massive Unity