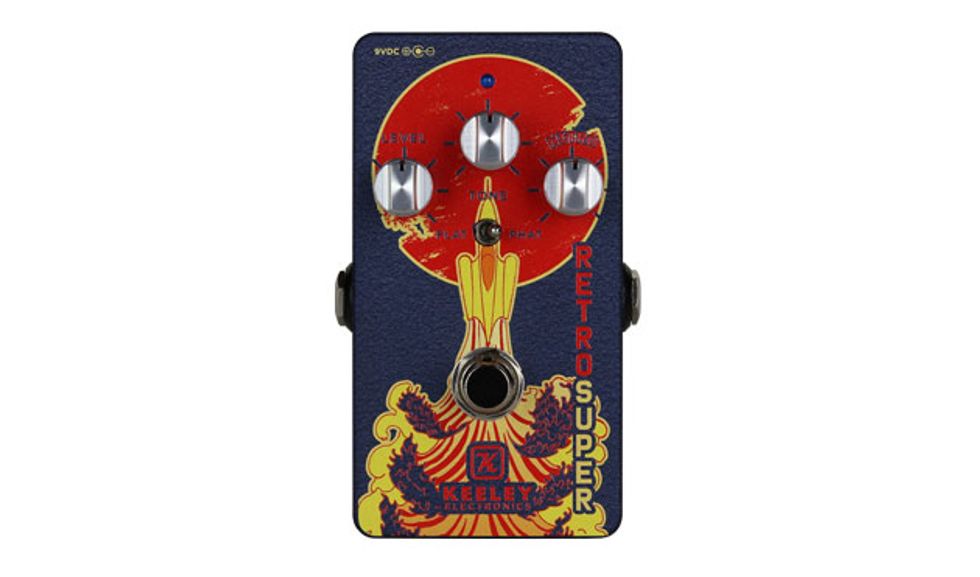 Edmond, OK (August 9, 2018) -- Keeley Electronics is proud to announce the Retro Super Germanium Overdrive, a custom shop overdrive that blasts our Super Phat Mod into the stratosphere!
We started with the drive from our Super Phat Mod Germanium, then kicked it into, well.. HYPERDRIVE! The Keeley Retro Super Germanium Phat Mod reads your fingers and mind to give you supernatural quantities of gain. It's a fuzz, it's a drive, and it's a cranked amp all in one! The Retro Super is ultra responsive and has maximum dynamic gain.
At the heart of the Keeley Retro Super Germanium Phat Mod is our germanium amplifier stage. Designing this additional gain stage into the front of the "amp tone-stack" did wonders; it amazingly simulated a retro-fuzz pedal connected to a cranked amp.
We didn't want to let it idle there, so we completely opened up the secondary gain stage so that the dynamics would jump out of your speakers. The result is SUPER! The Retro Super is perfect for thick and thoaty gain tones that are dynamic and add loads of sustain.
Any fan of the Phat Mod knows that it performs perfectly in low AND high gain applications. Emphasis on the AND. So why not have two?! Problem solved: the Retro Super teams up with anything.
The Keeley Electronics Retro Super will be available 08-09-2018 at dealers worldwide as well as RKFX.com for $179.
Watch the company's video demo:

For more information:
Keeley Electronics