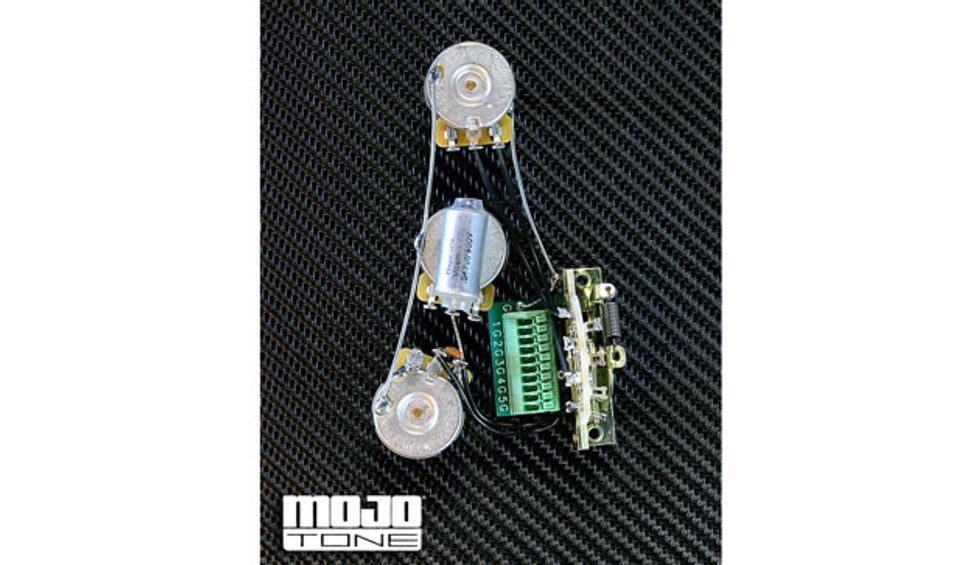 Burgaw, NC (August 27, 2018) -- In their continuing effort to help guitar players build, modify and repair, Mojotone has just released their newest addition to their Pickup and Parts line up: the Solderless 5-Way Blender Wiring Harness for S-style guitars.
Made in the USA with high-quality parts, the Mojotone Solderless 5-Way Blender Wiring Harness designed to make replacing S-Style wiring harnesses an effortless job -- and it provides a platform to easily swap out pickups.
The Mojotone Solderless Wiring Harness offers super-reliable connections with a simple push and release of a button, all while delivering a superior quality electronic upgrade for your guitar.
No bulky plugs or add-ons are needed for the Mojotone solderless assemblies to work their magic. Simply strip back the wires from your pickups and guitar, insert them into the solderless connector, and you're done! You'll immediately gain the sonic benefit of high quality pots and components, and you'll get easy pickup-swapping capabilities anytime you want to install different pickups in the future.
The Mojotone Solderless Pre-Wired 5 Way Blender Wiring Harness has a street price of $89.95 and is available at www.mojotone.com and Mojotone Parts and Pickup dealers.
Features:
Push-in solderless wire connection for easy installation and quick pickup swaps
Vintage quality USA branded components (Switchcraft, Mojotone, CRL, and CTS)
USA made CRL Switch: the most reliable and smoothest feeling switch ever made and hasn't changed since the 50's.
Smooth custom taper, CTS industrial potentiometers with solid brass bushings and the tightest tolerances available.
Handcrafted and hermetically sealed Mojotone Vitamin T oil-filled tone caps
Hand-wired point-to-point by Mojotone in the USA
For more information:
Mojotone