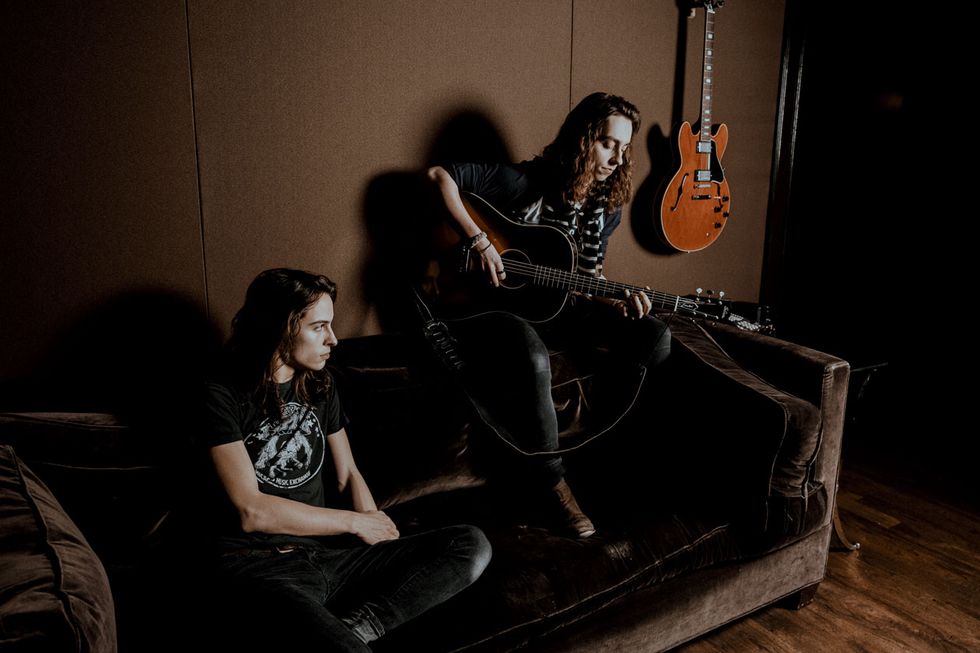 All four of Greta Van Fleet's band members can work their way around an acoustic guitar, and they often write songs together in a stripped-down, folksy way. Jake Kiszka is playing a Gibson in this photo, but his favorite studio guitar in the Blackbird sessions was a'59 Martin D-28. Photo by Alysse Gafkjen
Greta Van Fleet has achieved a lot, very quickly, for a band of precocious young lads from Frankenmuth, Michigan. Half of the quartet can't legally get into a bar: identical twins Jake (guitarist) and Josh Kiszka (vocalist) are 22 now, while their younger brother, bassist-keyboardist Sam, turned 19 this year, and drummer Danny Wagner is 18. The latter two graduated high school the same year the band's two EPs, Black Smoke Rising and From the Fires, were released. The group formed in 2012, when Sam was 12 years old.
Greta Van Fleet exploded onto the charts in 2017 with singles "Highway Tune" and "Safari Song," which both reached No. 1 on the rock charts and subsequently propelled the band to tour. Soon they were drawing sold-out audiences around the world. When Premier Guitar met up with brothers Jake and Sam in Nashville at Blackbird Studios in February 2018, the band was prepping to share a stage with Sir Elton John, who handpicked them to play at his annual Oscar party. They were also in the middle of tracking their anticipated debut full-length album, Anthem of the Peaceful Army (which will be released on October 19), and already living a dream that many musicians aspire to—with just two EPs under their belts. (As of this writing, the upcoming unreleased album's first single, "When the Curtain Falls," had reached No. 5 on Billboard's rock chart.)
Rock fans have responded to this band's raw, energetic music in droves, but you can't discuss Greta Van Fleet's rise without addressing the elephant in the room: Led Zeppelin. Greta and their sound—from its tight, powerful rhythm section to Jake's scorching blues-rock riffs to Josh's howling, almost operatic vocal prowess—have yet to shake the association. But they're proud of where they came from.
"There are a pretty broad range of influences we grew up with," says guitarist Jake. "Being a band for this generation, we're still a product of our environment. I think we're blatantly making it apparent that these are things that influenced us growing up, and not just Led Zeppelin. It's the Beatles and the whole of the British Invasion and American roots music and so many other things. But we're not shy or abased to say that we were influenced by Led Zeppelin. We're not trying to hide anything."
"We're not shy or abased to say that we were influenced by Led Zeppelin. We're not trying to hide anything." —Jake Kiszka
The three Kiszka brothers have been banging on instruments since they were out of diapers. The influence of their family—especially their chemist father, Kelly Kiszka, who Sam calls "the best harmonica player I've ever heard"—provided the impetus for what they do. "The reason this whole thing exists is because of everyone in the whole family playing music," Sam says. (The Kiszka brothers also have a sister who sings and plays flute and ukulele.)
Jake, who spent his youth glued to six strings, points to Eric Clapton as one of his earliest influences. He recalls plugging in his Squier as a 7-year-old and playing along with his father's band while they rehearsed in the next room. "I was quiet enough that they couldn't hear me, but I would pretend to jam with them," he remembers.
For Sam, Jack Bruce is the benchmark of bass that he's always looked up to. "He kind of did what John Entwistle did before John Entwistle," says Sam. "He brought the bass to the forefront of the music. He played it, and that wowed me. He made bass a lead instrument."
And so, rock 'n' roll is in their natural habitat. If some are quick to call their music too familiar, it's no less genuine. "I think what really sets us apart is the time our music is coming," Sam says. "Right now, it's coming at a time when your stereo is not receiving signals of authentic music. And it's time for that to change. Greta Van Fleet has a chance to bring authentic blues-rock back into the popular scene. We are three brothers and a best friend, we really love each other, we write all of our songs together, and we put power behind our music in this modern scene."
Months after meeting them in person at the studio, we caught up with the brothers again on the phone as they were in L.A. rehearsing for a short film for Apple Music's Up Next series. With their careers blasting off and beginning to really rage, Sam and Jake were calm, collected, and thoughtful as they shared details about plugging in for the first time, discovering improvisation, playing with sitars and lap steels at Blackbird, songwriting for Anthem of the Peaceful Army, and the beauty of simplicity they feel is at the heart of rock 'n' roll. Their debut LP comes after Greta Van Fleet has already, by some measures, "made it" as a band. Something tells us they're just getting started.
Do you have a specific memory of an "aha" moment with your instrument, where you knew music was what you wanted to do for the rest of your life?
Jake: I think it's a collective of "aha" moments throughout the period of my life up to this point. I'd always been playing and I always had an acoustic. I was working with my dad to continually upgrade to the next acoustic when I outgrew one, I suppose. But I remember being at my uncle's house in Michigan and sitting there and my dad would come in every hour and he'd say, "Okay, you need to move from chord A to B. Now do that as fast as you can to transition." So I'd sit there and just play those chords over and over so that when he walked back in, if I could do it, then he'd show me another chord. It was so easy at that point—I took to it quite well. That was when I was like, "I can do this." Having played since age 3, and then fiddling around and finding chords of my own and then getting an electric guitar for the first time and plugging in, that was an "aha" moment and total transcending of what I wanted to do. I could translate all the stuff I learned from the acoustic to the electric.
Sam: Yes, it was early on. I was about three to six months in. This is at the point when I'm starting to learn what it really means to play the bass. Bass was my first instrument and at the time was my only thing I was really doing. We were having this jam in the garage like we always used to do … just invited a bunch of buddies over. You know, the classic problem with the group jam session is, you always need a bass player. You have one and it always seems that they run off: Where did they go? It's like some kind of punishment to have to play bass, and so I'm always doing it. I never get to play keys in the jam session because there's never any bass players. But anyway, we broke into this 12-bar blues, and I was absolutely wowed by myself when I started improvising. I think that was the first time I proper knew what improvising was. I was 12 or 13. I felt the rhythm surround me, and I felt like I was a part of what was going on. Ever since, that's what I've always felt, but that was like the defining moment of, "am I gonna stick with this?" That was the breakthrough.
Sam, you also play piano and many other instruments. What's your favorite instrument to play where you feel most free?
Sam: Honestly, the bass is where I feel the most freedom because bass is kind of the last thing that people know they're listening to. People would notice bass a lot more if it disappeared. That's kind of where I got my style from. I never really noticed what bass was until my dad started playing out in like, Cream songs, and I was like, whoa. That makes the sound! Its importance cannot be overstated. So, I thought, if I want to be heard I have to do stuff like this. I started playing really hard and I changed the pickups so my bass was hotter. I feel the most freedom when I explore the melodies in a rhythm.
In a recent interview, Robert Plant playfully said of you guys, "They are Led Zeppelin I." What did you guys think about that?
Jake: I saw that. I think for all of us it's another of those humbling, honorable moments. When we're with Elton John or so many others we brush paths with, those individuals are legends we grew up listening to on the radio. To have them talk about us is really inspiring. That re-jolts us, and kind of gives us credibility that what we're doing isn't being unseen or unrespected. With the Led Zeppelin comparison, we're humbled with the references and honored by the affiliation.
Sam: I really don't know [laughs]. Because even with people like Robert Plant, I try to keep other peoples' opinions out of the way. That's just a life thing except when you're doing this it gets exemplified by a trillion. It's hard to focus on what the art means anymore when you're caught up in what people think of you. When you start making music for other people, then you get into a realm where you can turn on the radio and hear that stuff. But to be honest, I would take that as a compliment, because that's a great, great record.