This King Les Paul-shaped, dual-humbucker guitar isn't simply shiny. It also plays well and sounds good enough to make it a keeper—and an eye-catching hit at jams.
I love unusual guitars. That's a given. And from my vantage point, there's no shortage of unusual guitars out there. Just when you think you've seen it all, one will surprise you. This guitar came up when I looked at a favorite seller's items on eBay. It's a Les Paul-shaped guitar made by King, a company I wasn't familiar with. The guitar's entire top is mother-of-pearl pieces, in a circular mosaic pattern, similar to some old Zemaitis guitars from the 1960s. I wasn't sure what to make of it. It just seemed bizarre, more than anything else. But every time I looked at it (every day or so), it intrigued me more. The seller wanted $325 in a fixed-price auction. The seller had great feedback, and it seemed like a reasonable price, but for whatever reason I was not able to pull the trigger.
Sometimes selling an included hardshell case that you don't need can lower your price on an instrument enough to make a good deal into a great deal.
I kept an eye on it, though, and it went through several no-bid cycles. Then, the seller added "or best offer" to the fixed-price auction. I got to thinking about it and figured to offer $50 less. So I sent an offer of $275. To my surprise, he immediately accepted my offer and I PayPal'd him.
Bottom Feeder Tip #207: If a seller's item hasn't sold after awhile on eBay, he or she may entertain best offers. That's opportunity knocking for you as a buyer. You have nothing to lose if you send your best offer. It can be accepted, rejected, or met with a counteroffer. But keep in mind that once your offer is accepted, you just bought it and must pay for it. It's legally binding, as they say.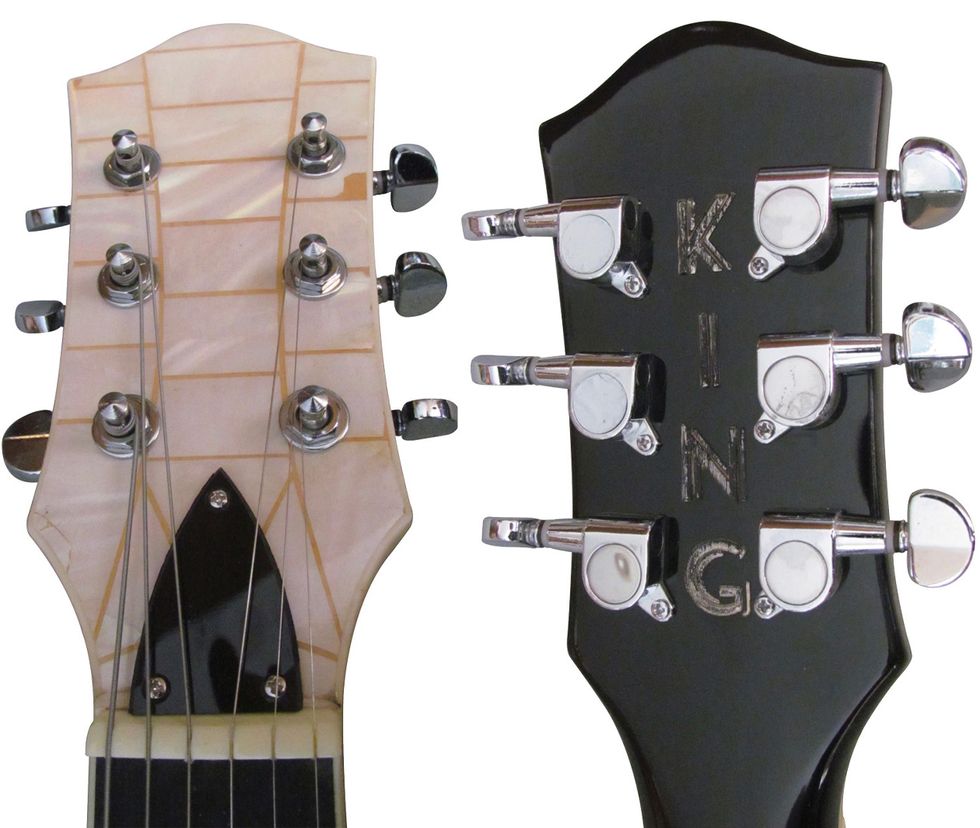 The mother-of-pearl pattern on this instrument is ornate and thoroughly plotted—even on its headstock, to the extent that the company's name appears on the back rather than interrupt the visual vibe.
I received the guitar a week later. It's stunning up close. The mother-of-pearl really pops. It came shipped in a brand-new hardshell case. I'm not into hard cases, so I promptly sold the case for $50, which brought my actual price down to $225—where I'm more comfortable as a bottom feeder.
Bottom Feeder Tip #688: Sometimes selling an included hardshell case that you don't need can lower your price on an instrument enough to make a good deal into a great deal.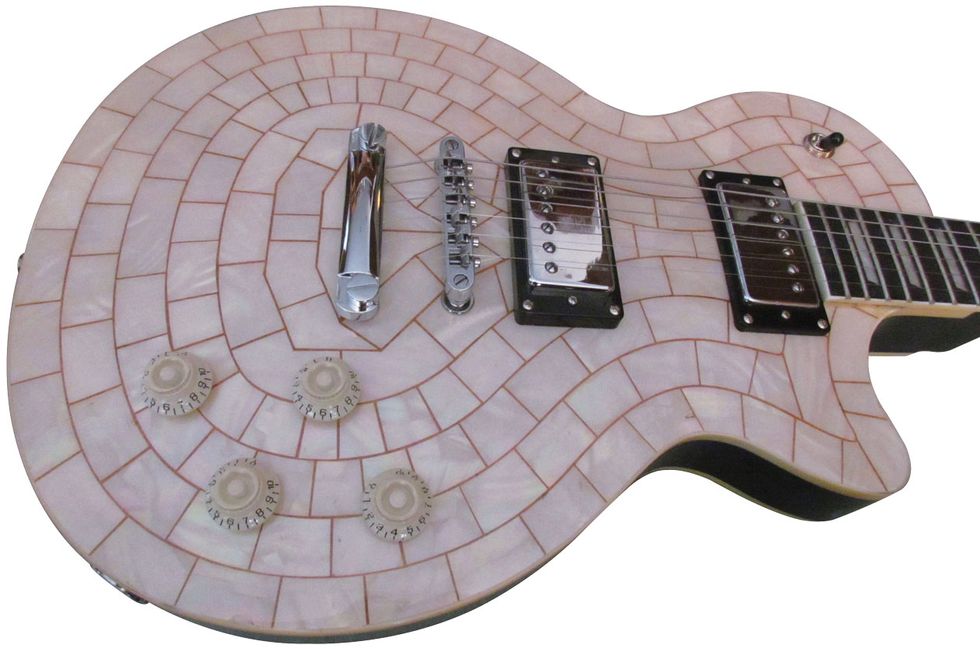 Normally a P-90 fanatic, Will Ray nonetheless found this axe's humbuckers very articulate and mud-free—making his final $225 cost a Bottom Feeder bargain.
How do I like the guitar? Well, it's an interesting piece—that's for sure. The intonation is good, the neck is straight, the action is easy to play, and the humbucker pickups are very articulate without being muddy. I have other guitars that can do the same thing, but they don't look like this one! I still get a kick out of eyeballing it.

So, is it a keeper? Yeah. I'll probably keep it around for a while. It's always fun to show people, and it never disappoints at a jam.