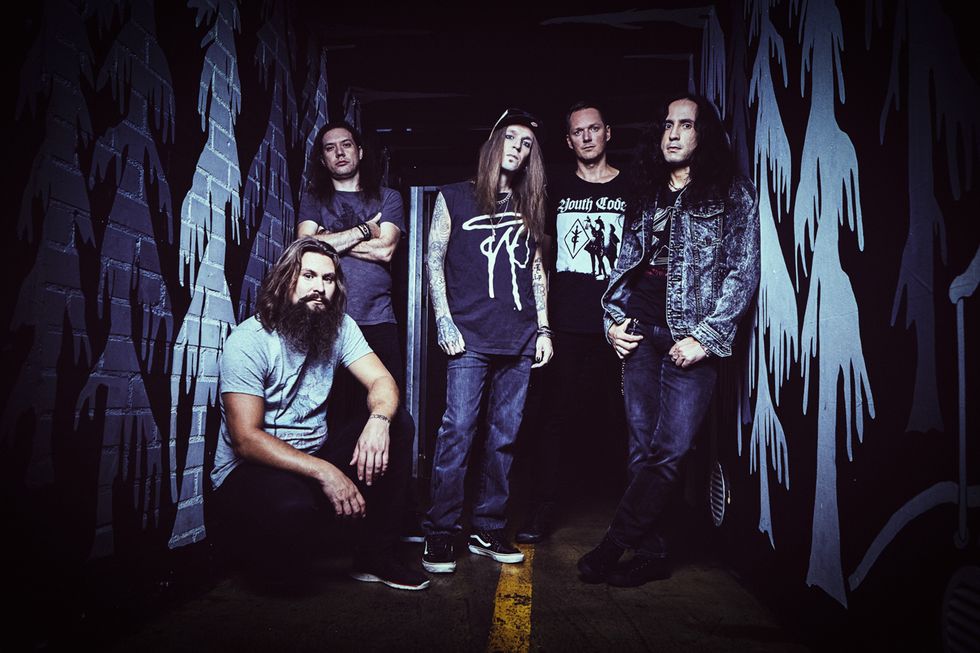 Finnish band Children of Bodom has been crafting melodic extreme metal for more than a quarter century. From left to right: Jaska Raatikainen (drums), Janne Wirman (keyboards), Alexi Laiho (lead guitar, vocals), Henkka Seppälä (bass), and Daniel Freyberg (rhythm guitar). Photo by Marek Sabogal
It's 3 p.m. on a sunny, spring afternoon and Children of Bodom's frontman and guitarist, Alexi Laiho, is just waking up on a tour bus. It's less than a week into the Hexed tour, in support of the band's latest release, and Laiho is drained. "My schedule's fucked up a little," says Laiho. "We're having a day off in Nebraska. It's a travel day. We just played in, where the hell did we play…Indianapolis. Chicago before that and Detroit before."
The days all blur into one and "This Road," the album opener on Hexed, depicts the grind with lyrics like, "Night after night, sin after sin. Year after year I don't know where I've been. Different day with the same old refrain, and it's starting to blare all over again."
The touring lifestyle is tough and has weighed heavily on Laiho's mind for some time now. Children of Bodom's previous tour, which ended only about four months prior, was called the "No Place Like Home" tour. To make the road even more challenging for him, years ago he swore off drinking while on tour and is also still recovering from a shoulder surgery—he fell off the bunk on his tour bus in 2009 and busted his shoulder. (Though he persevered and played through injuries including a broken rib, his body gave out at a New York City show and he had to leave the stage by the fourth song, vomiting blood.) But like many great musicians, Laiho lives for the energy of a live show, and after over two decades of touring is a lifer.
So much so that, midway through recording Hexed last spring, Children of Bodom signed on for a U.S. tour that lasted for about two months. This interruption proved to be a blessing in disguise. The time away gave them a different perspective upon their return to the studio, and led to some of Children of Bodom's most inspired writing in years. Recorded at the band's Danger Johnny Studios in Helsinki, Finland (Where they recorded their two prior releases, I Worship Chaos and Halo of Blood, respectively.), Hexed showcases a return to a classic Children of Bodom sound with a strong neoclassical influence. It's most notably heard on the title track, with its recurring, Yngwie-like, unison theme played with keyboardist Janne Wirman, as well as on the post-keyboard solo interlude of "Platitudes and Barren Words."
Hexed also features the updated Children of Bodom band lineup, which sees rhythm guitarist Daniel Freyberg making his recorded debut with the band. Freyberg replaced longtime rhythm guitarist Roope Latvala, who was fired in May 2015, just three days before the recording of the band's previous album, I Worship Chaos.
Premier Guitar caught up with Laiho to discuss Hexed, how Freyberg got the gig, and the ongoing struggles of recovering after his shoulder operation.
"The Road," which opens Hexed, is about the touring lifestyle. Has it worn out its welcome or do you still enjoy it?
I definitely do. I sometimes feel like it's killing me, but it's like an addiction, you know. Like when they're talking about drugs or alcohol. You just love something so much but you also know that sometimes it's killing you. But you're always going to get back to it.
You know, I've been doing this for over 20 years. When things start looping over and over again, everything starts to become a blur. That's what it's pretty much about.
And you've stopped drinking on the road.
Yeah, when I'm on the road, no alcohol. I started doing that in 2013 and I'm sticking to it. I don't want to be hungover onstage anymore, ever again.
"Showing off is really cool and I still do it, but it's more about stuff that fits the music."
How do you keep your sanity on the road without any vices?
Just chill out for a little but then, depending on how tired I am.… Usually the case is that you're so fuckin' amped. I don't know, just take a sleeping pill and go to bed.
The songs on Hexed sound like they have more straightforward structures.
It just came out that way and it makes the music catchier. It's been going on for a while, but on this record, especially, it's sticking out. There are a lot of hooks and basically you can remember a song from hearing it one time only. So that's a good thing. Arrangement-wise, we did that on purpose.
Hexed was mixed and mastered by the middle of last year, and was scheduled to be released in the fall, but got delayed twice in its release. What was the holdup?
I don't actually know. I guess only the record company knows. It kept being pushed back all the time but it finds a way out. It took a couple of tries. I still don't know why.
Did you run through any of the newer material on tour, prior to the album release?
No. Not yet. I've been fucking around with some new ideas but I don't write any songs when I'm on the road. It's the wrong environment for me.
Daniel Freyberg makes his recorded Children of Bodom debut on Hexed. How did he get the gig?
Well, I've known him forever and he jokingly said, "If you're looking for somebody, I'm available." Then I started thinking about it and was like, "Why not?" So I told him to make a video of himself playing a couple of COB tunes. I knew he was a great guitar player but I hadn't heard him play in a long time so I wanted to see how he's doing, and I saw the videos and he was awesome. We did rehearsals with him and we did a tour with him, and he stuck around. He fits in the band very well.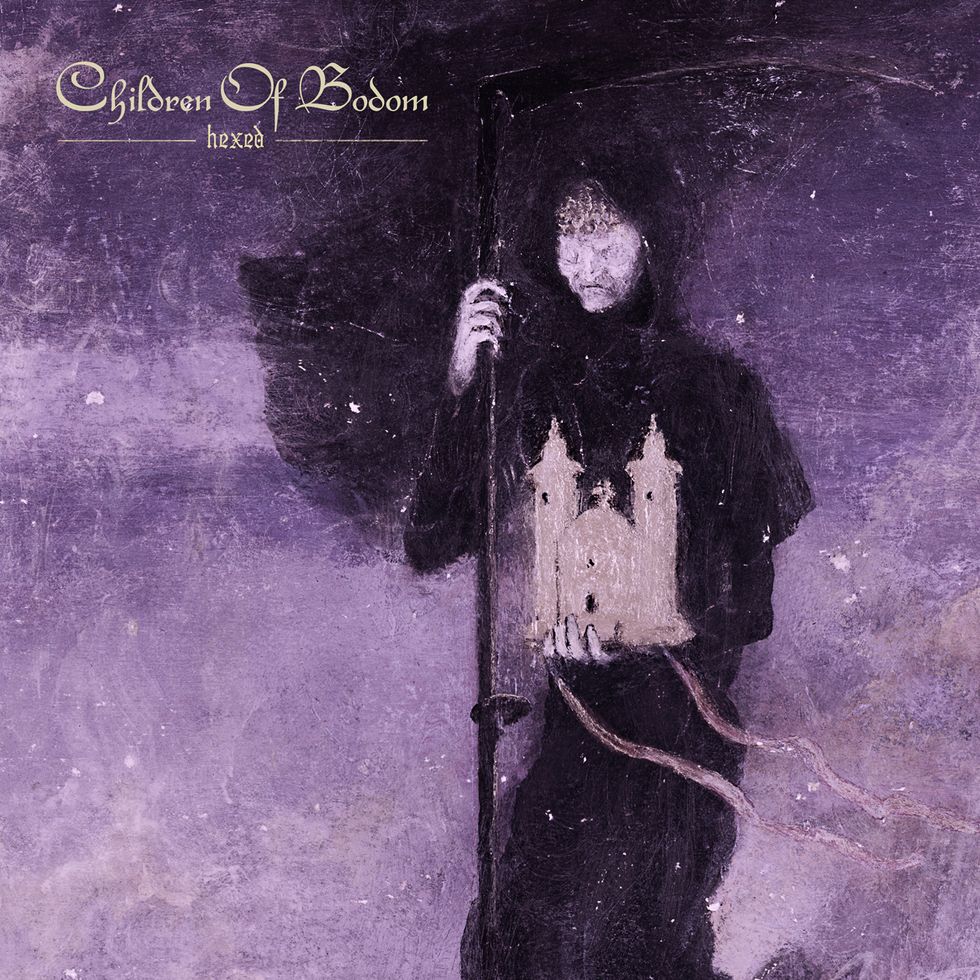 Recorded in Children of Bodom's own Danger Johnny Studios in Helsinki, Finland, the band's 10th studio album, Hexed, marks the group-recording debut for rhythm guitarist Daniel Freyberg.
Did he take part in the writing process?
No, I still write everything, but he was part of doing the arrangements. When I was just jamming with him, two guitars, he came up with a couple of cool licks and stuff. Little things here and there.
Did you factor in his ability as you wrote the parts?
No, I never think about that. I try not to think about anything when I write. I block everything out of my mind and then go from there. Hope for the best.
What differences are there in how you guys link up musically versus your previous guitarist, Roope Latvala?
Well, you know, shit happens, I guess. On I Worship Chaos I did all the guitars. Before that it was Roope, before that it was Alexander [Kuoppala]. Other than that, it's the four of us and I like to keep the lineup pretty steady.
What prompted you to re-record 2004's "Knuckledriver?"
We just wanted to re-record it again, to give it some more attention. It was kind of overlooked when it first came out. It should have gotten more attention than it did.
There are lots of neoclassical influences on Hexed, like the unison melody of the title track.
Like everything else, it just came back kind of accidentally. I wasn't planning on doing it. It was a long time ago since we had that sort of thing going on. It was probably Hatebreeder (1999) or Follow the Reaper (2000). It was just a couple of parts but who knows, maybe there's more coming.
Watch our Rig Rundown with Alexi:

---