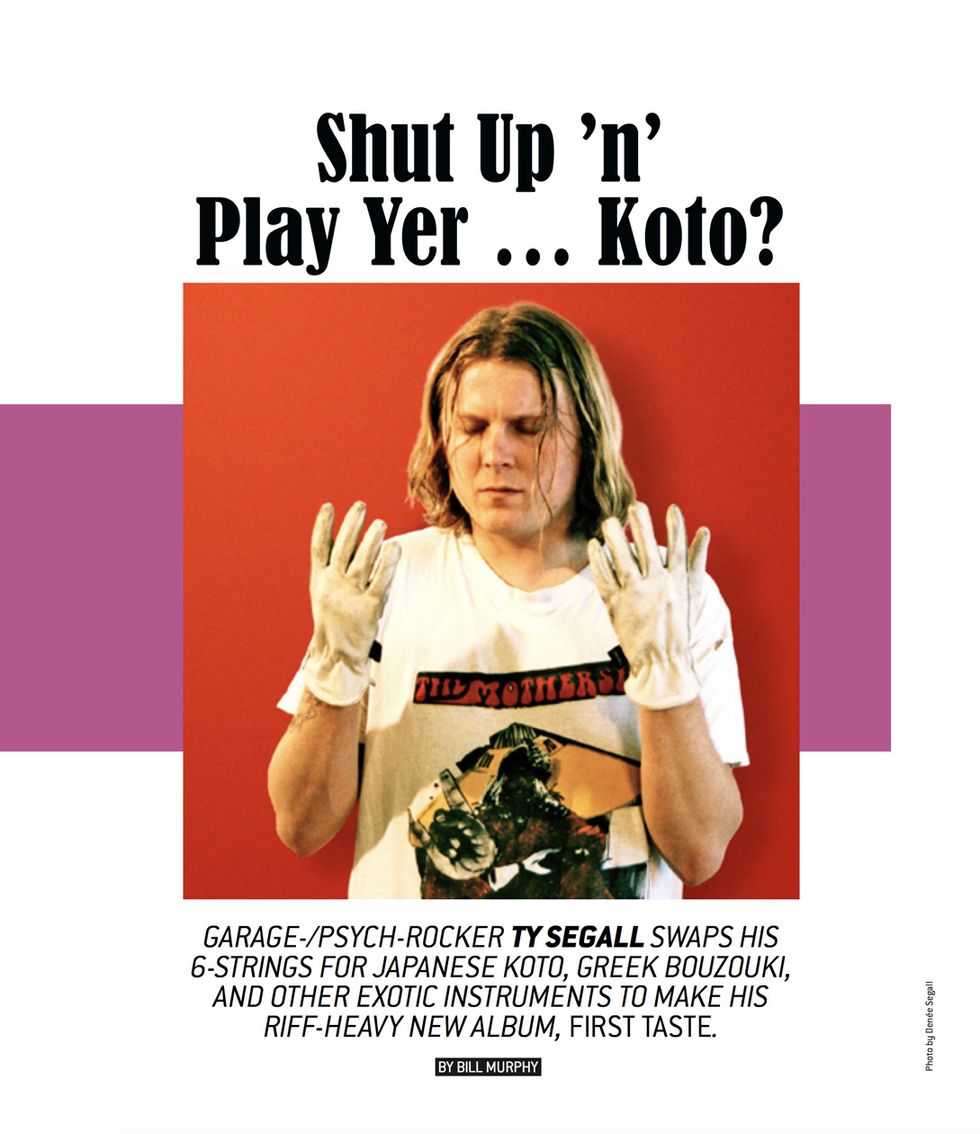 Ty Segall's creative drive led him to abandon guitars for a host of other stringed instruments to make his new album, First Taste, which was recorded in his home studio and on the side of a mountain along the California coast. Photo by Denée Segall
Let's refrain from "burying the lead," so to speak, and begin instead with an uncanny revelation: There are no guitars on noted garage/psych-rocker Ty Segall's new album. None. And it's not a move he made by design—at least, not exactly. As Segall himself explains, the idea emerged from what he experienced as a mild crisis of creative necessity.
"I noticed that I was falling into patterns with my guitar playing," he says candidly. "I think that happens if you become too familiar and comfortable with an instrument. For me, it just felt like I was using similar voicings and chords all the time, so I thought I needed to play instruments I didn't know how to play, you know? Those are the instruments I literally learned how to play for the album, and I wrote songs on them for the first time."
Given his inexhaustible penchant for sonic experimentation, it all fits the profile for Segall, who over the past decade has churned out a rapidly expanding galaxy of genre-busting rock, ranging from the raw, throwback garage punk of his 2008 self-titled debut to the mind-bending sophistication of 2014's Manipulator, a deep study in psychedelic freestyling inspired by the likes of Jimi Hendrix's Electric Ladyland. But even a passing familiarity with Segall's recorded output reveals that not only has the electric guitar been a prime vehicle for his musical expression, it's actually the focal point of what makes him so compelling as an artist. So how did he pull off a complete switching of gears to make the album he chose so cheekily to call First Taste?
The answer lies in his selection of instruments, which includes a flute-like Japanese recorder, an electric Omnichord, a mandolin, and, most importantly, a Greek 8-string bouzouki (bought at a music store in Van Nuys, California, not far from Segall's new home in Topanga Canyon) and a 5-string electric koto (acquired while on tour in Japan). And while the bouzouki and koto might be, at best, distant cousins to the guitar, Segall still had to learn his way around them from scratch. Even so, when he told the members of his Freedom Band last summer that he wanted to track an axe-less album, they couldn't wait to get started.
"We wanted to really try to make this record sound differently than my other records," Segall says, also referring to coproducer Matt Littlejohn, who has worked with the band for years as its go-to sound engineer. "It was fun because it yields different song structures, chords, and changes. You're kind of writing blindly, and then you're mixing differently, too. Matt's ears are so great—he was a key part of all that."
"Taste," the album's marauding first single, encapsulates the approach. Over a hard-swinging beat that features Segall on drums in the left channel and longtime skin-basher Charles Moothart on the right, bassist Emmett Kelly lays down what amounts to a blown-out guitar lick to carry the rhythm. The song is a cacophony of percussion, with Segall shouting, almost sneering, the line, "Our salivating makes it all taste worse." But what really jumps out are the sitar-like stabs of the koto, routed through distortion and an array of unmistakably prismatic, perception-altering effects. It's an in-your-face introduction that retains all the sass, flair, and freaked-up genius of a Ty Segall production—just without the familiar crunch of an overdriven Gibson Les Paul Standard or Travis Bean TB1000S (the latter being his current go-to guitar on tour).
"The koto is really the star of the record," Segall asserts. "I'm just so stoked on the sound. When I was exploring different instruments, it was hard to find something that could replicate the harshness, or the gnarliness, or the wild style of a guitar, and the koto was the thing where I was like, 'Ah, here it is! This is the thing I can play that can replace the crazy electric guitar sound.' I mean, not fully, but it exists in that realm."
"I noticed that I was falling into patterns with my guitar playing. I think that happens if you become too familiar and comfortable with an instrument."
Segall ventures well beyond the boundaries of the realm on First Taste. "The Arms," one of the album's quieter numbers, adapts and transmutes a sound akin to early '70s Kinks, with the bouzouki (and what sounds like mandolin) front-and-center in the mix. By contrast, "Radio" bounces along over an insistent tom-tom beat, with a clean, effect-less koto buzzing in the background like a cicada on a hot summer day. Longtime bandmate Mikal Cronin bites Albert Ayler-like into the saxophone on "Whatever," a dark and funky groover that lopes along on the back of Kelly's stripped-down, distorted bass line, with Segall ripping a solo on the ever-present bouzouki. And then there's "The Fall," a tripped-out and frenetic anthem that features a harmonized koto surging and swirling insistently throughout. Overall, it's a weird and wondrous new direction for Segall—and it's pretty clear that he's not done pursuing it.
"We're playing all the instruments live, for sure," he says, relishing the challenge of playing First Taste on the road. "I think it's the best point in time right now, where I'm not fully fluent in these instruments, because I feel like if I get too familiar with them, it'll be less interesting. So I'm hoping I can squeeze out a few more songs before I fall into a routine with them. But now they'll always be in the studio to use on stuff in the future."
Were there any ideas you developed while making last year's Freedom's Goblin that bled into First Taste?
I feel like every record will inform the next one, and it's almost like a reaction to the previous record, in a new way. So I guess when I started working on new songs for this one, I just wanted to find different sounds, and then that turned into doing different things without the guitar—buying weird instruments and stuff.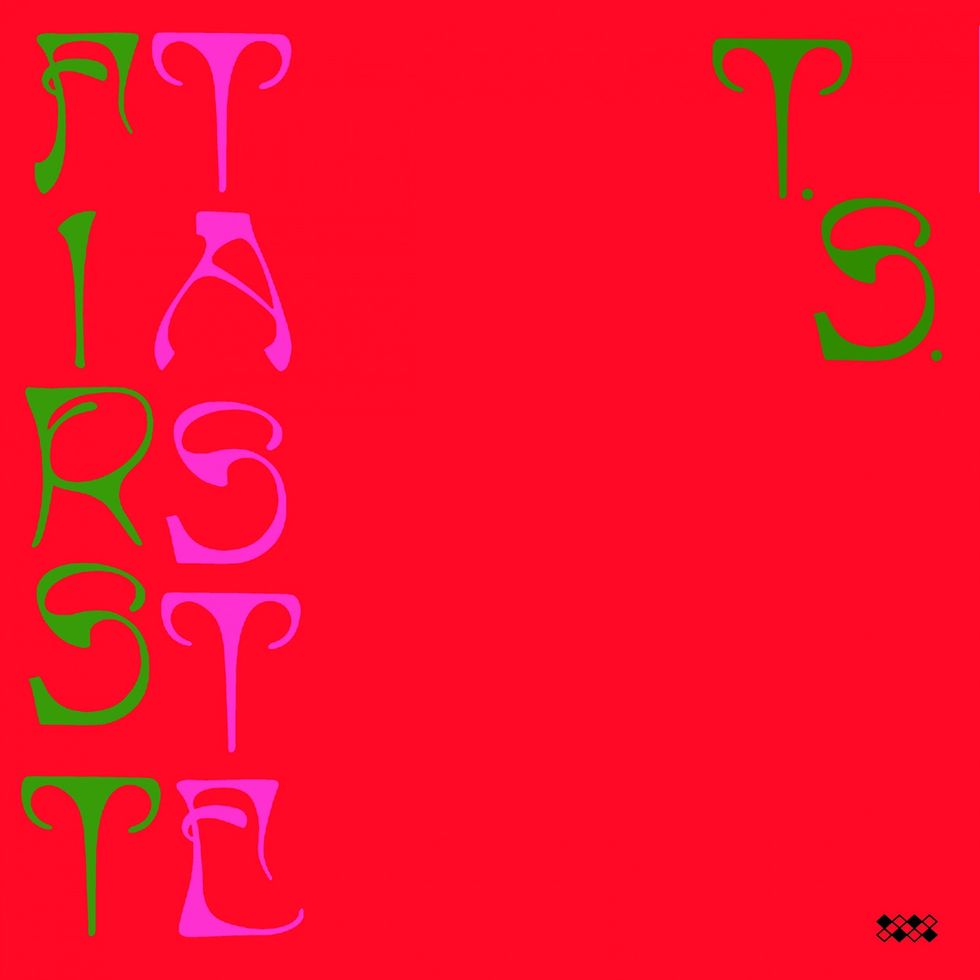 TIDBIT: First Taste continues Segall's long-running working relationship with producer and engineer Matt Littlejohn, whom Segall basically considers part of the band.
And then the idea just became, "Well, what if there's no guitar at all? What if I just really try to find different instruments that can replace that sound?" So that became the idea. It wasn't the idea at first, and I had definitely written songs without that in mind, but that's what it ended up being.
Freedom's Goblin 
is super guitar-based, and I think that's where it might have started. I wanted to change that whole approach.
Were you listening to Middle Eastern or East Asian styles of music at the time?
I'm always into trying to find new records. It's like the endless search to find stuff to listen to. So it was a combination of that, and actually getting back into writing on the drums, specifically with non-rock rhythms like funk, and African and Middle Eastern rhythms.With the stringed instruments, it was just about trying to get out of my comfort zone. When I bought the bouzouki, I had no idea how to tune it, but luckily it sounded in tune, and then I googled it to make sure it was correct. But the koto is really interesting, because it's got five strings, with a drone, so there's basically a low E, like a guitar string, and then the other strings are all high E, or even B strings. So there's a lot of weird variations that you can do. You can tune it so it almost works like an autoharp, where you press a button and a clasp locks down on the frets. It's at least two, if not three, octaves, so it goes really high, and you can't really form your own chords. It's just barring them, so it's weird because you can tune it all to one note, to a major chord or a minor chord, or to a seventh, or whatever you want. For this album, I mostly stuck with tuning the strings all to one note, and it became this weird, blurry, droney thing. I guess, to my ear, it sounds like a sitar.
---
---