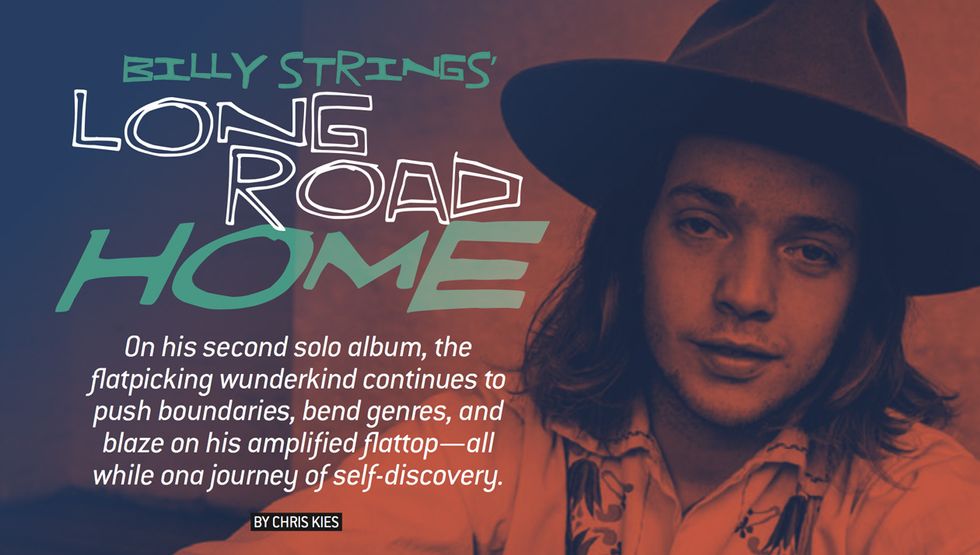 "I've realized the song is in charge and I'm a mere vessel," says Strings. "The song already existed in the atmosphere, but I ingested it, and regurgitated in a way that best serviced the message." Photo by Shane Timm
As the saying goes, home is where the heart is, and for William Apostol—aka Billy Strings—this is especially true. (The "Strings" moniker came from Billy's aunt, who recognized her nephew's prodigious talent when he was a kid.) Strings' musical journey started inside his Muir, Michigan, home, where the heart of the family centered around his stepfather Terry Barber's 1993 Martin 160th Anniversary Limited Edition D-93.
"My grandfather went to Elderly Instruments and bought my dad a beautiful dread with an African mahogany body, spruce top, ebony fretboard with ivoroid binding, and herringbone purfling around the whole thing—a total knockout," Strings recalls. "I sat across from that soundhole for hours, just in amazement, wanting my dad to play another song. That's my childhood, staring at that guitar as a 4-year-old learning what G, C, and D looked and sounded like."
For years he woodshedded alongside his dad, listening to that golden D-93, and mastering classics like Doc Watson's "Beaumont Rag," Bill Monroe's "Blue Moon of Kentucky," and Flatt & Scruggs' "Foggy Mountain Breakdown."
"In my teens," Strings says, "I started playing psychedelic music like Hendrix and Sabbath, and then the more extreme stuff like Cryptopsy—a Canadian death metal band. I listened to everything and that helped make this musical goulash slurping around in my brain." That's when Strings put down the flattop, picked up the electric, and started playing in local death metal bands.
But one night Strings had an epiphany. "I took my mom's '72 Chevelle joyriding on the backroads and pushed in this tape that was sitting in the dash. It was Ralph Stanley's 'The Rank Stranger.' I remember slowing the car down and just thinking, 'Man, I haven't heard this in forever. I should get an acoustic guitar and flatpick with my dad again.'"
Through local connections, String began playing and recording with ace Michigan mandolinist Don Julin. The duo put out two albums—2013's Rock of Ages and 2014's Fiddle Tune X—that mostly contained bluegrass standards and country classics.
After moving to Nashville, he formed a band and released Billy Strings—a six-song EP with three traditional songs and three originals. The standout was the barn-burning "Dust in the Baggie" that pairs Doc Watson's flatpicking prowess with the outlaw storytelling of Johnny Cash's "Cocaine" and "Folsom Prison Blues." (The song appeared on Rock of Ages, but as a steel-string and mandolin duet.)
In 2017, Strings released his debut solo album, Turmoil and Tinfoil. The album included a pinch of tradition with stomping clawhammer banjo on "Living Like an Animal" and a guitar medley with flatpick virtuoso Bryan Sutton on "Salty Sheep." Strings' tour de force "Meet Me at the Creek" nears 10 minutes, and he embraced the weird in the eerie, spoken-word "Spinning," where he recounts a DMT trip. "Some might call that risky, I just call it art," he says.
The past two years supporting Turmoil and Tinfoil have been surreal for Strings. He's checked several milestones: selling out the Ryman, performing on the Opry, and earning two International Bluegrass Music Association awards. All the while he'd been waging an internal war. "I was getting stressed out with all the touring and it was manifesting as anxiety I had never experienced or dealt with before," says Strings. "Thankfully, writing is pure therapy and whenever I'm feeling any sort of way, a song is there to help."
The newfound serenity proved fruitful for Home, Strings' new album. "Looking back at the title of the album," he says, "it's definitely about me being more at home and comfortable with my life and who I am as an artist, as a man." Like his debut album, Home offers a good dose of Appalachian four-part harmony and fleet-fingered flatpicking, but it also ventures far beyond traditional mountain sounds. "Before writing my own music, I used to be boxed in by bluegrass, but enjoying other musical genres made me realize it's a self-made, transparent box," he says. "Music should be freeing with no borders. I want to express myself emotionally with my guitar, however it pours out of me."
"I can agree with them, it's not bluegrass ... but I never said it was."
Grateful Dead influences creep in on "Away from the Mire," freakiness swirls within "Highway Hypnosis," and the title track "Home" explodes with an electric solo. And while hot guitar may be what initially brings people to Strings, it's his writing that holds their attention. Home'sfolk-leaning cuts "Watch It Fall" and "Enough to Leave" notch down the 6-string flare to explore thoughtful commentary on society and the pain of prematurely losing loved ones.
Ironically, Strings invited PG to his East Nashville bungalow to discuss Home. We learned how he reconnected his stepfather with his beloved D-93, how he used his grandpa's "prison guitar" for a solo on Home, and what drives him to keep playing.
In the '70s, flatpick pioneer Tony Rice caught flack from some bluegrass purists for weaving jazz into his playing. How do you walk the line of revering the past while still pushing the genre's boundaries?
Traditional bluegrass, like Bill Monroe and Doc Watson, where you play the melody really strong, doesn't allow much room for improvisation or jamming. Aside from the solos, there is a foundational structure you don't deviate from. And to some, if that style isn't truly represented, it's a desecration of the sacred artform. I needed to really learn the basics of traditional bluegrass, in and out, before I could branch out. You need to be a student of the craft. That way, no matter where you take it, and how wild you get, you're always rooted in the essence of the music.
But I still get pushback from purists because my fans will tell people, "You gotta see Billy Strings, he's a great bluegrass picker." Yet when the traditionalists see me plugging into pedals and a Fender tube amp, they already discount me because they see the artform as acoustic, organic music. I can agree with them, it's not bluegrass ... but I never said it was.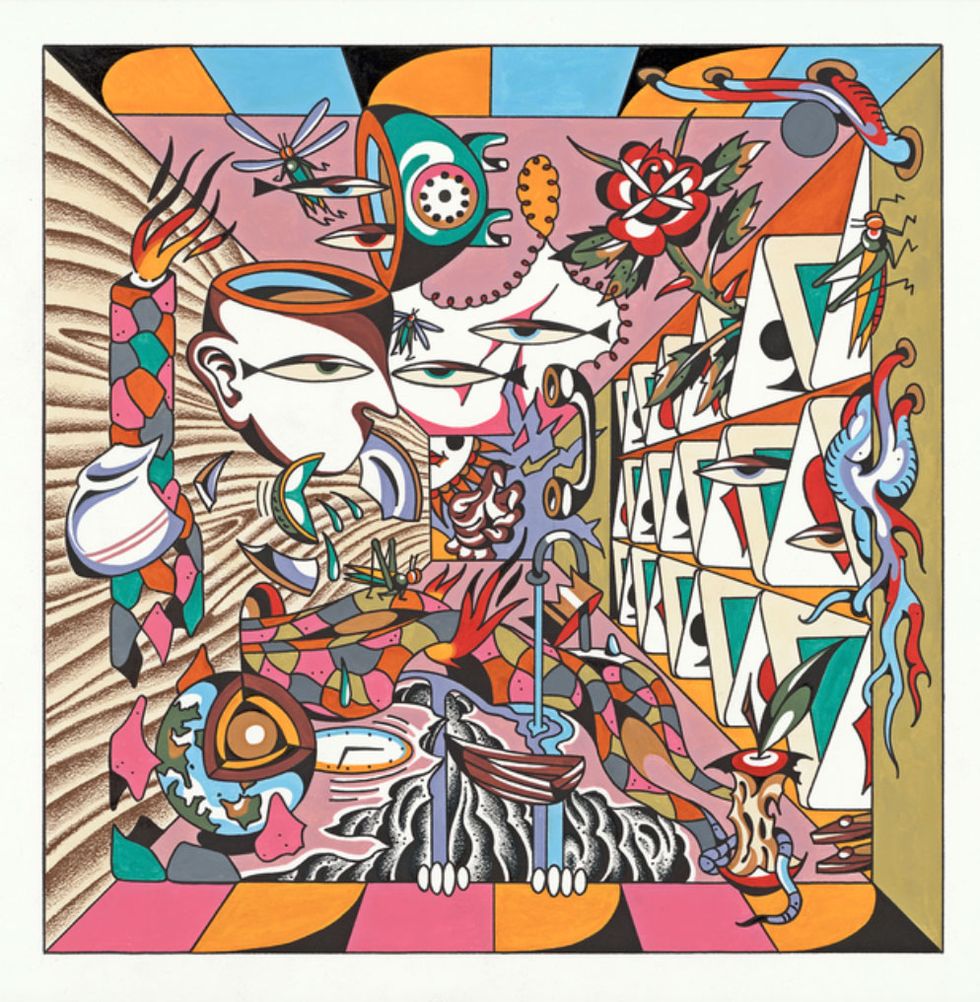 TIDBIT: Home marks the second time Billy and his band worked with producer/engineer Glenn Brown. "He's 110 percent in it, and he's 120 percent on your side," says Strings. "If it's rocking, you can see him in the control room, on the edge of his seat, yelling 'fuck yeah, man!'—he's the best cheerleader."
So it's other people putting the label on you.
Yeah, and as far as my music goes, I try not to corner myself with one style. I'm just trying to write a song, and whether it comes out as a rock song, a folk song, or a blues song, I'm just looking to write a good song. I take great pride in knowing that no matter how crazy, psychedelic, loud, and however many pedals I plug into, at the root of it, I'm still someone who studied Doc Watson. It's there, no matter how you color it or warp it.
Your new album is called Home, as is the title track. What does "home" mean to you?
Sometimes I think my home is the highway—night to night, town to town, playing shows with my band in sticky, smelly clubs and traveling the world with my girl, Ally. And the most literal sense, home, being the place you never see as a touring musician, when the tour ends, home, sounds fucking unbelievable.
When I wrote that song, I was imagining myself stuck in an isolated, frozen cabin in the woods where you can't get the fire started because the wood is wet and frost is on the windowpanes. Complete despair. You see, earlier this year, I hit a personal roadblock with my mental health. So I made it a priority to get a better control of that and know my limitations. Self-reflection and self-care has allowed me to appreciate that in my 26th year on this planet, my band is doing well and I'm able to pay my bills playing music. This journey of introspection has been really beneficial and has led me to being at home with who I am today.
Is it hard to adjust to being back home when you're on the road so much?
There's certainly an initial euphoria that comes from sleeping in my own bed, without bus call or checkout time. It's very liberating. I love catching up on sleep the first few days, binge watching whatever I've been missing, ordering my favorite foods from my favorite places ... just being a normal American slob [laughs]. It's great!
The road is so social. Whether it's radio interviews, podcasts, pre-show chats, meet-and-greets, or post-show hangs, there are times where I feel like I'm giving myself away, and that goes back to the earlier point of my deteriorating mental health. I'm thankful my career is shaping up this way—I'm so grateful—but it can be draining.
But I also know if I'm home more than a week or 10 days, I start to get an itch, and I scratch that by doing musical things. I've also realized that finding hobbies outside of music is essential and rejuvenating. I just got this '72 Chevelle that I'm pouring myself into.
What's so special about that car?
My grandfather, my uncle, and my mother all loved Chevelles—that was our family love affair. My grandfather was a racecar driver and he had a couple Chevelles when I was growing up. I remember sitting in one of them all the time as a kid pretending to drive. When I was a teenager and I was making bad decisions and letting darkness creep in, my mom had a four-door '72 Chevelle I used steal and cruise around the backwoods in it. It's just a very nostalgic thing. So, now that I actually got my own, that's symbolic to my growth and forging my own path as a man with my music. That car has brought me a lot of pride and happiness. If you see me riding around Nashville, I'll be smiling ear to ear [laughs].
---
---