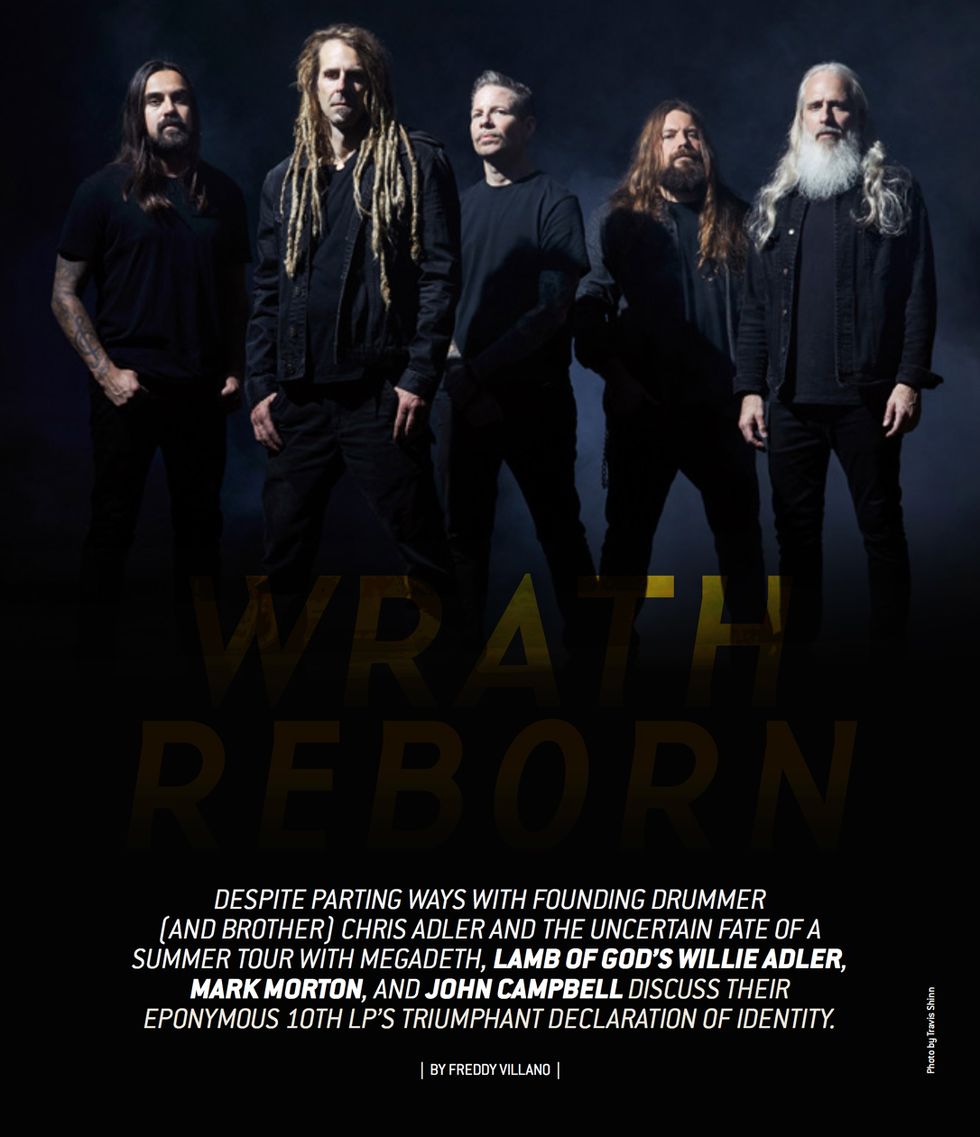 Lamb of God's current lineup (left to right): new drummer Art Cruz, vocalist Randy Blythe, guitarists Willie Adler and Mark Morton, and bassist John Campbell. Photo by Travis Shinn
When Lamb of God burst out of the gate in 2000 with New American Gospel, the Richmond, Virginia, quintet helped ignite a musical movement known as the New Wave of American Heavy Metal—a term rooted in the New Wave of British Heavy Metal appellation given to seminal bands like Iron Maiden, Motörhead, and Venom in the late 1970s and early '80s.
That terminology signifies a return to elements of past influences with an emphasis on forging the future. In Lamb of God's case, they were honoring the course originally charted by bands like Metallica, Slayer, and Pantera, who emerged during the early-'80s golden age of thrash. Up-tempo tunes, furious rhythms, wicked guitar riffs, and lyrics expressing disillusionment with cultural norms formed the template. But Lamb of God were also literally evolving a sub-genre of heavy metal, not just emulating one. And they were doing this by "balancing the equation of power, rage, tradition, and craft," as music journalist Johnny Loftus astutely observed.
Lamb of God was formed in 1994 after guitarist Mark Morton, bassist John Campbell, and original drummer Chris Adler met at Virginia Commonwealth University. A few lineups later, they recruited vocalist Randy Blythe and released their eponymous 1999 debut under their original band moniker, Burn the Priest. When guitarist Abe Spear left and was replaced by Adler's younger brother, Willie, the group renamed itself Lamb of God. They signed with Prosthetic Records in 2000 and released New American Gospel in September of that year.
The band toured incessantly, issued As the Palaces Burn, and joined the first MTV Headbanger's Ball tour in 2003, and released Ashes of the Wake in 2004 on Epic Records. Lamb of God's work ethic and a growing fan base earned them a second-stage slot on Ozzfest that year, too. Since then, they've released five albums, been nominated for a Grammy twice, and, in perhaps the ultimate acknowledgement of their influence on contemporary pop culture and the hard-rock and heavy-metal guitar canon, have been featured in several video games, including Guitar Hero II, Guitar Hero Smash Hits, and Rock Band.
The band's newly released Lamb of God is its first in nearly five years. Once again produced by Josh Wilbur, who's worked with the band since 2009's Wrath, it is the first to include new drummer Art Cruz. The songs are fueled by familiar ingredients: indelibly articulate and ferocious guitar playing, incisive lyrics aimed at America's current political climate, and a vocal delivery as guttural and connected as ever. If longtime fans had any concerns about the loss of Chris Adler's skins-bashing prowess, they need not worry: The outfit's unmatched ability to imbue its menacing beats with swagger remains a hypnotic force to be reckoned with.
"I'm real focused on the groove," says Morton. "That's always been my primary attraction to heavy metal, and that's why I like hip-hop. It's that visceral reaction—that groove that makes your head bob."
Despite the familiar components that have come to define a Lamb of God album, this time an intentional focus on songcraft elevates the band's game. From the invigorating opening anthem "Memento Mori" to the breakneck pummel of the closer, "On the Hook," Lamb of God is a testament to the quintet's unyielding commitment to thrash, groove, shred, and stripped-down aggression—but even more it's the dedication to songwriting that makes it a bold declaration of identity and intent that is clearly of the moment.
"In the last five years, I have been far more focused on being a songwriter," says Morton. "I am way more interested in writing a good song than I am in writing a dazzling acrobatic riff or coming up with some super-mind-blowing, jaw-dropping solo."
"In the last five years, I have been far more focused on being a songwriter." —Mark Morton
We caught up with Adler and Morton at home in Richmond, where they were social distancing just like most folks around the globe. Unfortunately, they had recently called off Lamb of God's European tour. "Everything right now is up in the air," Adler explains. "We have our [already-scheduled] summer run with Megadeth, so we're hoping that by then everything's fucking calmed down, because that would be a hell of a blow." Despite the downturn, both were amiable and upbeat—invested in discussing their craft and particularly aspects of songwriting, how they share guitar duties, the gear they secretly geek out on, and their early influences.
What was the writing process like for Lamb of God? How long were the song ideas incubating?
Mark Morton: Everyone always wants to know how long the riffs are being worked on. It's hard to say, because there's no organized way of cataloging that. Basically, Willie and I are always compiling song ideas. And Lamb of God songs always start with the guitar part. So, Willie and I both compile ideas and work on them at home, by ourselves, with our own little software programs on our laptops. That's sort of a perpetual process. I can say with certainty that the first time Willie and I took those ideas [for the new album] and got together in a room with [longtime producer] Josh Wilbur was in October 2018. So, a year before we actually got into the studio to record the album, we were making what I would call official new-material demos.
How elaborate do your home demos tend to be—are you just throwing down riffs or are they pretty fleshed out?
Morton: They kind of vary, but typically I like to put drums on them, mainly because when I'm communicating the song idea, or the riff idea, I like for the snare pattern to be established. The upbeat/downbeat decision has so much to do with the groove and pulse of the riff that I need at least a snare. I'll program the whole drum kit, but it's mainly just for the sake of establishing the snare pattern so everyone involved can hear my idea of where the groove is—where the pulse is. There have been times when I brought a full demo of a song in with a bass line, a drum part, stereo guitars, the guitar solo, and me doing a scratch vocal, because I wrote lyrics for the song. So it can vary from that to just a guitar part isolated by itself. But usually we will put some drums on it, so it's listenable and you get the vibe.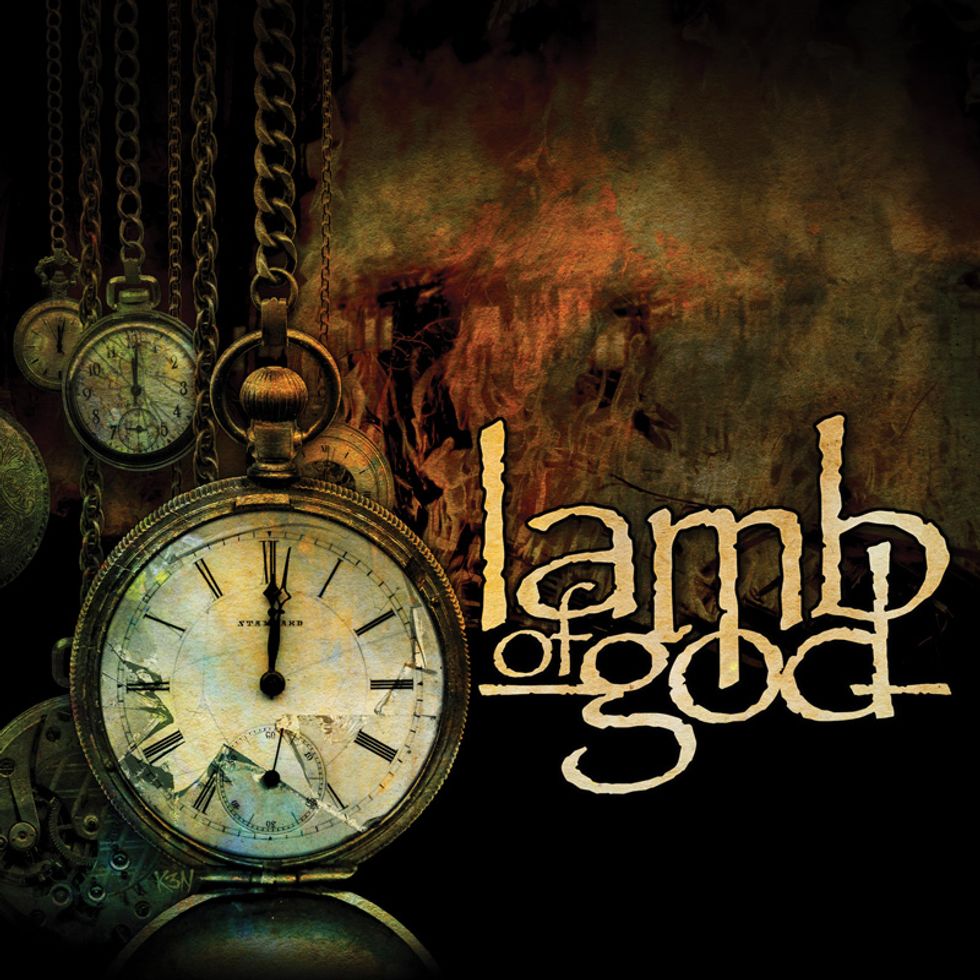 TIDBIT: For their latest, LOG returned to the studio with longtime producer Josh Wilbur. "He told me one time that a big part of producing is psychology," says bassist John Campbell, "so I guess his manner of psychology works incredibly well with Lamb of God."
That makes a lot of sense, considering the architecture of your riffs.
Morton: We're such a groove-oriented band that those decisions—of whether the snare is on ones and threes or on twos and fours, or whether it's mid-tempo, half-time, double time—are pretty paramount for the character of the song.
When you're presenting an idea to the rest of the band—whether it's fleshed-out or more modest—how attached are you to your ideas?
Morton: That's a great question. Again, it varies, but sometimes you get attached. I think it's a pretty universal term, but one we definitely throw around a lot is "demo-itis." It's when you're so married to your original demo that you can't even fathom this idea that someone might interpret it a different way, or might have an idea that is different or, gasp, better [laughs].
Willie Adler: I've gotten a lot better about letting go of all that. There's definitely an aspect of, "these are my babies, and I spent so much time on them," but over the years we've grown to understand what makes a great song, which is 100 percent all of our ideas mixing together as one—or at least me and Mark getting together and playing off of each other. Those are always the best tunes. I mean, sometimes I can be really glued to it. I'll be like, "How can you not like that?" [laughs], and they're like, "Well, let's just try this." Everybody's real cool about it.
Morton: So, it can kind of bounce around. But to your original question, sometimes it can be an exercise in humility to let go of what you originally envisioned, particularly when it's for somebody else's part. But I think Willie and I, who are usually the guys bringing this stuff in, are constantly aware that John Campbell is almost always going to write a better bass line than we might. And no matter how long I spend programming drums, Art Cruz is going to slay it when he sits down behind the kit.
What is your preferred DAW for your demos?
Morton: Nowadays, I'm using Logic. But I used GarageBand forever, honestly.
Adler: I'm using Cubase—Steinberg guy. Ever since I was introduced to having a DAW, and the technology of music production at home, that's what I've been using.
Morton: I'll tell you a secret that maybe I'll regret [laughs]. There was a period when I was writing a lot of songs with static tempos because I was writing on GarageBand and you couldn't change the damn BPM. So I was writing these demos, and I got used to hearing them at a static tempo, and that's kind of how the song went. And, of course, in production we'll play with tempos, but sometimes I just got so used to hearing it that way that that's just what it was. I'm on Logic now, so that's no longer containing me. Logic is cool, but at the end of the day, when we do the albums, it's Pro Tools.
---
---