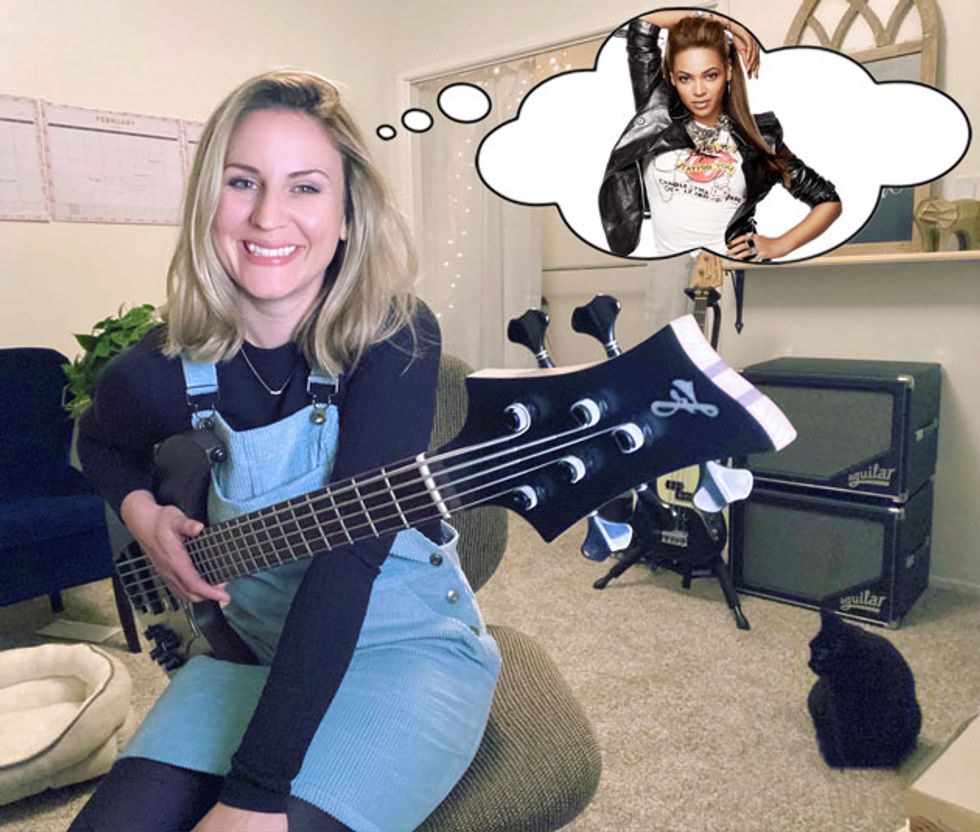 Before we begin, dear reader, I have a confession to make: I hate the idea of practicing.
"Hate is a strong word," I can hear my dad say. Sure, many people don't love the idea of practicing, or strongly dislike it. But when I say hate, I mean hate, Dad… I really, really do.
I say I hate the "idea" of it, because once I finally begin practicing, I do truly enjoy it. It's much easier to achieve "flow" while practicing than we anticipate. But the idea of sitting in my room for an hour, waking up my metronome, and coming face-to-face with all of my self-doubt and shortcomings? I would prefer to super-glue Red Vines to my upper lip like a shiny red mustache and march around in public belting "Carmina Burana."
But despite all my whining, these past 20-plus years of dreading my practice time have been good for something: I've learned ways to trick myself into jumping over that initial hump. While I still get that chewy, anxious feeling in my stomach every time I think about practicing, I now have a few sure-fire ways to get over myself and get to work.
Gold Mining Your Music
The method I'll focus on today helps me to remember what the point of practicing is anyway: making actual music. Listening to music you like, and recreating parts of it in your practice session, is an obvious way to remind yourself why you want to be better at this in the first place.
And I'm not talking about Michael Brecker, or Dream Theater, or whichever god-level artist you love that sometimes makes you feel a little defeated. Instead, shuffle through to what you might consider the "candy store" section of your music library—even the "guilty pleasure" stuff. I'll out myself. I love Ariana Grande. Nail down whatever music you put on to clean the house, to drive a little over the speed limit on the freeway, or to put more pep in your giddy-up.
For a lot of us, this means some form of pop music. And while I wouldn't necessarily classify our current era as a golden age in pop, there are a few places to look for nuggets of ideas that can both drastically enhance your practice routine and remind you that practicing is supposed to be fun.
The most effective way I've found to do this is to look outside of my instrument. Rule out anything that has strings or frets. That sounds too much like a normal practice session to me. I have the most fun when I explore two less obvious areas: horns and vocalists.
Horns
Before I dive in, I'm obliged to pay homage to the man who inspired most of the examples I'm referencing in this section: Jerry Hey. As a trumpeter and arranger, you've heard his work on records by Aretha Franklin, Elton John, Weather Report, Joe Cocker, Cher, Celine Dion, Joni Mitchell, Chaka Kahn, John Mayer, Randy Newman, B.B. King … are you getting the idea? The guy is whatever's cooler than a legend. His horn lines are nothing short of genius—and they always make me want to practice bass, which, as strange as that may sound, makes them even more genius in my opinion. The following examples are inspired by the originals, so after you get them under your fingers don't forget to go back and learn them from the source.
Dirty Loops: "Roller Coaster"
First up is a Jerry Hey offering from a more surprising source. Yep, if you've heard the band's debut album Loopified, many of those punchy horn parts were supplied by none other than Jedi Master Hey himself.
The horns in the intro of "Roller Coaster" make for a very simple minor pentatonic warm up, which inspired Ex. 1. (For an extra adrenaline rush, work out what's going on in the horn soli at 1:56 and hang on for dear life!)
Bonus fact: The members of Dirty Loops are currently working on a book containing sheet music of their tunes, so be sure to keep an eye out for that in the near future.
Earth Wind & Fire: "In the Stone"
Outing myself again: The horns on this tune are so epic they make me cry when I listen to it. Is that weird? Probably.
Arguably the best feel-good song of all time, and some of the greatest horn writing I've ever heard, opens one of the first albums Jerry Hey worked on when he showed up in Los Angeles at 28 years old. No, I'm not kidding.
My inspiration exercise (Ex. 2) comes from the glorious outro, which adds horns around 3:16.
Michael Jackson: "Working Day & Night"
If you've ever played in a corporate event band, you've heard brass players complaining about how tough this line is. The soli at 4:33 is known to continue for over ten minutes when this song is played live, and horn players are usually cursing Jerry's name after the first round. But what the Hey, it makes for the perfect warm-up!
I derived two exercises out of this one: the horn arrangements in the chorus (1:22, Ex. 3) and that classic killer ending (4:33, Ex. 4).