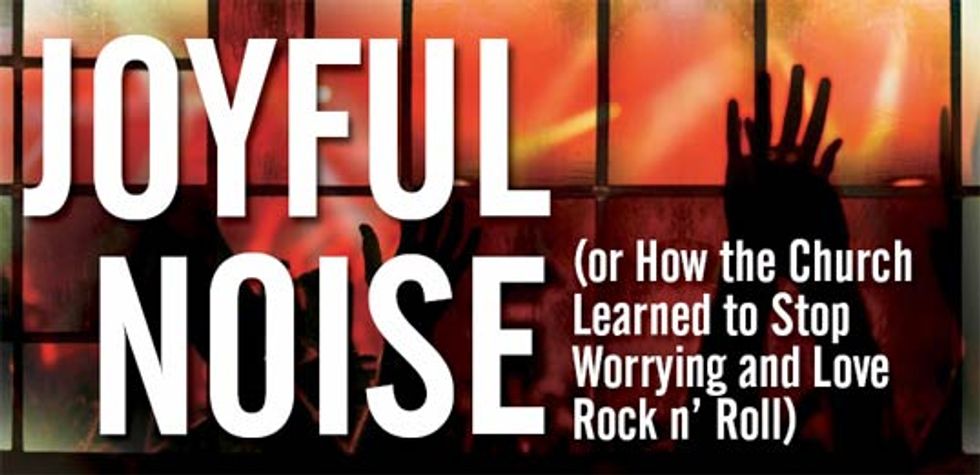 It's a little past 5:30 on a brisk Tuesday
night in Eastern Iowa, and the sun has already set past the horizon. Richard Bruxvoort-Colligan, First Lutheran Church's minister of worship life, stands with an oval plate of cookies at the front of the sanctuary, waiting patiently for the rest of the musicians to arrive. I ask him if they're homemade, and he casts a sly grin before answering, "They're from Subway. But who doesn't like cookies?" Richard is dressed in a yellow sweatshirt, with a purple-ish bandana wrapped around his head, and looks more like a blue collar worker just off his shift instead of a veteran songwriter and guitarist.

Although rehearsal for the church's weekly praise band is supposed to begin at 5:30, Richard tells me it's not uncommon for members to trickle in until close to six, arriving straight from their day jobs to practice music for the next Sunday's 11:00 contemporary service. While these musicians are all volunteering their time to First Lutheran, most have played for years, if not decades. Bassist Brad Hines, an unassuming presence in his faded t-shirt, is the first to arrive, politely passing on Richard's cookie and setting up his equipment directly under a giant stained glass window and several hanging signs representing significant moments in the church's year-long lectionary.
The band exists in a unique setting, creating rock-tinged, joyful noises amongst an old pipe organ and wooden pews. The Lutheran tradition is a quiet one, and perhaps appropriately, guitarist John Shaw walks silently down the carpeted aisle towards the front of the sanctuary with two guitar cases in hand – one holding his glossy black Fender Fat Strat and the other a Guild D-46 – and a variety of other zippered bags hanging from his arms, packed with cables and various electronics. He's a big guy, and as he pulls his Strat from the case, I notice it looks like a ¾ size instrument. He plugs in his POD 2.0 and its accompanying foot controller, sets up his Rolls PM50S Personal Monitor Amp, and has a short dialog with Matt Draeger, the 22- year-old staff member manning the soundboard from the choir loft.
The singers trickle in – a talkative bunch, flipping excitedly through charts – and drummer George Hannah saunters down the aisle, announcing that things need to wrap quickly, as he has tickets to the Iowa basketball game later that night. On that note, Richard kicks the rehearsal into gear, strapping on his Taylor acoustic and leading the compact band – two guitars, a bass, drums and several singers – through vibrant, deep renditions of songs with titles like, "You Are My King" and "My God is an Awesome God."
While the band plays, and John's deliberate, unfolding lead lines cut through the mix, I join Matt above in the loft, watching as he tweaks knobs on the antiquated mixing board, just a few feet away from giant pipes that still pulsate at early morning services.
He tells me about the church's budget for new equipment (small, but growing), about the church's next needed purchase (a better monitoring system) and discusses some modest acoustical treatments around the area in front of the sanctuary to help it sound better (maybe). The rehearsal runs until a little after seven, with Richard giving out some final instructions before a quick dispersal by the band.
Scenes like this – churches, both conservative and modern, embracing instruments and sounds that would have been previously rejected as unacceptable – are rapidly becoming the norm in modern worship. Enter any house of worship today and the odds are high that you'll hear a full band leading the congregation through fast-paced, contemporary tunes. Led by artists like Chris Tomlin and Lincoln Brewster, sounds that might have previously been heard in pyrotechnic-laden arena concerts or smoky bars are now being used to teach the word of God. Blues and rock motifs are being reworked with inspirational lyrics and played on high-end, boutique equipment in worship services all across the nation.
And while a small group of hardcore traditionalists continue to cry foul, most people have welcomed the musical shift, bringing with it a new attitude to an institution once considered staid and traditional.
While the incorporation of classic rock riffs might initially seem incongruous with the church's mission, a key ingredient to this surge of interest lies within the changing demographics of the church. When the Baby Boomer generation first picked up instruments, they cut their teeth on tunes from the Beatles, the Rolling Stones and Led Zeppelin; as they age and find themselves back in the church, there's a strong desire to hear the sounds that inspired them years ago – and to re-experience the feelings associated with those sounds. Bruce Adolph, publisher and editor of Christian Musician magazine views it as a move to get back to collective roots. "In the past ten years there's been a dramatic shift – there's been a big movement back to the morals [the Baby Boomer generation] came from. They're finding themselves spiritually and getting involved in the music of the church."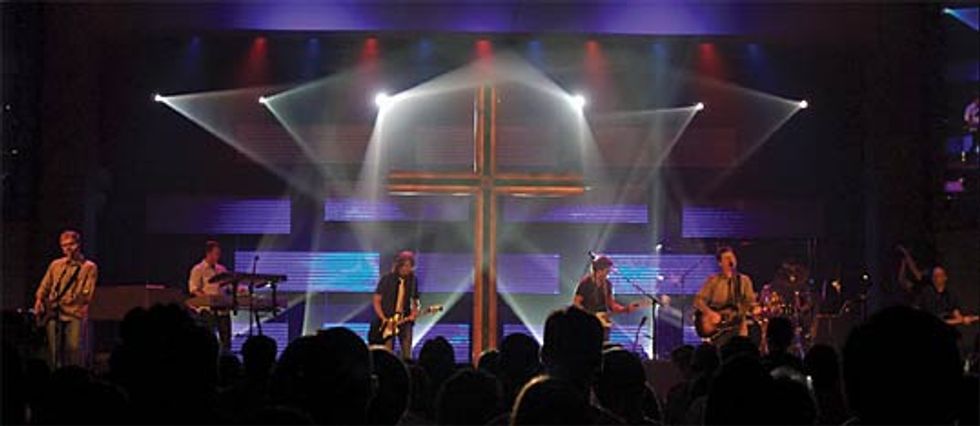 A recent worship concert at North Point Community Church. From left to right, Steve Tomason plays a PRS 513, Reid Greven handles the keys, Steve Fee plays a Fender Jaguar, Matt Adkins strums an American Deluxe Telecaster, Todd Fields plays a Gibson J-45, Askley Appling is on drums and Pat Malone plays the Fender Jazz Bass.