Aaron Freeman: Return to Form
After a quarter century with Ween, the guitarist disbanded the group and got sober. He's back with new music and that same penchant for dark, funny, and weird.
In the mid-1980s, the junior-high classmates Aaron Freeman and Mickey Melchiondo began making their eccentric home recordings together. The duo called itself Ween—a portmanteau of the words wuss and penis—and took the stage names Gene Ween (Freeman) and Dean Ween (Melchiondo). Ween's signature sound, relying on drum machines, strange guitars, and pitch-adjusted vocals, would be heard on a series of self-released cassettes in the late '80s, and on their first two albums, GodWeenSatan: The Oneness (Twin/Tone Records, 1989) and The Pod (Shimmy Disc, 1991).
On subsequent efforts Ween tinkered with its sound, hiring additional musicians for recording and touring, and even enlisting A-list Nashville musicians to record 12 Golden Country Greats (1996, which actually contained only 10 tracks). Throughout its career, though, the band's essence—its weirdness and its affinity for parody and satire—remained intact.
But the usual suspects, drugs and alcohol, had all along been taking their toll. In 2011, when performing in Vancouver, Gene Ween had what some fans described as an epic meltdown. Appearing erratic and unable to maintain a steady pulse on a tambourine, let alone tune his guitar, Gene was apparently abandoned by his bandmates, left to perform something resembling a solo set. What was next for the band was unclear.
The Vancouver incident turned out to be pivotal for Freeman. Not long after, he underwent treatment, and in 2012 he released the Marvelous Clouds, an uncharacteristically straight-faced solo album covering the music of 1960s singer/poet Rod McKuen. That same year he relinquished his stage name and disbanded Ween, acknowledging its good 25-year run.
In a recent return to form, Freeman put together the band Freeman, featuring guitarist Chris Boerner, bassist Brad Cook, keyboardist Dave Godowsky, and drummer Kyle Keegan. The band's new eponymous album (Partisan Records) is not the tribute to recovery that some might expect. "The last thing I wanted to do was write the quintessentially sober record, which I find is all about insecurity and wanting to preach," says Freeman. "Recovery isn't what defines you; it's something you do to survive. Artistically, I'm the same as I ever was."
We chatted with Freeman about that artistic process, his far-flung influences, and the straightforward setup he uses for all his guitar weirdness.
The new album's lead track, "(For A While) I Couldn't Play My Guitar Like a Man," has a curious title. How did it come about?
At one point when I was in recovery, I literally couldn't play guitar very much. My brain had been altered. It was kind of like when Jerry Garcia went into a diabetic coma for a few days and when he emerged had to relearn the guitar while he was laid up in the hospital. It takes a long time for the synapses to get back into alignment, and that's a very real thing in sobriety.
During the recovery process, I recorded a bunch of sketches and lyric ideas. Later when I listened back, I heard this little blurb, "I couldn't play guitar like a man," and I just started cracking up at how ridiculous it sounded. At around the same time I was driving in my car when "Sultans of Swing" by Dire Straits came on the radio, and I had a newfound religious experience with that song. Like everybody, I'd heard it a gazillion times, but at that minute it fucking blew me away. Maybe it had something to do with being sober and having a clear mind. I really like direct recordings; I like things to be tight and up close, and "Sultans" is like that: so freaking direct.
So basically, for "I Couldn't Play My Guitar Like a Man" just tried to mimic the way "Sultans" was recorded, the overall sound of it. It's one of my favorite songs on the record. At the end, the guitar is flying again. I encouraged one of the guys who played on record, Chris Boerner, to just let it rip.
What was it like to work with Boerner?
I checked out his work on YouTube, and luckily he was available for the sessions. He came in for like three days, and he's so pro that he caught on instantly just by listening to the simple demos that I sent him. Working with him was so easy—he's just a super nice guy and a terrific guitar player who takes his coffee very seriously. And he's a natural fit for the Freeman live band.
Boerning It Up
North Carolina native Chris Boerner is a jazz ace and a fixture in the Triangle music scene, but he's also a formidable rocker. In his own words, he tells what it was like to help realize the songs of Aaron Freeman.
Aaron Freeman recently called me looking for someone to play on his new record and do a little touring, and I jumped at the opportunity. In preparation for the recording sessions, Aaron sent me some demos, just acoustic guitar and voice. He was really set on giving very minimal information, basically just the overall structures, and letting the players go in with open minds to figure out the instrumental details.
We recorded everything over the course of a few days at Applehead Recording, in Woodstock, New York. It's got a very cool, big live room and a great-sounding Neve console. Not only that, the studio is on this historic property—we stayed in a cabin that was Rick Danko's [The Band] old house. There's so much history around Woodstock outside of the festival—Bob Dylan and so many others have done a lot musically there—and it was cool to kind of be part of that.
My main guitar on the record is a homemade Frankenstein Stratocaster that I've been constantly modifying for years. It's currently got a Warmoth neck, Lollar pickups, and, most important, a really classic Strat sound. I also played Aaron's 1958 Historic Les Pauls and a couple of his Martins, a D-28 in standard tuning and another that we had strung in Nashville tuning.
I used some great amps that belong to the studio: a Fender Princeton, one of the early ones without reverb, and a Carol-Ann OD2 for overdrive. As for effects, I brought my simple pedalboard containing a Fulltone Full-Drive, an Eventide TimeFactor, and a cool little boost my friend Rich Flickinger makes, the Petal Pusher.
Though we did put in 12 to 14 hours each day, the sessions were pretty laid-back. We did a lot of live playing—drums, bass, and guitars—and then I went back and did some strategic overdubs. Although Aaron had a vision of how he wanted the record to sound, he was totally open to my creative input on the parts, and we were blown away by how it all came together in the end.
In touring for the album, we'll also be playing a bunch of Ween stuff. It'll be exciting not only to revisit the music I heard in my formative years, but also, with Aaron's permission, to put my own spin on it.
How would you describe your formative experiences?
As a pre-teen I had a cheap Casio keyboard, and at the same time I enjoyed experimenting with tape speeds using the cassette deck that my father gave me. I discovered that if you pressed the record button and then the play button, halfway down, the recording mechanism would speed up, but the tape would play back really slowly. That was the first time I realized how much I loved slowed-down vocals.
I got my first bass guitar when I was about 12. That was my first love, and I still play a lot of bass. I started Ween at 16, and really just sang, or more accurately, screamed the vocals. Around the same time I got into the guitar through listening to Neil Young. I learned that if you knew three or four chords, you could get instant gratification by playing many of his songs.
In Ween, we would record bass and drums at home, for backing tracks, and play and sing live on top of that. We played like that for years. In any case, I would say that my formative years were all about a tape deck, guitar, and vocals. That and realizing the value of simplicity and the fact that you can write any song with just three or four chords—writing and playing all the time and getting better and better in the process.

"I like writing songs that aren't literal, that can be can be interpreted by a child and an old man alike," says Aaron Freeman.
Aaron Freeman's Gear

Guitars
Martin D-28
Gibson Les Paul 1958 Historic
Amps
Mesa/Boogie Dual Rectifier Trem-O-Verb
Music Man 212
Effects
Boss DS-1 Distortion
Electro-Harmonix Stereo Polychorus
MXR Carbon Copy Analog Delay
MXR Micro Flanger
MXR Phase 90 Phaser

Strings and Picks
D'Addario EXL110 strings (.010–.046)
Martin SP Lifespan Phosphor Bronze strings (.012–.054)
Dunlop Tortex .60 mm picks

Talk about your benchmarks in terms of guitar playing.
I was just thinking about this. One of biggest influences on electric was Paul Leary from the Butthole Surfers. We opened for them in '86 at City Gardens in Trenton, New Jersey. It was probably one of most influential concerts I've been to. It blew me out of water, took me into a realm of darkness that I'd never been. It really altered me. Paul is so amazing. For so many songs, like "TP Parter," he tunes way down, with all strings kind of loose. He's just what I like in guitar playing, not at all virtuosic—just simple and fucking dark, in the best way possible.
Can you describe your songwriting process?
It hasn't really changed much over the years. Anyone who's listened to Ween knows that my signature style is pretty simple. I like writing songs that aren't literal, that can be can be interpreted by a child and an old man alike.
I'm very influenced by the Beatles. I really place an emphasis on the melody and oftentimes have a chord progression played over and over instead of concentrating on words, making sure that the melody that fits in with the timing that I want. Once you have a good melody and a simple—or complex—guitar part, things just take off from there.
You know, I learned how to write a bridge 15 years ago, thanks to Andrew Weiss, our producer. Before that, in any given song, I'd pretty much play the same pattern over and over.
One more thing: I really play by ear, and I just fuck around on guitar without really knowing what I'm doing. I don't worry about labeling what I'm playing, like if it's a Bm7 to E progression or whatnot. Instead, I just come up with cool chords that sound great together—again, never very complex, though a lot of the songs I like, from Yes to Slayer, do get more complicated.
YouTube It
Aaron Freeman, post-Ween, plays unplugged in Chicago.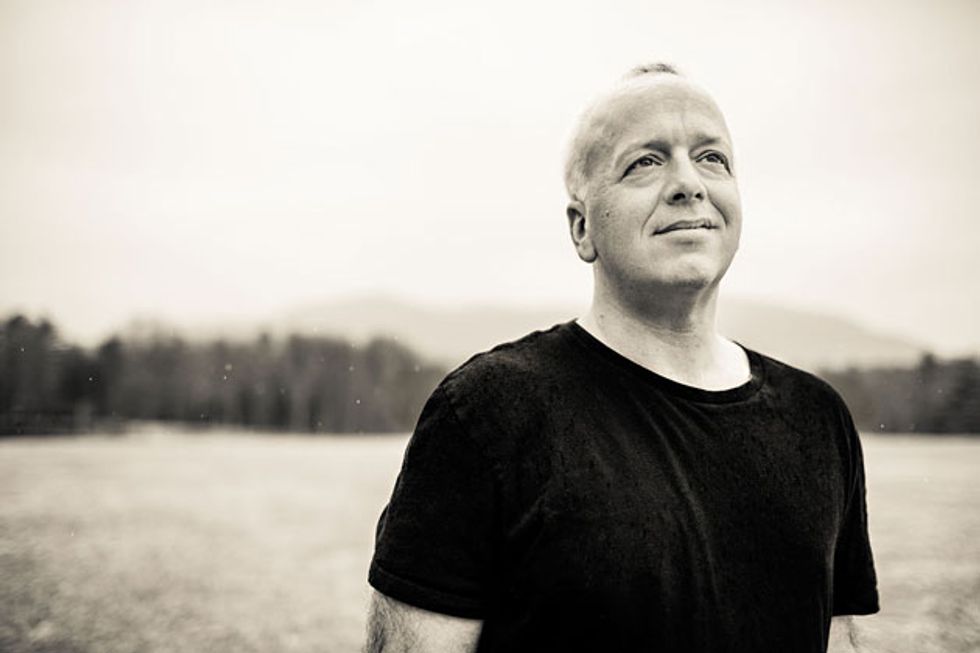 "It's the classic Martin, and it's just getting better, having been aging for 20 years," Freeman says of the D-28 he's always used. "It's the guitar I'll have ready if the Apocalypse comes. I'll sling my Martin over my back and head into the woods."
Talk about some other influences.
You know who influenced me vocal-wise: simple but powerful? It'd have to be Randy Newman, because I love every single one of his records. He's got this one song, "I Just Want You to Hurt Like I Do," that's really un-PC. The protagonist in the song just left his family and is talking to his son. Instead of telling the son that he'll love him no matter what, he's wanting the son to hurt like he does. Randy's never afraid to write like that. To me, it's really punk rock, going against the norm and not really giving a shit.
Another huge influence, especially lyrically, is the English folk movement from the mid-'60s to the mid-'70s, all that stuff like Steeleye Span and Fairport Convention, pieces that have a very old classical sound. But really, I listen to everything, and it's all an influence—good reggae, amazing rock 'n' roll, and on and on. Really, as a guitarist, I can't see how you can't take into account the great artists and songs in every genre, whether you're talking about Led Zeppelin or Thelonious Monk.
How would you describe your recording process?
I've been in recovery for a couple of years, and in the first year, when I began to think about this record, I couldn't do much of anything, like I said before, my brain was still healing. At some point I read an interview where someone had taken an iPhone and used its recorder to put down whatever rough materials he had, in preparation for an album. So I did the same for this record. I probably amassed 100 little ideas from riffs to choruses to bridges. I collected them for probably a good four months before I wrote the record. When I listened back, a lot of the ideas didn't make much sense, but there were also a handful of great ideas, so I took them and expounded on them. I wrote all of them on my porch, just me and the D-28, in a whirlwind two-week period—very simple and acoustic.
Has your relationship to music changed since you became sober?
Surprisingly it hasn't essentially changed. I really try not to stand on a soapbox about sobriety—people approach things in all different ways, and what works for one person won't necessarily work for the next. What I'm finding has changed is that I approach music in a really positive way. I'm much more focused; I had the best time making this record because I was actually on Planet Earth. One of the biggest benefits to me is that sobriety has basically wiped away so much crap. I can actually put my ideas into action now. But my sense of humor is the same, as is the stuff I write about, and I'm really happy about all of that.
"I had the best time making this record because I was actually on Planet Earth."

Talk about your guitars.
I'm a Martin and Gibson man. My main guitar is the Martin D-28 I've had since Ween signed to Elektra. I got some money and went out and bought that guitar. I've written 90 percent of my songs on it since. I bought it new, had the store pull out five different D-28s for me to check out, and that was the one. It's the classic Martin, and it's just getting better, having been aging for 20 years. And it's the guitar I'll have ready if the Apocalypse comes. I'll sling my Martin over my back and head into the woods.
What about amps?
I've always used a Mesa/Boogie [Dual Rectifier] Trem-O-Verb and that and I've got a Music Man 212 that I love. It has the tan vinyl covering and two 12-inch speakers—Music Man's answer to a Fender Twin. When I play live, I always ask for a big Mesa/Boogie with a giant cab. Man, that sounds freaking great with the Les Paul.
And effects?
Live, I always have a delay pedal, a flange, and a phaser, generally by MXR, and for distortion I use a Boss pedal. When I'm at home I tend to use all Electro-Harmonix stuff—the one with phase and flanger, the Polychorus, is amazing. I've used it a lot for recording, but the Electro-Harmonix stuff is just a little too sensitive to bring on the road. So I don't really do anything very special when it comes to effects. I just go for something simple and standard. I don't really see the purpose of using a big pedalboard—for me it would just cloud everything up and obscure the music.