Buddy Guy: Keepin' the Blues Alive!
One of the pioneers of blues and rock, Buddy Guy is still going strong at age 73

For over 50 years, Buddy Guy has produced startlingly raw, soulful, dynamic music. Along with his friend and mentor, B.B. King, and several other blues pioneers, Guy created the model for edgy electric blues and rock guitar—and along the way influenced a few such obscure, little-known players as Eric Clapton, Jimi Hendrix, Jeff Beck, Jimmy Page and Stevie Ray Vaughan, not to mention thousands and thousands of other guitarists.

Guy has won five Grammys, 23 W.C. Handy Awards, Billboard magazine's Century Award, the National Medal of Arts, awarded by the President of the United States, and was elected to the Rock and Roll Hall of Fame in 2005, where he was inducted by his longtime friend, Eric Clapton. He has recorded dozens of albums, played for millions of people around the world, and he continues to knock out blues and rock guitar fans at age 73 when most of his peers are playing shuffleboard in retirement communities.

In these days of diminished interest in blues music, Buddy Guy is one of the very few practitioners of the genre who continues to sell out concert halls and outdoor "sheds." He is, without a shadow of a doubt, one of the most successful blues guitarists in the world, right behind B.B. King, with whom he has been touring for the last several months. With deadly tone ripped from a vintage Fender Bassman or a new Chicago Blues Box amp, and a voice that sounds like an exposed nerve, Guy has never been one to hold back. His live shows are studies in tension and release, loud and soft, sweetness and fury, all mixed with brilliant showmanship. It's not uncommon for Buddy to take a walk through the crowd during an extended solo. Inevitably, the audience goes crazy. This author has seen it happen again and again.
In the early days with Chess Records, Guy did a lot of session work to pay the bills. As far as his own recordings were concerned, label president Leonard Chess considered Guy's playing "noise," and forced him to record novelty songs, R&B, instrumentals and ballads, all outside the realm of Buddy's style. It wasn't until recognition from Hendrix, Clapton and Beck got back to Chess that he allowed Guy to record the music in his head and heart. After a 13-year dry spell without a record contract, Guy secured a deal with Silvertone Records and produced the comeback, Damn Right I've Got The Blues, which won him his first Grammy award in 1991. He hasn't looked back since.

Buddy shows his versatility as he test-drives the new PRS 305 during a Signature Club event at the company's Experience PRS open house in September. In addition to playing a set of classics, the blues legend joined Carlos Santana for a rendition of P-Funk's "Maggot Brain."
Watch our video of the performance...

What was the spark that made you pick up a guitar?
It was a combination of listening to country and western music like Hank Williams, Eddy Arnold and Roy Rogers, plus B.B. King, Lightnin' Hopkins and other bluesmen, and the gospel music I heard in church. I asked my grandfather about music in the family once, and he said nobody before me had any musical talent. We didn't have a phonograph—we didn't even have electricity—but we had a radio and we listened to that. They played blues in between the rain delays of the baseball games back then. I built a two-string diddley bow and nailed the strings to the house. I used my mother's hairpins. She was wondering where they all went! I'd wear it out in about a week or break the strings, so I kept rebuilding it. That's what I started on. I was influenced by T-Bone Walker, John Lee Hooker, Little Walter and Les Paul, too.
Guitar Slim was an influence on you. How did he shape your own style of playing?
I went to see him play in Baton Rouge, and he came out with a gold Les Paul and long cord so he could run all over the place. I had never seen a solidbody guitar before. I didn't even think it was a guitar! He was wearing a bright red suit. He played great and had all these fancy stage moves and things he did. The crowd loved him. I picked up some of what I do from him. I wanted to look like Slim and sound like B.B.
Muddy Waters helped you out when you came to Chicago, didn't he?
I had gotten to Chicago, and I was on my third day without food when I was introduced to Muddy. At first, I didn't know who he was. But he asked me if I was hungry and got me a salami sandwich. Then he helped me get into the Chess Studios playing on sessions.
Let's talk about your early recordings. It seems like the Chess Brothers held you back in the beginning and didn't let you record the music you wanted to do. Why did they do that?
Like I said, I did mostly session work for Chess to start, but I was on Cobra Records first. It was a little storefront operation, a small label. Otis Rush recorded for them too. Back then, if you sold 90,000 45's, you had a big hit. The Chess's made me record stuff I didn't want to do because they thought my material and guitar style was noise. It wasn't until people like Eric Clapton and Jimi Hendrix brought the harder style I play to their attention that they let me loose. Leonard Chess heard Jimi and realized that he was doing what I'd been doing all along.
What was your first guitar?
The first good guitar I had was a Harmony acoustic that we paid $52 for. I learned to play on that. I donated that guitar to the Rock and Roll Hall of Fame.
In the early days you played Stratocasters, then a white Gibson SG Les Paul Custom, then a Guild Starfire. Now you're back to Strats again with your own signature model. Why the Strat?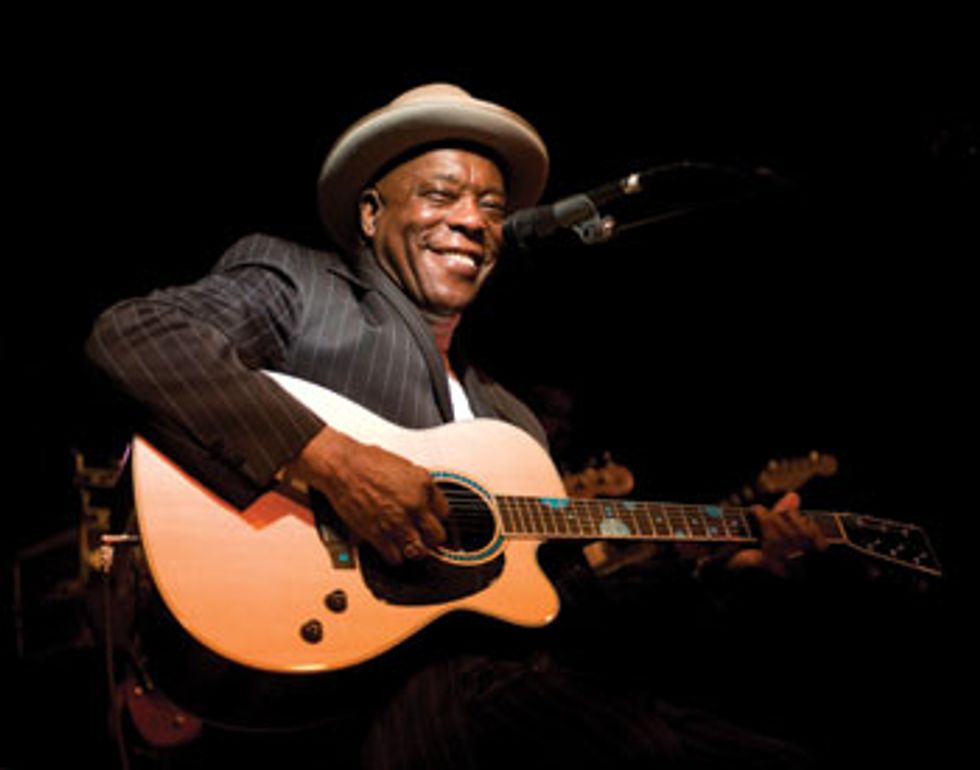 Buddy Guy plays his Martin signature model – the JC Buddy Guy Blues Guitar – which features Martin's jumbo body style with a cutaway, extraordinary purfling (even for a Martin) and his signature polka dots on the rosette, bridge and fingerboard.
I had a Les Paul first, but someone broke into my apartment in Chicago and stole it. I borrowed money from a lady named Theresa, who owned a bar called Theresa's Blues Lounge, and bought a sunburst Strat. She let me pay it off by playing there. I still have that guitar. The white SG Custom I gave to my nephew a long time ago. It was in my guitar room, and one day I saw that the headstock was cracked so I gave it to him. I think he got it fixed.
I played the Guild Starfire until they stopped making them. The first one they gave me was red
[Writer's Note: it was a Starfire III]
. Eric Clapton got one too, around the same time.
Did you have input in designing your signature- model Strat? What is unique about it?
I picked the features I wanted and helped design the neck shape, a soft V shape, and they sent me prototypes. I use Fender Noiseless pickups in them. I went back to Strats because they can take a lot of wear and tear. I couldn't afford to be buying guitars all the time back then if they broke. You know, you'd leave it on the floor and somebody would step on it and break something. The Strat can take a beating.
I have to ask about the polka-dot finish. How did that come about?
When I left Louisiana, I told my mother I was going to Chicago … get a job, make some money and come back home in a polka-dot Cadillac. She was worried I would get in trouble and run out of money, and I did. My mother is gone now. She died in 1968, so I remembered what I told her and had Fender do the black with white polka dots. I never really wanted a polka-dot Cadillac.
Buddy with a Guild Starfire IV at the Belly Up Tavern in Solana Beach, CA, May 5. 1980.
I was very surprised to see you using a Jerry Jones Electric Sitar. How did you come to use that?

I saw one when I was in Nashville a while ago, had to have one, and wondered what it would be like to use one for blues. So I talked to my record company and they agreed to let me use one on a recording, which was "Skin Deep," the title of my last CD.
Tell us about the amps you're using. What is it about them you like?
They're called the Chicago Blues Box, and they're custom made for me. What they did was reproduce the old Fender Bassman amps as close as possible to the original ones. Nobody else was doing that at the time. They work the best for me onstage. They sound like the old Bassman amps I used to use.
I saw a photo of you playing a Gretsch guitar in their catalog last year. Do you use it often?
I don't remember playing a Gretsch. Doesn't Fender sell Gretsch guitars now? Man, I got so many guitars. I don't know what I have anymore.
Tell us about your Martin signature model acoustic guitar.
Martin contacted me and told me they wanted to make a signature acoustic for me. I agreed, but only if some of the profits would go to poor people. The problem today with this country is that poor people don't get enough help. The government gets everything and doesn't do enough, so I had them donate part of the profits to charity. I use a prototype onstage.
Many of our readers spend a great deal of time and money perfecting and working on their tone, sometimes to the point of obsession. How do you feel about that?
With the old Bassman amps, I got the perfect tone. I was maybe the first cat to get feedback on the guitar and use it. It happened one night in a club after I put my guitar down. Some woman brushed against the G string and it started to feed back. I sat there listening to it and started using it. When I went to San Francisco to play in 1968, people like The Grateful Dead and all the other guitarists out there wondered what I was using that sounded so good. It was an old Bassman. Then, they all started using them.
Blues guitarist Quinn Sullivan lays down some licks while Buddy listens with appreciation. Guy is currently helping the 10-year old guitar prodigy record his first record.
I was also surprised to see you don't use any distortion pedals onstage, only natural amp breakup at maximum volume. Have you experimented with overdrive pedals before?
It's all in the wrists, man. It's about shaking the wrists and the notes. I learned how to play before all these effects boxes came around. I tried distortion boxes and don't need any because, just like you said, I crank the amp up all the way and get the distortion naturally.
A wah-wah pedal is the only effect box you use, isn't it?
Yeah, and I only use it when I talk about Jimi and get a little of his sounds going onstage.
You've been a huge influence on guitarists like Eric Clapton, Jeff Beck, Jimi Hendrix and Stevie Ray Vaughan. Can you tell us any interesting stories about your relationships with any of them?
I was talking to Eric Clapton one day, and I told him I liked that song he did with Cream, "Strange Brew." He said, "You should, they're all your licks!" All those guys like Jeff Beck and Stevie Ray said the same things to me about the way I influenced them. Stevie Ray was one of my best friends.
What were the '70s and '80s like for you? It was a tough time generally for blues artists.
That was a bad time for me, man. It was a tough time for all of us. Nobody was making any money playing blues. You had disco and big-hair hard rock and other kinds of music on the charts, and if you were a blues musician, forget it. It wasn't until the late '80s and early '90s that things started getting better.
It seems like history is repeating itself. You're a well-established star, but lesser-known blues musicians are having a very hard time right now getting gigs. Clubs are closing all over, and attendance seems to be down in the clubs that still feature blues music.
I can see it with my own club in Chicago. People don't have money they used to have, plus the no smoking laws have hurt the clubs. And people are afraid to have a few drinks because of the DUI laws. If my club closes, there'll only be about three blues clubs left in Chicago. I'm telling you the truth. There used to be at least 10 to 20 blues clubs in every city you went to—Chicago, Detroit, Phoenix, Los Angeles, Toronto, it didn't matter. Now, there are hardly any left.
It's really hard for musicians to make a living anyway, but it's especially hard for blues musicians now with so few places to play. Blues goes in and out of popularity. Stevie Ray did a lot to get kids listening to blues, but that's all changed now. When I'm not on the road, I'm down at my club for a couple hours almost every night checking out what's going on.
BUDDY'S GEARBOX

Guitar:
Fender Buddy Guy Signature Custom Shop Stratocaster, blonde finish, Fender Noiseless pickups, serial number 0042
Fender Mexican black and white Buddy Guy Signature Polka Dot Stratocaster, Fender Noiseless pickups
Jerry Jones Electric Sitar
Martin JC Buddy Guy Signature acoustic prototype
Buddy has also been known to use a Telecaster on occasion.

Amps:
Two Chicago Blues Box Buddy Guy Signature amps, built to replicate the look and tone of a vintage Fender Bassman, both with four 10" Jensen speakers and fitted with Groove Tubes. Buddy turns everything up full, except the bass, which is cranked down. He also uses Fender Vibroverb, Twin Reverb and Bassman reissues, depending upon what's available from backline rental companies.

Effects:
Dunlop Buddy Guy Signature Wah
Shure UR-4D Wireless
Radial JD-7 Signal Splitter

Accessories:
Ernie Ball strings .011–.048
Dunlop medium triangular picks imprinted with Buddy's name
Jodi Head guitar straps
Vic Firth 5A drumsticks (used for birdlike effects on the strings).

You've been touring extensively with B.B. King. How has the tour been going so far?
It's been going real good. We've known each other a long time, and enjoy working together. We do another gig tomorrow, and then we're off until February, when we start up again.

I expected to see you and B.B. jam onstage, but it didn't happen.
Well, B.B. comes in late off the bus, and I leave right after my show is done, so it's hard to do. People have been asking for us to jam, so I think I'm going to try to make it happen when we tour again this winter. The audience always likes it.
Are there any young blues guitarists you like?
John Mayer and I are the best of friends. I know he had a lot of pop hits, but he's a blues player at heart. He played on my last record, with Derek Trucks and Susan Tedeschi. There's a 10-year-old kid named Quinn Sullivan who can really play guitar. We're making a record on him right now. I brought him onstage one night, and he sat with B.B. and I and matched every one of our licks. You've got to hear this kid.
Do you have any advice for young guitarists who want to pursue a career playing blues today?
Don't ever put the guitar down; just keep playing it. I used to put my guitar down in the corner and stare at it when it got too hard or I'd get frustrated, but then I'd pick it up and start again. You can't give it up. If you believe in yourself and the music, then do it until you are successful.
Growing up in Louisiana, coming to Chicago dead broke and hungry, through the tough years and finally to well-deserved stardom today with all the benefits, did you ever think your life would turn out this way?
No, man. I could never see that far ahead. I'm very lucky to be where I am today. I can't read or write music at all, and people used to tell me I had to learn scales and all this technical stuff, but I never did. If you have heart and soul and believe in what you're doing, keep doing it. I figured I'd get a job, play a little guitar and someday retire. I didn't see no future in playing the guitar. But things happened that I didn't plan, and it was a once-in-a-lifetime deal for me. I still don't think I'm good enough.