Forgotten Heroes: Robert Quine
Photo by Ebet Roberts
A punk-era artist-as-sideman who simultaneously embraced and shattered rock's conventions with Lou Reed, Richard Hell, Matthew Sweet, and others.
Much has been written about New York City's late-'70s punk scene. The term "punk" was coined by critics and applied to a disparate collection of artists working at CBGB, a grimy hole-in-the-wall on the Bowery. It didn't represent a genre as much as a scene, and applied to the lifestyle and fashions of its participants as much as the music. The hype, if you believe it, idealized a raw, visceral return to basics, and implied—at least musically—amateurism and a distinct lack of chops.
Except that wasn't the case.
Whether you're talking about the polyrhythmic complexity of bands like the Talking Heads, the understated virtuosity of Television's Richard Lloyd and Tom Verlaine, or even the deep chops of drummer Marc "Marky Ramone" Bell (Dust, Voidoids, Ramones), the punk scene was a wellspring of talent. Punk's focus, for the most part, was song-centric and eschewed extended jamming, and the scene's musicians prized restraint, as opposed to flash. But ability—despite their short hair, leather, and safety pins—wasn't lacking. They were a reaction to the milquetoast fluff on popular radio (Debbie Boone, the Eagles), and took pains to distinguish themselves as misfits. But even the punks had their outliers, and a prominent delegate was guitarist Robert Quine.
Quine was an idiosyncratic force of nature. He was much older than most of his colleagues, he didn't dress like a punk—he wore sport coats and cheap button-down shirts, and his guitar playing was a synthesis of his eccentric, yet specific, aesthetic. He was a master musician, but he wasn't a jack-of-all-trades, and his instrumental voice was cultivated and singular.
Quine's breakout recording, Richard Hell and the Voidoids' Blank Generation, was released about a month before his 35th birthday, in 1977. It was an unconventional and abrasive, yet sophisticated and important, release. Over 40 years later, young artists still cite it as a primary influence. The Voidoids recorded their follow-up, Destiny Street, in 1982, but by that point, punk's glory days were nearly a distant memory and Quine was on to other things. His next major project was a contentious, yet fruitful, stint with Lou Reed, followed by about 20 years as a sideman with numerous artists.
Quine was a niche player, yet somehow fit in multiple contexts—whether commercial pop or confrontational art—and was at home on projects by artists as diverse as Matthew Sweet, John Zorn, Lloyd Cole, and Lydia Lunch. He played for the song, didn't overplay, but stood out anyway. You can always identify Quine on a track, even though his playing is tasteful and song-appropriate. It's also high-mid focused and unpredictable. He preferred plugging into a Deluxe Reverb's left channel and cranking it up.
When Quine died in 2004, he had never released a solo album. He was a sideman, except that he wasn't a studio ace. He's not that anonymous guitarist on countless jingles and hits. He was an artist and a stylist. He was complex, and his career—like most things Quine—was a paradox.
"I just don't give a shit, maybe because I'm such a lovable genius." —Robert Quine
"The fact is that critics like me because I am a cult figure, which means I'm not really successful," Quine told writer Jim DeRogatis in an interview for his book, Let It Blurt: The Life and Times of Lester Bangs, America's Greatest Rock Critic, published in 2000. "I'm not big enough of a target. About every five years, I do a record with someone and magazines are interviewing me again. It works for me a lot where I can do no wrong. I'm not a major success or anything, but I seem to have been a survivor, and I play better than I ever have. When I look around at other people from the era, I seem to have done OK, and the reason is I truly don't give a fuck. I honestly believe that rock 'n' roll was pretty much finished by 1961. The atrocities I've pulled ... I just don't give a shit, maybe because I'm such a lovable genius." Quine was an enigma, but he cared more than he let on.
For this feature we spoke with Quine's bandmates Richard Hell and Ivan Julian, his longtime collaborator Fred Maher, songwriters Matthew Sweet and Lloyd Cole, disc jockey and author James "the Hound" Marshall, and others.
Becoming a Voidoid
Robert Quine was born on December 30, 1942, and grew up in Akron, Ohio. Music was a constant from early on—from his interest in Gene Autry to whatever his parents played around the house."I was 12 in '55, when rock 'n' roll hit," Quine told Jason Gross in a 1997 interview for Perfect Sound Forever. "It just completely transformed me. I was getting into Frank Sinatra before that. But when that hit, it was all over. It was raw. The first rock record I bought was Frankie Lymon and the Teenagers' 'Why Do Fools Fall In Love?' The sax solo in the middle was completely inappropriate. It almost sounds like Albert Ayler. But it was lyrical. That was my obsession."
That music—early rock 'n' roll, but with an ear for the freest streams in jazz—was a constant throughout his life. He was passionate about guitarists like Link Wray, Mickey Baker, and James Burton—not to mention Buddy Holly and Chuck Berry, whom he saw on a double bill in high school—as well as Ornette Coleman, Albert Ayler, Impulse!-era John Coltrane, and Miles Davis' '70s electric output. That formed the foundation of his playing, especially in the ways he phrased his lines and took risks in solos, and it was how he connected with bandmates and friends.
Quine started playing the guitar as a teenager. He learned Chuck Berry songs and played along to Ventures albums. He bought a Strat in 1961—inspired by Ritchie Valens—and that was the model he used for most of his career, although his initial inspiration was a Telecaster.
"I remember him telling me about the thing that really made him want to get a guitar," says James "the Hound" Marshall, a close friend of Quine's throughout his years in New York. "There's a bowling alley in Akron called the Fairlawn Lanes, and the Caps were playing. The Caps were like the local rock stars. They had this almost-hit called 'The Red Headed Flea.' They were either sound-checking or rehearsing, and Quine remembers the guitar player sitting on his amp with a Tele and a cigarette dangling out of his mouth, just playing whatever, and that was the coolest thing he'd ever seen."
Robert Quine was 12 when he first heard rock 'n' roll in 1955. "It just completely transformed me," he told Jason Gross in a 1997 Perfect Sound Forever interview. "When that hit, it was all over. That was my obsession." Photo by Willard Van Orman
Quine graduated from Earlham College in Indiana in 1965 and earned a law degree from Washington University in St. Louis. He passed the Missouri Bar and in the late '60s moved to San Francisco. While still in college, he discovered the blues and listened to John Lee Hooker and Lightnin' Hopkins, as well as jazz, from artists like Ramsey Lewis and Bill Evans, to the more adventurous musicians mentioned above.
Quine played in bands throughout college and law school, usually covering songs by groups like the Kinks, the Rolling Stones, and the Byrds. He was also one of the earliest, and most dedicated, fans of the Velvet Underground. He was a regular audience member, befriended the band, and taped hundreds of hours of material at concerts in San Francisco and St. Louis. In 2001, Polydor Records released three discs gleaned from his recordings as Bootleg Series Volume 1: The Quine Tapes.
"The second album [1968's White Light/White Heat] completely changed my life," Quine said in that same interview with Jason Gross. "I spent thousands of hours on headphones wearing that out. What Lou Reed did, he actually listened to Ornette Coleman, and deliberately did off-harmonic feedback and the deliberate monotony of it. This stuff is like Jimmy Reed—it's monotonous or it's hypnotic. For me, it was hypnotic."
Quine relocated to New York City in the early 1970s. He got a job writing about tax law for a New Jersey-based law journal, but by 1975, he'd had it. He was already in his 30s and wanted to try making it as a musician. He quit the law journal and started working at Cinemabilia, a Greenwich Village film memorabilia shop, which was where he met coworkers Richard Hell and Tom Verlaine, both—at that point—from the band Television.
Quine's efforts at landing a gig were fraught with frustration. He was bald, which in hyper-fashion-conscious mid-'70s New York was a major liability. He didn't dress the part, was a decade older than many of his peers, and his sometimes caustic personality rubbed people the wrong way.
"He didn't have a shag haircut," Marshall says about Quine's struggles finding work. "At one point, through mutual friends, he tried for a job playing with Art Garfunkel. He got drunk and told him he thought Simon & Garfunkel were for people too stupid for Bob Dylan. Garfunkel punched him in the nose."
By early 1976, Richard Hell was no longer with Television. He had also left his next project, the Heartbreakers, which he started with former members of the New York Dolls. He was offered a production deal, which he accepted, and recruited Quine for his new band, the Voidoids.
"This was the chance Quine had been waiting for, for a long time," Hell says. "Nobody wanted to put a bald-headed old guy in a band. He knew this was like his big break. But he was kind of an alien in this theater of CBGB and he wasn't sure what I wanted from him, and he was tentative. He was definitely tentative. But I knew what he was capable of, because we'd become really good friends. I spent night after night over at his house listening to records with him. He had a few tapes of his bands from college. I knew what he liked in music, which corresponded almost exactly to what I liked, and I could hear on the live tapes of his college band that he could really tear it up, if he could shake the inhibitions and anxieties or whatever. But as it turned out, I really had to push him."
---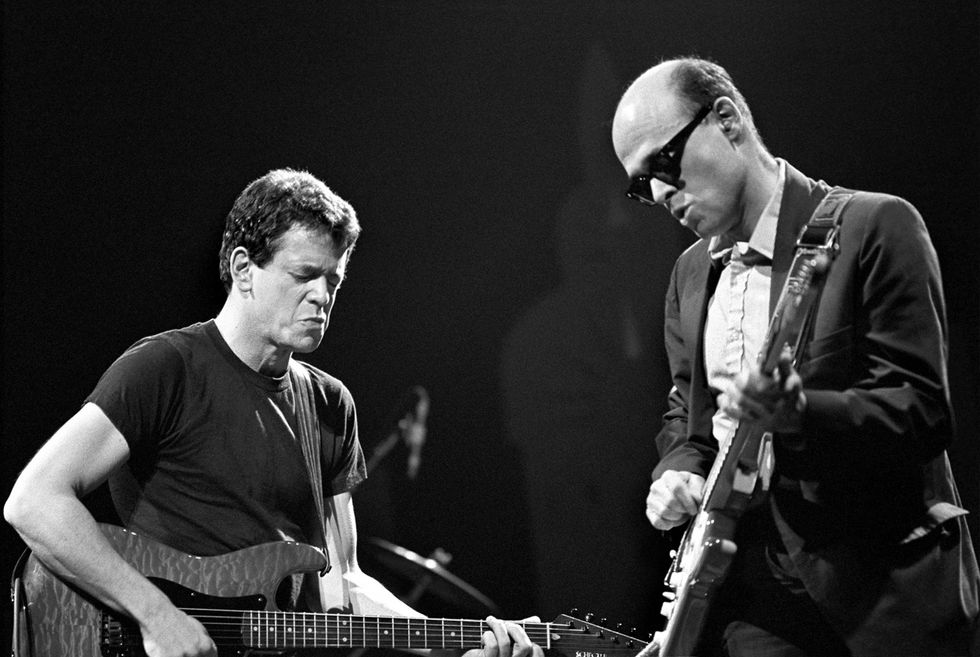 Lou Reed and Robert Quine performing at the Beacon Theatre in New York City, October 18, 1984. A huge fan of the Velvet Underground, Quine talked Reed into returning to the guitar—igniting a flame that Reed fanned for the remainder of his own life, even going on to record instrumental albums. Photo by Ebet Roberts
The Debut
Richard Hell and the Voidoids released a three-song EP, Another World, on Ork Records in late 1976, under Hell's name only. It was followed by their epic and influential full-length debut, Blank Generation, almost a year later. That release, which featured Quine, Hell on vocals and bass, second guitarist Ivan Julian, and drummer Marc Bell (later to become Marky Ramone of the Ramones), put Quine on the map.
Blank Generation is a showcase for many of the hallmarks of Quine's style. From the twisted-'50s leads on "Love Comes in Spurts" to the bluesy neck-mangling stutters of "Betrayal Takes Two" to his tight interplay with co-guitarist Ivan Julian­—it's all there. His tone varies throughout the album, though it's often thin, and sitting just at the edge of breaking up. Quine has no songwriting credits on the release, which was a constant throughout his career. He had a singular sound and a specific aesthetic sense, but, ultimately, he was a sideman.
"Bob didn't really have ambitions beyond being a sideman," Hell says. "I would push him. And the way I composed songs was I would come up with a series of chord changes and the bass playing I thought suggested what the structure and feel of the song was. Sometimes I would come in with some kind of reference, saying, 'I hear this as a kind of drive that's on 'Paint It Black' or something like that.' We'd start jamming and then I would nudge Bob and Ivan in certain directions, but just with a bass line that indicated chord changes I would tell them to play. They would improvise what their rhythm parts were and then I would try to push them this way or another, to get them closer to what I heard in my head."
That twin-guitar approach of bands like the Rolling Stones, the Yardbirds, and the Velvet Underground was a stylistic touchtone for Quine. Despite his idiosyncratic playing, almost his entire catalog features at least one other guitarist. That was an important part of the Voidoids' sound, and Quine and Julian took pains to make it work.
"We outlined the band so there wasn't a rhythm guitar player and a lead guitar player," Julian says. "We both just played guitar. One thing we did was never play any song on the same part of the neck. For example, you'll never find both of us doing a G chord in first position. If one was playing one thing when we were working out the song, then the other would work out some other way to play it."
"He tried for a job playing with Art Garfunkel. He got drunk and told him he thought Simon & Garfunkel were for people too stupid for Bob Dylan. Garfunkel punched him in the nose."
—James "the Hound" Marshall
Blank Generation was recorded twice. The first sessions were in March 1976, at Electric Lady, the studio Jimi Hendrix built in the Village. The album was rerecorded in late June and early July, at Plaza Sound in Midtown. Most of the final release—except for three songs—was taken from the Plaza Sound sessions. Quine brought two Strats and a Bigsby-equipped Tele to the sessions. (Julian used Quine's Tele for his solo on "Liars Beware.") Julian played an Ampeg Dan Armstrong clear Lucite guitar and an SG, though for the second sessions he mostly used a Strat.
Blank Generation is mixed with Quine panned hard to one side and Julian to the other—a trick they learned from the Yardbirds' album Over Under Sideways Down—with the solos right up the middle. For most of his solos, Quine played through a Fender Champ or a small Pignose amp, and sometimes had an MXR Dyna Comp out front.
"Pignoses didn't have a tone control, so Quine would open and close the cabinet to get however much treble or bass he wanted," Julian says. "They took a little tiny mic to it, and he had it up on a stool. When we recorded the album the first time, we were at Electric Lady Studios and we were told not to bring our own amps. They had these giant amps there for us—giant by today's standards. They had Twins and I remember they had Peter Frampton's Marshall that was left there. We were trying to play solos through that and it just didn't work out at all."
Link Wray and Robert Gordon were in the next room, recording the 1977 release Robert Gordon with Link Wray, which was also produced by Blank Generation producer Richard Gottehrer. "Robert loved Link Wray and he borrowed his Ampeg. I think it was a Reverberocket, some kind of trashy amp like that," says Marshall.
Quine is noted for his soloing, but his rhythm playing is just as important. He was a huge fan of the Byrds' guitarists Roger McGuinn and David Crosby, and brought an encyclopedic breadth of knowledge to the table.
"Quine had a really great touch and instincts for rhythm playing," Hell says. "He was so knowledgeable about the whole history of guitars that his repertoire and his mind was just infinite. He had a great sense for propelling a song and keeping it interesting. Bob and Ivan both knew—and clearly we all agreed about this—that I liked the classic interlocking riffs of the two-guitar bands. Where it's not exactly polyrhythmic, but it takes advantage of what you can do having two instruments, where you're not simply reinforcing each other. There's this counterpoint going on."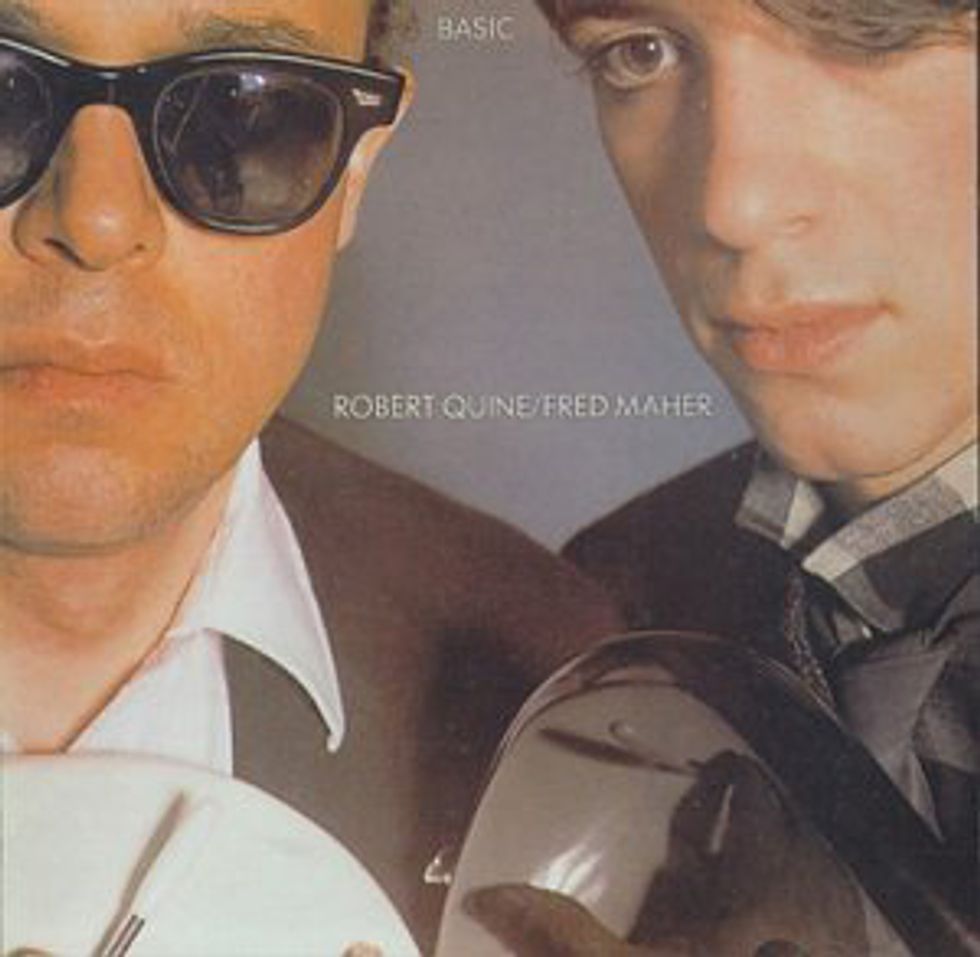 Quine never released a solo album, but the closest recordings are his two duo records: 1984's Basic, with drummer/producer Fred Maher—pictured here—and 1981's Escape, with guitarist Jody Harris.
Back to Basic
Drummer and producer Fred Maher, who's helmed albums for Scritti Politti, Lou Reed, and many others, met Quine backstage at CBGB at the tail-end of the 1970s. Maher, along with bassist Bill Laswell and keyboardist Michael Beinhorn, was a member of the New York avant-funk band Material. Following that meeting, Quine joined Maher, Laswell, and Beinhorn as a member of Deadline, the touring band that backed Laswell's electronic music project with drummer Phillip Willson from the Art Ensemble of Chicago. The project was short-lived, but it marked the beginnings of a collaboration between Quine and Maher, which lasted well into the '90s.
While working on other projects, Quine and Maher recorded their 1984 duo release, Basic, at Quine's apartment in the East Village, using a Tascam 4-track Portastudio and an Oberheim DMX drum machine. The album was recorded over a six-month period and, along with the 1981 release Escape, with guitarist Jody Harris, was the closest Quine came to a solo album.
Basic, for the most part, is a low-key album and showcases a very different side of Quine's musical personality—something you don't hear on many of his recordings as a sideman. Check out the track "'65." Quine's tone leans on the single-coil vibe of a Strat, but is enhanced with a generous helping of slapback echo. The chord motion is thick and repetitive, yet also subtly evolving, and modified with standout treble or lead voicings, and whammy-bar warbles. He does similar things on tracks like "Pickup," although his tone is even cleaner and the whammy warbles more extreme, and the album's closer, "Village."
"That was all direct," Maher says. "It was probably whatever Whirlwind direct box was available at the time. The only constant with Quine would be the Electro-Harmonix Memory Man. But he could have been using any combination of things. He was an aficionado of pedals. He had anything and everything, or he would have tried anything or everything that was available at the time."
Quine and Maher also worked together on Destiny Street, Hell's 1982 follow-up to Blank Generation. The album was recorded during a dark period in Hell's life, when drugs were taking their toll, and during his frequent absences from the studio, Quine—according to Maher—figured the only thing to do was to record more guitars.
"Quine went crazy," Maher says. "But that wasn't necessarily him proactively saying, 'I've got an idea and I want to do this.' It was more, literally, just to fill the time, because there was nothing to do. Between him and the other guitar player, Naux, it was pretty ridiculous."
---

Robert Quine onstage with Richard Hell and the Voidoids. Blank Generation, the Voidoids' 1997 debut album, introduced Quine's idiosyncratic soloing style to music fans around the world. His solo on the title track is revered, but extraordinarily difficult to duplicate. Photo by Ebet Roberts
Quine Versus Lou Reed
Following the Voidoids, Quine's next high-profile gig was with Lou Reed. He appears on Reed's 1982 release The Blue Mask, which many critics considered a return to form, as well as 1983's Legendary Hearts, and a live album recorded in Italy. The Blue Mask is raw, much of it was recorded live in the studio, and—at Quine's insistence—also features Reed on guitar.
"Quine got Lou back into playing," Marshall says. "Lou wasn't playing much guitar at all. He would basically hold the guitar and play a little rhythm, but he wasn't really playing that much. After The Blue Mask, he really started playing a lot."
Quine, as noted, was a Velvet Underground super-fan. He was the same age as Reed and shared similar influences. He was familiar with the band's entire body of work. He was the perfect addition to the band—something Reed's then-wife, Sylvia, appreciated when she scouted him for the gig.
Throughout the '80s, Quine is almost always pictured playing a Strat, although, according to Marshall, for a lot of The Blue Mask he used an Ovation electric 12-string. Most likely a Deacon. But live, he played Strats, and that's what he used for the Legendary Hearts sessions as well.
Quine is quoted on his website—the site is still up and maintained by friends—saying that he detuned his guitar for The Blue Mask to create a droning effect, which gives the album its Velvet Underground feel. "A lot of [Lou's] songs are in D, so I dropped my tuning a whole-step and came up with different voicings to match and complement his. The priority was to stick to open chords, because they just sound better. That drone was an essential feature of the Velvet Underground, and 'Women' and 'The Gun' [on The Blue Mask] were especially like that."
Quine's standout solo from The Blue Mask—and a career highlight—is "Waves of Fear." He takes over at the song's midpoint and rides it out until the end. He jerks and stutters, steps in-and-out of time, flirts with dissonance, and makes an unhealthy, ungodly mess. Typical for Quine, the solo is both idiosyncratic—it's unlikely someone else would have approached it the same way—and yet song-appropriate. His playing fits the mood and energy, and once you hear it, it's difficult to imagine anything else working.
"As a general rule, the emotional tone of my playing is simply guided by the lyrics and the musical context of the song," Quine told Vintage Guitar in 2002. "In ['Waves of Fear'], the guy is terrified, having a nervous breakdown, whatever. So I approached my solo with that in mind. We did two takes of that song, and when I improvised that solo I attempted to emotionally put myself in that person's place and communicate it to the listener. Basically, I make a point of knowing the lyrics of the song and respecting them. I'm very primitive musically, in many ways, but I'm proficient enough to communicate emotionally. At least I hope so."
Although even Reed agreed that his band was a natural fit for Quine, it wasn't destined to last. Both men had strong personalities and conflict was inevitable. As it was, the mix for Legendary Hearts pushed Quine over the edge.
"We recorded it in this gigantic orchestral soundstage that was built inside a mid-century office tower on 6th Avenue in Midtown," Maher says about those sessions. "Lou was in very good humor and we really stretched out. It was just me on drums, Lou, Bob, and Fernando Saunders, the bass player. During the recording, everything was hunky-dory, and Bob and Lou were getting along. But when the final mixes were done, I think Bob ... let's just say he wasn't very happy with his position in the mixes. I'd have to go back and listen to see if he was right about that, but it doesn't matter because he was not happy at all. He complained bitterly to Lou, and that was pretty much that."
Quine toured with Reed in support of Legendary Hearts, but, as Quine saw it, the damage was done. He was fired just before Reed recorded New Sensations.
"Bob had a problem with being a session musician," Julian says about the great irony of Quine's career. "He didn't like being edited and having his stuff mixed down, or not used, on a record. He would get really offended. He stayed mad at Lou Reed and Matthew Sweet for that reason until he died. He couldn't handle it. I talked to him about it. I was like, 'Bob, it's their record.' But he was not rational that way [laughs]."
Hired Gun
Following his stint with Reed, Quine did sessions with a wide range of artists including Tom Waits, Marianne Faithfull, They Might Be Giants, John Zorn, Andre Williams, and Marc Ribot. He even appears on one track of Scritti Politti's massive 1985 release, Cupid & Psyche 85. Quine also made a significant contribution to the '90s output of singer/songwriters Matthew Sweet and Lloyd Cole. Although his soloing is featured on releases by both artists, his rhythm playing—in particular, his frequent nods to the rhythm guitar work of '60s-era Byrds' releases—often added a deeper, more nuanced dimension to the music.
"I met Bob through Fred Maher," Sweet says. "Fred produced [my 1991 release] Girlfriend with me, and he suggested we bring in Quine. Fred really wanted me to hook up with Bob over his love of the Byrds. I was really into Revolver-era Beatles at the time, and I thought of Bob—because of the Richard Hell record—as a wild, almost punk-rock guy in his playing, like the solo on 'Blank Generation' or something. It was a surprise to me that he liked that kind of stuff."
"He was just absolutely tasteful in a way that encompasses Ornette Coleman and Albert Ayler, as well as Jimi Hendrix, or back to Jimmy Reed or Link Wray." —Richard Hell
But great rhythm playing notwithstanding, Quine's most recognizable recording from this period is his outrageous solo on "Girlfriend," Sweet's hit single from late 1991. In some ways, it's his most definitive statement: part '50s-era rock 'n' roll, part atonal weirdness. Quine takes unexpected leaps of an octave or more, emphasizes dissonant note choices, ends his phrases in unusual spots, and yet, somehow, manages to make it sound obvious. His tone is warm—not his usual Stratocaster squawk—and the overall feel, despite its quirks, is lyrical. It's the work of a master craftsman. It's also 100-percent Quine, and not something you'd expect on radio-friendly pop.
"What he liked to do was find ways to make the wrong thing work," Cole says. "A big part of his genius was playing stuff that might seem overly brutal or heavy-handed and making it sound not heavy-handed. He was very keen on leaving air between notes as well. He had these flourishes, but where he would come in and where he would stop were key."
For session work, Quine usually used an amp the studio provided and left the miking up to the engineers. Maher says, "I'd have at least three microphones either on, or near, the front, and at least a couple, maybe two or three, behind the amp—one literally inside the amp, jammed in the back—and maybe one a couple of feet away from the back. When you do that, your ability to manipulate the tone is pretty extraordinary, just by changing the relationship of the volumes of the different microphones."
Robert Musso, who engineered and mixed Quine on Tom Waits' Rain Dogs sessions, had a similar approach. "Back in those days, I either used a Shure SM57, a Sennheiser 421, or a combination of both," he says. "For example, if he was playing a Twin or a Deluxe through two 10s, I would put the 57 on one speaker, the 421 on the other speaker, and then I'd use a Neumann U 87 in a triangle format about 18" or two feet back from the amp."
Quine continued to work throughout the '90s, although as the decade wore on, calls for sessions were less frequent. He played on "Oh," a web-only single that turned out to be a one-off reunion of the Voidoids' original lineup. He even discussed redoing Destiny Street with Hell.
"I found this cassette among my tapes that had every song on the album, but just the rhythm tracks," Hell says. "It was drums, bass, and two guitars that I made for myself during the course of the recording to take home and listen to. I realized, 'This is a beat-up old cassette tape, but it gives me the opportunity to try to make something closer to the record I wished I made.' I actually talked this over with Quine before he died, and he was way into it. He was going to come back and put down guitar solos. But then he offed himself, so that was impossible, but I still wanted to do what I could to salvage that record. I got two guitar players—Marc Ribot and Bill Frisell—who were big admirers of Bob, and they went in and made that record. I do think it's an improvement on the original. Some people disagree. It's like 50/50. I knew I was going to get a lot of flack. The frustrating thing is, half the responses were, 'How can you take out all of Bob's solos?' I didn't take out Bob. His rhythm playing is there, but he hadn't played his solos yet, and he couldn't add them 20 years later because he was dead."
In August, 2003, Quine's wife, Alice Sherman, died suddenly at their loft in Soho. Quine was inconsolable. Over the course of the year, he grew more and more despondent. He had trouble fending for himself or managing the simple tasks of modern life. On May 30, 2004, in circumstances that remain unclear, he took his life via an apparent heroin overdose.
"The very last recordings he ever made are a soundtrack for a movie a neighbor in his building hired him to do," Marshall says, though he's never seen the film and doesn't remember the title. "You just hear how much pain he was in. It's this savage screaming guitar. He is playing all the instruments himself—guitar and bass, and there's a drum machine on it—and it's completely insane."
Quine was 61. Over the years, in tributes and retrospectives about his playing, some critics are tempted to reduce his approach to a simple, one-word description, like "angular," or "spike-y," but—at least according to Hell—that misses the point.
"Quine was a genius," Hell says. "He was very modest. He would never tolerate anybody mentioning him in the company of the great musicians he admired. Ever. He was a huge connoisseur of guitar soloing from Link Wray to Grant Green to Lou Reed. And a huge range of approaches and genres of music. That's one half of it. The other half of it is jazz, where there's hardly any guitar, Grant Green notwithstanding, which he also loved: from Lester Young to Albert Ayler. In this very specific juicy, meaty way that was just his elevated genius taste, his abilities as a player were as broad as his appreciation of other people's music. He could just as well play a brilliant gorgeous, laid-back sweet passage or solo, that had nothing to do with spectacle or shredding or anything like that. It was just gorgeous playing, like on the original demo of my song 'Time' on the Spurts record [2005's Spurts: The Richard Hell Story], not the Destiny Street Repaired version. It's just the sweetest most gorgeous playing. It's not angular. I mean, yeah, he'll go from one point way in one direction on the neck to a point way in the other direction on the neck, but it's not like you're having some sharp object pushed into you, which is what angular suggests. It's just gorgeous playing, and he could do it in this whole range of moods and styles. He was just absolutely tasteful in a way that encompasses Ornette Coleman and Albert Ayler, as well as Jimi Hendrix, or back to Jimmy Reed or Link Wray."
"Bob was really an artist," Sweet says. "What he couldn't do was play normal ways or learn exact things someone else did. Instead, he was a true creative force. There was nobody else who sounded like him. He was a very unique guy, just as a person, but he also really cared about making his playing special and unique."
---
Guitar Shopping with Robert Quine
Robert Quine, for lack of a delicate term,
hoarded
guitars. "When he found something he liked, he had this obsessive-compulsive thing where he would buy, like, five of them," Fred Maher says. "His motto was, 'If they make something really good, they will inevitably stop making it.'"
"If he found a guitar pedal he liked, he had to buy three of them," Lloyd Cole relates. "He was worried that they were going to stop making them and he would never be able to get one again. It was the same with guitars. When he got into Gretsch Country Gentlemen, for example, I think he bought five or six."
But that obsession just made the shopping experience better. "One of my favorite things to do with Quine was to go guitar shopping," Maher says. "We'd go up to Manny's on 48th Street and, boy, they loved him there. I think every time he walked in there, he walked out with something. At some point, I decided I wanted to buy one of the early Fender Tele reissues. We went to Manny's and they literally brought every single one they had in the stockroom to us. He played every one of them. He had this thing where he really liked to make sure that it acoustically sounded good, before he plugged it in. He would strum it and play it a little bit, and that test was pass/fail. If it passed it, would go into the pass pile. Then he would plug them in and go through them. He appreciated the random faults of manufacturing, and the wood, and all that stuff that just can't be accounted for in the building of instruments." Quine's favorite Telecaster was a '52 reissue with Seymour Duncan Antiquity pickups and a 4-way switch.
Matthew Sweet was with Quine when he started obsessing over Japan-made Strats. "We went to a place called Rudy's on West 48th Street in New York," he says. "I got a couple, Fred Maher got a couple—they were way less expensive than an American Fender—but Bob would go back again and again and keep buying more and more of these Japanese Stratocasters. He must have had 12 or 15 of them."
"On an average day with Quine, he would just go to guitar stores and record stores and shop around," James "the Hound" Marshall says. "He had tons of pedals. The big one at the end that he loved was that Yardbirds fuzz [the Prescription Electronics Yardbox]. He had all kinds of delay pedals. He would buy literally every fucking gadget." However, Quine truly relied on a chosen few: an Electro-Harmonix Deluxe Memory Man, a Fender Blender, a Dallas-Arbiter Fuzz Face, an MXR Distortion+, and a Prescription Electronics Yardbox fuzz and Experience octave fuzz.
But shopping with Quine wasn't for everyone. "I didn't have the kind of money he had and it would just piss me off," Ivan Julian says, laughing. "Though he did talk me into buying two things. He talked me into buying a Peavey guitar. He said, 'This is going to be the Telecaster of the future.' That didn't happen. But he also loved Peavey amplifiers, especially Peavey Bandits, and they are really great amplifiers. I was apprehensive, but he said, 'You've got to hear it.' I heard it, put a different speaker in it, and I still use it for clubs and things like that."
Quine's main amps were a mix of Fender and Peavey. His favorite Fender was a Super Champ with the original speaker, but he also used a Pro Junior, a Custom Vibrolux, and a Reverb II, along with a 130 Special and a Deuce from the Peavey camp. His preference in guitar strings remained consistent: Fender .010–.038 sets.
Robert Quine Essential Listening
"Betrayal Takes Two" from Blank Generation
"If he played something for you and you talked while it was playing, he would get fucking furious—not even tongue in cheek—he would really lose his mind," Ivan Julian says. So pay attention. Quine's solo is unhinged.
---
"'65" from Basic
The drum machine programming in this collaboration with Fred Maher sounds dated, but Quine's elegant playing on this track is canny and timeless.
---
"Waves of Fear" from The Blue Mask
Quine's stint as Reed's guitar foil re-energized the legendary songwriter and 6-stringer's playing, and Quine's climactic solo on this tune reveals why.
---
"Girlfriend," from Matthew Sweet's Girlfriend
In this 1992 performance from TV's Dennis Miller Live, Quine opens up wide on an arrangement that's different from the album and lets his Strat squawk.