Girl Gone Bad: Esperanza Spalding
Grammy-winning, jazz-soul phenom Esperanza Spalding risked everything when she left a 10-year classical career for the jazz scene. Since then, she's played some of the most prestigious events in the world, including at the White House and Nobel Prize ceremonies. Here she ruminates on fretless bass, friendship, and the fine art of listening.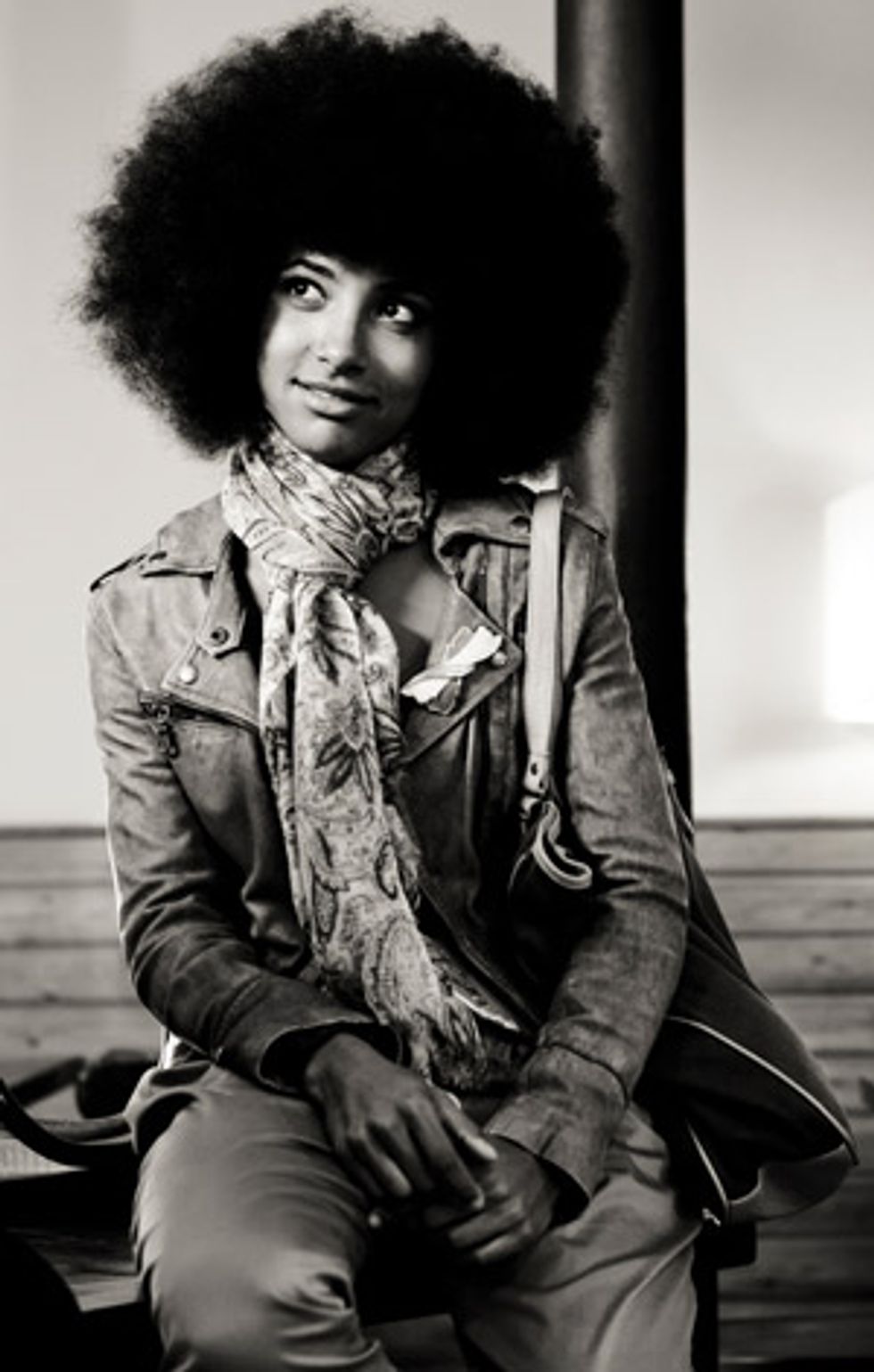 Discovering the bass, says Esperanza Spalding, was like "waking up and realizing you're in love with a co-worker." Although she moved to upright bass at the tender age of 15, the 27-year-old winner of Best New Artist at last year's Grammys was already a classical concertmaster with 10 years of violin study and performance experience in her hometown of Portland, Oregon.
Switching to bass carried a slightly scandalous whiff in Spalding's previous circles, but it didn't matter—the appeal of jazz greats like Slam Stewart, Scott LaFaro, and Leroy Vinnegar had won heart. Indeed, even more than her prodigious talent, heart—her ability to "transmit a certain kind of personal vision and energy that is all her own"—is what Pat Metheny once described as Spalding's "X factor."
That certainly extends to her bass playing. As demonstrated on her second album, 2010's Chamber Music Society, whether she's playing a 7/8 or 3/4 upright double-bass, Spalding shows a technical command that's as at home with the colors of Bart—k and Webern as it is with the ghost notes and broad swaths of sound that Paul Chambers laid down on "Kind of Blue." And then there's her fretless electric work, which has an energy and phrasing reminiscent of Jaco Pastorius on "Teen Town" and "Come On, Come Over," with a loaded lower-mid attack and heavily syncopated lines that suggest the middle ground between popping and rest-stroke.
Spalding—a mix of African American, Welsh, Latin, and Native American ancestry— is both lovely and instantly endearing. She's as likely to express herself humbly as she is to be firm about her many strengths and her point of view. That combination is part of what makes her latest album, Radio Music Society, such a compelling hybrid and such an arresting listen. Fusing Afro- Cuban, bop, chamber music, jazz vocalese, and R&B with the dizzying chanteuse streak of her elastic vocals, the album is shot through with savvy lyrics that take on real-world subjects like racial pride and identity ("Black Gold"), the nature of friendship ("Cinnamon Tree"), and the price of war ("Vague Suspicions"). And then there's the fact that she sings in perfect Portuguese.
If all that sounds improbably mature and totally kick-ass for someone still in their mid-20s, well, it is. Still, given that Spalding is the first jazz artist ever to win a Grammy for Best New Artist—and the youngest instructor ever hired by her alma mater, Berklee College of Music—it does help cement the less-than-vague suspicion that Spalding is something of a smoldering cross between a Jaco Pastorius and an Adele.
You began on the violin and upright before picking up electric bass. How does the one inform the other—what's the hand-off?
Functionally, there are a lot of things that translate across the two, but the situations I've played electric in are so distinctly electric. I wouldn't have tried to do that music on upright, and vice versa, so it's hard to tell. I will say that things that are second nature for me on upright, I really need to think about on electric.
Fretless bass is a very difficult instrument to play well—you almost need experience with an upright to do it.
Well, I play fretless partly because frets defy my capacity to understand. Never having played a fretted instrument, the frets just… wow—I don't know where to begin on a fretted instrument! With a guitar, I'm down with that. I get it: For chords, it helps you stay in the right place. But on the bass, with melodic movement and lines, it really trips me up.

The Fender Jaco Pastorius Jazz bass appears to be a good fit for Esperanza Spalding, whose chops have been compared to the legendary Jaco. Photo By Carlos Pericas, Courtesy of Montuno
Why?
It's a whole different philosophy of being in tune. If you grow up playing violin, everything is about how you get to the right note in time. Then, if you land on the wrong note, how do you quickly adjust? All these things really revolve around intonation. Intonation becomes about distance and time—how much time do I need to get a particular distance across the fingerboard? And your ear guides so much of what you do when you're playing a fretless instrument: So much depends on being able to quickly hear how close you are to the pitch.
Which instruments are you mostly playing these days?
For electrics, I'm playing a Fender Jaco Pastorius Jazz bass and a Godin A5 Semi- Acoustic 5-string, which has an L.R. Baggs undersaddle ribbon transducer. The Godin is really cool—it just sounds beautiful. It was different for them, and different for me, so they encouraged me to experiment with it. For uprights, I play a 7/8 double bass. It's the one bass I've always used. Luthiers can't come to a consensus on who made it or when, but evidently it was an orchestra bass for years until the owner died and the family sold it. It's just really alive and really open—super resonant. But I don't travel with it. On the road, I just ask for a 7/8 or 3/4 bass, hope it's cool, and go for it.
You've played with some legendary musicians, including Stevie Wonder, Prince, and Herbie Hancock. But for jazz nuts, a couple of them—[legendary jazz drummers] Billy Hart and Jack DeJohnette— are just … "Holy crap!"
That's how I feel—woo! I mean, they're my friends, and I love and admire them, so if I feel I have something to offer them by being on the project, why not invite them to play on my album? I asked Billy to play on my album after a gig at the Village Vanguard, and he said, "Sure kid, but you're never going to call me." But of course, I did, and he just came in and laid down that crazy, beautiful groove on "Hold on Me." I got to know Jack from doing a few gigs with Herbie Hancock. We hit it off—just had a really beautiful rapport as human beings, talking about music and life. It was like, "Let's do this—I'll play on your record [DeJohnette's new Sound Travels], and you'll play on mine."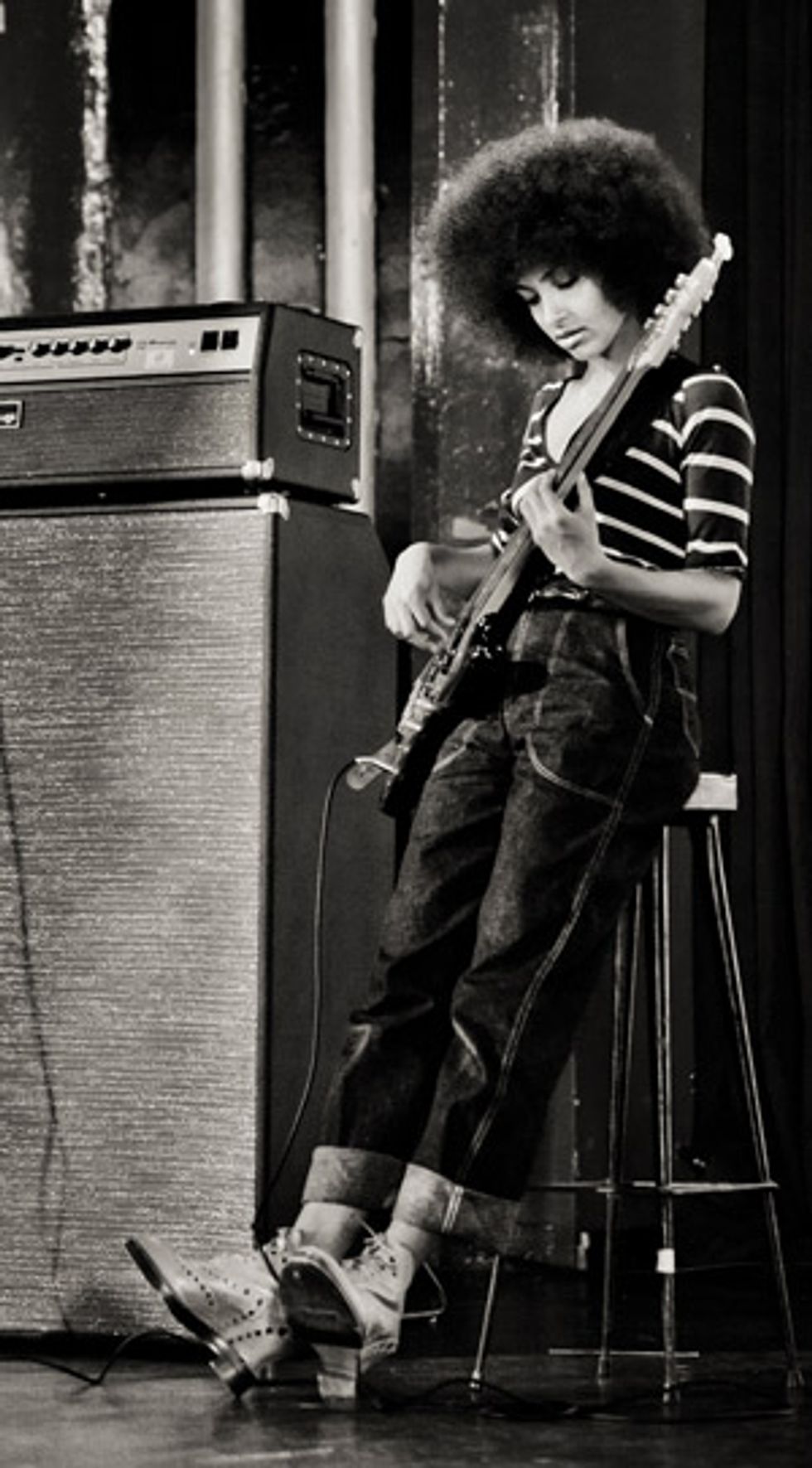 Jack is such a musical drummer—it's as if he's playing a little orchestra.
That's something I really like about Terri Lyne Carrington, too. It's not like, "I worked out a bunch of shit on the drums, and I'm going to play it." It's more like she's orchestrating around the kit, so it sounds like multiple percussion instruments being played at once. And yeah, Jack is the same way. He's not locked into patterns. He comes up with the right combination of notes and rhythms for the context of every moment, and that's really rare.
You take on some pretty potent topics, and you also do something very few young songwriters do—you write about stuff other than yourself.
I talk about myself an awful lot, doing so many interviews, and I'm just not that interesting to myself! I find a lot of inspiration in the people I know and the world around me, and if I'm going to spend all this time that it takes to put together a song that I'm happy with, it's got to keep me interested. The songs that capture my attention—the ones that really feel done in the end—are the ones where I have to really dig to find out what it's talking about. "Cinnamon Tree" was a real challenge. Sure, the metaphor was there first, this little nickname, but how to unpack that, turn that little phrase into a song and a story about friendship?
You've been quoted as saying you write songs and albums in fragments, yet your albums hang together very nicely— despite being stylistically diverse. How do you pull that off?
Well, I make a record because the music seems like it's got something to tell. Through the process of unpacking the songs, step by step, you're just trying to do service to the music. So if it seems like some dissonance is in order, then that's what you do. If it's a good place for a simple IV-I cadence, I'll do that. There's not a guiding principle that comes from outside the music. The guiding principle comes from within each song and from within each ensemble.
So you take it one song at a time, without any sort of overarching theme?
Yeah—whether it's Esperanza Spalding, Chamber Music Society, or Radio Music Society, it's been a song-by-song process, and then when I look at the final list of songs, I figure the ensemble will give it the color that will connect the whole album. The same is true for bass lines and bass playing.
I've talked about this in terms of playing with [veteran jazz saxophonist] Joe Lovano, regarding playing between the two drummers. With that group, there's no single approach that works. There's no specific way of playing that you can count on. I'm just listening. In fact, I try to almost pretend that I'm not playing at all—just to listen, from the outside, to the full sound coming off the stage. Then, as an arranger/ composer, I want to place the bass part so that it will do the most good for the music happening at that moment. And it's different every night—even the same song can be really different, night to night.
There's a great line [Thelonious] Monk wrote about how he'd heard a lot of universities had a class called "Communications." And he said, "I don't know what that class is for, but I hope they teach deep listening and loving speech!" Communication is ultimately what everybody has signed up for when they get on the bandstand. They are there to communicate honestly and truthfully and even compassionately. You are trying to contribute to a flowing conversation in time, so you listen in order to be better able to speak, and to ask questions, and to make sense.

Spalding's approach to playing with jazz's elite is to listen to the other players and forget that she's playing at all. By Carlos Pericas, Courtesy of Montuno
What sorts of questions?
You can offer opinions. You can ask, "Could you describe that further?" Or, "Have you ever looked at it from this perspective?" Or you can say, "No, no, no—I've heard that shit before and I don't agree!" It's like there's a flowing, morphing conversation, so of course you have to listen—just like you would if you were talking to someone you really cared about and you wanted to know more about what they were saying. And it's not just jazz. Great pop bands are made up of musicians who exercise all those same skills. That's the foundation of music.
YouTube It
Check out Ms. Spalding in action in the following YouTube clips.

Shot live in San Sebastian, Spain, in 2009, this clip shows Spalding and her band playing a spirited version of "I Know You Know," plus some inspired blowing on both upright and electric.

At this January 2009 tribute to Stevie Wonder at the White House, Spalding is stunning in so many ways—with her slippery upright playing, her sultry voice, her classy couture, and her beautiful smile.

In this gorgeously moody clip, Spalding proves she's as adept with a bow as she is playing fingerstyle—and the vocal work is mind blowing.