Steven Wilson: "I'm Just a Nerd Who Fell in Love with the Magic of Making Records"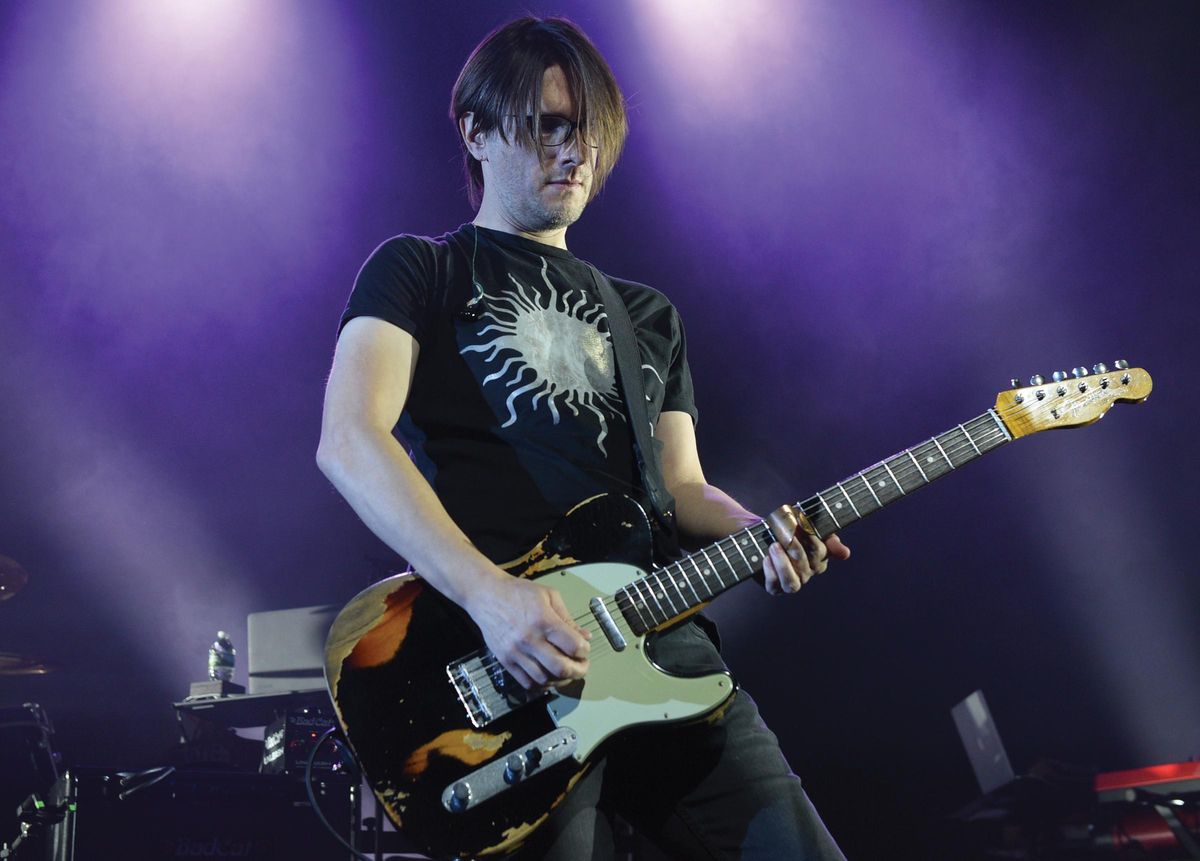 Photo by Frank White
The songwriter and multi-instrumentalist resurrects Porcupine Tree's spectral, desolate sound after a 12-year hiatus with Closure/Continuation, bringing listeners both long-awaited catharsis and new hope for the future.
In 2010, Steven Wilson was standing onstage at the Royal Albert Hall in London with his band Porcupine Tree before a sold-out crowd. He hadn't yet told his bandmates that it would be their last show—at least for a while. The band had been engaged in what felt like a relentless cycle of recording and touring for the 17 years leading up to that point. Despite having gained a dedicated following, they'd never had a hit nor the support of mainstream radio and television—yet they were constantly being told their next record would be the one to break through. But with 10 albums to their name, that still hadn't happened. Wilson was tired.
---
The band went on hiatus after that show, and Wilson furthered the pursuit of his solo career (which began in 2008 with the release of his debut, Insurgentes). After a while, fans began to assume that waiting around for a Porcupine Tree reunion was a lost cause.
"I was quite a big contributor to that, too," Wilson admits. "I would say to people, 'No, forget it, we're not coming back.'" But it wasn't true. "I was telling a white lie just to get them to focus on what I was doing at that point. But actually, behind the scenes, we were working toward something that would eventually herald the return of the band."
Porcupine Tree - Harridan (Official Lyric Video)
Porcupine Tree's 11th full-length studio album, Closure/Continuation, marks that return. With the 65-minute, 10-track record, Wilson, drummer Gavin Harrison, and keyboardist Richard Barbieri offer a new collection of compositions that build on the band's classic sound with a reinvigorated, visceral pulse.
Opening with the guttural, aggressively percussive bass line on "Harridan," the album navigates through a series of kinetic musical worlds that are, in balance, both pensive and turbulent. The second track, "Of the New Day," has a plaintive refrain taken from its title, and later on in the album, the haunting, subtly shapeshifting "Chimera's Wreck" moves through tones of disquiet to create a nearly 10-minute narrative that's both cerebral and emotive. Other standout tracks include the ominous "Herd Culling," and the sinister "Rats Return."

It's elusive what exactly makes the record something that moves the band forward. It might be the amorphous arrangements, which stay accessible as they seem to breathe even more freely than past works, or the seamless concatenation of foreboding, hopeful, and furious overtones, or the strength in the voice that ties together each of the self-contained, emotionally complex, often dystopian scenes. But in their time away, what Wilson calls the band's "creative core" seems to have evolved.
"I would say to people, 'No, forget it, we're not coming back.'"
Although Porcupine Tree never actually disbanded, there was a gap between 2010 and 2012 where they weren't seeing much of each other, at least not for composing purposes. Then in 2012, they began a 10-year gestation of material that would end up becoming Closure/Continutation. Their writing sessions were sporadic, says Wilson: In the beginning, they would get together for just a few weeks at a time every other year.
"Part of the reason for that, I think, was that we didn't want to feel any pressure in making a Porcupine Tree record," he shares. "A lot of people assumed that we didn't exist anymore, and I kind of liked that because it meant that we could work on the record in a complete vacuum with no pressure, no expectation, no deadlines."
The 2020 lockdown motivated them to finally knuckle down and bring the record to completion, but they wouldn't have gone through with releasing it if they didn't feel as though they were doing something new. Part of Wilson's jadedness at the end of that 2010 tour was because he felt, despite its relative chart success, that their last record, The Incident, was largely uninspired. "I felt like we were on a creatively downward trajectory where the music was no longer getting better," he says. "In fact, it was beginning to sound a bit same-y. And it's always been very important to me and the band that every record has a sense of evolution from the previous record."
Porcupine Tree is Richard Barbieri (keyboards), Steven Wilson (guitars/vocals), and Gavin Harrison (drums).
Photo by Alex Lake
With the new album, he feels they've succeeded in that respect. "I'm very proud of the music, and I think it's some of the best I've ever made," he says. "Time will tell how the album fits into the catalog—it's not something you can judge in such a close proximity. But right now, I'm fairly confident this will become one of the more popular and successful things I've ever done in my career."

The band's followers might notice that longtime bassist Colin Edwin doesn't appear on the album. Rather, Wilson plays bass througout. He says filling that role wasn't at all meant as a slight to Edwin but was a result of how the music came together. "It was just a very natural thing for me to try something different rather than picking up a guitar," Wilson says. "And we ended up writing so much of the record in that way."
"A lot of people assumed that we didn't exist anymore, and I personally kind of liked that because it meant we could work on the record in a complete vacuum with no pressure, no expectation, no deadlines."
Wilson's guitar-minded approach to the bass produced a style that diverts from more predictable patterns. "I play bass like a guitar player," he comments. "I play a lot of stuff high up, I play a lot of melodies, I play a lot of chords, and I don't perhaps play like a traditional bass player would play."
Writing on bass helped make the album more groove- and riff-oriented, and less polyphonic overall than past records. The newfound approach also gave Wilson a refreshed outlook on composing. "I've been writing on the guitar for the best part of 25 years. And frankly, when I pick it up now, I'm not sure what else I've got left to do!" he shares. "But when I pick up the bass, or I go to the keyboard, suddenly there's so much more that I've never done before. I surprise myself more when I play them."
Steven Wilson's Gear
Steven Wilson plays his 1963 Relic Custom Shop Tele at London's AIR Studios while tracking Porcupine Tree's Closure/Continuation.
Photo by Derek Bremner
Guitars & Basses
Fender Custom Shop Telecaster
PRS Singlecut Gold Top
PRS Custom 22
Takamine acoustic
Ovation acoustic (Nashville tuning)
Babicz Steven Wilson signature model
Spector basses
Amps
Bad Cat Lynx
Supro '64 Combo
Hughes & Kettner Tubemeister 5
Various software plug-ins for recording
Strings

Effects
Strymon BigSky Reverb

Strymon TimeLine Delay
Diamond Vibrato
Moog Minifooger MF Tremolo
Origin Effects Cali 76 Compressor
Source Audio Programmable EQ
Analog Man Prince of Tone
Amptweaker Tight Rock JR
Electro-Harmonix Small Stone Phaser
Option 5 Rotary Pedal
Dunlop Cry Baby
Electro-Harmonix Micro POG x 2 (one octave up and one octave down)
Aside from acoustic strumming and fingerpicking on a few tracks, and edgy riff emphasis on others, the guitar mostly takes a backseat on the album. Wilson supports his arrangements with some solos that embody his quintessential feel for the instrument, but all in all, it's apparent that the bass was truly the guiding force on Closure/Continuation.
In July, Wilson released another project: a 320-page autobiography entitled Limited Edition of One. Its subtitle, How to Succeed in the Music Industry Without Being a Part of the Mainstream, perhaps serves as its thesis. His story is that of someone who's had success without ever having quite broken through, and that angle is exactly what helped him decide it was worth sharing.

"I always thought it would be a very boring book. I thought, 'Well, there's no book to be written because I don't have any of those stories about being on the road and drugs and religion and groupies. I'm just a nerd that fell in love with the magic of making records.
"Then the guys at Hachette [the book's publisher] pointed out to me, actually, that's why a book on me would be interesting. Because that traditional rock 'n' roll hedonistic thing … people are bored with that story because they've heard it so many times. At that point I became more convinced that maybe I did have a story to tell."
Porcupine Tree's new release, Closure/Continuation, had a gestation period of over a decade. The band hasn't released an album since 2009's The Incident.
In his book, he provides a detailed sketch of that aforementioned "nerd" who, in his formative years, was fascinated by records like the 1967 David Bowie single "The Laughing Gnome," and especially the work of composer Karlheinz Stockhausen. But before getting into his biography, he elaborates on the overall mood at the band's last concert in 2010, then lists common misconceptions people have about him, the saddest songs he's ever written, and 10 reasons why he's not a "macho" rock star. He also talks about his love of lists."I love making lists of things to do, and I take great satisfaction in ticking everything off my list. The satisfaction you get when you've done that is immense," he enthuses in conversation. As a self-described control freak, he adds that when he writes emails, he will leave absolutely nothing up to the imagination of the recipient: "I can be paranoid about that as people sometimes can misinterpret things unless you're very, very, very clear."
"Love him or hate him, Kanye West is an incredibly innovative producer."
He also writes, in his book, that he doesn't see himself as a guitar hero. "I always feel fake and slightly embarrassed when I'm being interviewed for guitar magazines." At the beginning of our conversation, Wilson says, "I'll be very boring if I talk about guitars, because I don't know much about them, to be honest."
While many consider Wilson exclusively a progressive rock artist, his latest solo record, The Future Bites (2021), is but one of his works that refutes that notion, as it sits comfortably in an electronic or synth-pop category. Given that, it may not come as a surprise that when asked which musicians he thinks are truly progressive today, he's quick to praise modern hip-hop artists.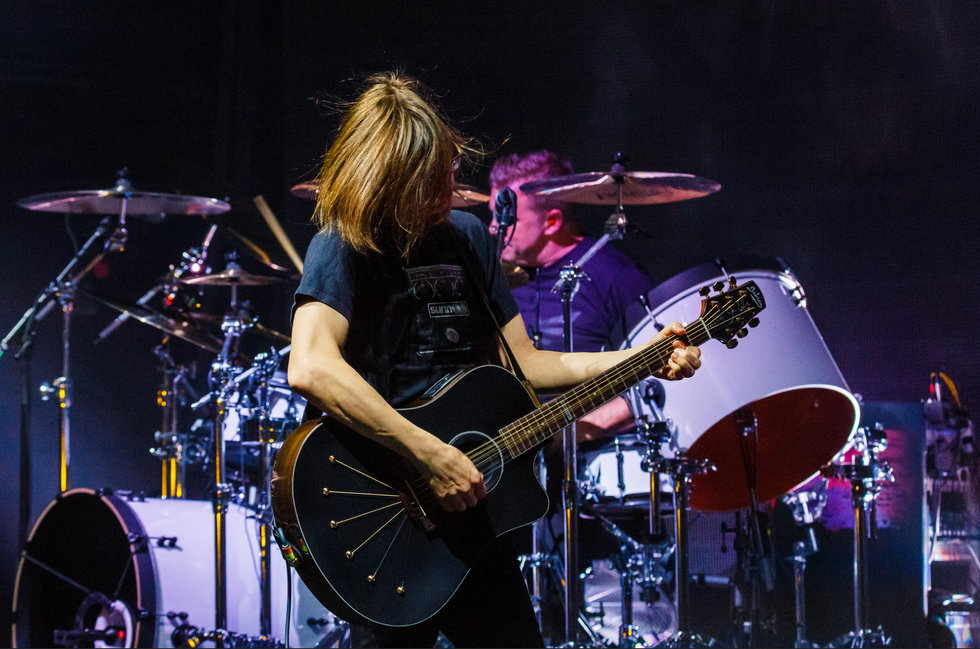 Steve Wilson plays his signature Babicz dreadnought at Washington D.C.'s 9:30 Club in 2015. The guitar features Babicz's unique touchstone of the strings fanning out from the soundboard, and an L.R. Baggs StagePro Anthem system.
Photo by Matt Condon
"Love him or hate him, Kanye West is an incredibly innovative producer," he says. "Then there's Kendrick Lamar. When you listen to the way they structure music and the way they make music, it's so alien to the ear of people that grew up with rock music. I think that's a really good thing, and that's why we should listen to it."
Wilson is less certain on how to make those kinds of innovations in songwriting, or how creative inspiration works: "I've no fucking clue." He draws inspiration from all sorts of things, but also often goes into the studio and just bangs his head against the wall with nothing to show for it. "Yeah, [creative droughts] are really depressing. I get really down when I go through a period where I can't create anything," he shares. "I always come to the conclusion that, 'Oh shit, I've written the last song I'm ever going to write. I've got nothing left. The well is dry.' But I also manage, touch wood, to prove myself wrong. What I do is I carry on going to the studio, and I carry on hitting my head against the wall. I have a very strong work ethic."
"It's, of course, almost impossible to crystallize something in words that is beyond words," he continues, reflecting on the ethereality of songwriting. "I think the combination of music and words is so much more powerful than simply the written word. If you can get those two things in balance, it can almost make you understand what is beyond understanding."
Rig Rundown - Steven Wilson [2019]
Talking to Wilson, his affability stands in contrast to the frequently dark and lachrymose themes heard in Porcupine Tree's music. He explains that, for him, writing sad songs is like an exorcism or an unburdening of his own sadness.

"Miserabilism and melancholy … I've always found such a beautiful thing. It's a profoundly magical thing if you can create empathy through focusing on some of the more negative feelings that we all share. And that's why I still think that music, where on the surface it might be sad or melancholic or depressing, has the potential to be something incredibly uplifting and beautiful for the person who experiences it."
YouTube It