Two Feet's Blues-Trap Stratosphere
Photo by Kara Sheridan
Bill Dess was working as a cashier in a Harlem bodega in 2016, making songs in his apartment. Then he uploaded one to SoundCloud, and well … sometimes dreams do come true.
Bill Dess, who makes music under the name Two Feet, became a sensation virtually overnight. The 28-year-old's musical career blasted off in 2016 with his breakout song, "Go Fuck Yourself," when he unassumingly uploaded it to SoundCloud in the middle of the night from his rodent-infested apartment in New York City. The next day, he awoke to millions of streams and several major labels courting him. His next hit, "I Feel Like Drowning," reached No. 1 on the Billboard Alternative charts in 2018. In the span of a few years, he went from working as a cashier to traveling the world while opening arena gigs with Panic! at the Disco.
---
Two Feet's success is an example of what can happen when a guitarist with a vision embraces technology. Dess was making complete songs with just his Strat, a janky microphone, and Ableton. His recipe—impeccably phrased, soulful guitar solos over heavy 808 drumbeats, and breathy vocals—sounds simple enough. Yet, it's unique for an accomplished guitarist who was accepted to Berklee College of Music on scholarship to fuse bluesy guitar lines with thumping electronic beats made with drum pads. For Dess, that was mostly out of necessity: He couldn't jam with a bassist and a drummer in his apartment.
The phrase "electronic music" can be polarizing. It's a bunch of different things with infinite subgenres, but the first type of artist called to mind might not be a multi-instrumentalist who started playing guitar around age 7, spending his teen years playing in jazz and blues ensembles. The musical touchstones and influences Dess cites—Stevie Ray Vaughan, John Mayer, Clapton, Hendrix—reflect a burgeoning blues hound, but also a 6-stringer who spent a fair amount of time chasing the tone dragon. Dess also plays piano, bass, and produced all of his early EPs, as well as his first two LPs: A 20 Something Fuck (2018) and Pink (2020). He largely made this year's release, Max Maco Is Dead Right?, on his own, but the new Two Feet album, coming in late 2021 or early 2022, will have production assistance from Geoffrey Hufford, aka Huff, who is the keyboardist/drummer in Two Feet's live band.
Two Feet - You? (Live)
At the end of high school, Dess got serious about his future in music. "I just thought of going to college, and then what would I do after college? I had some weird sort of break with reality for a second, where I was like, the only thing I really want to do is try to make music," he says. "So, I ended up focusing on that. Obviously, I'd played since I was a little kid, but I didn't ever really think this was what I'd end up doing, because everyone would always say it's impossible, you know, it's all luck or whatever, so it kind of turns you off from trying."
He decided Berklee was where he wanted to go. "My dad was like, 'We can't really afford that,'" Dess recalls. "So, I thought, I'll try to get a scholarship. I saw this video of this guitarist—Jon Gomm, 'Passionflower'—where he does this tapping, crazy guitar thing and I was like, 'I'm going to learn that.' I didn't even really play acoustic guitar. So, I went out and got an acoustic guitar, I fitted mics inside it, and I practiced, practiced, practiced." Dess ended up getting a scholarship but dropped out a few months into the first semester. "I got there and hated how regimented it was. It felt like they were trying to teach everyone there to become teachers rather than musicians. I realized I didn't need to be there to do what I wanted to do. It felt like a waste of time."
"I was obsessed. It's all I played—B.B. King, Wes Montgomery, or Buddy Guy and stuff like that. I didn't ever practice anything else but blues."
It's clear now that all Two Feet needed to craft songs was his Strat and a computer. His roots are as a blues-guitar player, although he was reluctant to say that's exactly where he lands today. "It's sort of a big mix. It also has a lot of rock in it, so it's not purely blues," he says. "I think when I was younger, I would've said that. I was obsessed. It's all I played—B.B. King, Wes Montgomery, or Buddy Guy and stuff like that. I didn't ever practice anything else but blues."
Now, his influences run the gamut. The day of our interview, he was finishing up a mix for the artist Grandson. Throughout the pandemic, he's been listening to Sam Fender, Fred again.., Harry Styles, and the Strokes. The title track to his second album, "Pink," is an homage to Pink Floyd. "I love David Gilmour, and that song has a Pink Floyd tone to it," Dess says. "That's why I named it that." Two Feet's early EPs include songs that are basically accompanied guitar interludes, such as "Quick Musical Doodles," and "Felt Like Playing Guitar and Not Singing."
Two Feet's Gear
Bill Dess, aka Two Feet, shows his support for Britney Spears while channeling a Strat solo at the 2019 Bonnaroo Music & Arts Festival in Manchester, Tennessee.
Photo by Josh Brasted
Guitars
Fender American Professional Stratocaster customized by Paul Nieto with 1950s-era single-coils, Seymour Duncan humbucker in middle position (olive green)
Fender American Stratocaster (Olympic white)
1980s Fender Strat (red)
Martin D-42
Amps
Effects
Boss HM-2W Waza Craft Heavy Metal Distortion

Ibanez TS9 Tube Screamer
Hotone Skyline Eko Digital/Analog Delay
Dunlop Cry Baby Classic Wah
MXR M300 Digital Reverb
Strings and Picks
Elixir Strings with NANOWEB Coating, Light (.010–.046)
Dunlop Tortex Picks 1.14 mm
The shifting dynamics and contrast between the guitar melodies and dropping bass beats is part of what draws you into a Two Feet song: The high/low elements he blends work extremely well together. Or as Dess put it, it's like "a mini genre within a genre." Dess is an alternative-rock artist who builds around electronic music. There was already a community of likeminded musicians building this genre on SoundCloud when Dess came on the scene in 2016.
"At the time, none of it really had blues guitar. It was sort of MGMT-ish, or trap beats with alt singing on it. My bandmate Huff always makes fun of it. He says in a joking, insulting way: 'You created blues-trap music.' I guess that's what I would call it. There was no one who sounded like that before "Go Fuck Yourself" came out. There was no blues guitar with the saw bass pad and the 808 drums. There was no one doing that."
"Sometimes it's easier to rip your shirt and look weird and pretend like a different person so you can get out of your own head and so you can get up there with a lot of confidence, like you're acting."
His latest album, Max Maco Is Dead Right? is an evolution in songwriting for Dess. The concept album was born out of finding ways to cope with fame and anxiety and was inspired by Dess' own inner struggles.
"Max Maco is this character I would get into when I would get nervous," says Dess. "We really, really quickly went from 200-cap rooms to playing in front of 30 thousand people in Mexico. You're standing on the side stage. You see this massive crowd of people, you hear the cheering, and you're freaking out because you're really nervous.
Two Feet on playing guitar: "Most of the time I have to close my eyes and hear and feel, and it just creeps its way up through me. Not even thinking really. It's hard to describe but at the same time it's the simplest thing in the world."
Photo by John D Gray (@itsnotpork)
"Sometimes it's easier to rip your shirt and look weird and pretend like a different person so you can get out of your own head and so you can get up there with a lot of confidence, like you're acting. I created characters in my head for myself before we went onstage. It was part of the entertainment and I think the fans catch onto that, that you're doing something in that moment."
Dess created his Max Maco alter ego during Two Feet's opening spot on Panic! at the Disco's "Pray for the Wicked Tour." The transition from unknown opening act to finding a groove on the road was rocky, Dess admits, but he recalls a moment when everything changed.
TIDBIT: Two Feet's latest release, Max Maco Is Dead Right?, is a concept album based on a character that Bill Dess created and would pretend to be in order to calm his nerves before going onstage in front of big crowds.
"The first few shows were really tough since the music is so unrelated. Why would Panic! at the Disco fans like my music? Then we get to Montreal. We were having a hard time, and it was really cold—so cold we couldn't even go outside. We meandered onto the stage, like 'Oh god, another one of these, everyone's going to be sitting and confused as to what this Brooklyn-heavy sort of sound is.'
"We started playing and the crowd started getting more energetic and more energetic, and I started feeling it in my chest. Then we started playing 'I Feel Like I'm Drowning.' For the first time in my life, 20 thousand people turned on their phone lights and lighters and were swaying. When you're onstage and it's pitch dark in an arena and everyone's swaying their lights, it looks like outer space—it's the most insane thing from the stage, and you're also playing and singing. That happened and it turned the whole tour around. That was one of my favorite memories from my career so far."
At home, Dess is constantly working on new material. He currently has about 30 unreleased songs and is working on a film project, in addition to collaborations and mixes for other artists. "I can't go a day without sitting and writing music," he says. "I'm a total workaholic."
TIDBIT: Bill Dess has several answers about where his Two Feet moniker came from. One is about hearing this quote on Jerry Maguire: "There is an insidious disgusting monster that walks around the earth on two feet and it's a human."
His go-to tool is an olive green Fender Strat, which he plays unplugged at home when writing music. But his favorite guitar is one of the first guitars he ever got—an early 1980s red Fender American Stratocaster, which he's now retired from the road. On the advice of his tech, Paul Nieto, Dess replaces his Strat pickups with vintage standard single-coils from the 1950s, because "the newer ones are wound really tight and buzz too much," he says. "I replaced the center pickup with a [Seymour Duncan] humbucker so I can have that more sustained rock tone for it."
Dess has dozens of pedals, but his live pedalboard stays about five stomps deep. "One of my favorites is a Boss Heavy Metal Distortion pedal," he shares. "It's amazing for when I want to go into a David Gilmour–type thing. I usually use it in conjunction with my classic Tube Screamer. And then I have this tiny little mini delay pedal [Hotone Skyline Eko]. It's the size of an apricot, almost, and it has the most simple settings ever but it just sounds so good. I find a lot of delays sound computer-y and too digital-sounding, and this one has this great natural sound. I've used that for years; I have like 30 of them."
Starting out, Dess toured with a big Marshall stack, but when he started playing bigger shows, he switched to a Fender Twin Reverb. "You hook up to PA system, so it doesn't matter how big the amp is, unless you want it for looks or something," Dess says. "The Fender Twin sounds great with my guitar, it's easy to take onstage, easy to set up, and it's not too complicated, so that's what I use on tour."
One development Dess didn't anticipate is that his music would gain a carnal reputation. He says one of his most "mainstream moments" came when Chart Data released a Top 10 list of artists people have on their "Sex Playlists," which included household names like Drake, the Weeknd, and Ariana Grande. "I was number 9 above Party Next Door," he says.
Two Feet's live band performs as a trio, which includes Bill Dess on guitar and vocals, Geoffrey Hufford on keyboards and drum pads, and Matt Swain behind the drum kit.
Photo by John D Gray (@itsnotpork)
The interesting part about that is, Two Feet's lyrics are not literally suggestive, though many of his songs document the pain of relationships, heartbreak, betrayal, and making mistakes.
"If you use pure statistics, I must be making sexy R&B music [laughs]," he says. "I never looked at it like that. I just tried to make stuff I thought sounded cool and I guess it comes off that way.
"I was analyzing myself the other day. I cover in a lot of songs: the passage of time, existential stuff, and large amounts of relationships and personal stories, lyrically. I don't think a lot of them are the sexiest lyrics. There's not too much of that in the lyrics. I think when people are talking about the 'sexiness,' it's more just the way everything sounds—smoky and dark and bluesy guitar."
His sound is also resonating with the jam-band scene, likely owing to his skilled phrasing, bendy solos, crystalline Strat tone, and a knack for writing melodic hooks on the guitar.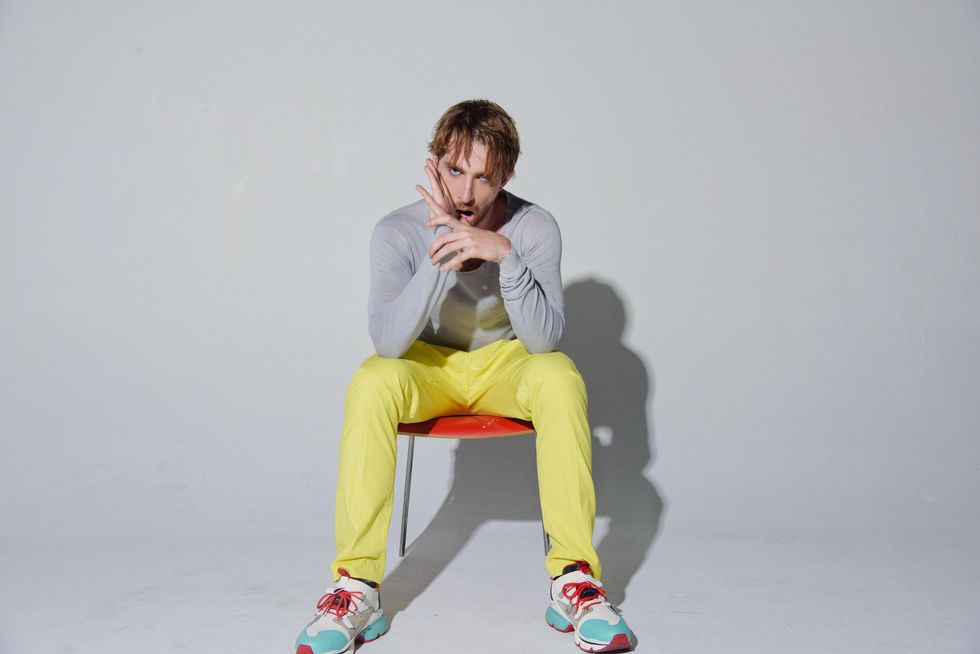 "I can't go a day without sitting and writing music. I'm a workaholic." —Bill Dess
Photo by Shervin Lainez
The ups and downs of becoming a person people recognize on the street, paired with the stress of touring and being a sensitive human, contributed to a difficult time a few years back when Dess took a break to tend to his mental health. But in 2021, he's more ready than ever to get back on the road. With three full albums, and a fourth on the way, Dess has plenty of material to draw from as he readies his live show. He's dipping into more stripped-down performances with just an acoustic guitar, which is a newer approach for him, and writing more traditionally on an acoustic.
"This new album is way more guitar heavy than Max Maco was," he says. "I change what I want to do all the time."
So, is Max Maco dead now? "I don't want to give too much away but he might be around again," Dess offers.
And with a little more experience under his belt, what does it feel like being onstage now?
"All I know is time passes very differently. An hour set sometimes feels like 20 minutes. Most of the time, I have to close my eyes and hear and feel and it just creeps its way up through me and that's how I start improvising and not even thinking. It's hard to describe but at the same time it's the simplest thing in the world."
Two Feet - Digital Mirage (Official Full Set)