Interview: Sonny Landreth Goes Instrumental With Joe Satriani and Eric Johnson
The slide maestro talks about working with two bona fide guitar gods on "Elemental Journey" and his new Fender Signature Stratocaster and Dumble amp.
Blues singer, songwriter, and slide-guitar wizard Sonny Landreth's 11th release, Elemental Journey, is his first all-instrumental effort. Given Landreth's penchant for A-list guests [his previous release, From the Reach, included Eric Clapton, Mark Knopfler, Robben Ford, Jimmy Buffet, and Vince Gill, among others], it's only fitting that he enlisted Eric Johnson and Joe Satriani, two of the biggest legends in instrumental guitar history, to cut some solos on the album.
Landreth was very familiar with both guitarists, having shared the stage with both on separate occasions numerous times over the years [Landreth also made a guest appearance on Johnson's 2010 release, Up Close]. And given his intimate knowledge of both Johnson and Satriani's multi-faceted soloing styles, it might have been tempting for him to make suggestions as to which specific elements he wanted his guests to bring out on their takes, especially since he wrote the songs they played on with their musical personalities in mind. Instead, he gave complete creative control to the artists. "I basically just let them do whatever they heard because they're all just great all artists. I knew it was going to be interesting because they could bring something completely different to it than I ever would have ever thought of."
The humble Landreth even took to heart some of the sage advice he received from Satriani, "Joe said to me, 'Making instrumental albums all these years, I've realized one thing that's always important is to have an element of surprise.' And for me, I recognized that as an opportunity to take it a step further," explains Landreth, "I would have a melody and some changes and then say, 'What would happen if we kept pushing, kept going more with it?'"
Without lyrics to work with this time around, Landreth found new ways to express his stories through music. He dug deep to recall the lessons he learned from his early influences to come up with the layers upon layers of interweaving parts heard on Elemental Journey. He says, "When I got into Chet Atkins and the right hand technique, it got me to think more about multiple parts—melody, rhythm, and bass line—going on at the same time. I learned to listen to the other instruments and what they were doing." The all-instrumental format also proved to be an opportunity for Landreth to include string arrangements [written by Sam Broussard, guitarist in Steve Riley & the Mamou Playboys], something he'd been wanting to do since 2005 when Mariuz Smolij, director of the Acadiana Symphony Orchestra invited him to do a slide guitar rendition of the Bach Cantata 140 with the orchestra for a Christmas show.
"This type of layering wouldn't have happened if other people hadn't gotten involved and that's the stuff I live for—involving them on your project so that it becomes bigger and better," says Landreth. The arrangements were performed by the Acadiana Symphony Orchestra and conducted by Smolij.
We caught up with Landreth to get insight into Elemental Journey, hear about working with two bona fide guitar gods, and talk about gear including his new Fender Signature Stratocaster and Dumble amp.
Elemental Journey is your first all instrumental album. What inspired this?
It's something I've wanted to do for a long time. I really wanted to get back to some of my early influences that I hadn't necessarily drawn upon in the vocal oriented albums that I've done up until now. It's actually a throwback to my early influences with the Ventures albums—particularly Ventures in Space—when I was a kid. I started out playing trumpet and I also had a lot of heroes that made instrumental albums. I love the groove in that era of Mile Davis albums like E.S.P. or Four and More.
Did you find that having to accommodate vocals on your previous releases restricted what you want to do musically?
Well, what was more restrictive was my actual vocal itself. I'm not a gifted singer. I don't have a great amount of range. But you know you can work that both ways because then you tailor what you have and you come up with other ways to creatively address that in terms of instrumentation, arrangement or even chord structure.
Since you weren't using words to express your stories this time around, did you place a higher priority on melody than you had in the past?
Melody is the most important thing. I think even more so with instrumentals because it's important to engage the listener on an emotional level and be able to hold their attention. Every time I sit down with the guitar something just occurs to me and it can become a song. I approached it the same way, but whereas I would stop and concentrate on how a lyric would be involved with that and where that would take me, instead of doing that, I just let that go more into the actual music I was hearing in my head. Part of that was to come up with a lot more melodies because I knew it needed to be more thematic. Although we don't have the vocal line, there are a lot of counter melodies and the chord changes are much more complex.
Will this more thematic approach play a part in your compositions to come?
It's already triggered. When you finish one project it just naturally opens the door to another one. It got me thinking, "The next time I do a vocal album, what if I pushed myself more vocally and found a place within these more complex chord changes?"
What takes longer for you to come up with—the music or the lyrics?
The music has always come quickly for me and the lyrics always took me a lot longer. I'm really into lyrics, I mean it's huge for me. In fact, what I got from my Delta heroes was how they would reinforce the lyrics of their song by embellishing with a guitar part—the guitar would be like other vocal.
Eric Johnson and Joe Satriani are both featured on the album. First, can you tell us about your association with Johnson? I understand that you guys go way back.
The first time I heard him must have been back in the late '70s in Baton Rouge and he just blew my mind. He was the one who got me thinking of going back to a trio format and he also got me thinking that I needed to woodshed more [laughs]—as he did everyone! But it also made me think in terms of "there's no way I'm ever gonna..." You know, when he raised the bar, I thought to myself that the one I had going for me that was more unique was slide, and I began to concentrate more on that. So I owe him for that. I don't know if I ever told him that.
How about Satriani?
There was a festival called Guitar Town in Copper Mountain, Colorado every year and I've played a bunch of those and we were on the bill together. That was the first time I actually played with him. We had a gig a couple years ago in Amsterdam and I asked him that night, "I'm thinking of making an instrumental album and I'm wondering, if I come up with the right song would you be interested in playing on it?" He was so enthusiastic about it that it inspired me. Of course then, he didn't hear from me for two years [Laughs]. It took me two years to get it together.
When you reached out to him after two years, was he surprised?
I just sent him a text, I think, and he was all into it. I later sent him an mp3 and I didn't hear from him for about four days or so. Then I got this call from my engineer and he got the "Gaia Tribe" solo from Joe. I listened to it and it blew my mind. I went, "This is incredible."
How did Satriani respond after hearing the final product?
Oh he loved it. The funny thing was, when I talked to him about doing the solo he said, "Okay, well just in case, I'll go back in and see if I can think of something else." And when he came back to me he said, "You know man, I don't hear anything else that I would do." He felt like that was the best thing he had to bring to it and that anything he did after that would start taking away from it. In fact, he said, "You know, you might want to throw this at somebody else and see if they come up with any ideas."
Wow, that's a pretty altruistic gesture for a guitar god.
Oh, he's about the song. He's trying to do his best for me and my song. And it wasn't like he was trying to rush through it. In fact, it was just the opposite, he took time out of his schedule to go in and do it himself.
"Brave New Girl" has a like a Lydian vibe that would have fit perfectly with Satriani's style. I'm surprised you didn't get him on that one.
That was one of the first ones we cut and pretty much had all the tracks on it already. When everything is done and you go back and look at it later you might think, "You know what? That might have been a good one too." But I'm really happy with that one.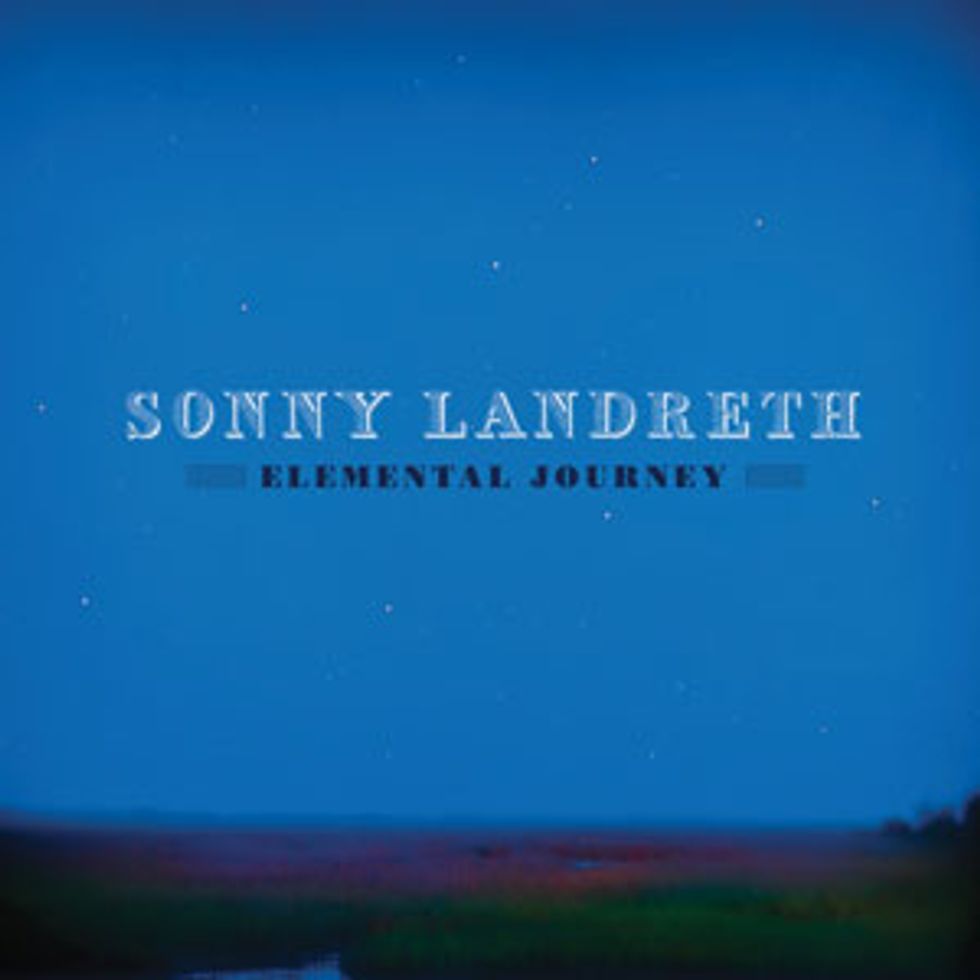 Can you give me a quick rundown of the guitars?
I mostly use my [vintage] Strats and then my road Strats. They're a combination of bodies from the late '80s, a couple of them. I've got a '66 Strat and a '64 Firebird that I used on a couple of things. The pickups on those guitars range from Lindy Fralin Hot Vintage—which I also have on a '57 reissue that I like a lot—to a DiMarzio DP181 in the bridge with Virtual Vintages [DiMarzio] in the middle and neck.
Which models of the Virtual Vintage?
It's one of the older ones that I like. It matches well with that DP181. Then there's also a signature model Strat that I'm working on with Fender. It has a Tele bridge plate on it. Michael Frank Braun, who was in charge of Eric Johnson's signature model at Fender, designed the pickups that are used in the middle and neck positions.
Because you use a lot of different tunings, do you leave your guitars set up to these tunings and just bring them all on the road?
Yeah. I usually bring two, or if I can, three. It depends on whether we have to fly to the gigs.
You and Eric Johnson have a similar darkness in your tones.
It's the right amount. I certainly relate to him in terms of the voicing. The person who turned me on and actually got me into the right direction with that to begin with was James Demeter. I used to have all of his mid-boosts installed in my guitars.
How would you describe the difference between your sound and Johnson's sound?
It's two different beasts. Mostly what you hear with his lead tone is the Marshall, and I love that sound. But my Dumble's just a whole different beast, tonally and in terms of circuitry. Alexander's [Dumble] vision is just a completely different thing.
Gearbox
Guitars:
Fender Signature Stratocaster, '66 Fender Stratocaster, '57 reissue Fender Stratocaster, '64 Gibson Firebird
Amps:
Dumble Overdrive Special, Bludotone Bludo-Drive, Demeter TGA-3, Matchless DC-30
Effects:
Hermida Zendrive, Hermida Mosferatu, Fulltone PlimSoul, Fulltone '70, Keeley two-knob Compressor, Pigtronix Philosopher's Tone
Strings:
D'Addario J22 Medium .013–.056
Slides:
Jim Dunlop 215
Straps:
Levy's
Cables:
Planet Waves
Picks:
Custom made
Have you tried any of the newer crop of Dumble-inspired amps? Like the Bludotones or the Two-Rocks?
Yeah, I've got a Bludo-Tone Bludo-Drive. It sounds great. I've played some of the other ones that didn't really do it for me but I think Brandon [Montgomery, Bludotone] pretty much nailed it.
Is the one you have a straight Dumble clone or a variant of that design?
It's a little more like a variant of. It's based on one of Alexander's designs but he's re-voiced it to make something a bit different. He made changes so that I have more headroom in the clean channel and more switching capability on the floor.
What pedals do you use?
I use Hermida's Zendrive and Mosferatu, Fulltone's PlimSoul and '70 Fuzz, Pigtronix's Philosopher's Tone, and Keeley's compressor.
The two-knob or four-knob Keeley compressor?
The two-knob.
How about slides and picks?
A Jim Dunlop 215 slide. For years I used the Herco, flat style guitar picks, then several years ago I was in Japan and this guy over there showed me a version of it that they had made in Japan. They were smaller and thicker, and I fell in love with them. I said, "Well, this is exactly what I need." So he gave me like three. Then he had a bag made up for me and I've recently run out of those. So, as it turns out, we're going back to Japan at the end of the month and I'm looking forward to getting some [Laughs].
YouTube It
To see Sonny Landreth cooking up a storm, check out the following clips on YouTube.com.

Full concert footage of Landreth from the Pleasantville Music Festival on July 9, 2011.

Landreth and Eric Johnson channel their inner Hendrix on this rendition of "Are You Experienced?" from Sam's Burger Joint in San Antonio, Texas on September 27, 2011.

Landreth performs his tricky number, "Uberesso" at the 2007 Crossroads Guitar Festival.