Jim Dunlop Sr.: 1936–2019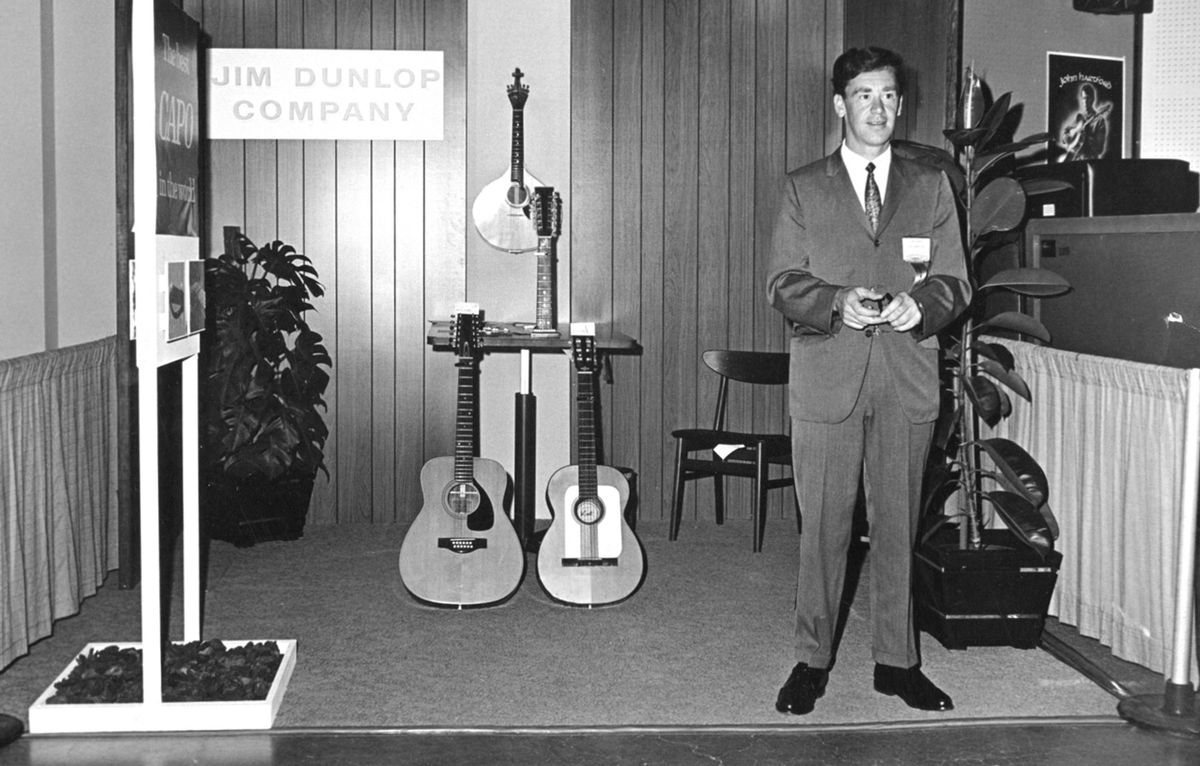 PG remembers the guitar-accessory innovator and savior of classic electronic devices such as the Cry Baby wah.
To many in the musical-instrument industry, Jim Dunlop Sr.—whose passing was widely noted online today, February 7—was the crowned king of guitar accessories. Over the course of his long career, his eponymous company's vast selection of everything from capos to picks and pedals became one of the best-known in the industry. Whatever the brand on your guitar or amplifier, chances are you have used a Jim Dunlop accessory at one time or another—and often without giving it much thought, so ubiquitous was his enterprise's presence in the guitar universe.
In fact, it's not a stretch to say Dunlop's work and diligence in pursuing improvements in the less-vaunted corners of the guitar industry likely impacted just about every player who picked up the instrument from the early '70s onward. It was these countless unsung advances in form and function that constituted his real reward from the work he loved, and this passion for the trade was bestowed to his son, Jimmy. "When I meet people and they say, 'What do you do for a living?'" Jimmy told PG's Chris Burgess in 2008, "when I tell them I make guitar picks, they kind of give me that blank stare, but I equate what I do with making paintbrushes for artists. I'm like the guy that made Leonardo Da Vinci's paintbrush. You know what I mean? I have the opportunity to work with the greatest guitar players of our time."
Jim Dunlop Sr. was born in Scotland in 1936 and remained a proud Scot throughout his life. Trained as a processing and chemical engineer—and a keen guitarist in his spare time—the elder Dunlop was already working on guitar-related accessories while employed in Glasgow as an apprentice to the inventor of the first hip replacement. He founded his part-time business, the Jim Dunlop Company (later Dunlop Manufacturing, Inc.), in 1965 while still holding that job, then emigrated to Canada shortly after. Following a brief stint in Ottawa, though, he decided to abandon the Canadian cold for sunny California. "I got a postcard from a friend of mine," Dunlop recalled for the history section of his company's website. "It had a picture of a bikini-clad lady and said it was 90 degrees in Muscle Beach. It was 12 degrees below in Ottawa. I decided I'm getting the hell out of here. So we packed up. My wife was seven months pregnant at the time."
In California, Dunlop landed a job as a machinist with Dymo Industries, where he remained until 1972, all the while inventing and manufacturing guitar accessories on the side. After a less-than-successful effort at inventing a new guitar tuner, he invented and marketed first the Model 1100, then the Model 1400 capos—the so-called "trigger" or "toggle" capos still popular to this day—which so many guitarists found to be a vast improvement upon the traditional elastic-strap capos.
After being asked to manufacture a rendition of the out-of-production National thumbpick, he went on to patent a design for fingerpicks with a curved cuticle. He manufactured them in six gauges before moving on to tackle flatpicks—the unassuming yet essential accessory for which he remains best known. In short, Dunlop decided to give a lot more respect—and attention—to this thin slice of synthetic material that represents most artists' point of contact between flesh and string.
As Dunlop told NAMM's Oral History project in 2009, "At that time [guitar picks] weren't very well organized, in respect that you more or less had light, medium, and heavy. And I thought, 'Why don't we make 'em and give people a choice?' The nylon set was six different gauges, and we color-coded them, and changed the sizes to millimeter sizes. So that took off quite well. One of my biggest thrills is when a really good guitar player enjoys a product that we make. As an example, the Jazz III … I've really become overwhelmed at the success of that particular pick. It's been copied left, right, and center. A lot of people swear by it, and my son [Jimmy Dunlop] has actually improved it. He put a different grip on it, and it's a great pick now!"

The beaming guitar-accessory innovator stands next to his young company's first overseas shipment, to Japan's Moridaira Musical Inst. Co. Photo courtesy of Dunlop Manufacturing
The success of his pick endeavors enabled Dunlop to move to working at his own venture full-time in 1972, and from there he achieved success upon success. The long list of artists who use, or have used, Dunlop picks includes Billy Gibbons, Joe Bonamassa, Carlos Santana, Jerry Garcia, Kirk Hammett, Slash, Jerry Cantrell, and hordes of others—to the extent that it might take less space to simply list the artists who don't use Dunlop picks. And while many of the company's most significant developments involved further improvements to the materials and processes from which and by which its picks were made—including developing the popular Tortex, Delrin, Ultex, and Primetone lines through the years—Dunlop's advance into the accessories market expanded in several other directions, as well.
After manufacturing steel slide bars for Ernie Ball, Dunlop purchased an out-of-business glass-slide (aka bottleneck) manufacturing company and fast became a leader in that realm, while also moving into other necessities such as care and maintenance products, as well as guitar straps. Along the way, he also pioneered strap locks. An even bigger boom was just over the horizon, however: The world's most popular effect pedal fell out of production in the 1980s, and Dunlop took up the call.
Always on the lookout for ways to expand his business, Dunlop heard that the legendary Cry Baby wah pedal had become unavailable, tracked down the owners of the defunct brand, and brought it into the Dunlop Manufacturing family. "It changed the whole direction of the company," son Jimmy relates on jimdunlop.com. "It was very uncharacteristic of the products that we were working with at the time. You've got this guy who was a machinist, who made accessories like slides and picks and capos, and he just jumped right into the number-one-selling electronics product of all time."
The move into electronics paved the way for acquiring other effects brands, including many classics that otherwise would have gone the way of the dodo. In the years since, several iconic MXR pedals, multiple variations of the Uni-Vibe, Fuzz Face, and Echoplex, a range of Jimi Hendrix pedals licensed from the Hendrix family, and a number of Way Huge favorites have joined the fold. All the while, Dunlop Sr. continued to live by, and revel in, the most humble of achievements—from, say, the improved grip offered by a new pick's textured surface to the unveiling of an artist's signature slide.
Anyone who encountered Dunlop at his NAMM Show appearances or dealt with him over guitar-industry matters knew him to possess a rare and admirable blend of the businesslike and the personable. He treated every query seriously, without ever taking himself too seriously in the process. He was a guy who made stuff, and he always attempted to make it the best it could be, but that never once landed a chip on his shoulder.
Ultimately, Jim Dunlop Sr.'s genius lay in his ability to identify subtle, incremental improvements in the less-glamorous products that fulfilled the essential everyday needs of guitarists—and he produced exponential leaps forward for the artform in the process.
---