Zakk Wylde: Dead on Target
Armed with his arsenal of bull's-eye-themed axes and fresh on the heels of his 10th release with Black Label Society, Zakk Wylde proves he's still one of the hungriest men of metal—even if he wouldn't mind writing a tune for Britney Spears or the Eagles.
Wylde with a leather fedora and a Les Paul with his trademark bull'seye pattern
inlaid with mother of pearl. Photo by Clay Patrick McBride
Almost 25 years after Ozzy Osbourne listened to Zakk Wylde's mailed-in audition cassette and asked him to join his band, Wylde remains an inspiration to thousands of players around the world. And that's due to his underdog tale as much as it is to his distinctive playing—including his much-copied pinched-harmonic squeals, which are now a staple throughout metal. Thanks to Wylde, guitarists know to aim high, shoot for the moon, and expect the impossible. During the past two and a half decades, Wylde has squandered none of the opportunity he was given. He has contributed guitar to five Osbourne albums, including the late-period Oz classic
No Rest for the Wicked
, and cut 10 albums with his own Black Label Society.
Wylde's intense drive as a player, and even as a businessman, has made him a larger-than-life figure among contemporary metal and heavy-rock guitarists. And his influence has spread well beyond the realms of metal and shred, as a listen to any Alice in Chains record reveals. His image is that of a leather-and-denim-clad Viking wielding a bull's-eye Les Paul. But behind the stage persona is a musician with chops that transcend metal and a voracious appetite for creating larger-than-life sounds.
Gregarious, gentlemanly, and unflappably psyched, Wylde took time out on the eve of his band's new tour in support of
Order of the Black
to share his thoughts about producing big sounds, the new Black Label Bunker studio, songwriting inspiration, and how to get the collective goat of the Allman Brothers Band.
With Order of the Black, you and Black Label Society have become a very self-contained unit. From production to playing, you guys are doing this on your own.

Oh yeah, man. I'm really proud of this record, sonically. Because we just did it in the new studio, the Black Label Bunker, and it sounds insane. I've been telling people, "If you ever want to hear what a Marshall JCM800 sounds like—just buy this album." We nailed that sound!
It sounds like you guys have become very resourceful in the studio.
I don't understand why you wouldn't do it that way. Or at least be interested in doing it that way. All you have to do is look at Jimmy Page. I mean, if you weren't already blown away by Page as a writer and guitar player, well, then you find out he's producing the records, mixing the records, involved in the artwork. It's amazing. Once you get on a roll like that, what producer would want to try to produce Led Zeppelin? It'd be like trying to coach Michael Jordan or something. The best thing you can do is just stay out of the way!
Doing things ourselves lets the band be the band. These are talented musicians I'm working with, and we really just need someone to hit record and make sure we're getting things down. If you believe in and know where you're going, you don't need to ask for directions. So a great engineer is what I need. You should be your own worst critic. The records are a document that lasts forever, so we're going to do whatever we need to do to get something right. The final result is all that matters. And that's a beautiful thing.
After being such a road dog for so long, has the studio started to take on greater appeal?
The running joke around the bunker is that we should turn Black Label Society into Steely Dan—just make records and never tour. I love it. It's like watching my 8-year-old sit there with a thousand crayons and a blank sheet of paper. The studio is my version of that—a big box of crayons. It's really set up to sound great and be ready to capture whatever color we want to mess with, whether it's a grand piano, a wall of Marshalls, or an acoustic guitar. And it's so much fun to bring those elements together just the way you want because you've set them up to sound amazing. The studio, and the whole experience of being there, is awesome.
Do all the possibilities ever test your sense of discipline?

No. You can't get too caught up in it, even though the possibilities are exciting. You have to accept that, down the line, you're going to wish you had done some things differently and keep moving. I'm sure Jimmy Page went crazy remastering all the Zep stuff and thinking, "Ah man, I wish we'd done that bit differently." Eddie Van Halen is always going off about the part of "Eruption" he says he totally screwed up. Meanwhile, the rest of us are going "What the hell are you talking about? It's
perfect
— get over it, Eddie!"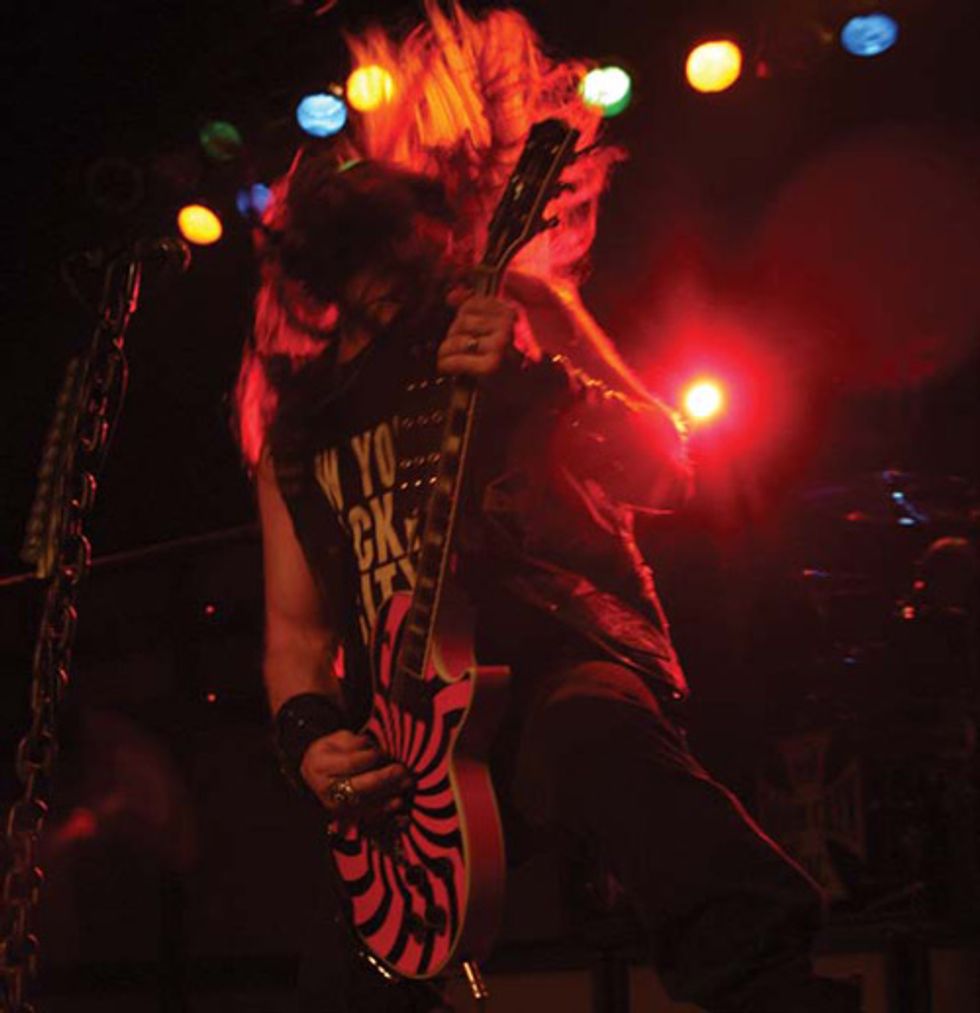 Wylde blasts the crowd at the Pearl Room in Mokena, Illinois, with his signature
BFG Les Paul and a wall of Marshalls. Photo by Joe Coffey
Now that you're working as a producer, do you tend to listen differently to some of those classic albums that inspired you as a player?
Without a doubt. A record is about making everything sound amazing—not just the guitar. The fidelity, from the bottom to the top, has to be in place if the whole thing is gonna be slammin'. And the more you do this, you definitely start to see how the pieces of that puzzle come together.
You've done some TV work. Is it appealing to record music that isn't tied to Black Label Society or Ozzy? Certainly cuts like "Chupacabra" on the new album could work as a film score.

Oh yeah, I did some riffs for ESPN—stuff they'd play when they cut to commercials or before a football game. That was fun. It didn't feel too much like work. Obviously, we're interested in getting our songs in films. I'd love the challenge of doing that. But man, if someone said they needed me to write music for Britney Spears, I'd be up for that challenge too. I love the idea of doing projects outside the context of what people expect me to do. I wish I could write a song for the Eagles. It's all music to me. That's what's beautiful about it.

Where does your songwriting inspiration come from?
Everywhere. I mean, we'd be driving down to the studio and hear something, and that would kick off a whole new idea. One time we heard "Whole Lotta Love" in the car and that structure—where the riff comes in, then the vocals, then the drums come slamming in—that's how we ended up doing "New Religion." If you have writer's block, you just have to listen. Put on "Heart of Gold" and rip it off—just to get you started again—and then twist it, bend it, and turn it around until it's your own. That approach can really help get you back on the wagon. You can't be afraid to listen to really great artists like Neil Young and let them get you back on track.

The songs on the new album have a certain economy and punch—almost like punk songs. Do you consider that one of your songwriting values?
Well, we're always ready to trim the fat. And certain things just work—and work well— when you say your bit and get outta there. Randy Rhoads taught me a lot about that just through listening to his solos. You have 35 seconds to establish a riff, get a cool scale thing going up, another one going down, and you're done.
Bang
. Perfect.
Does that mean you guys tend to jam less in the studio?
I'll go in and jam away by myself—just me, a Marshall, and an octave pedal so everything sounds fat as hell—and just screw around with riffs. Then I'll bring in Will [Hunt, Black Label Society drummer] and we'll track the thing. If it's working, we'll get the song together, bring in JD [Black Label Society bassist John DeServio], track some bass, and we're done. It's like baking a cake.

Do you like working fast like that?
Yeah. Rehearsing and jamming is for the tour. I don't like tinkering with a song too much in the studio, once it gets going. You can suck the life out of a thing. These guys know what they're doing. Black Label is a great bunch of musicians, and when you know what you're doing, you end up working fast. When we had the Seattle Symphony in to do some things, I swear they did everything we wanted them to do in two passes. And at first you're amazed. Then you realize they know what the hell they're doing. If you get caught up in crap like needing 10 days to get a guitar tone, especially if you're doing things simple—just a guitar and a JCM800—you're in trouble. What the hell do you need 10 days for? C'mon!

You have a really wide set of influences. Is it ever hard to reconcile that with the expectations of fans that expect a certain sound from Black Label Society?
I've never felt trapped by Black Label Society. This is the kind of music I want to play. I mean, if Jimmy Page felt like he wanted to do an acoustic piece, he'd put "Bron-Y-Aur Stomp" on there or something. It's still Zeppelin. I feel the same way about Black Label—whatever we do is gonna be and sound like us.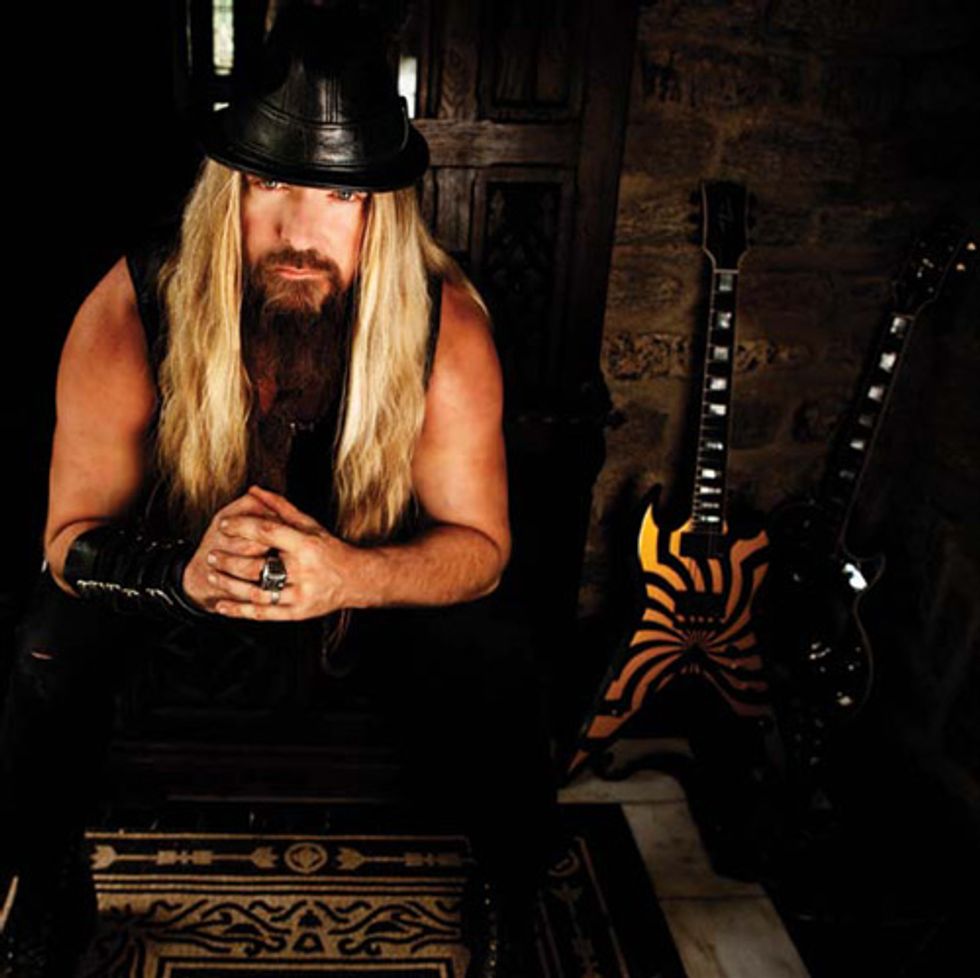 Wylde in the crypt with a Gibson ZV and a Les Paul. Photo by Clay Patrick McBride


I've heard you express admiration for jazz players like Al Di Meola and John McLaughlin. Do you have a favorite Mahavishnu jam?
"Meeting of the Spirits" on
The Inner Mounting Flame
blows me away. The Shakti stuff is incredible, too. You have to check out McLaughlin on Johnny Carson's
The Tonight Show
on YouTube. Just McLaughlin and an acoustic with the Doc Severinsen band, playing straight bebop all over the place—just killing it!
You're famous for being open to talking to young players you've inspired. But are you ever hesitant to recommend guys like McLaughlin to metal fans?
Not at all. I tell anyone who'll listen, "If you want to hear a real guitar player, check out Di Meola or McLaughlin." But it's weird, kids will come up to me and tell me I'm the reason they picked up the guitar. And I'll tell 'em, "No way. Randy Rhoads is the man." And they'll say, "Who's Randy?" And I'm just sitting there going, "Wow!" I guess it's a little like me learning about Robert Johnson from Jimmy Page. But man, it blows my mind how some kids don't know their history. It's insane. But for that reason, it's awesome to be able to turn kids on to that stuff.
You did a stage turn with the Allmans. Even with all your chops, was it tough stepping into that part on short notice?
Well, I'm a
huge
fan. Their agent called me and said Dickey Betts couldn't do the gig. I'm a huge, huge fan of Warren Haynes' playing. I didn't know what harmonies to do, but Warren ran me through the stuff on a Saturday morning before the gig, and it came together pretty quick. It was important to keep a sense of humor. I remember riding back to the hotel with the band and talking about songs in the set. Warren asked if I was cool with "Dreams." And I said, "Yeah, man. That Molly Hatchet song you do? You guys do a great version!" Warren just turned to me and said, "Zakk, keep talkin' like that and we're gonna send you home!"

I was watching some of your lessons on pentatonic runs where you're playing through a clean amp, and I was stunned at what a nasty rockabilly player you could be if you wanted to.
I love the sound of that stuff. Old rockabilly music has some of the most insane guitar playing you'll ever hear. Though I really think I get it from Albert Lee. I mean, you wouldn't necessarily think of Albert as a rockabilly player, but he really is—one of the best. And he's English! I love the way those things get twisted around and come out the other end. The British Invasion stuff is amazing for that reason. Music is so powerful in that way. It grabs you and you have to get it out, but it's still going to be you.
Do you ever get in a rut as a player?
Oh sure, but it's nothing watching an Allan Holdsworth DVD won't fix. It's just like writing songs. You have to always be willing to look to the great ones.
BLS Guitarist Nick Catanese on Backing up His Hero
Known affectionately to BLS fans and his band as "the Evil Twin," Nick Catanese is as dedicated and capable a sideman as you're likely to find. He has played with Wylde since Wylde's first solo endeavor, Book of Shadows, and he does yeoman's work providing the chugging rhythm, second lead, and harmonies that propel Black Label Society's two-guitar onslaught. Like Wylde, Catanese is incurably enthusiastic about Black Label Society and playing guitar for a living. And while he's been honored in the last year with a signature Paul Reed Smith and watched Order of the Black rocket to the top of the Billboard charts in the first week of its release, he remains refreshingly optimistic, self-effacing, and attitude-free about the whole experience.
Nick Catanese onstage at the Pearl Room in Mokena, Illinois, with his PRS SE
Nick Catanese signature model. Photo by Joe Coffey
It must feel good to be part of a band that's now successful enough to do things on its own terms.
It's a family and a great team, you know? The songwriting and the vision are really Zakk's. And I try to be there as a friend, as well as a guitarist, because that can get a bit heavy, being the huge figure that he is. But he's such an icon to guitarists and to me personally, it's a thrill. And he's inspiring. He works so hard and expects the same from others around him, so you rise to that level. It's really gratifying. Especially when I look back to the
Book of Shadows
project, which was just Zakk, me, and an Astro van.
Is it strange to be working with someone who influenced your playing?
Yeah, I'm still a fan. And I bought my first Les Paul because of him. I remember being three or four rows back at the No Rest for the Wicked concert in Pittsburgh. And if someone had told me that eight years later I'd be playing with the guy onstage, I would have just said, "Sure man, whatever." It goes to show that nothing's impossible.

Things must be pretty telepathic for you guys at this point.
Even before rehearsals, Zakk will call and throw a set list together and have a really good idea of what he wants. "Let's do the doubled solo in 'Genocide Junkie' and the diminished lick in 'What's In You.'" He's pretty specific, and it helps my head get in the right place. But on the piano songs—things like "Darkest Days," where I'm taking the lead—it's really challenging. I'm glad when he says, "Man, just play it like you." His style is its own animal, so I can't do it anyway. But I can do what I need to do to make it sound like Black Label.

What process do you go through to establish your own voice in Black Label?
I'll play something and see what Zakk thinks. But having been in Black Label such a long time, there's no egos or anything—partly because Zakk always believed I can do whatever the band needs. That inspires a lot of confidence.
What's your favorite aspect of Zakk's playing?
The thing that blows me away isn't even the playing so much—everybody sees and knows about that. I'm amazed by what a songwriting machine he is. He just comes up with riff after riff.

Getting your own signature PRS must have been pretty cool.
Zakk has always sort of insisted that Black Label is about the sound of Gibsons and Marshalls. But two years ago at NAMM, I went out with Paul Reed Smith for a clinic, and we were talking about how PRS guitars are these elegant weapons. They look so nice hanging on the wall, but they're just these monsters when you plug 'em in. Later, I went to the factory in Maryland. I stopped in Paul's office, which they call the mousetrap for rock stars. He started showing me wood, and the next thing I know, I have this cardboard box full of wood pieces they're going to make into a guitar. Then, a month or two later, I get this violin-cut guitar that Paul built with a note from him on the back of the headstock. That guitar—with its 57/08 pickups—sounds like Godzilla on steroids. But when we started working on the signature model, we worked from the SE model—we kept it really simple, made it black, put my Evil Twin logo on it. The thing sounds amazing, and it's the guitar I play live.
But the whole experience with PRS was incredible. The people who work there are just the highest caliber. And Paul himself—the fact that he played my guitar to get it right—just blows my mind. He's a brilliant dude . . . a freak of nature or a really nice Dr. Frankenstein.
What design specifics did you ask for on your signature model?
I like a pretty chunky neck, like a Les Paul Custom, which has a feel I always loved. When I hit the stage, I like that feeling of knowing the guitar is on and nothing's going anywhere. I also wanted EMG 81 and 85 pickups, which people always think I use because of Zakk, but I've used them since playing in my local band in Pittsburgh. Paul was so funny. He'd say, "You know, Nick, we make pickups, too." But I really had to have the EMGs in there. I love how tight they make everything sound—especially for rhythm. They're great for those Hetfield-style sounds, or Iommi doing "Into the Void." The first time I heard
No Rest for the Wicked
and realized that's what Zakk was using, I remember feeling like I'd made a good choice.
You and Zakk seem like the kind of guitarists who could work with anything.
It's funny, because I end up talking to a lot of fans that get all the gear—a Les Paul loaded with EMGs, a JCM, and everything else—and they tell me, "I still don't sound like you." And I always say, "You don't understand—that's a good thing." Because 90 percent of your tone is in your hands. Zakk could play Eddie Van Halen's rig, and it's going to sound like Zakk. And it's cool that a basic sound, like my PRS through a Marshall, can evolve into something else in someone else's hands. The world needs more kids who want to practice their ass off to find their own thing. And that's my favorite thing to see—the kids who want to be players instead of rock stars.

Zakk and Nick's Gear Box
Zakk Wylde
Guitars
—Gibson Zakk Wylde Signature Les Paul, Gibson Zakk Wylde Flying V
Amplifiers
—Marshall JCM800 2203ZW with Marshall 4x12 cabs
Effects
—MXR Zakk Wylde Overdrive, MXR Black Label Chorus, Crybaby Zakk Wylde Signature Wah
Picks
—Dunlop Tortex 1.0 mm
Strings
—Dunlop Wylde Icon Series (.010-.046)
Nick Catanese
Guitars
—PRS Nick Catanese Signature Series, PRS Double Cut with EMG 81 and 85 pickups
Amplifiers
—Marshall JCM800 2203ZW with Marshall 4x12 cabs
Effects
—Plush FX Pedals Noxious Nick Catanese signature distortion, MXR Zakk Wylde Overdrive, MXR Black Label Chorus
Picks
—Dunlop Tortex 1.0 mm
Strings
—Dean Markley Nick Catanese Evil Twin Shotgun Set (.010-.060)