Black Cat Pedals Announces the N-Fuzz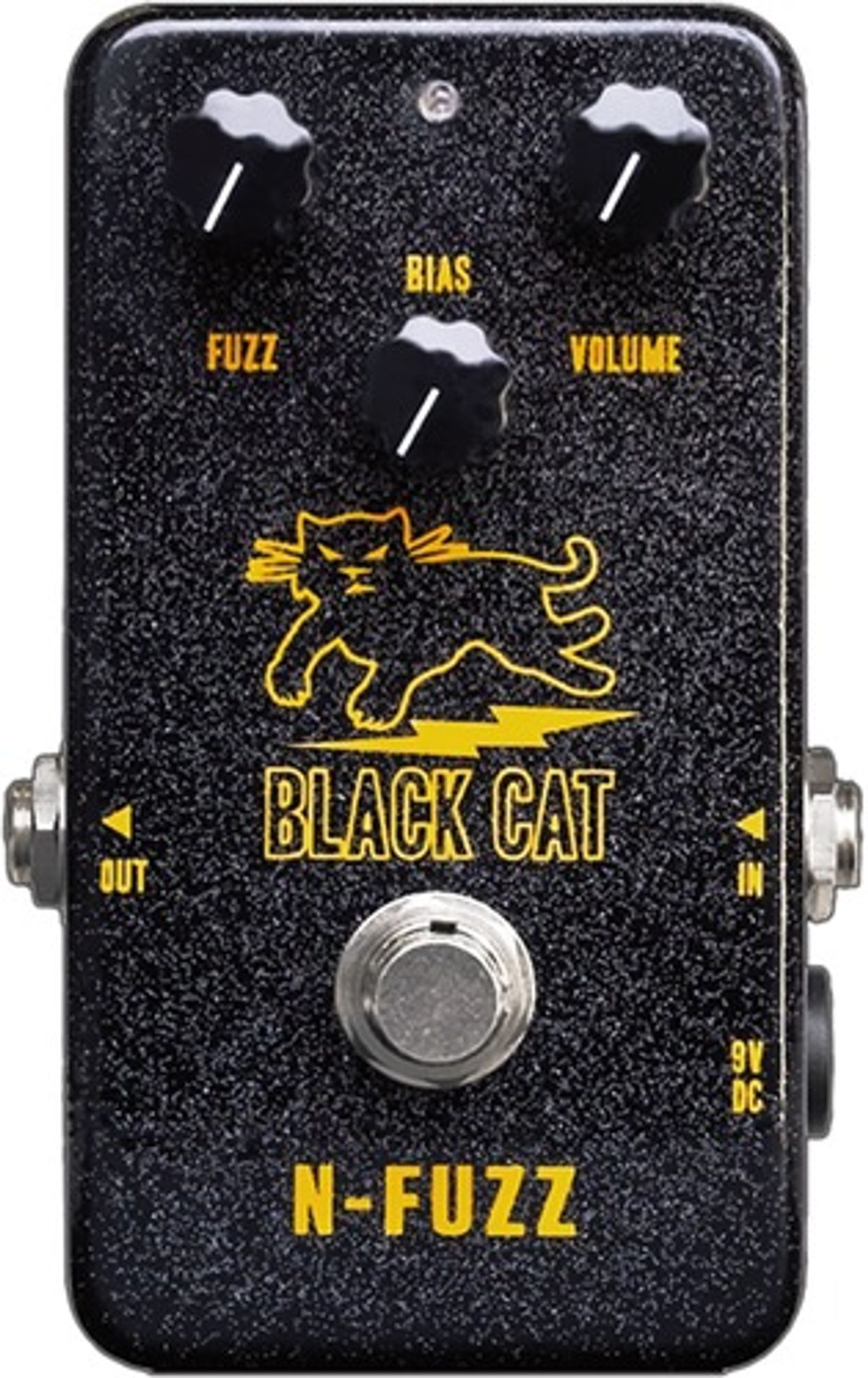 Based on the Fuzz channel of the Black Cat OD-Fuzz but modified to use Japanese components.
Foxon, CT (June 16, 2015) -- Black Cat Pedals is pleased to announce the Black Cat N-Fuzz, the latest legacy product from the original line created by Fred Bonte. The N-Fuzz is based on the Fuzz channel of the Black Cat OD-Fuzz, but has been modified to use Japanese components and features an extra wide ranging Bias control that allows you to dial in a sweeping array of fuzz tones and timbres.
The original N-Fuzz was made in limited numbers between 2001 and 2003, and was only available in the Asian market. According to Fred Bonte, the letter N represented "N-Channel" to describe the type of transistors used. Like the names of most other Black Cat products, "N-Fuzz" was more short and to the point than "N-Channel Fuzz."
Black Cat owner Tom Hughes states, "The new N-Fuzz also uses N-Channel (NPN) transistors. But we felt there was room for improvement with Fred Bonte's original design. The toggle switch of the original N-Fuzz selected between two fixed bias points, which resulted in one position having a High output, and the other position having a Low output. We replaced the toggle switch with a variable bias control pot. This control makes the new N-Fuzz much more versatile.
"After discussion with our Japanese distributor about reintroducing the N-Fuzz to the Asian market, we decided to further redesign the N-Fuzz circuit to use Japanese electronic components. This gave a new meaning to the name, which now stands for 'Nippon Fuzz.'
"In selecting transistors, we tried several different types before we found the perfect combination. We eventually decided on Toshiba 2SC1815 for Q1 and Panasonic 2SC1384 for Q2. A lot of experimentation was also needed to achieve the widest usable range for the Bias control. This allows the N-Fuzz to offer many different tones and timbres of fuzz."
Features:
Uses premium Japanese transistors and capacitors
Extra wide range bias control offers many tones and timbres of fuzz
Durable powder-coat "Holographic Sparkle" finish
3PDT true-bypass switch and Switchcraft jacks
Uses 2.1mm Boss style power jack, or internal 9V battery
Hand-wired, Boutique quality, Made in USA
$165.00
For more information:
Black Cat Pedals