Black Cat Pedals Unveils Mona Wah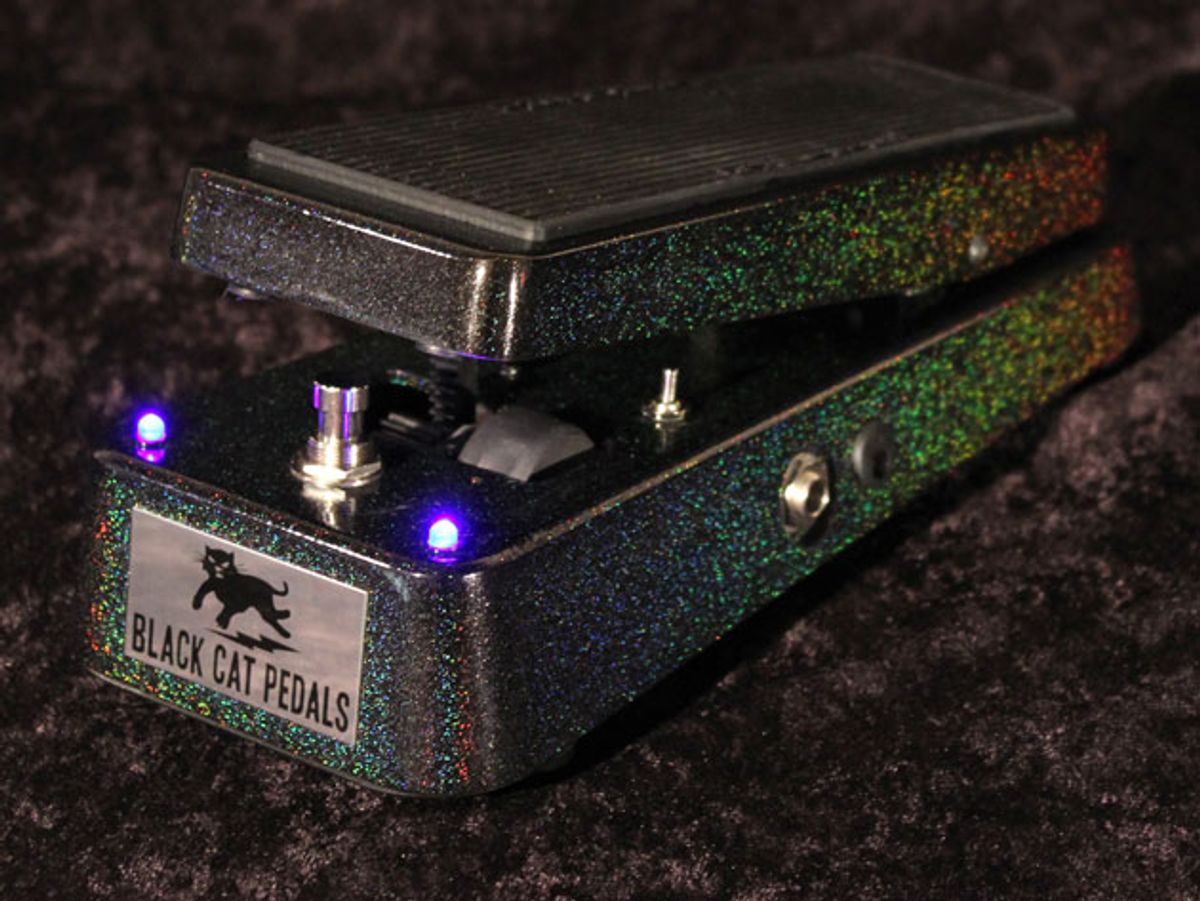 The Black Cat Mona features a special custom tuned Black Cat inductor, as well as the newly engineered Black Cat wah pot.
Bethel, CT (January 3, 2014) -- The new Black Cat Mona Wah was designed with the help of DIY guru and wah master, Joe Gagan, and features a revolutionary breakthrough in traditional wah-wah design. The Black Cat Mona features a special custom tuned Black Cat inductor, as well as the newly engineered Black Cat wah pot, which is like nothing else on the market. These features allow the Black Cat Mona to be used as a sophisticated tone-sculpting tool instead of a mere novelty quack machine.
Designed by Joe Gagan, the Black Cat wah pot features a new taper and redesigned gear which yield a subtly of expression never before possible with any other wah. This unique new design allows for a totally smooth, even sweep that covers the entire range of the pot, which places it in a league above the compromised design of the ICAR and other condensed or "S taper" pots.
The Black Cat Mona wah is available in two different models - Vintage and Modern. The Mona Modern uses Dale precision resistors and Wima film capacitors, and is optimized for a clean, full frequency response. The Mona Vintage uses carbon comp resistors and NOS vintage capacitors (tropical fish, orange drops, etc) and is voiced more like a vintage Vox wah. Each model is available in standard and deluxe editions.

Black Cat Deluxe Mona Wah
All the standard Black Cat Mona Wahs have three internal trimpots (Frequency, Q, and Volume), plus a built in buffer with an external mini-switch that allows you to bypass the buffer completely. The Volume control is for the output level when the buffer is engaged. The Q and Freq controls are for adjusting the Q (resonant peak or sharpness) and the Frequency range. By experimenting with these controls you'll be able to achieve a number of subtle and intriguing tone-shaping effects, including passive tone control and pedal-steel type swells. Of course, when a good old-fashioned wah-wah is what you need, the Black Cat Mona can wakka wakka with the best of them.
The Deluxe Edition Black Cat Mona moves the three internal controls to the outside, which lets you make on-the-fly adjustments. In addition, the Deluxe Mona has a 3-position mini-switch to give you three separate and distinct voicings to choose from. With the Black Cat Mona Wah, you'll discover there's so much more you can do with a wah.
The standard Black Cat Mona Wah will retail for $225; the Deluxe Mona Wah will retail for $295.
For more information:
Black Cat Pedals