Catalinbread Announces 3 New Pedals & the Custom Shop Fuzz Flowers
Anaheim, CA (Jan 19, 2012) -- Catalinbread announces three new pedals to the product line, they are also announcing three special custom shop creations dubbed the ''Fuzz Flowers''. Nautilux
Anaheim, CA (Jan 19, 2012) -- Catalinbread announces three new pedals to the product line, they are also announcing three special custom shop creations dubbed the 'Fuzz Flowers'.
Nautilux Chorus - Vibrato
All analog utilizing high voltage MN3007 bucket brigade chips
Tap tempo capable.
Stereo, dual modulated outputs.
Level Control inspired by the classic CE-1 
Powerful tone circuit allows you to dial shinny airy, to warm and chewy.
Mix control allowing you to tune in 100% modulated to 100% dry and everything in between.
Independent rate and depth for both modes vibrato and chorus.
Vibrato mode is modulated by a sine wave form, chorus is modulated by a triangular waveform, again inspired by the CE1.
Expression pedal capable to control rates or depths.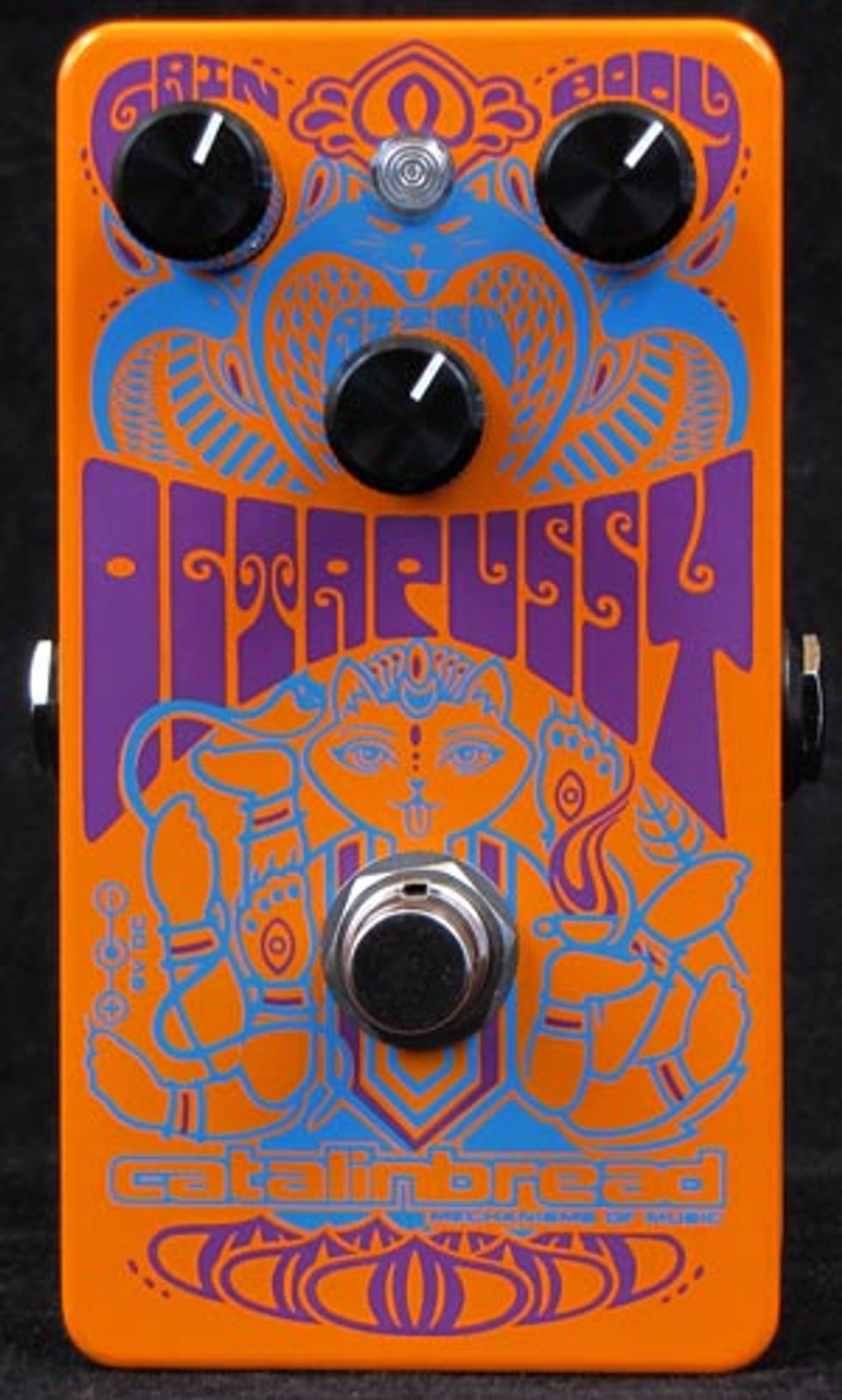 Octapussy
Searing three knob octave fuzz.
Capable of delicate octave harmonies, to ripping fuzz tones.
Great sounding fuzz whether played high on the frets, or chunky power chords.
Excellent integration with your guitar's volume/tone controls
Special LED bypass to preserve the highest tonal feel.
Classic UNI-VIBE inspired "prototype"
Classic Uni-vibe inspired "vibe"
Independent rate controls for chorus and vibrato modes.
Incandescent bulb opto controlled phase shift stages.
"Cancel" function which allows for old school uni-vibe "bypass" sounds. 
Offset knob allows control over the center frequency of the vibe.
Input knob allows the player to control their input impedance from traditional to high. 
Volume control.
Intensity control.
Expression pedal capable to control rates.
Tap tempo capable.
Custom Shop Fuzz Flowers
Three very special creations handpainted by Sharlet Thompson, feature the Catalinbread line as well as some special fuzz creations built by Bryan Lundstrom.
For more information:
www.catalinbread.com