Week 3 continues with SIX more chances to win! Enter below for your shot at pedals from Eventide, Flamma Innovation, Karma Guitar Amplifiers, Silktone, Source Audio, or Universal Audio! Ends October 2, 2023.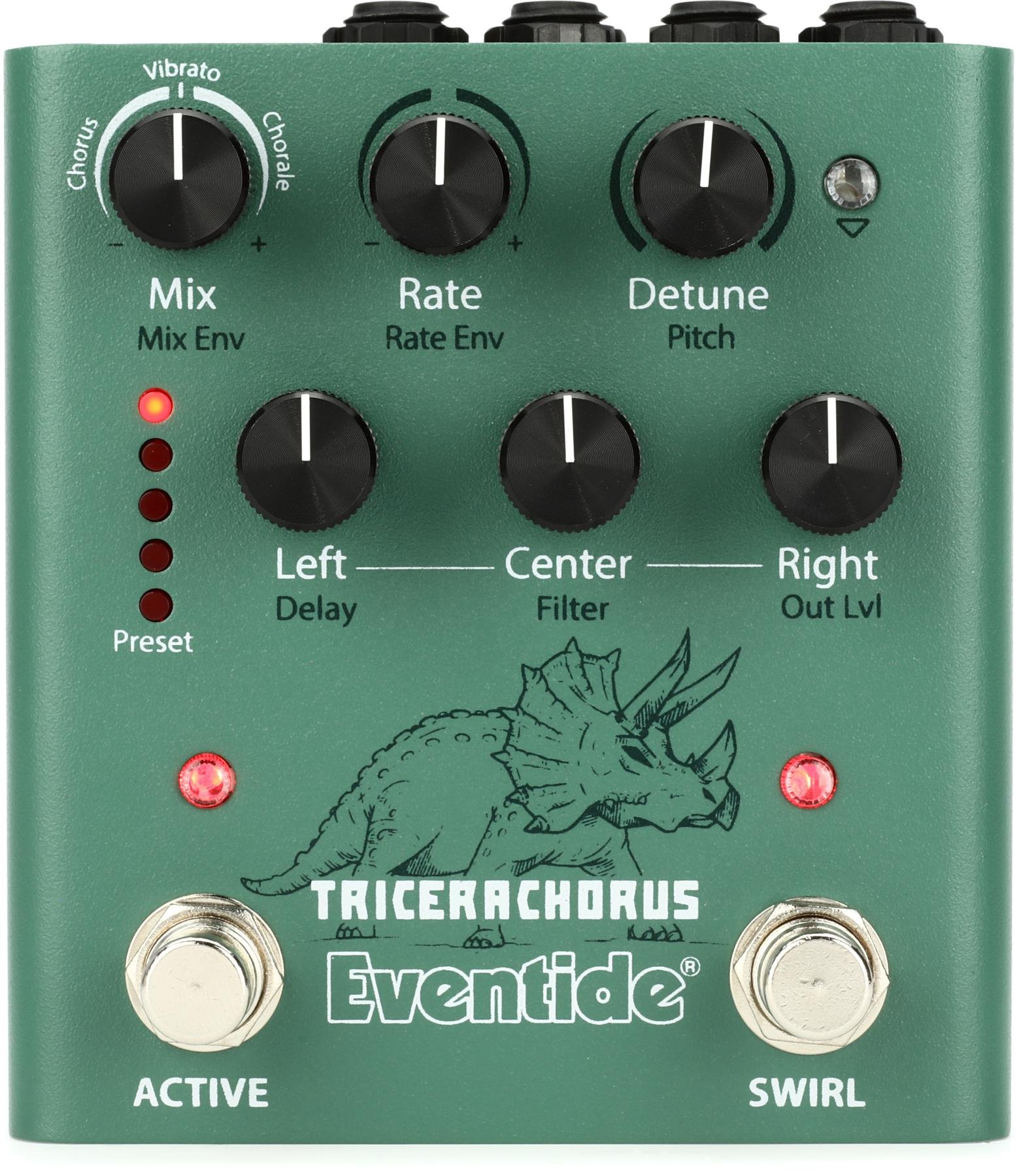 Inspired by the classic Tri-Stereo Chorus and stompbox choruses of the 1970s and early 1980s, the TriceraChorus pedal pairs rich Bucket Brigade-style chorusing with Eventide's legendary MicroPitch detuning for a lushness that rivals the jungles of the late Cretaceous Period. TriceraChorus features three chorus voices and three unique chorus effects which can be used to create a wide stereo spread with pulsing waves of modulation. The innovative "Swirl" footswitch adds psychedelic flanging, phasing, and Uni-vibe-style tones. It has never been easier to dial in syrupy smooth, deep modulation on guitar, bass, synths, strings, vocals, and more.
Eventide
This compact reverb pedal crams seven distinct digital reverb effects in to a sturdy, metal shell and several control features. The various reverb effects aim to simulate different environments from a small room to large, open cave. More niche effects are also included such as studio-style plate reverb, classic spring reverb effect, and the more far-out modulation reverb effect. Each effect can be modified with the Hi-Cut, Lo-Cut, Decay, and Pre-Delay knobs and then saved to their own save slot. An effect trail feature can be toggled on and off to have each effect fade out naturally after being switched off.
Flamma
The Karma MTN-10 is a much-improved clone of the revered but long discontinued Ibanez Mostortion, a must-have favorite of many Nashville session players.

The Karma MTN-10 is true-bypass and uses advanced construction techniques, including much sturdier and more reliable pots, switches, and enclosures. The elusive CA3260 IC chip used in the originals is a key component used in the Karma. All circuit board design and pedal assembly is done in the United States.
Karma Guitar Amplifiers
The Silktone Fuzz is a modern marvel with exploding with vintage tones.

"Cons: none:" writes Premier Guitar in the Fuzz's perfect score review. That was designer Charles Henry's favorite part, what else can we say?

At it's heart are two germanium transistors in the classic fuzz face topology, tweaked to get a huge array of tones and fix all the annoyances you get with a typical germanium fuzz. We wanted to nail the awesome tones everybody knows and loves when these transistors are biased to their sweet spot… and also when they're not. With our active bias monitor you can easily hit them all. Want that oh, so sweet sweet sweet spot? Dial it to ~4.50. Prefer some fat sticky fuzz? Dial it past 7.50. Want spitty gated fuzz? Cool, me too - dial it to ~1.10.

Combine this with the onboard pickup simulator to place this fuzz anywhere in your chain without the normal issues and a cleanup knob to get you into drive territory that rivals the best overdrives out there with beautifully musical germanium color - and you have one of the most useable, versatile fuzzes to date with sooo.. much.. texture.
Silktone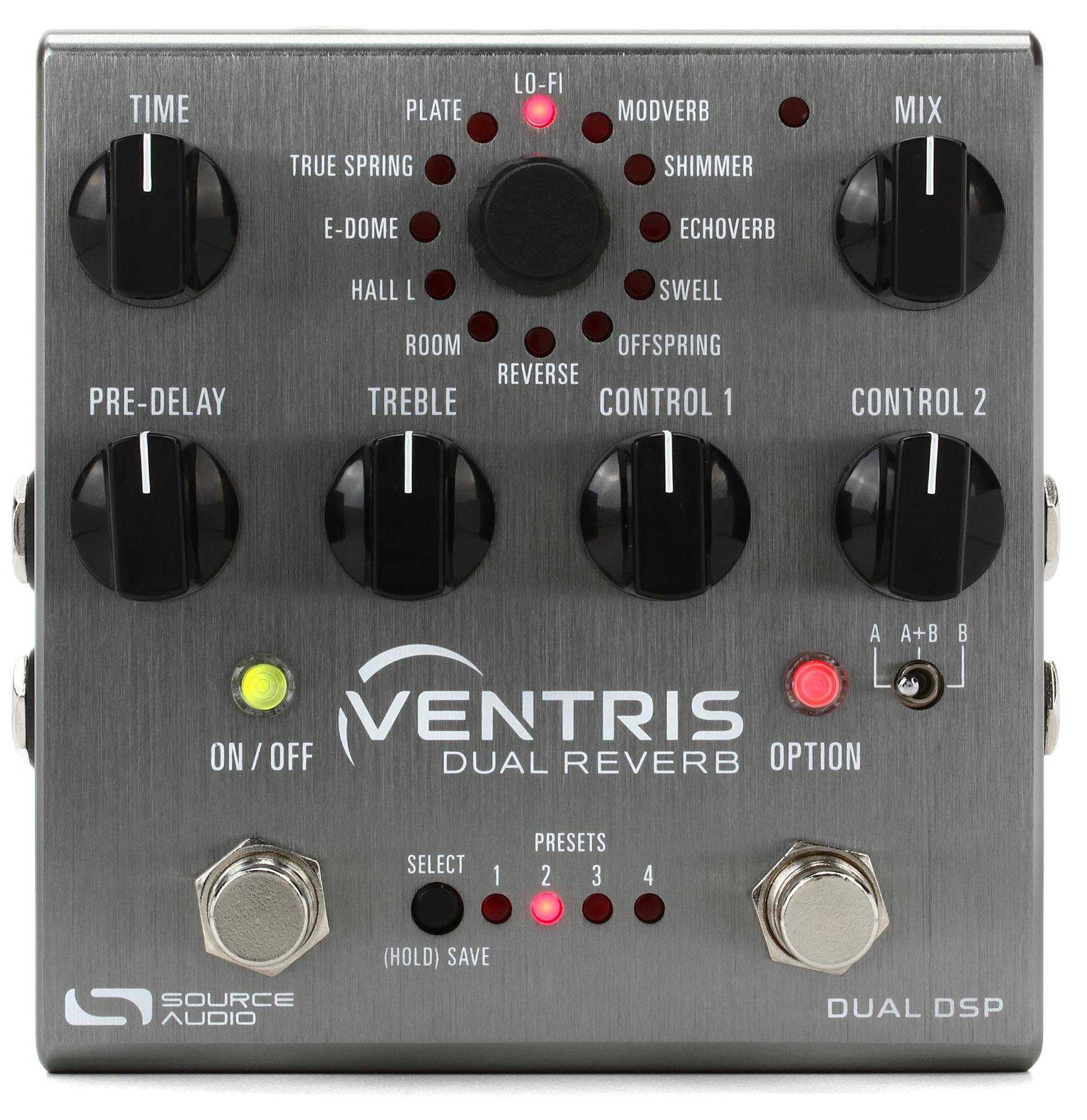 Create rich, spacious reverberations with the Ventris Dual Reverb. The Ventris features 14 meticulously crafted reverb engines built on two completely independent 56-bit signal processors, essentially housing a matching pair of high-powered, stereo reverb pedals in a single box. The pedal's dual DSP architecture provides massive processing muscle, adjustable preset spillover time, and advanced dual reverb effects. Step into a vast realm of ambient space.
Source Audio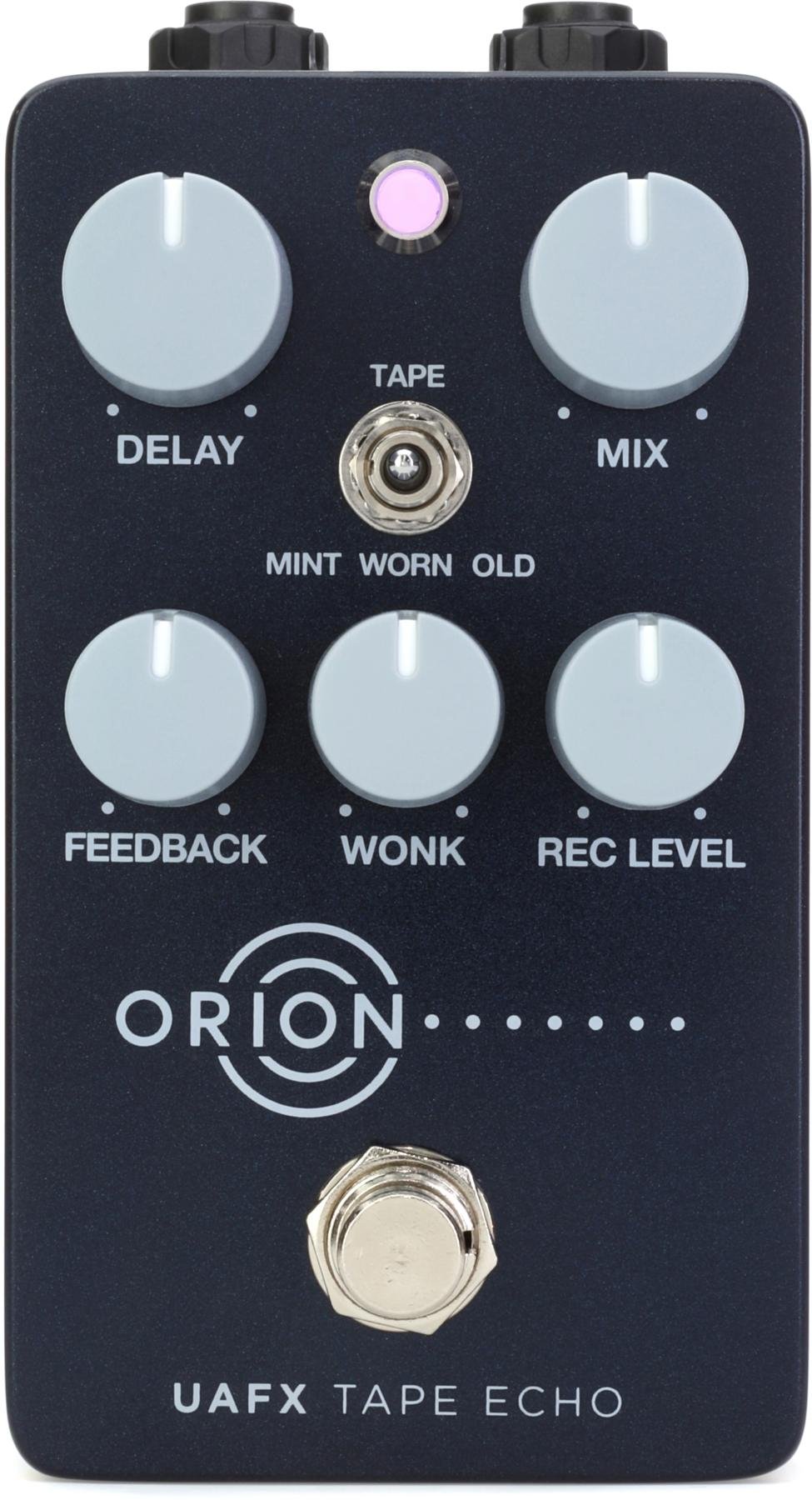 Emerging from UA's flagship Starlight Echo Station, Orion Tape Echo gives you the magical hazy delay effects of vintage '70s Maestro Echoplex EP-III tape delays, in a classy, compact package.*

- Create with a stunning emulation of the iconic vintage tape echo hardware

- Craft eccentric effects with authentic wow, flutter, and tape types

- Fatten your tone with a perfectly captured EP-III analog preamp

- Rely on timeless UA craftsmanship, built for decades of rock-solid performance

*All trademarks are property of their respective owners and used only to represent the effects modeled as part of Orion Tape Echo.
Universal Audio
How I'll always remember Edward.
One memory often triggers another, so, while writing about my experiences with Metallica over a crucial decade in their career for this issue, I kept flashing back on my sole encounter with Van Halen—the man and the band. It was during 1988's Monsters of Rock, and I was on assignment for the tour's two-day stand in Akron's Rubber Bowl, a decrepit concrete pit turned convection oven by the summer heat, to interview all the guitarists on the tour: Kingdom Come's Danny Stag, Dokken's George Lynch, Kirk Hammett and James Hetfield of Metallica, Rudolf Schenker and Matthias Jabs of Scorpions, and, of course, Edward.
For the first day I was there, Van Halen's publicist kept nudging me aside. Nonetheless, I enjoyed their headlining set, save for the perplexing choice of a Sammy Hagar ballad about burying the placenta from the birth of one of his children under a tree. (If you know what that song is called, please let me know so I can more purposefully continue to avoid it.) Edward was especially brilliant, of course.
I was literally and anxiously sweating it out as Van Halen's second-night performance neared, when the publicist finally ushered me back into the band's dressing room, in the distressed bowels of the Rubber Bowl. Their green room was actually a casbah created within the area's grim concrete walls. There were hanging tapestries, plush furniture, floor lamps, and other homey appointments, all cooled by giant fans at its edges. But the most impressive sight was Edward, Sammy Hagar, and Michael Anthony plugged into a vertical-standing road case packed with practice amps, jamming out some blues. Alex had a practice pad atop the case, and pounded so hard he cut through the astonishing web of sound. They tossed me a few nods, and I sat on the couch next to a table with a bowl of M&M's on it—I did not check the colors—and watched them wail on for a good 10 minutes. Edward, plugged into what I think was a Fender Champ, still sounded every bit like himself. I thought, "Well, even if I don't get to ask a single question, this is worth the trip."
But they did unplug, and suddenly I felt like I was in the middle of a cartoon—or maybe an episode of The Monkees. They all raced toward me and piled onto the arms and back of the couch. I was surprised and surrounded. They answered my questions, but Eddie kept playing his unplugged 6-string, and nearly every reply came with a silly joke or a pun that left them in stitches. They all talked at the same time, sometimes completing each other's sentences—always answering me but spinning off into all kinds of wild digressions. At one point, Sammy did a decidedly un-PC Ray Charles impersonation that put Edward, Alex, and Michael on the floor. And when I asked a guitar-centric question, Edward slid off the back of the couch and landed next to me to reply.
"But they did unplug, and suddenly I felt like I was in the middle of a cartoon—or maybe an episode of The Monkees."
It was hilarious—almost sketch comedy. But it was also beautiful, because it was obvious that at this point they were deeply connected by friendship and the joy of still discovering what this line up of the band, which had released OU812 a month earlier, could do. There was a tangible, open-hearted purity to them—at least about this music they were making and the experience of making it—and it wasn't drugs, because Edward had recently been through rehab and not even beer was allowed in their green room. They were, in June 1988, truly a band of brothers.
Somehow, amidst all the crosstalk and antics, I managed to get all my questions answered, and spent a few more minutes hanging out with them, enjoying a cold cola and avoiding the near-100-degree outside temperature, as they bantered with each other and prepped for the stage. Then it was time for the publicist to reappear and throw my butt out, and for them to hustle theirs into the spotlights.
There were more troubles to come for Edward—struggles with addictions, divorce, and cancers—and a lot more music to be made, until he died, too young, in 2020 at age 65. But because of that day, I always think of him as happy-go-lucky, practically exploding with positivity and elation. And I'm very glad for that. Seeing somebody at their best and happiest is always a gift, and when it's somebody like Edward Van Halen, it's a treasure.
Enter before October 20, 2023 for your shot at the Epiphone Emily Wolfe "White Wolfe" Sheraton as seen in our recent Rig Rundown!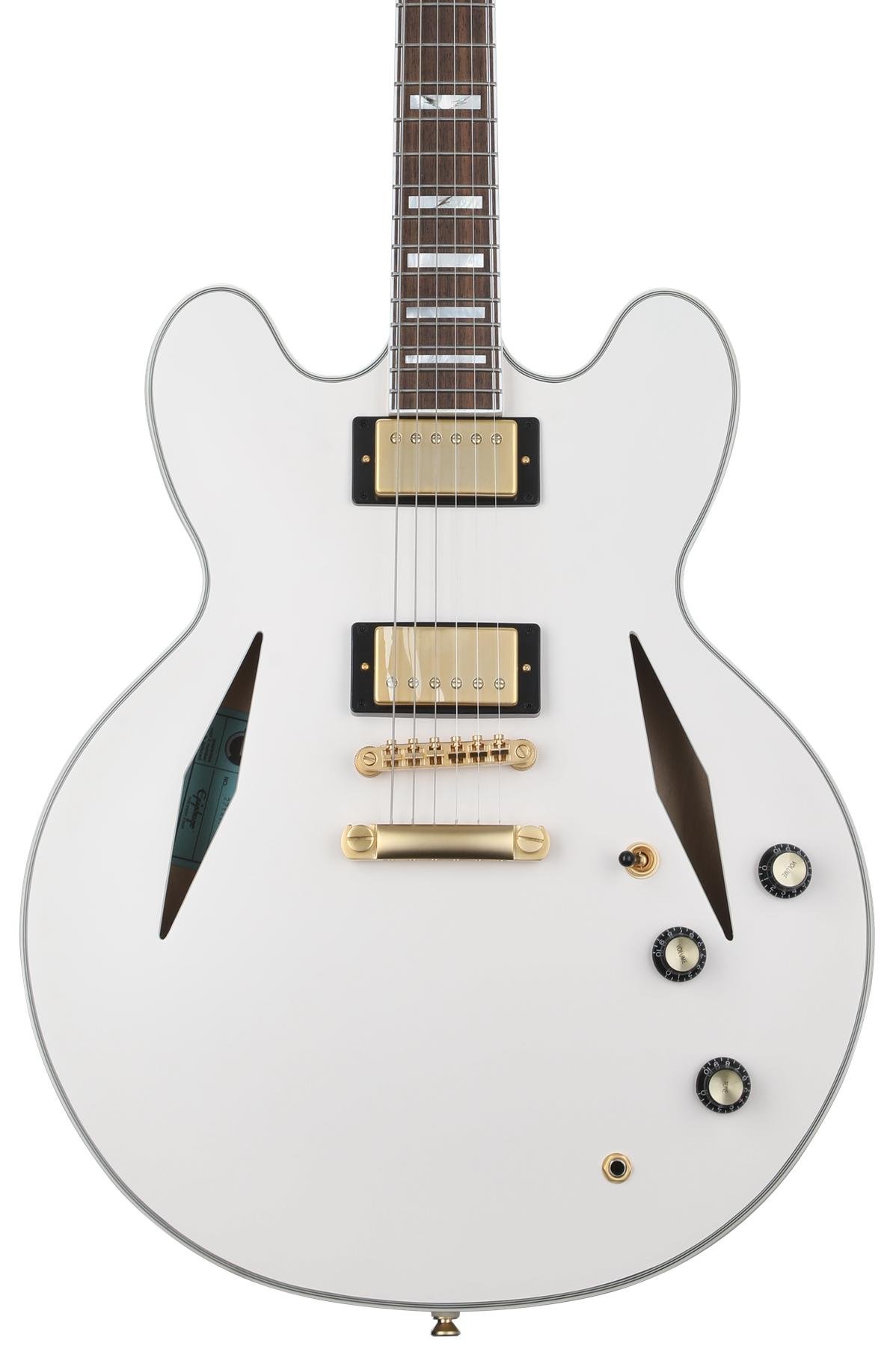 The Epiphone Emily Wolfe "White Wolfe" Sheraton is based on the triple-threat rock & roll singer, songwriter, and guitarist's popular Sheraton Stealth. Once again, Emily has lent her creativity to develop her new artist model. The Emily Wolfe "White Wolfe" Sheraton is equipped with an Indian laurel fretboard with 22 medium jumbo frets and mother of pearl block inlays with abalone lightning bolts. The headstock has a mother of pearl tree of life inlay on the front, Emily's Wolfe logo and a white gloss Emily Wolfe signature on the rear, and is outfitted with Grover® Rotomatic® tuning machines and a Graph Tech® nut. An Epiphone LockTone™ Tune-O-Matic™ bridge and Stop Bar tailpiece hold down the other end of the strings and contribute to the impressive sustain of the instrument. The electronics include full-sized Epiphone Alnico Classic PRO™ humbucker™ pickups paired with CTS® potentiometers for smooth control over individual pickup volume and overall tone. It's finished in Aged Bone White paired with lightly aged gold hardware. An EpiLite™ case is included.
Epiphone
Rig Rundown: Emily Wolfe [2023]