Dallas International Guitar Festival - A 2007 Wrap Up
The 2007 Dallas International Guitar Festival was proof positive that things are indeed bigger in Texas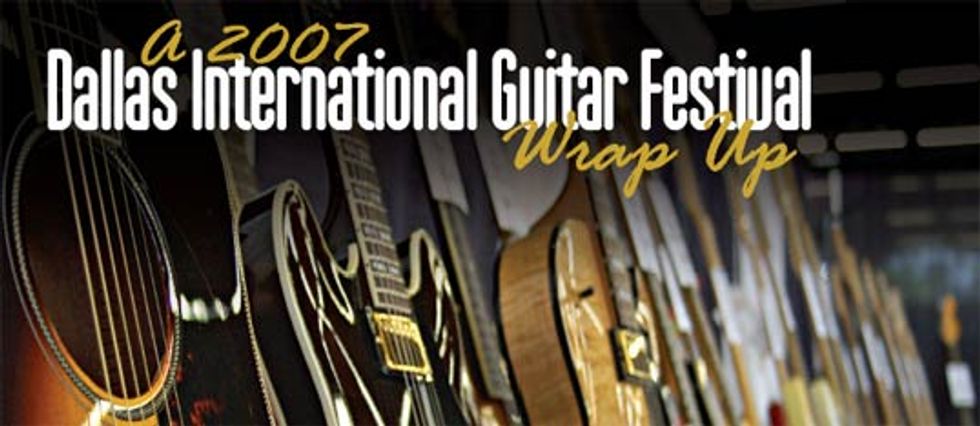 ---
The 2007 Dallas International Guitar Festival
was proof positive that things are indeed bigger in Texas. Held at the Dallas Market Hall April 20-22, exhibitors came prepared to buy and sell vintage guitars at one of the nation's top shows. Dealers seemed serious about doing business this year, and prices reflected this. Many dealers we spoke to seemed to be there for specific pieces, and judging by the amount of cases exchanging hands, few were disappointed. Great weather, great music, and – most importantly – great guitars, stretched as far as the eye could see.
---
Greeting visitors to the right of the entrance was the Holy Grail Guitar Exhibition, sponsored by PRS Guitars. With security in full force at the entrance, festival attendees knew they were in for something special, and the exhibit didn't disappoint. Highlights included the first electric guitar made by Lloyd Loar – an electric harp guitar, no less – on loan from Skip Maggiora's collection. Other great pieces from Skip's collection included a gaggle of Les Paul Goldtops, V-front Fender Pro and Super amps, and some amazing early Strat examples. Guitar Center's Hollywood Vintage Room supplied the holiest of grails in the yes-it-is-the-original Blackie, flanked by Stevie Ray Vaughan's celebrated Lenny and Clapton's Cream-era cherry ES-335 all sitting in a display case together. Having three of rock's most iconic guitars together in one place was almost too much to digest, and it really did take a moment to fully absorb and comprehend what you were seeing. Other rarities included a split headstock Explorer, Tiny Moore's Bigsby electric mandolin, and several guitars from Paul Reed Smith. For even the passing fan of vintage and rare guitars, it was truly spectacular.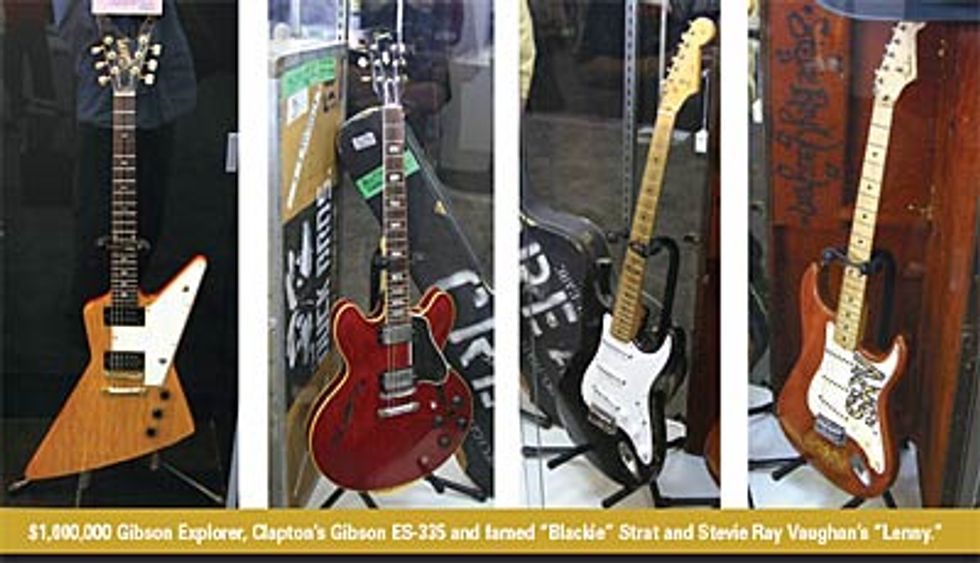 Exiting the Holy Grail Guitar Exhibition brought attendees to the main floor of the Dallas Market Hall, where all of the dealers, manufacturers and massage therapists were set up, with the latter being greatly appreciated by the time day two rolled around, owing to the size and scope of the show. Amazing guitars and amps were everywhere, with the Vermont Collection, Olivia's Guitars, Fuller's Vintage Guitars, Dave's Guitar Shop, and, of course, Jimmy Wallace Guitars, all having their breathtaking wares on display. Fuller's, Dave's and Jimmy Wallace all vied for the "hugest booth" award, having what amounted to goodsized stores within the hall. The breadth of exhibitions was such that if you couldn't find what you were looking for, you weren't looking hard enough. Gibson was also there in full force, demo-trailers in tow, offering patrons a respite from all of the commotion of the hall and a welcome chance to chill with a nice Gibson and a Line 6 POD.
The performance stages were located around the perimeter of the hall, both inside and out, with music scheduled all day, every day. Highlights included Bugs Henderson and Bernie Marsden, formerly of Whitesnake, tearing it up Friday night on the Jimi Hendrix Liquid Experience stage. Bugs egged Bernie on, with Bernie returning the favor, resulting in one of the tastiest and most electrifying Texas blues jams in recent memory, each solo surpassing the next. Saturday afternoon saw Johnny A. take the Samuel Adams stage, located inside the Dallas Market Hall. The dark lighting in the room lent itself perfectly to that thing that Johnny A. does so well, which is a unique combination of beautiful textures and smoldering chops. His ability to effortlessly switch between the two in compositions also showcased his band's great command of genre-hopping chops and wide dynamic sensibilities. Rick Derringer played both Friday night and Sunday afternoon. Unfortunately, we missed his Friday performance, but his Sunday afternoon show demonstrated that Rick hasn't given anything up since his early days with the McCoys. Playing in a three-piece format, Rick fired off one tight, explosive riff after another, with his voice sounding as strong and clear as ever. His band didn't miss a beat and kept the energy level building throughout the set. It was great to see him so happy and successfully conveying his joy through his music and performance.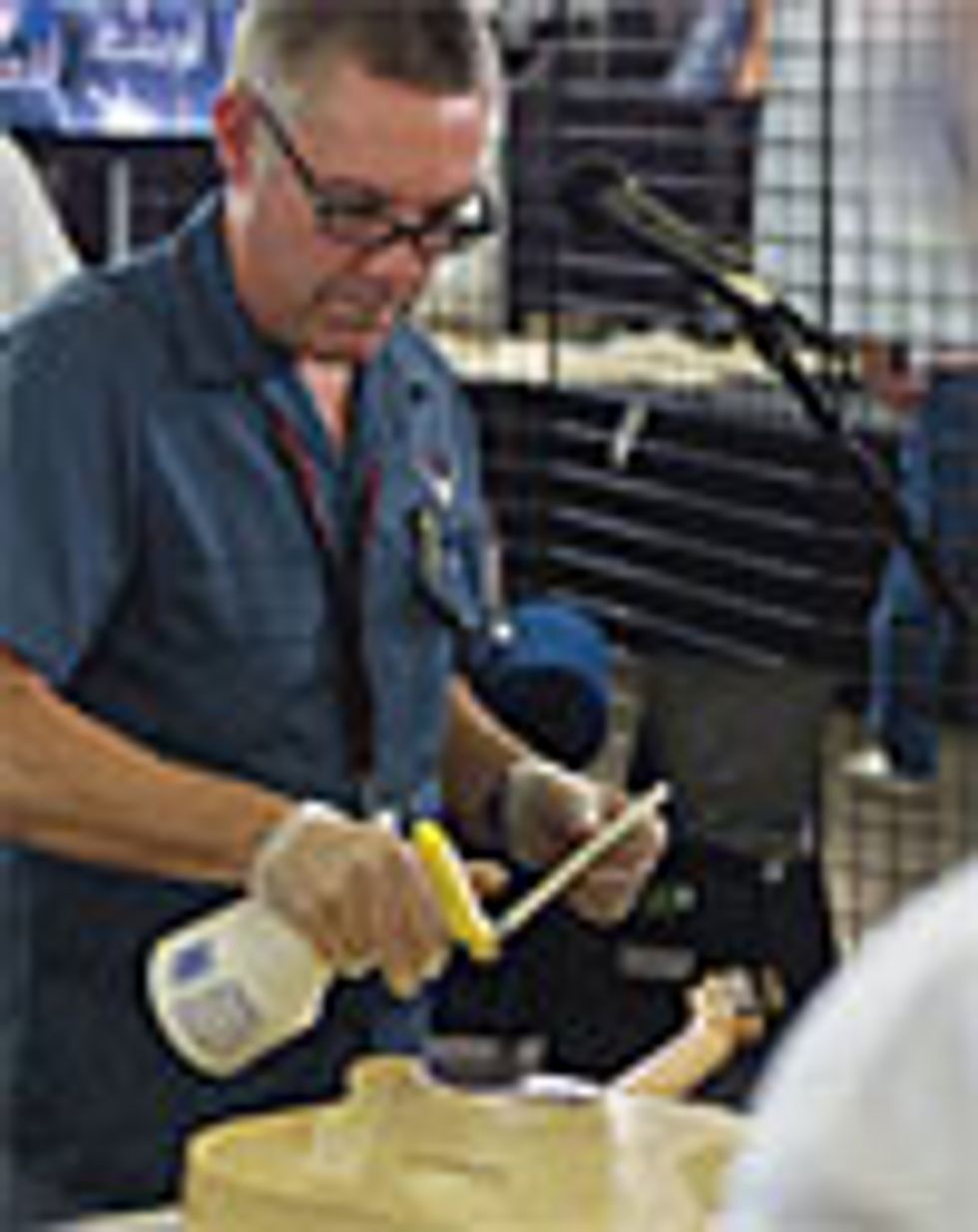 Chris Fleming from Fender's Custom Shop
gave daily demonstrations on relicing guitars. I'll spare the details and ensuing grief that a partial and brief explanation would cause in relicing efforts, but I definitely suggest checking out Fender's relic clinics if the opportunity presents itself. It was extremely interesting, and there are certainly some new tricks to be learned for people interested in doing their own relics. Also interesting was Chris' response to a question of where he learned his relicing techniques. It seems this relicing business is anything but new and has been used for quite some time in stringed instrument repair to match repairs on vintage violins and cellos to the instruments' original weathered and aged finish. Cool stuff, indeed.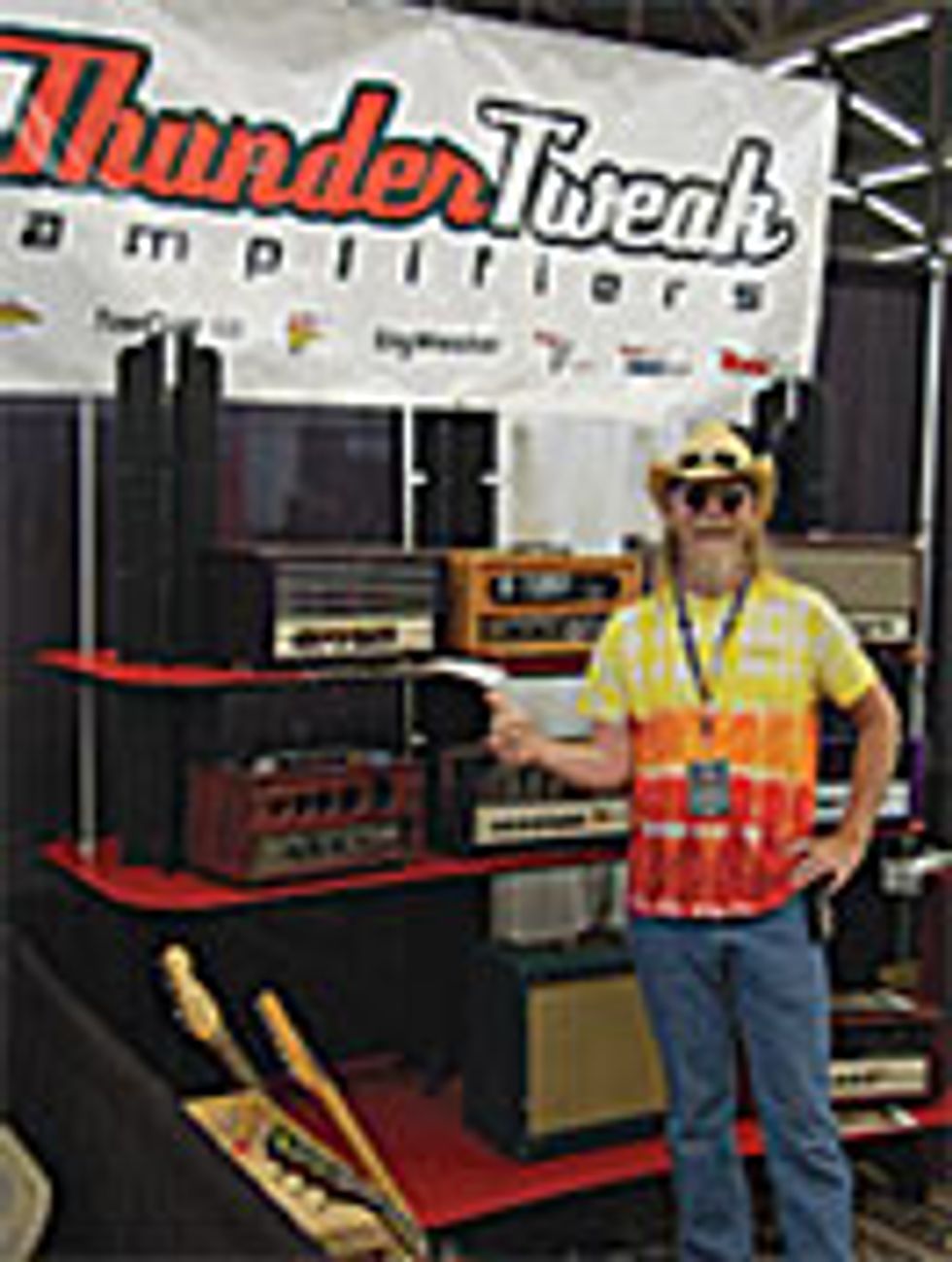 We also met Texas' own Ace Pepper
from Thunder Tweak amplifiers. Keep an ear out for this guy's amps, and if you get a chance to play one, don't miss out – they will amaze you. Teye Guitars was also in attendance, with Teye eager to get people playing his amazingly crafted guitars. St. Blues Guitars was in full force and had some great new guitars to show, as well as about the coolest vibe of any booth. Keep checking their website as new developments are on the way. We ran into the good people from Godlyke Distributing who were there with some new Tokai models bound for the U.S. market, which were fantastic. They also had the new Guyatone Optical Hybrid effects on display, which sounded incredible. A couple of the more notable non-industry exhibitors included Samuel Adams brewery (go with the Boston Lager) and the Invisible Children Movement, who provided a screening of their documentary film, Invisible Children on Sunday.
There were almost too many standout vintage guitars to list, but some notable ones were a nice selection of Wandres, a couple of custom color Esquire Customs, many slab-bodied Les Paul Juniors and Specials, several SG-shaped variants of the same, and lots of nice SG Standards and Customs, including a couple of ebony-block Standards. The selection was truly amazing, and if you could think of a guitar you wanted, odds were there were at least two or three to choose from, which is one of the many benefits to attending this show. Another benefit is that if and when you couldn't see straight from all of the eye-candy, a good band and nice cold beverage were waiting just outside the hall, providing a great way to rejuvenate.
All in all, it was a perfect way for guitar fans, or music fans in general, to spend a weekend. Our thanks go out to all of the exhibitors, attendees and especially Mark Pollock and Jimmy Wallace for making this year's Dallas International Guitar Festival so special.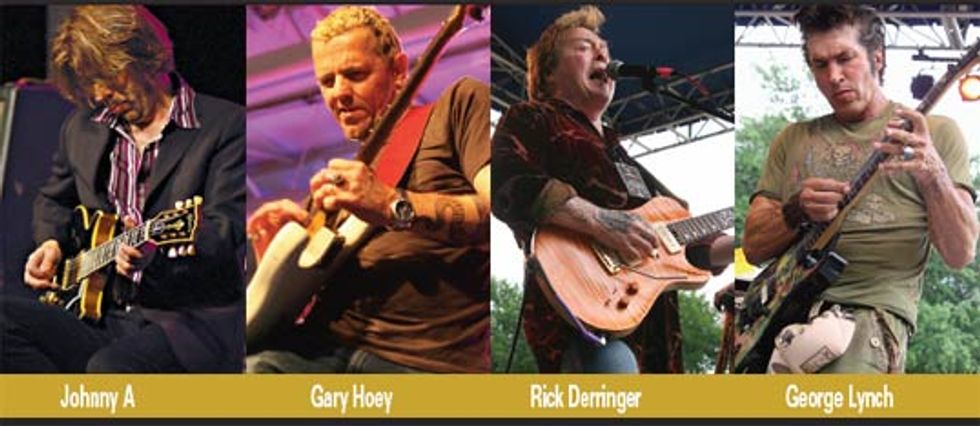 » Podcast
Listen to our exclusive podcast, live from the floor of the Dallas International Guitar Festival
---
Dallas Intrntl Guitar Festival 30th Anniversary
» Visit
www.guitarshow.com