An amplifier equipped with an all-analog preamplifier and a Class D power module.
Helsinki, Finland (September 28, 2016) -- The Microtubes 900 is a 900W amplifier equipped with an all-analog preamplifier and a Class D Power Module. The first thing you will notice from the Microtubes 900 is its unusual control layout.
On the right side you'll find the clean section which is the foundation of your tone. It features gain and master controls an active four-band EQ. Along with low and treble controls you will find low-mids and hi-mids control, each knob with their own 3-way frequency switch.
On the left side you will find the Microtubes Engine which acts as an extra channel that can bring your clean tone to the next level by helping you cut through the mix while adding anything from subtle tube break up, harmonics and natural compression, to obliterating distortion.
We equipped the power module with some unique control over the power output and minimum speaker loads:
The standard mode will deliver 900W RMS at 4Ω/500W at 8Ω. If you select the 2Ω Mode via the rear panel switch the amplifier will deliver 900W at 2Ω/500W at 4Ω and 350W at 8Ω.
Features Front Panel
Input: Connect your instrument via a standard ¼" mono cable.
Passive/Active: Switch from passive to active mode. Some active basses can have a hotter signal output which can make the amp distort early (feel free to use it on Passive move even with active basses if such additional distortion is desired).
Microtubes: Turns on or off the Microtubes Engine to add natural compression, organic harmonic enhancement, and saturation ranging from mild overdrive to high gain bass rage. The Microtubes Engine operates before the clean section (you can therefore use the 4 Band Active EQ for additional tone shaping in addition to the Tone knob described below).
Drive: Controls the amount of distortion that the Microtubes Engine will deliver. It will change from a soft warm overdrive to a massive modern distorted tone.
Tone: Controls the high harmonic content of the Microtubes Engine via a variable low pass filter: crank it up for additional attack and definition or dim it down for a smoother sound. This is handy if running bright clean EQ settings or cabinets with tweeters.
Level: Controls the Microtubes Engine's output volume.
Blend: Mixes between the Clean signal and the Distortion signal (Microtubes Engine).
B3K/VMT: Selects between two overdrive voicings: B3K mode will deliver an aggressive, percussive sound while the VMT will bring up the mids for a warmer, more neutral character.
Gain: Changes the volume of the signal the Active 4 Band EQ. You can set it low prior to ensuring the cleanest operation possible or set it higher for more aggressive growl.
Bass: +-12dB at 80Hz. Changes the low content of the signal.
Low Mids: +-12dB of the selected frequency via the LOW MIDS ƒ switch (described below). Changes the lower mid content of the signal.
Low Mids ƒ: Use this switch to change the frequency of the low mid band from 250Hz, 500Hz or 1kHZ.
Hi Mids: +-12dB of the selected frequency via the HI MIDS ƒ switch (described below). Changes the higher mid content of the signal.
Hi Mids ƒ: Use this switch to change the frequency of the hi mid band from 750Hz, 1.5kHz and 3kHZ.
Treble: +-12dB at 5kHz. Changes the high content of the signal.
Master: Controls the overall volume of the amplifier.
Mute: Mutes the amplifier.
Features Rear Panel
Speaker Output: Connects the amplifier to your cabinet. This Speakon combo jack allows for either Speakon or ¼" speaker cable operation.
Min-Load: Press when using a 2Ω load. You can use this control to lower the output if your 4Ω cabinet is not able to handle more than 500W (you can also get 350W with an 8Ω cabinet in this configuration).
Pre Amp Out: This output connects the preamp to a different power amp.
Power Amp In: Use this input to connect a different preamp to the power amp. (master volume will be disabled)
Post-Pre: Selects what signal will be delivered by the DI output. Selecting PRE, sends a clean copy of your input bass signal. Selecting POST delivers a signal processed by the preamp of the amp (gain, distortion, eq, master, etc.)
Ground Lift: Lifts the ground of the DI XLR output. If a ground noise in you DI signal is experienced, try changing the setting of this control.
Balanced Output: Connects the Microtubes 900™ preamplifier to balanced equipment (mic preamp, console, recorder, compressor, audio interface, etc.) via a standard XLR jack.
Footswitch: The Footswitch allows you to remotely engage and disengage the Microtubes Engine. Hold the footswitch to Mute the amplifier. The VMT/B3K push button will remain operational with the Intelligent Footswitch plugged in.
AC Socket: Connects the power cord to the amplifier.
AC Power ON/OFF: Turns the amplifier on or off.
Intelligent Footswitch
The Intelligent Footswitch is an intuitive yet versatile accessory for your Microtubes 900™. One tap will engage and disengage the Microtubes Engine, while holding for 3 seconds will Mute the amplifier. It is connected to the head via a standard 1/4" cable and it's powered by a microcontroller that sends commands to the head using a proprietary communication protocol.
The Microtubes 900 will be available from all Darkglass worldwide retailers. Full list of Darkglass retailers around the globe: http://darkglass.com/where-to- buy/
Watch the company's video demo:

For more information:
Darkglass Electronics
This full-amp-stack-in-a-box pedal brings a new flavor to the Guitar Legend Tone Series of pedals, Missing Link Audio's flagship product line.
Adding to the company's line of premium-quality effects pedals, Missing Link Audio has unleashed the new AC/Overdrive pedal. This full-amp-stack-in-a-box pedal – the only Angus & Malcom all-in-one stompbox on the market – brings a new flavor to the Guitar Legend Tone Series of pedals, Missing Link Audio's flagship product line.
The AC/OD layout has three knobs to control Volume, Gain and Tone. That user-friendly format is perfect for quickly getting your ideal tone, and it also offers a ton of versatility. MLA's new AC/OD absolutely nails the Angus tone from the days of "High Voltage" to "Back in Black". You can also easily dial inMalcom with the turn of a knob. The pedal covers a broad range of sonic terrain, from boost to hot overdrive to complete tube-like saturation. The pedal is designed to leave on all the time and is very touch responsive. You can get everything from fat rhythm tones to a perfect lead tone just by using your guitar's volume knob and your right-hand attack.
Features 
Three knobs to control Volume, Gain and Tone
Die-cast aluminum cases for gig-worthy durability
Limited lifetime warranty
True bypass on/off switch
9-volt DC input
Made in the USA
MLA Pedals AC/OD - Music & Demo by A. Barrero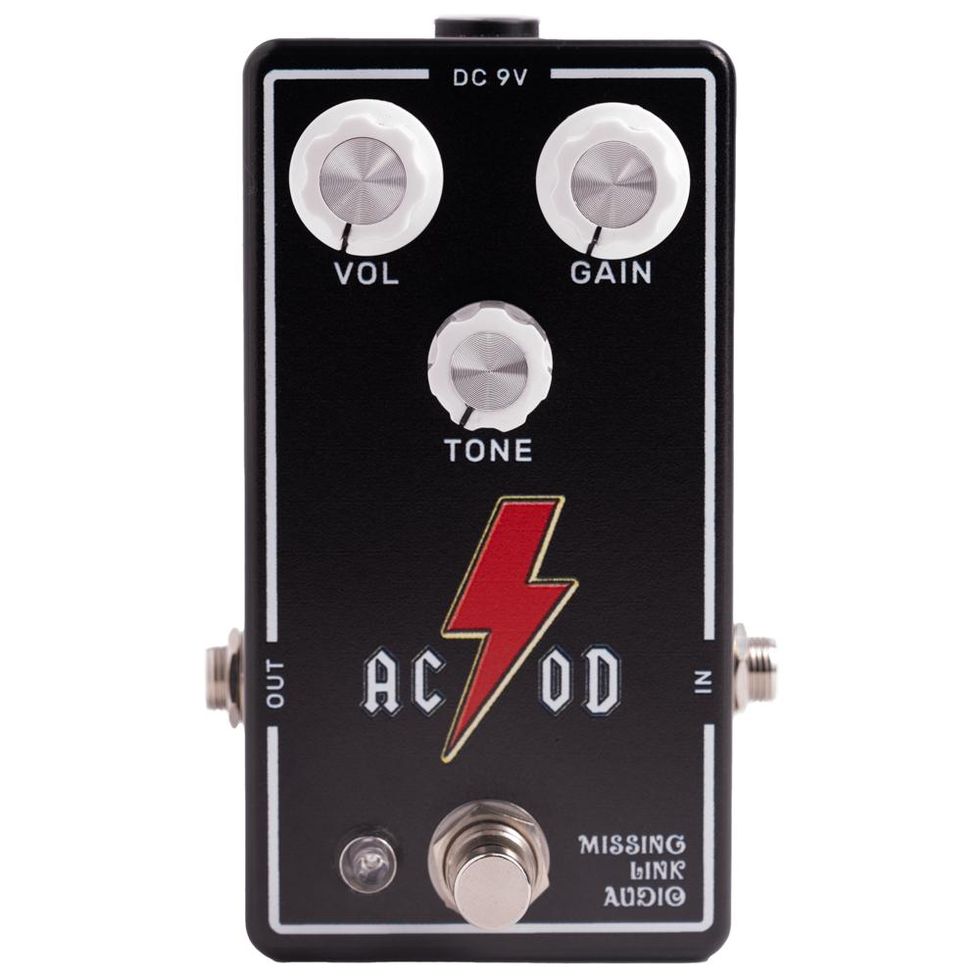 www.mlapedals.com.
Sporting custom artwork etched onto the covers, the Railhammer Billy Corgan Z-One Humcutters are designed to offer a fat midrange and a smooth top end.
Billy Corgan was looking for something for heavier Smashing Pumpkins songs, so Joe Naylor designed the Railhammer Billy Corgan Z-One pickup. Sporting custom artwork etched onto the covers, the Railhammer Billy Corgan Z-One Humcutters have a fat midrange and a smooth top end. This pickup combines the drive and sustain of a humbucker with the percussive attack and string clarity of a P90. Get beefy P90 tone plus amp-pummeling output with the Railhammer Billy Corgan Z-One.
Patented Railhammer Pickups take passive guitar pickups to a new level with rails under the wound strings lead to tighter lows, and poles under the plain strings offer fatter heights. With increased clarity, the passive pickup's tone is never sterile.
Railhammer Billy Corgan Signature Z-One Pickup Demo
Designed for utmost comfort and performance, the Vertigo Ultra Bass is Mono's answer to those who seek the ultimate gigging experience.
Complete with a range of game-changing design features, such as the patent-pending attachable FREERIDE Wheel System, premium water-resistant and reflective materials, shockproof shell structure and improved ergonomic features, the Vertigo Ultra Bass takes gear protection to the next level.
The Vertigo Ultra Bass features:
Patent-pending FREERIDE Wheel System that allows for wheels to be attached on the case in no time, giving you the option to travel with it seamlessly
Upgraded materials, including a water-resistant 1680D Ballistic Nylon outer shell, plush inner lining and new reflective trim for maximum backstage and night visibility
Enhanced protection with a shockproof shell structure and heavy-duty water-resistant YKK zippers for protection from the elements
Improved ergonomics and functionality including added back support and load-lifting detachable shoulder straps with side release buckles
Flexible storage options with added space for touring essentials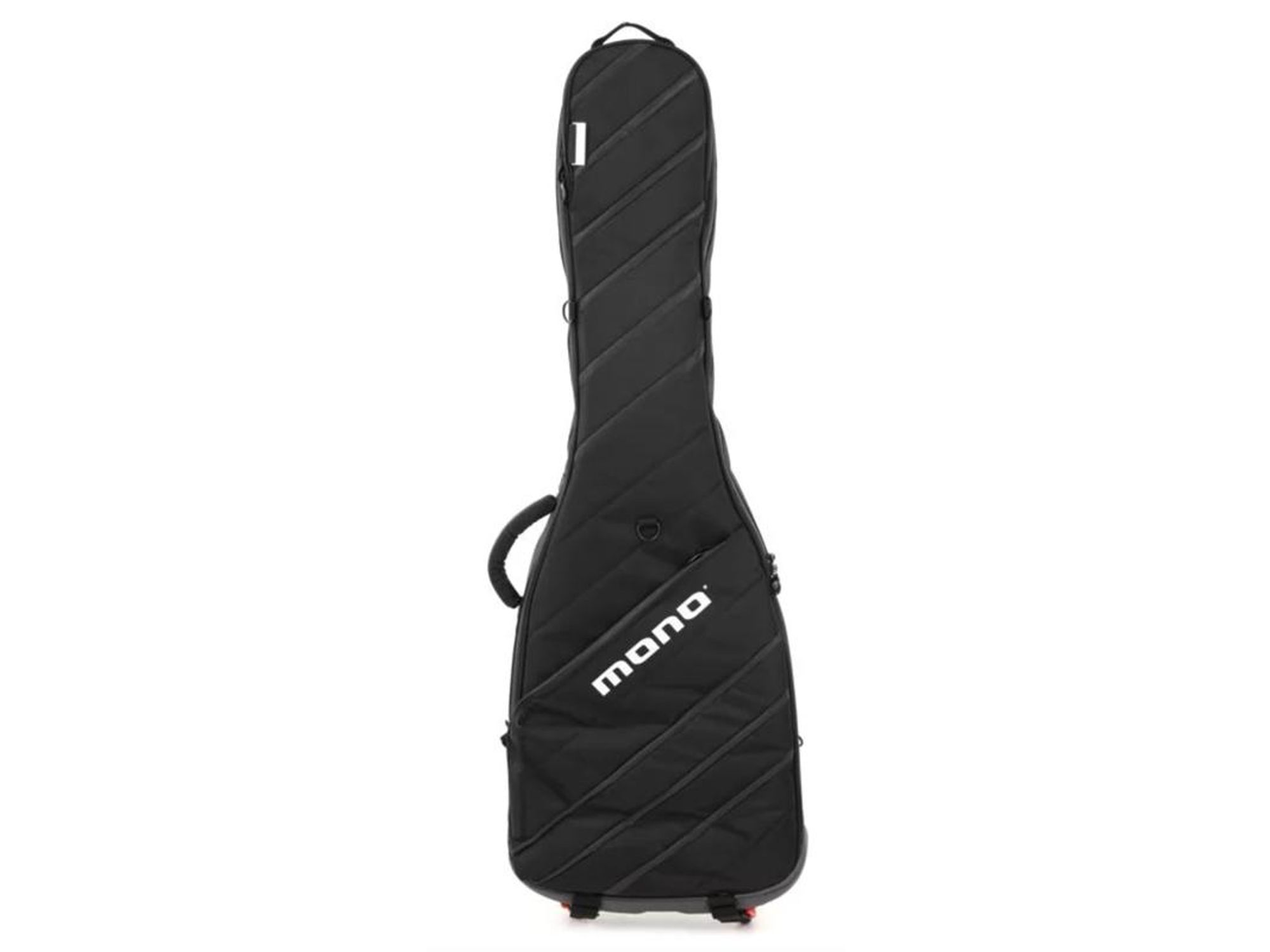 For more information, please visit monocreators.com.
Mono
Designed for affordability without compromising quality, every Collective Series pedals were designed to easily dial in rich tones.
Wampler's Collective Series pedals are packed with features for players of all levels. The Triumph is a versatile overdrive based around two of Brian's all-time favorite overdrives, the Digitech Bad Monkey* and the Boss SD-1*. In typical Wampler fashion, additional EQ stages have been added that allow a variety of different tones as well as internal circuit changes that add polished glassy overtones.
In Classic mode, the Phenom Distortion delivers smooth, tight low-end punch and soaring lead tones. Through a clean amp and single coils this is the most dynamic of distortions, with an open organic presence. Play Phenom through humbuckers and a dirty amp and unleash a fire breathing monster. The Bright mode adds a glassy harmonic overtone which can accentuate different playing techniques and cuts through any live mix. Phenom is a flexible and organic distortion pedal with an original Brian Wampler circuit.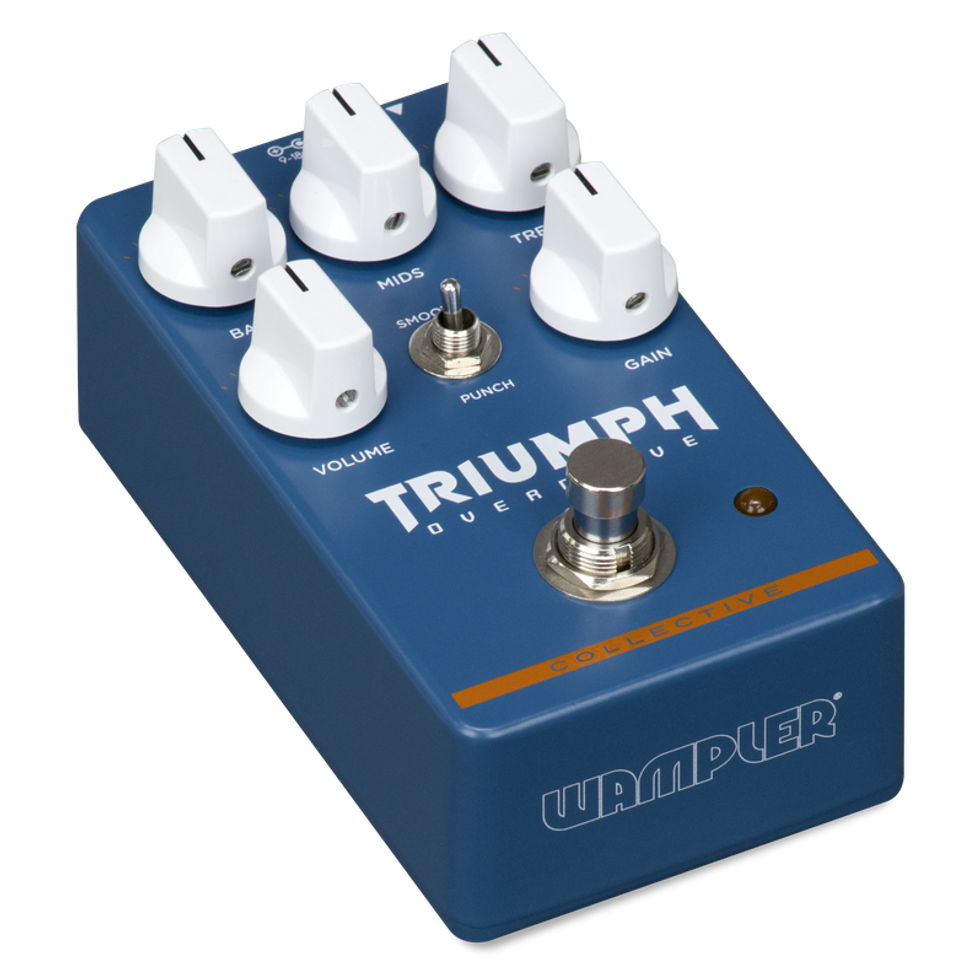 The Triumph offers a two-position voicing switch that selects Smooth or Punch modes, giving you two uniquely distinct flavors of overdrive. Gain, volume, and a three-band active EQ round out the controls allowing perfect tone shaping no matter the application. Triumph will sit beautifully in the mix with assured clarity and a driving, rich tone.

In Smooth mode, the Triumph delivers a progressive gain structure with an unmistakable gritty presence and classic mid-hump profile. Dial in some soulful blues through a clean amp or experience growling bite when you push it through an already crunchy amplifier. In Punch mode, Triumph adds more open tonality, less compression and is more touch sensitive, providing detailed note articulation.
Collective Series pedal designed by Brian Wampler
Dual voice overdrive pedal with switchable voicing modes
Smooth mode for classic liquid gain
Punch mode for added bite and tight low end
High-grade components selected for superior sound and response
Volume, gain and 3-band EQ
Top mounted input and output jacks and power connector
Dimensions: 2.5" x 4.4" x 1.4″ (63.5 mm x 112mm x 35.5mm) – height excludes knobs and switches
Power draw: 21mA, 9-18V DC
Includes limited 5-year warranty
For more information, please visit wamplerpedals.com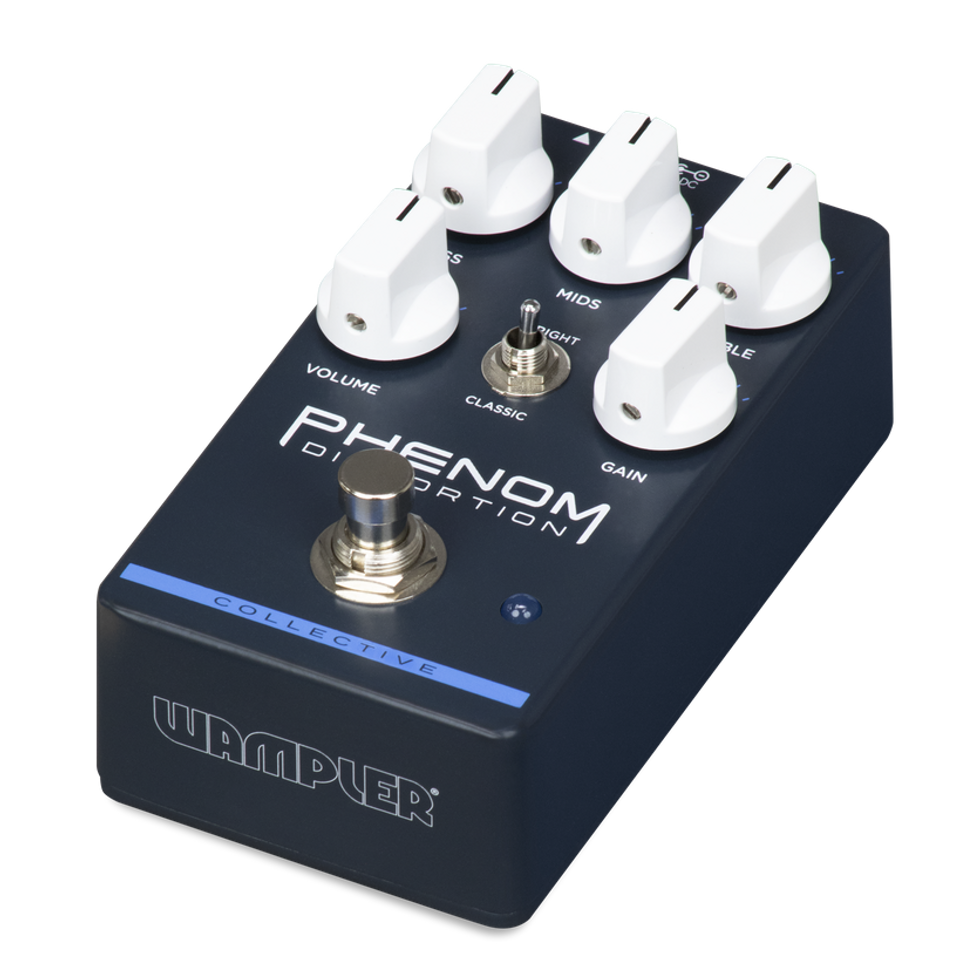 The Phenom Distortion is a dynamic distortion pedal which uses JFET based clipping instead of Op-amp and Diode based clipping and is loosely based on the legendary "5150" style tones. The fets are driven much in the same way that tubes can be cranked to overdrive an Amplifier into a distorted sound courtesy of a unique Brian Wampler circuit design. The Phenom offers a range of tones from a deep, punchy rhythm sound to an ultra-responsive lead tone perfect for soaring solos and crisp harmonics. It has a flexible voicing switch that selects either bright or classic modes, independent gain and volume controls, and a powerful 3-band EQ.
Collective Series pedal designed by Brian Wampler
Dual voiced distortion pedal with switchable voicing modes
Bright mode for added cut and aggression
Classic mode for a smooth, robust distortion
High-grade components selected for superior sound and response
Volume, Gain and 3-band EQ controls
Top mounted input and output jacks and power connector
Dimensions: 2.5" x 4.4" x 1.4″ (63.5 mm x 112mm x 35.5mm) – height excludes knobs and switches
Power draw: 5mA, 9-18V DC
Includes limited 5-year warranty
For more information, please visit wamplerpedals.com