Demeter Announces the Mighty Minnie Pedalboard Amp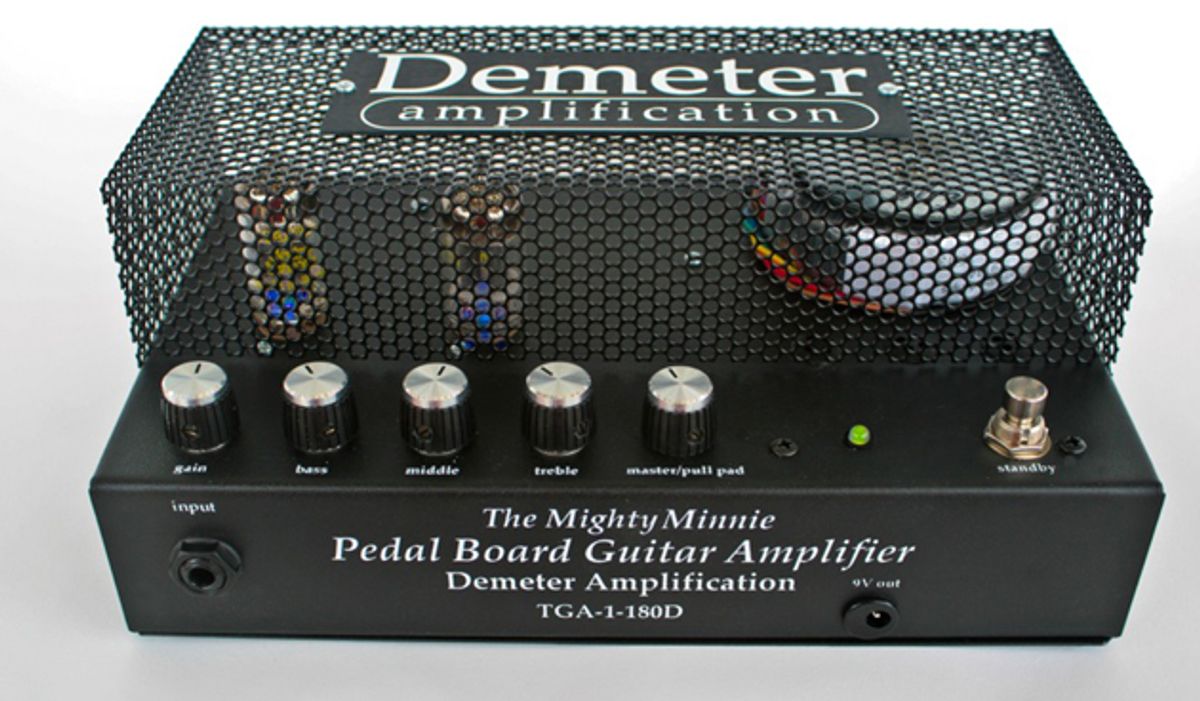 Originally designed for Sonny Landreth, the Mighty Minnie is a hybrid single-channel amp with a handwired preamp.
Templeton, CA (September 25, 2013) -- This amplifier was originally designed for Sonny Landreth, who needed an amplifier small enough to fit on a pedal board. He was tired of being stuck with bad rental amps on the road. (He can't always take his TGA-3 on the plane.) The TGA-1 is an innovative, hybrid single channel guitar amp with the all tube hand wired TGA-3 clean channel pre-amp. This exclusive Tube Driver stage, with a special Jensen audio transformer controls an audiophile Class D power amplifier, retaining the real tube sound. This little amp has an amazing amount of power; 180 Watts into 4 ohms (modern 4x12 cab), 100 Watts into 8 ohms (single or 2 x 12 cab), or 60 watts into 16 ohms (vintage Marshall 4 x 12.) You get a full compliment of controls: Gain, Bass, Midrange, Treble, Master and a standby foot switch with status light. It's the first hybrid that really sounds like a tube amp. Besides our legendary clean sound, the TGA-1 also gets great Edge/OD/Distortion tone when you turn up the gain. The Master control has a pull pot with a 20db pad, so you can get the Gain up and still have range on the Master. For your convenience there's a regulated 9 volt DC output jack to power your pedals. The TGA-1-180D combined with your pedals gets you almost any sound imaginable and you won't have lug around a heavy amp head any more. Proudly hand built in our barn in Templeton, CA.
10" x 7" x 4.25" and weighs 4.5 lbs. List price is $1199.
For more information:
Demeter Amplification