Using Effects Pedals to Enhance Your Tracks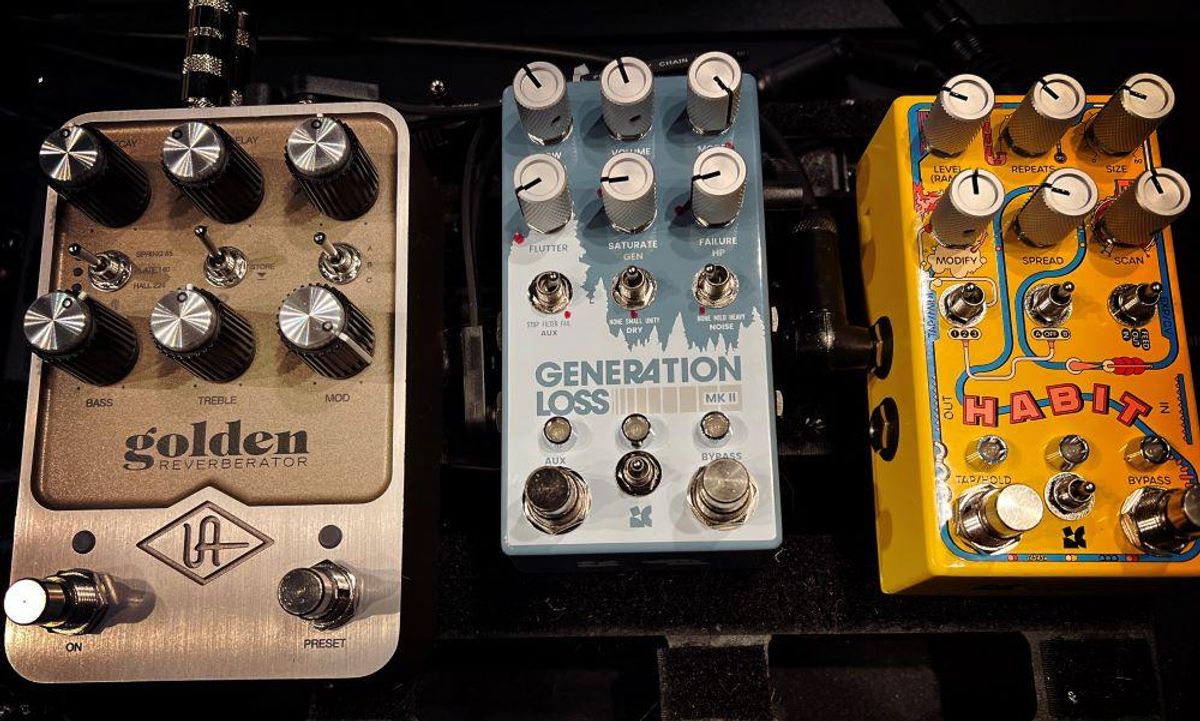 Your favorite stomps are real-time, tactile sound processors. Plug them in and expand your DAW's options.
Welcome to another Dojo. This time I want to help supercharge your creative process by advocating for a hybrid approach to effects processing. Specifically, I want you to embrace using stomp pedals as real-time, tactile effects processors and combine them with your favorite DAW effects and plugins.
---
You should be deeply familiar with how to insert plugins directly on your DAW tracks' aux sends (for serial processing with modulation and time-based effects, like reverbs and delays) or aux buses (for parallel processing, like compressors). But what about guitar pedals? Yes, they're typically used in live performance settings and get a lot of abuse on the stage and studio floor, but with the explosion of modern, programmable, MIDI-capable pedals on the market and their ever-increasing processing power, "lowly" stompboxes are long overdue to be elevated to the same level as rack effects and kept within arm's reach on your mixing desk.
Pedals can add analog warmth, hands-on control, and modularity, are easy on your computer's RAM and CPU resources, are always OS compliant, and retain their value.
Turning Knobs vs. Mouse-Clicking 
When it comes to tracking and mixing, turning knobs on a physical, controllable surface, such as a pedal, mixing console, or MIDI controller, can provide a more tactile and intuitive way to make adjustments to your sound, compared to using a mouse to click and drag on virtual knobs and sliders within your DAW. Let's face it, in the heat of a session this can be tedious—especially if you run out of trackpad or mousepad space while recording or mixing.
But what about exploring some hybrid approaches that take advantage of both formats? After all, plugins provide flexibility, precision, consistency, automation, portability (nothing to lug around), cost-effectiveness (cheaper than outboard gear), and compatibility (the same plugins can work on multiple DAWs). Pedals can add analog warmth, hands-on control, and modularity, are easy on your computer's RAM and CPU resources, are always OS compliant, and retain their value (how much are original Klons going for now?!). They can also help you achieve a unique and personalized sound that can be difficult to replicate with digital plugins and their stock presets. Many modern foot pedals can also handle both line level and instrument level inputs.
Builders—Strymon, Eventide, Boss, EarthQuaker, Empress, Meris, Chase Bliss, and many more—have a wide range of pedals that are MIDI capable and, quite frankly, have processing power that far surpasses many classic rack effects units.
So, I'd like to offer some creative ways to use pedals, in addition to your regular plugins, in your next session or mix:
To start, duplicate the track(s) you want to process with your effects pedal(s) in your DAW and route the output of those tracks to one or two of your line outputs on your interface. Depending on the pedals in question, you may have options for mono in and out, mono in/stereo out, or stereo in and out. Connect all relevant cables and connect the output of the last pedal to the input of your interface. If your incoming signal is low, switch from line to mic on your interface for each input.
Next, in your DAW, create one mono or one stereo track, depending upon how you are going to return the processed signal from your interface and record-enable the track(s). Now you're ready to record new, processed material (from one pedal or your entire pedal board!) in real-time and take advantage of every parameter on each pedal.
You can now use your pedals to adjust distortion levels, reverb, and delay times in real-time (with all the glorious artifacts, glitches, and smears), as well as adjust tremolo rates and chorus depths on the fly. Get creative! Take chances and invite any and all happy accidents!
One particular approach I love is throwing loop pedals into this equation, after all the other pedals, for some wild, abstract processing. My signal flow usually goes from overdrive to mod-based effects (chorus, phaser, tremolo) to time-based effects (delays and reverbs) followed by a looper. At present, my favorite looper pedal for this by far is Habit by Chase Bliss ($399 street). It has three minutes of loop time and can take user-definable snippets of your loop, play them back asynchronously, feed that back into the loop itself, and record all modifications as well (and this is just scratching the surface). Highly recommended!
Combine this "out-of-the-box" technique along with your normal "in-the-box" workflow and you should be creating some pretty amazing sounds. Let me know if you find a cool approach! I'll share it in the Dojo channel.
Until next time, blessings, and continue to share your gifts with the world. It matters, and you matter!