Acoustic Gear Finds June 2021
Don't miss the latest and greatest gear finds for your acoustic!
---
Cole Clark Guitars
The Cole Clark CCFL2ECRDBL Acoustic-Electric Guitar is designed for the guitarist who demands the highest standards in an instrument. The 2 Series FL Dreadnought guitar is the go-to choice for every player looking to have ultimate control of both the acoustic and plugged-in performance environments, with Cole Clark's signature 3-way pickup system and beautiful, sustainably-sourced, natural Redwood and Blackwood timbers.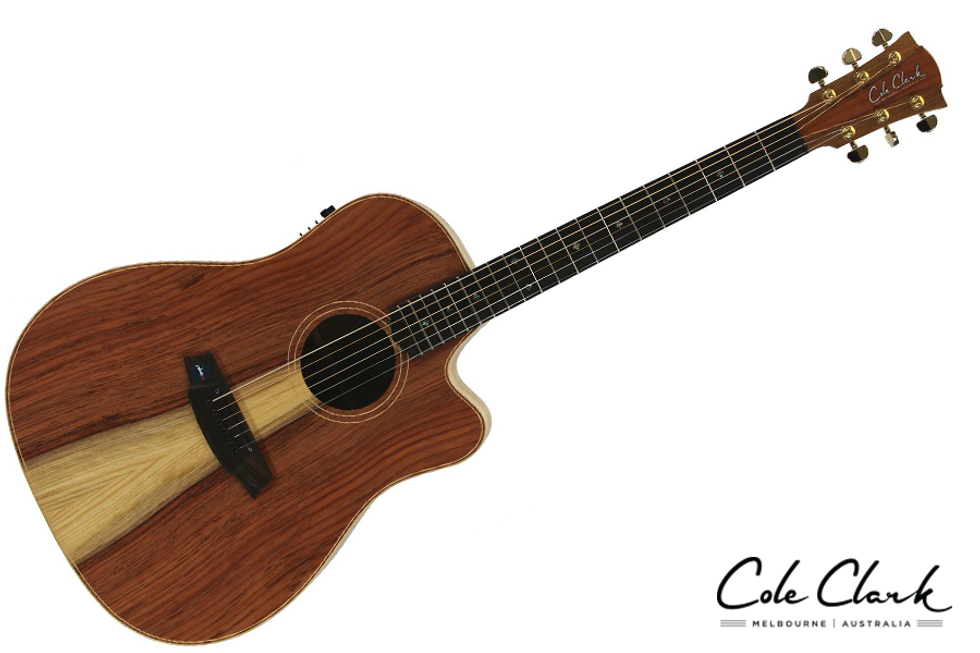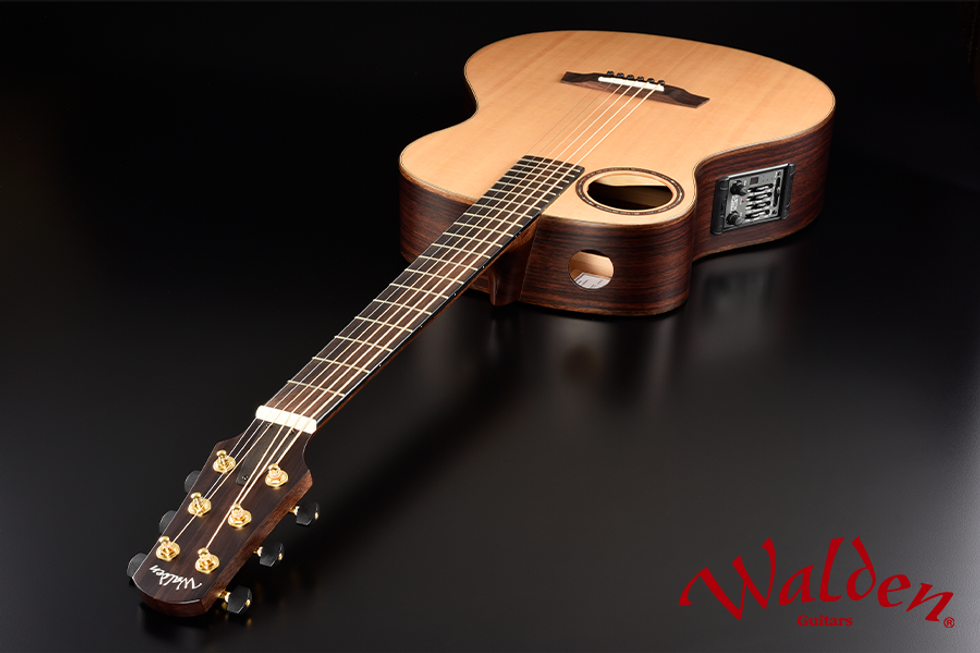 "I love this thing, I can't put it down. It's kind of like having a piano in your lap, you got all the low end for bass lines, and you got chords that you can strum on top, even alternating simple bass lines. There's all kinds of fun you can have with this thing!" ~ Sean Harkness, NYC

Typically tuned to B, the Baritone provides a clear low end response perfect for soloists, singer-songwriters, percussive finger-style players, or guitarists who crave a walking bass line while comping chords.

With its offset soundhole, side-port, and solid Sitka spruce top with innovative low-mass bracing, the Walden B1E sounds sonically excellent while incorporating the more comfortable Grand Auditorium body shape. A graphite reinforced Mahogany neck contribute to stability and its 27″ scale length and 1-13/16″ nut width contribute to the B1E Baritone's transparent playability.

Click here to watch videos
Click here for more information
Click here to follow Walden Guitars on Instagram
Walden Guitars
PRS
The PRS SE P20E is a parlor-sized acoustic with a big voice. Features include all-mahogany construction and PRS hybrid "X"/Classical bracing, which allows the top to freely vibrate, the SE P20E projects with even, bold tone. Its smaller size makes playing for hours fun and comfortable and allows for more convenient transport.
Plug in the Fishman GT1 pickup system, and it delivers dynamic, organic tone. This electronics system features an undersaddle pickup and soundhole mounted preamp with easy-to-access volume and tone controls, which essentially transforms what some may consider a "couch guitar" into a workhorse stage instrument.
Available in three satin finishes with herringbone rosettes and accents. Other high-quality features include a solid mahogany top, ebony fretboard and bridge, and bone nut and saddle. Gig bag included.
Click here to learn more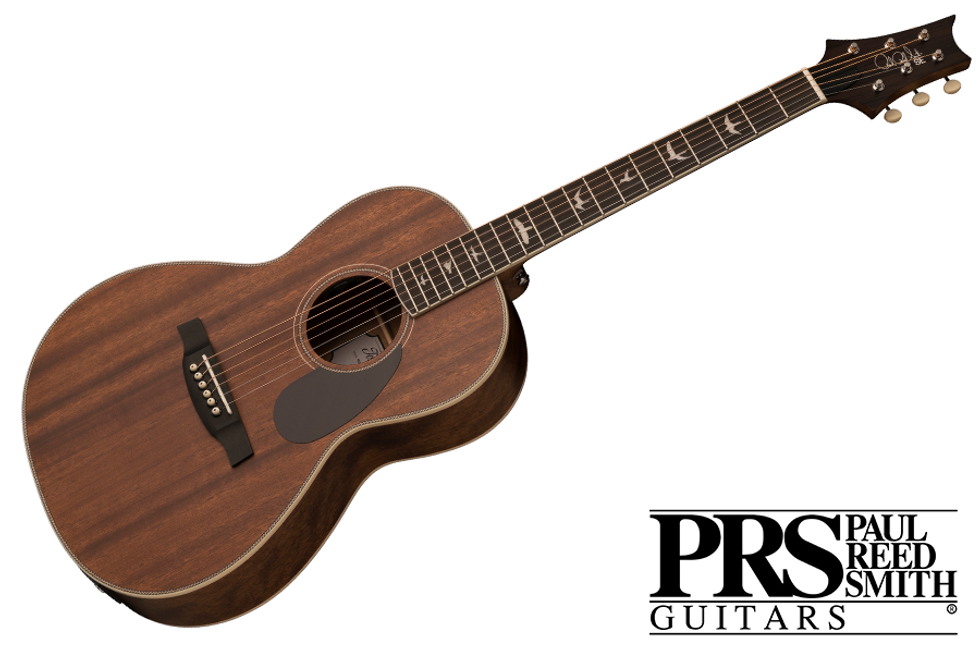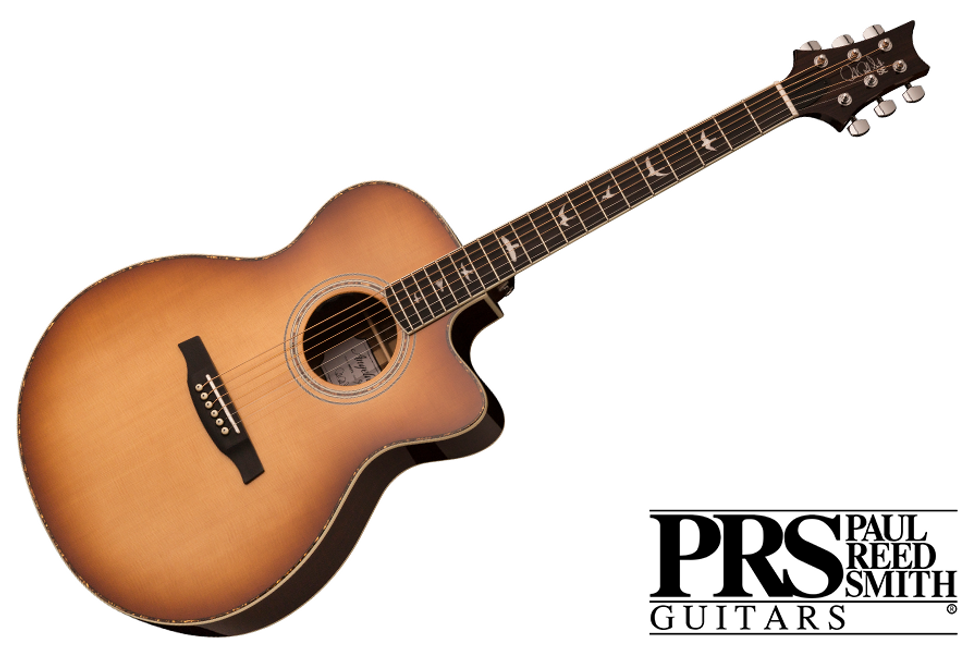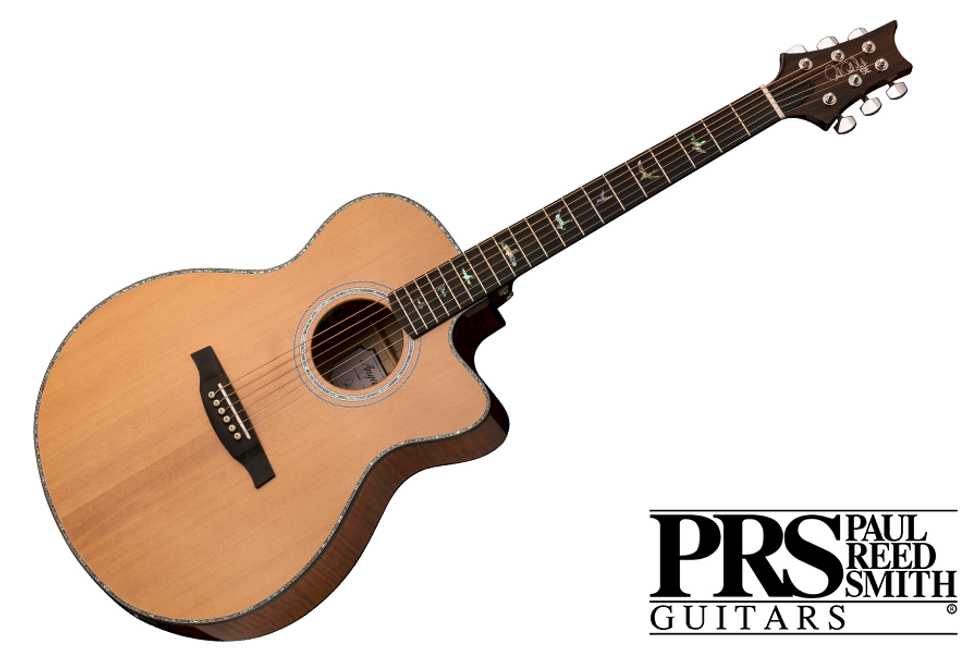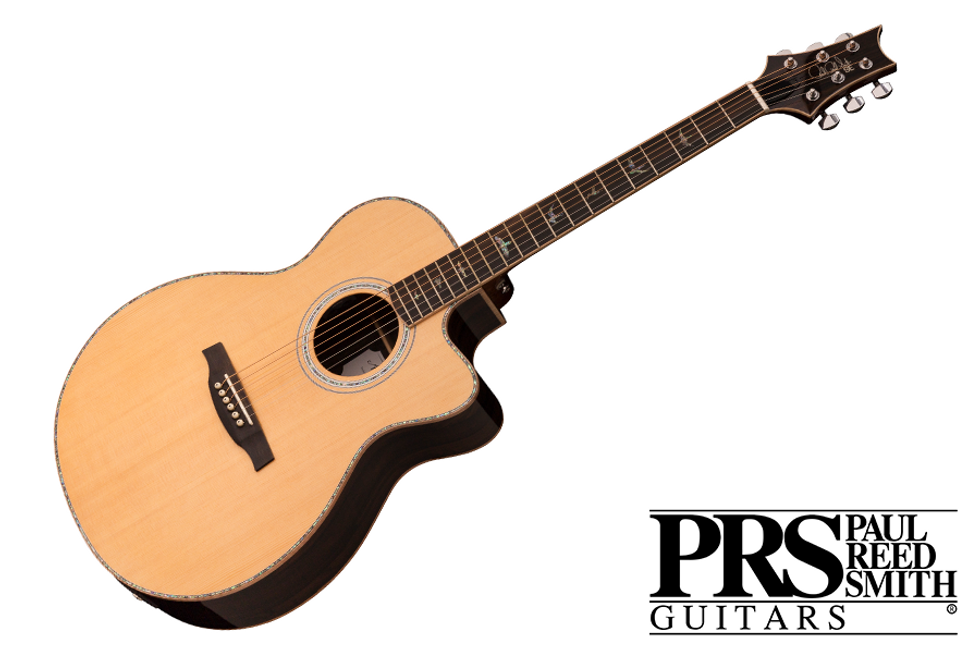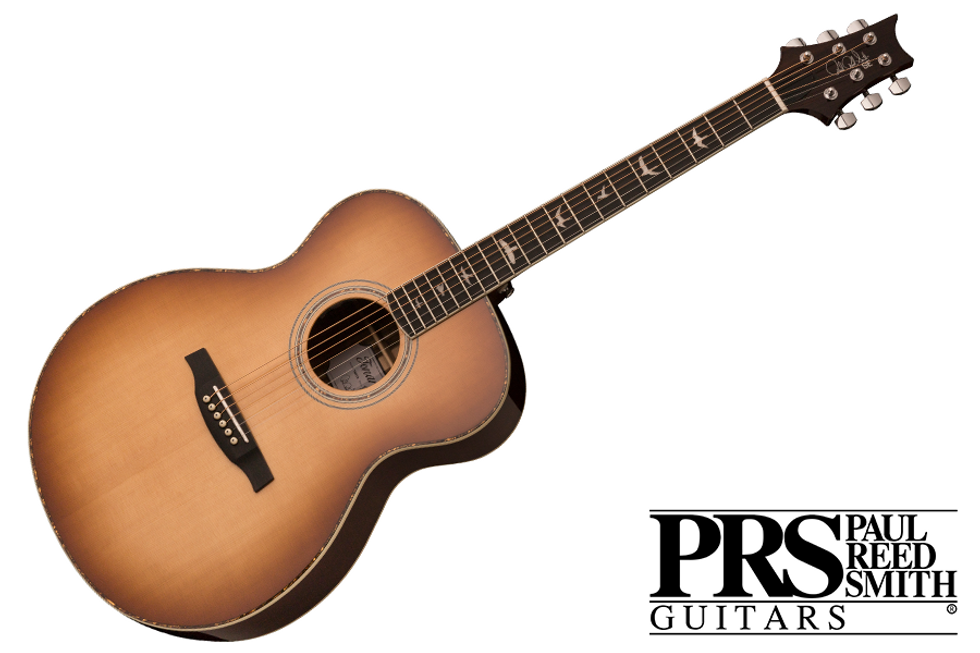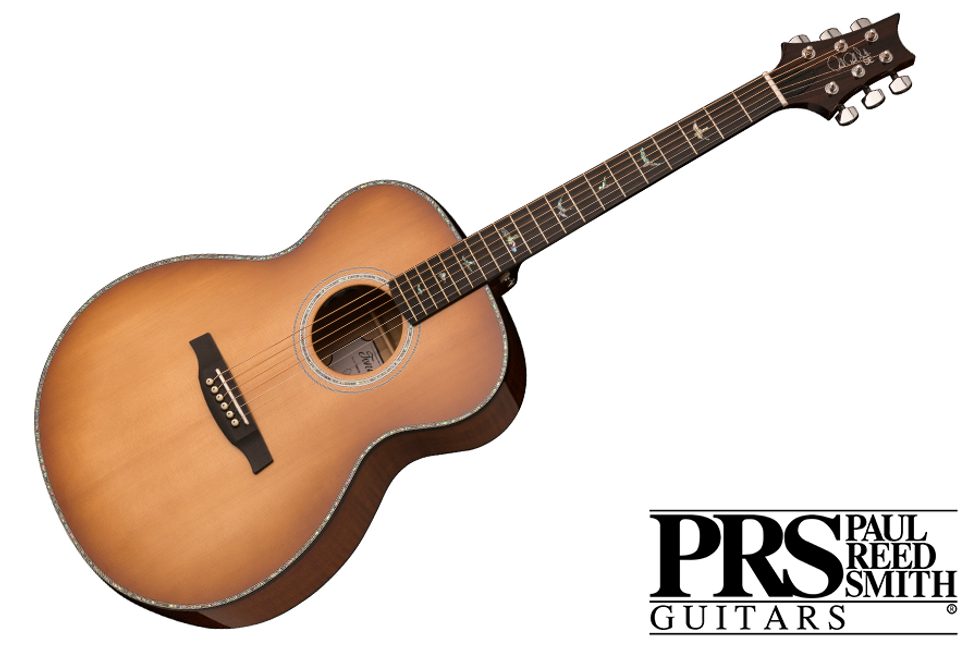 Tanglewood
Inspired by the guitars made in the 1930s, the Tanglewood Blackbird series evoke traditional values, yet offer the benefits a guitar manufactured in the modern era. These guitars feature hand-selected tone woods and a unique bracing pattern. The Blackbird Orchestra electro-acoustic guitar is carefully braced to environments, with Cole Clark's signature 3-way pickup system and beautiful, sustainably-sourced, natural Redwood and Blackwood timbers.
Click here to learn more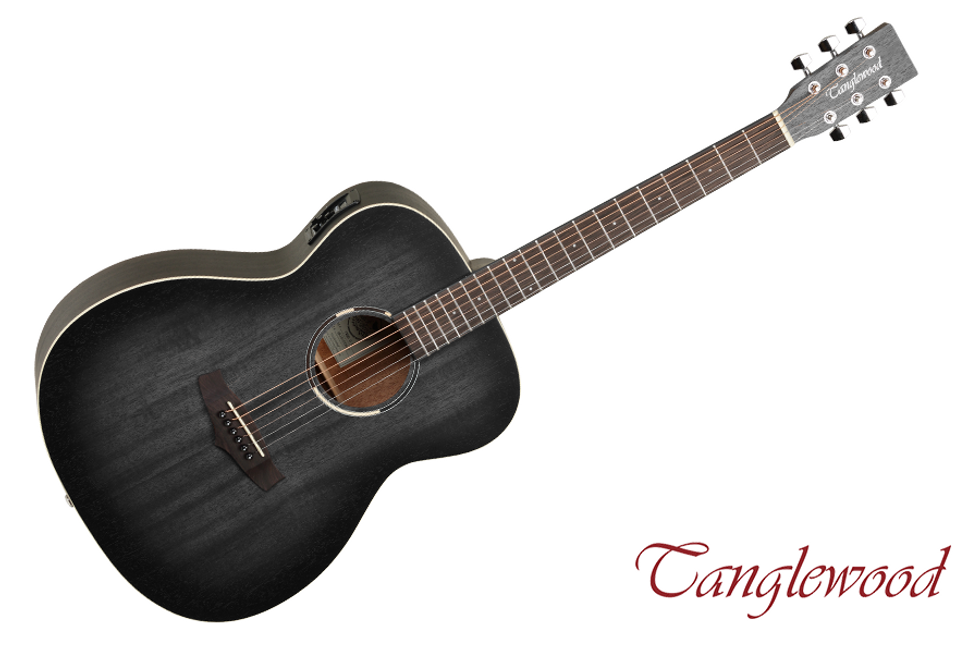 Taylor Guitars
Taylor's popular, compact GS Mini has brought countless hours of guitar-playing joy to musicians of all stripes, and the GS Mini-e Koa Plus takes the fun to a new level with elevated aesthetic details. Back and sides of layered Hawaiian koa pair with a solid koa top for a punchy, bold sound with surprising power and volume for a small-bodied guitar with a scale length of 23-½ inches, while the 1-11/16-inch nut width makes forming chords a breeze. A dusky edgeburst accentuates koa's natural grain and luster around the top, back and sides, while other notable features include nickel tuners, a three-ring rosette, and a genuine West African ebony fretboard. It includes onboard ES2 electronics and Taylor's new AeroCase®, a soft yet sturdy case with all the protection of a hardshell case at one-third the weight.
Click here to learn more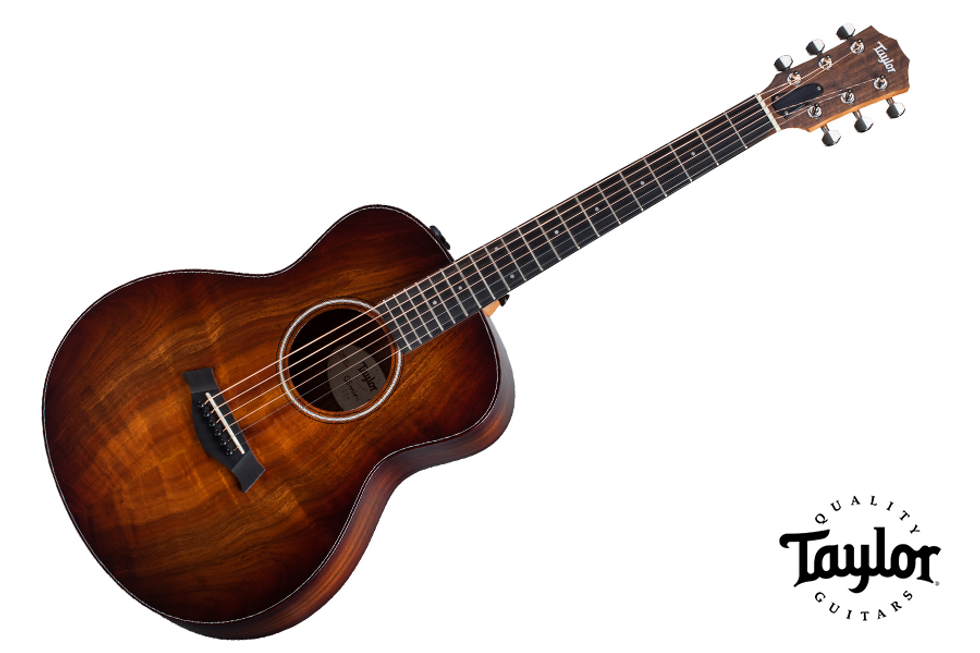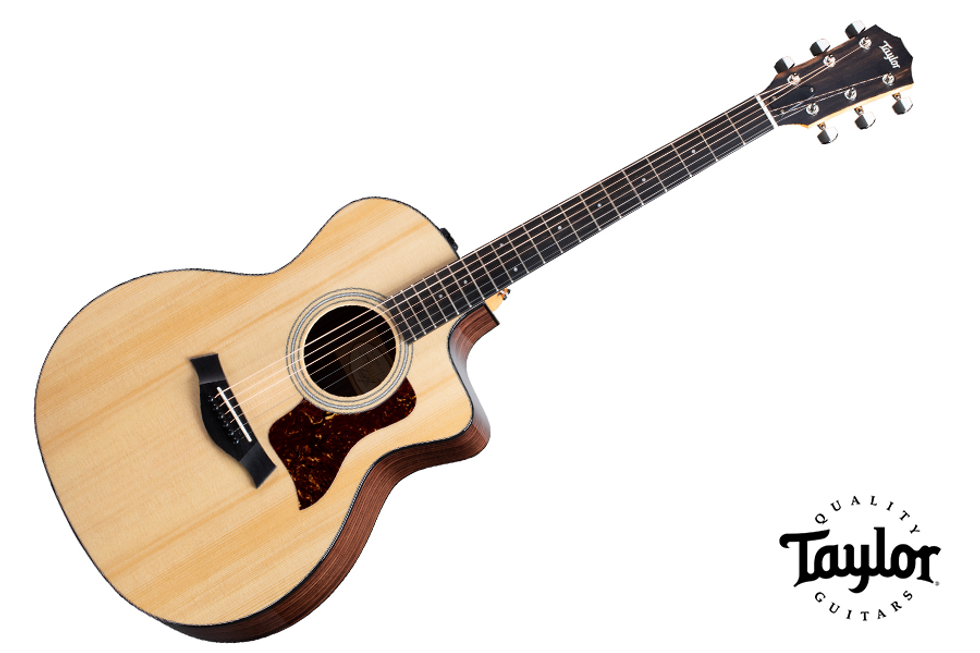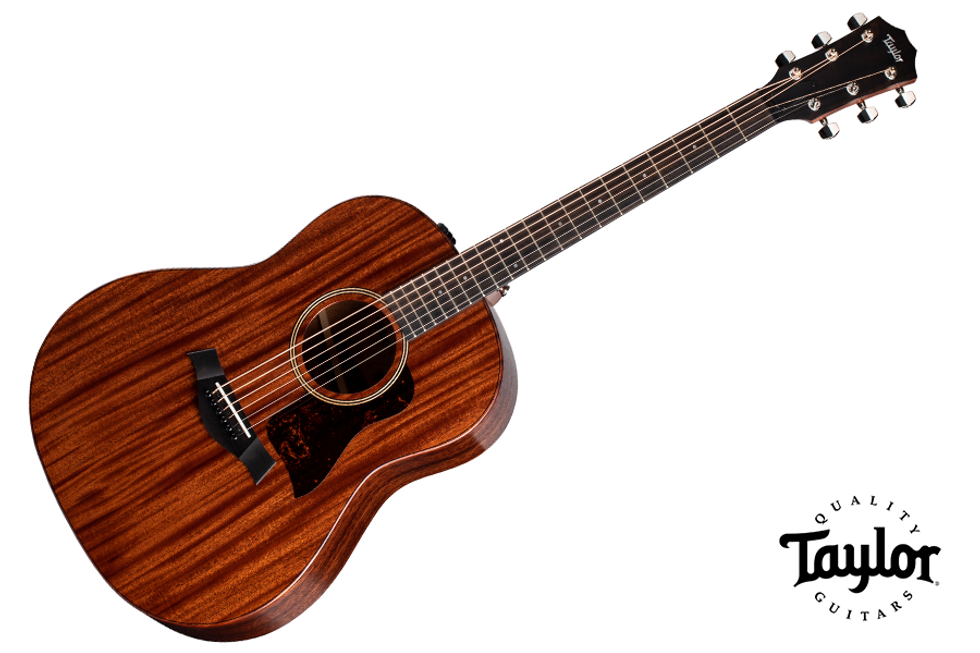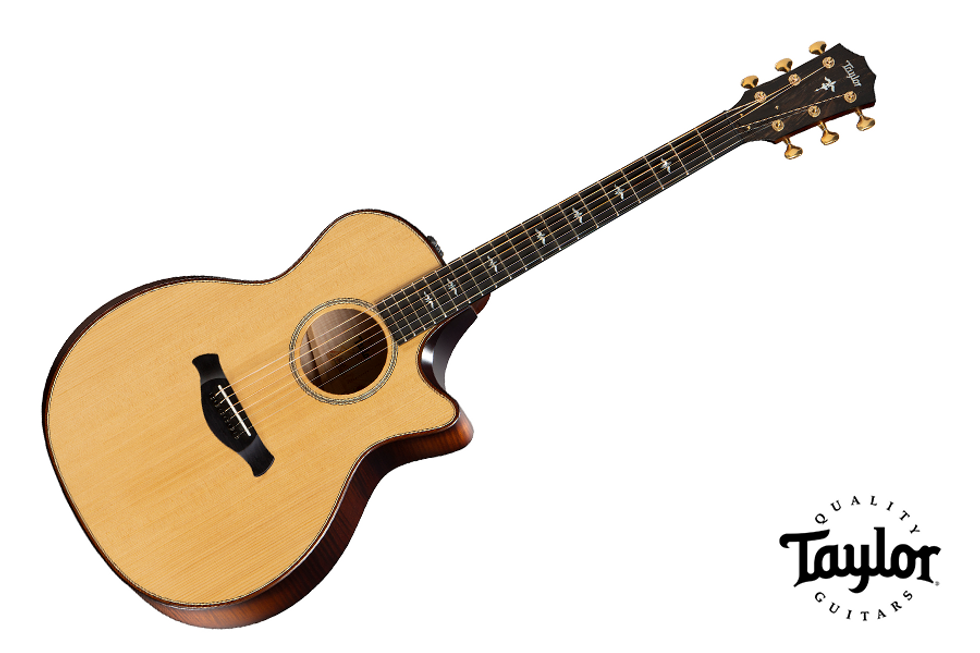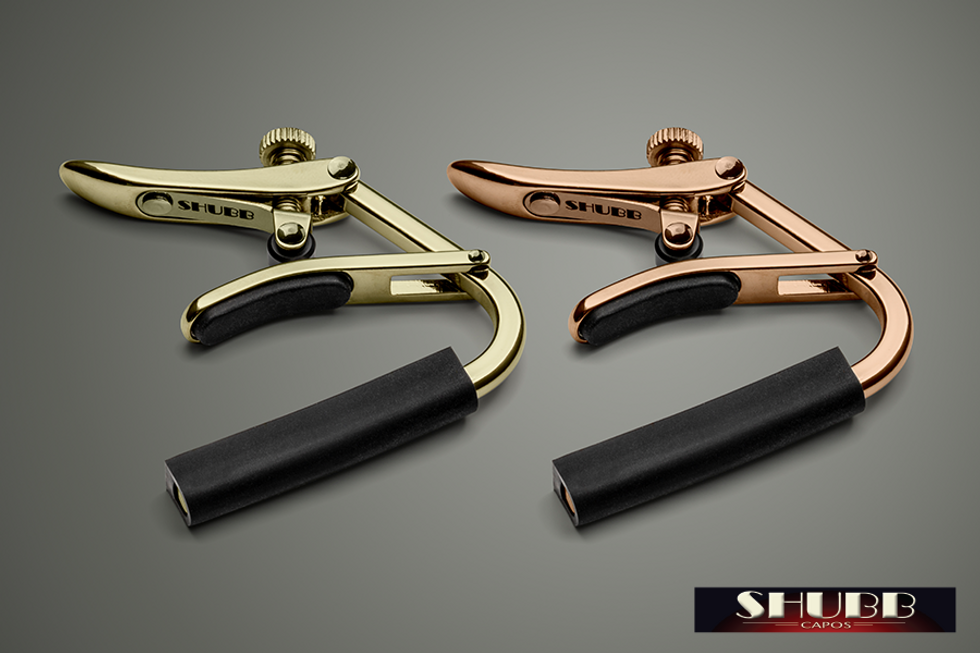 Adding to the company's line of premium capos, Shubb has introduced the new Capo Royale Series, featuring durable gold finishes that deliver long-lasting beauty.

Available in two lustrous finishes – Gold and Rose Gold – the Capo Royale Series brings a distinctive visual flair to Shubb's famed capo design, revered since 1980 for its ability to provide flawlessly clean fretting while keeping the instrument in tune.

For many years Shubb has received requests for a gold plated Shubb Capo. While gold is undeniably beautiful, it is not at all durable; it will wear off far too easily and quickly. It is also famously expensive. Now, Shubb has developed a high-tech technique for creating a gold-toned titanium finish. It possesses all the beauty of real gold, but is as durable as any metal finish in the world.

Click here to watch videos
Click here to learn more
Click here to follow Shubb on Facebook
Shubb Capos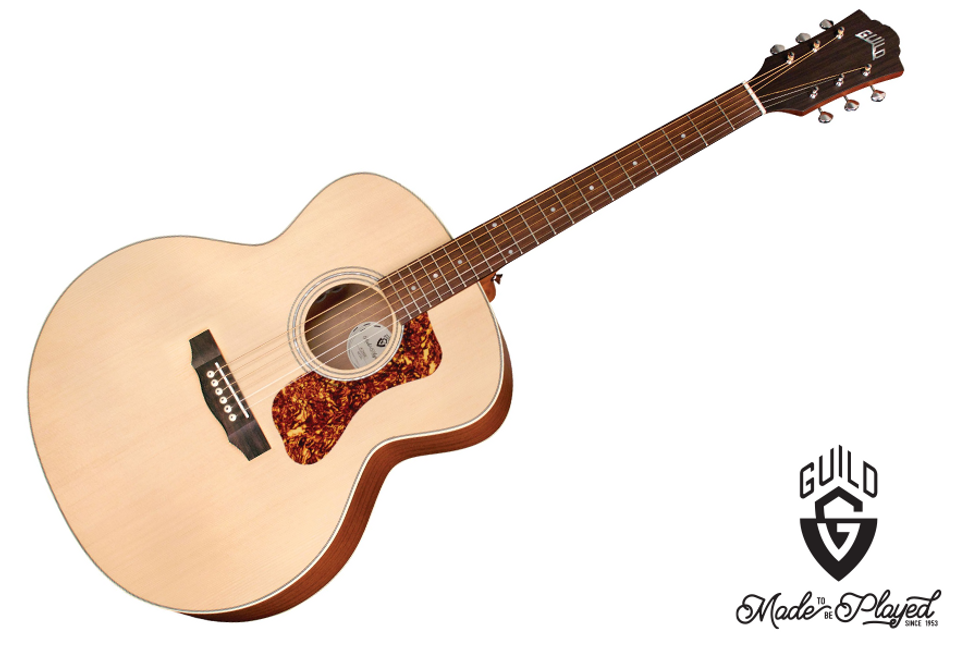 Guild's most affordable jumbo yet! The F-240E is a tone cannon at a player's price. Built with a solid spruce top, mahogany sides, and an arched mahogany back, the full-bodied and powerful voice of this Guild Jumbo provides guitarists with historically-Guild acoustic tone and voicing. Guild's signature arched back design allows for enhanced volume and projection, long sustain, and a lush, full sound. The F-240E features Guild's Fishman-designed AP-1 electronics, a pau ferro fingerboard and bridge, bone nut and saddle, mother-of-pearl rosette, period-correct tortoiseshell pickguard, and a satin polyurethane finish.

Click here to see videos
Click here to learn more
Click here to follow Guild Guitars on Instagram
Guild Guitars
Blackstar Amplification ACOUSTIC:CORE30
Blackstar Amplification
The Blackstar ACOUSTIC:CORE 30 was designed to give singer/songwriters the ability to get a professional sound without any sound engineering expertise, then share it via live streaming or recording, or live performance. All in a compact easily portable combo with the option of battery power. This take-anywhere acoustic amp is designed for the way you play today: streaming, recording, practice or live.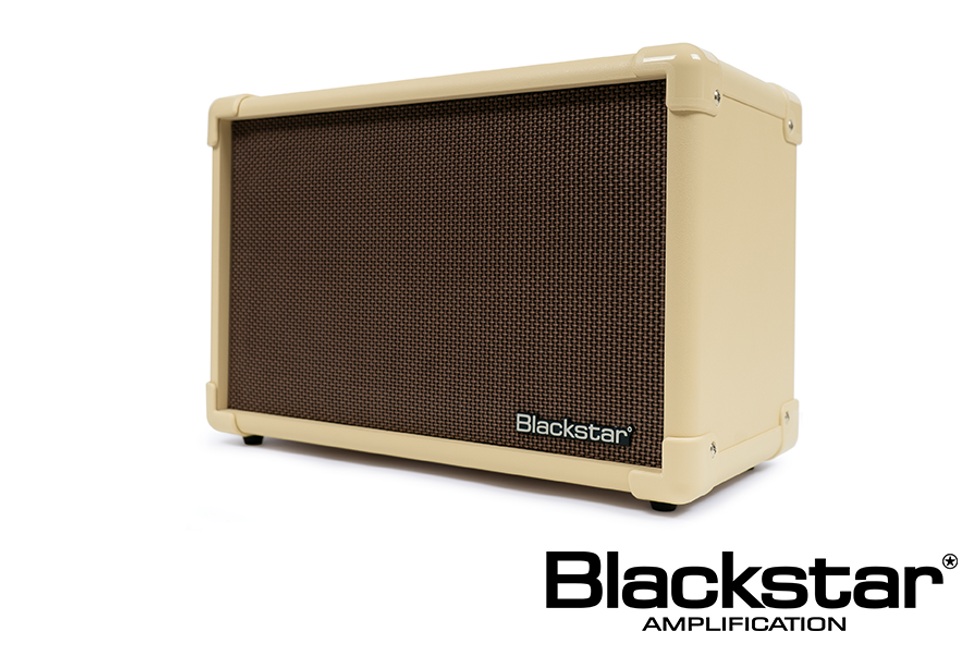 Santa Cruz Guitar Company
Santa Cruz Guitar Company has made it even easier to order the custom acoustic you've always wanted. They invite you to email them directly at scgc@santacruzguitar.com to be walked through the design process, where they will take the time needed to answer all your questions about models, tonewoods, structural options and aesthetics to ensure you will receive the heirloom acoustic that is right for you.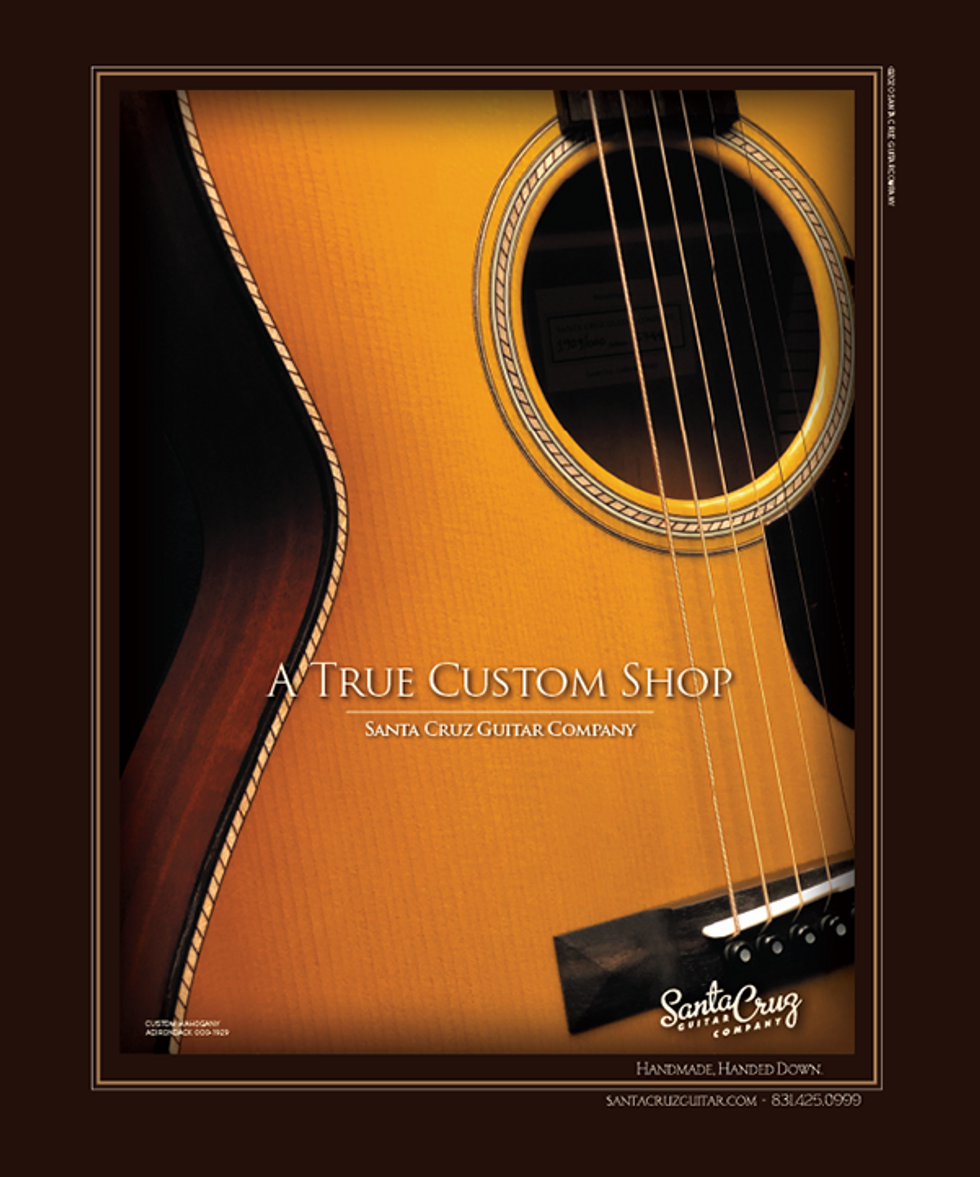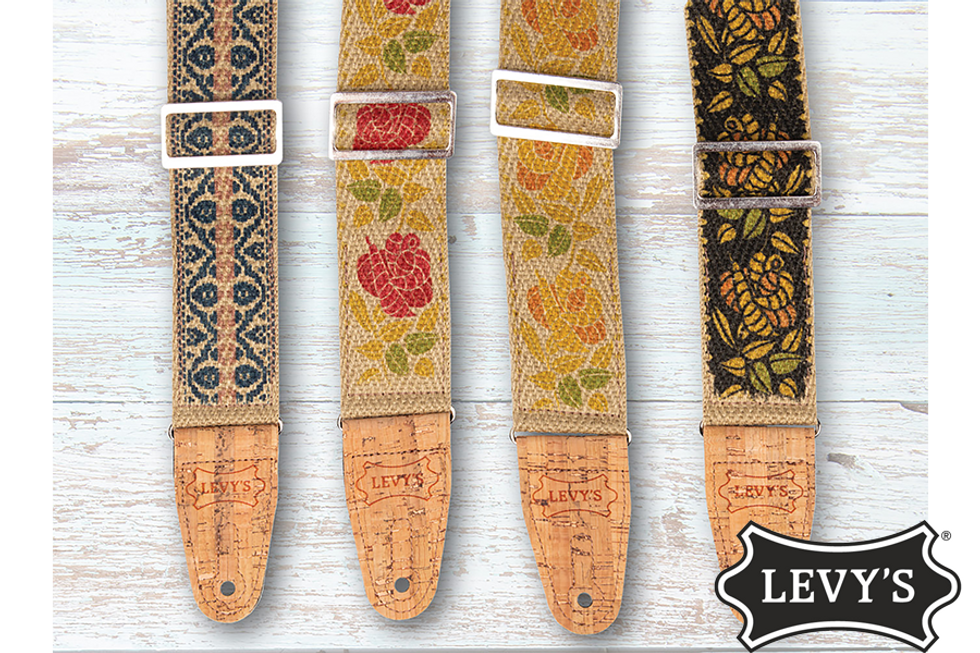 The New MH8P Series Vegan Hemp Series guitar straps by Levy's come in four new beautiful motifs and measure 2"/51mm in width. These organic straps are cruelty-free using sustainable materials and extend from 37"/940mm to 62"/1572mm via silver-colored tri-glide sliding adjustment. Natural hemp webbing and durable 2-ply cork ends safely support your instrument, along with pinhole stitching on both ends to prevent stretching. To address the issue of pick dropping encountered by almost every gigging guitarist, the MH8P Series comes equipped with a convenient 2.5"/64mm inside pocket to provide quick access to extra picks. Hand-crafted in Novia Scotia.

Click here to learn more
Click here to follow Levy's Leathers on Instagram
Levy's Leathers
LR Baggs
The product of nearly 3 years of intensive research and collaboration with a team of PhDs, LR Baggs is thrilled to introduce Voiceprint DI, the next breakthrough chapter in acoustic amplification. Voiceprint DI measures the acoustic response of your guitar by leveraging the processing power of your iPhone® to accurately capture your guitar's one-of-a-kind voice. A Voiceprint is created, transforming your pickup into the most authentic sound we have engineered in our 40+ years.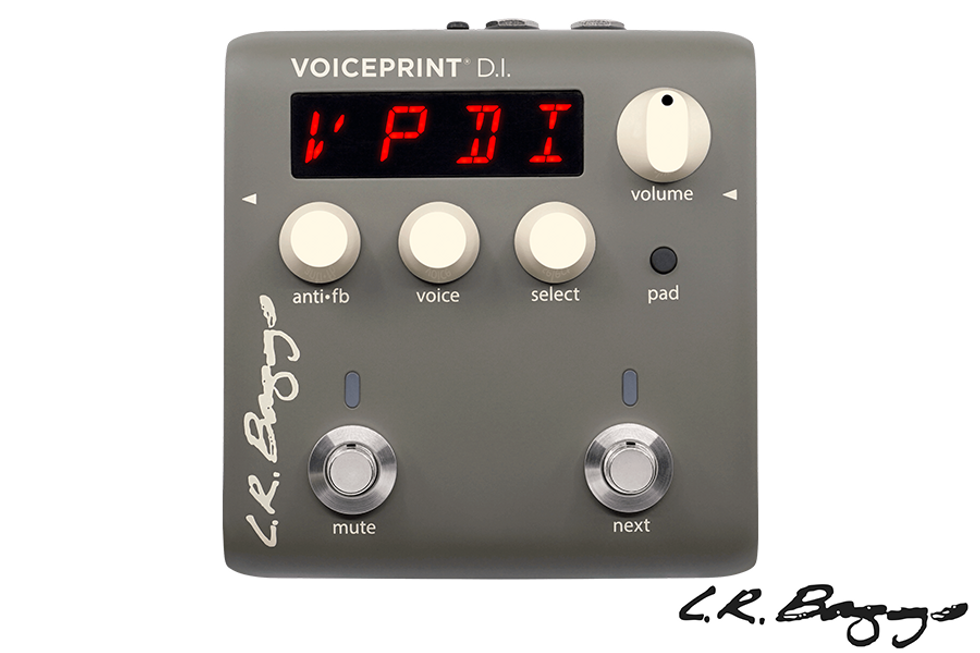 Henriksen Amplifiers
Raise your hand if you only own one guitar… that's what we thought. But do you need a different amplifier for each one? The Bud from Henriksen is no ordinary amplifier; it sounds just as amazing with your acoustic guitars as it does with your electric guitars, regardless of style. The Bud is just 13 lbs and 9"x9"x9" but packs 120 watts of power and a pro-grade feature set that you can truly gig with, record, teach, or just practice.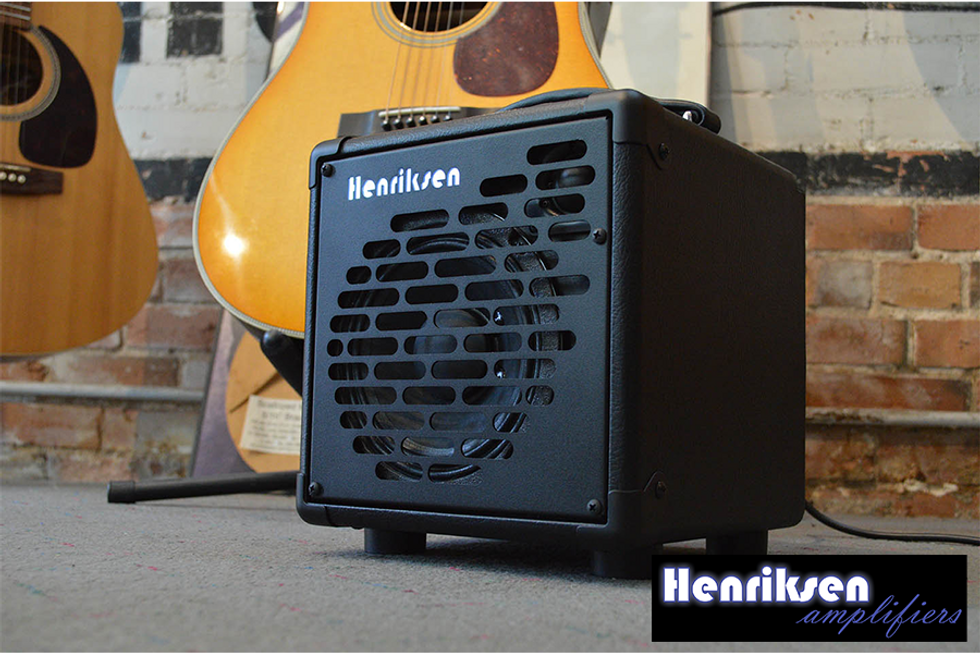 Breedlove Guitars
Powerful and responsive like a dreadnought, tonally the acoustic electric Breedlove Jeff Bridges' Signature Model emphasizes the unique qualities of myrtlewood, with a deep rosewood-like bass, the fundamental clarity of mahogany and the enchanting shimmer of koa. The Breedlove Jeff Bridges signature "All in this Together" project benefits Amazon Conservation Team, which works in partnership with indigenous colleagues to protect rainforests.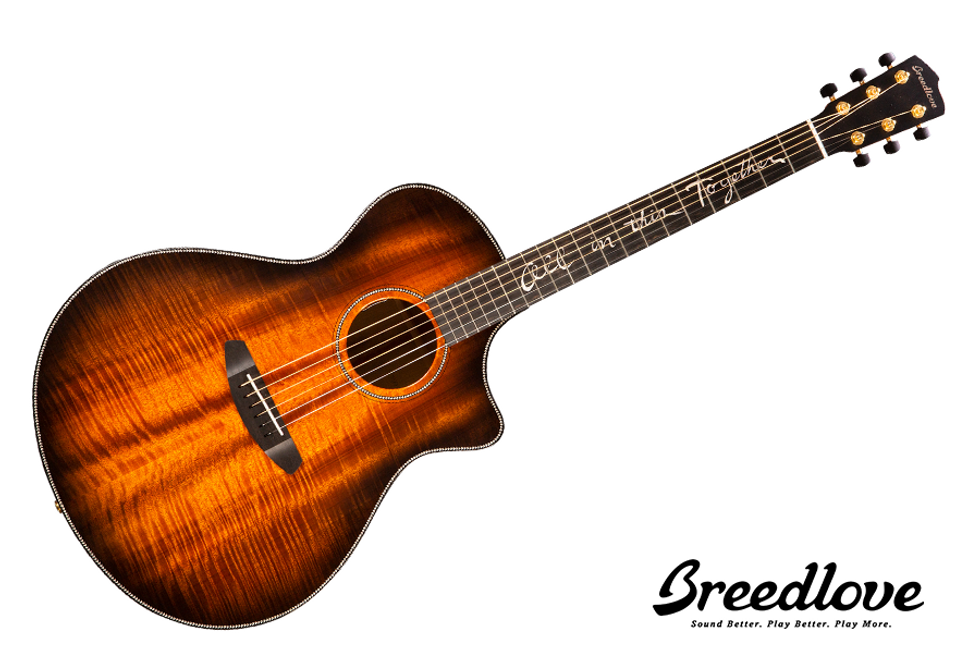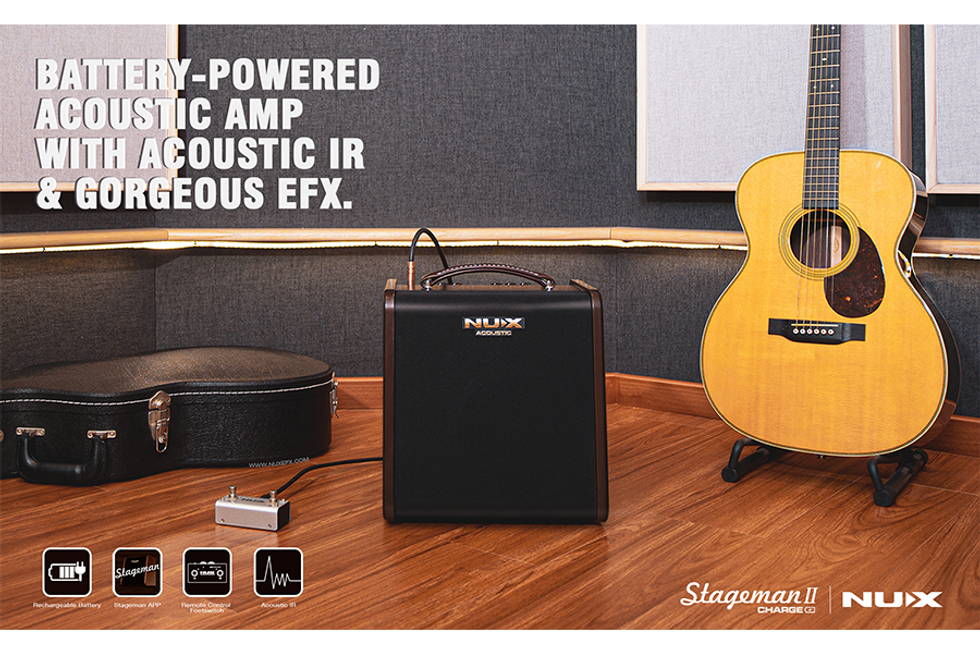 NUX Stageman II Battery-Powered Acoustic Guitar Amplifier features a pure analog preamp with NUX's iconic Core-Image post-effects. It has specific EQ scenes for finger-style as well as strum-style in channel 1, and you can engage built-in Acoustic IRs with a dedicated mobile APP. Acoustic IR is the new trend to make your acoustic sound as natural as micing. Stageman II keeps Drum & Loop, you can control by the original NUX NMP-2 foot-controller. And the built-in rechargeable battery can let you busk on the street for 4 hours.

Highlights:
- 80-watt rich warm sound acoustic amp with 6.5" premium speaker and 1" tweeter
- Rechargeable battery for 4.5 hours outdoor performing
- Built-in Acoustic Impulse Response
- 2 independent channels with routing adjustable post-effects
- Mobile APP for editing and control
- Drum & Loop (60s phrase loop)
- Bluetooth Audio Stream
Click here to learn more
Click here for audio clips
Click here for video
Click here to follow NUX on Instagram
NUX
Photo by Claire Marie Vogel
The breakout songwriter-guitarist revels in her truest self on Revealer, staying playful and curious through experimental tunings, a rubber-bridge guitar, and other tone toys, while keeping the essence of the song paramount—a treasured approach she gleaned from the influence of Joni Mitchell.
For Madison Cunningham, the greater good of the song always comes first. But while the song itself is always king for the Los Angeles-based singer/songwriter/guitarist, her tunes are rendered with striking features that can't help but draw the ear deeper. Whether you're snared by her poetry, her beautiful voice, her wonderful sense of melody and composition, or her dexterous and often unexpected guitar playing, Cunningham's songs tend to contain multitudes. She is the rare breed of artist who pens earworms with the kind of depth and intrigue that musos go crazy for. It's a magic trick that's earned her comparisons to the legendary Joni Mitchell (who Cunningham cites as a key influence), and it's also earned her four Grammy nominations and plenty of famous fans as a songwriter's songwriter.
With her highly anticipated third album, Revealer, Cunningham set out to discover who she truly is as an artist and songwriter beneath the layers she built up after a few turbulent years in the music business. The resulting collection of songs conveys a sense of honesty and authenticity that feels rare in the era of social media. Revealer cohesively blends sounds pulled from indie-rock living with chamber-pop arrangements, and Cunningham's folk-songwriting fundamentals are supercharged with killer guitar ideas. And while those refreshing riffs form the foundation of many of Revealer's songs, she contextualizes the guitar's place in her world and on Revealer in her own words.
Madison Cunningham - Hospital (Live Performance)
"This record was me trying to get back to my interest again," she explains. "I went through such a weird, barren creative time before it that I was like, 'God, what do I actually enjoy playing or writing?' My whole journey as a guitar player, from the moment I started playing to now, has been trying to find my voice and my home in it. It's such a versatile instrument and it's been established by so many incredible innovators. I'm always trying to find a new way into it that feels like me. My sense of who I am is always changing, so there was certainly a lot of energy spent trying to figure out where the guitar belonged on this record, as opposed to the last one, where I felt a little more sure about where I was going. On this one, I was kind of happily lost in trying to figure it out."
Cunningham admits that navigating the uncertainties made it a difficult record to make at times. However, the process yielded some incredibly cool guitar moments, including the album's opening track, "All I've Ever Known," a song that, Cunningham says, "feels very true to the way I view harmony and rhythm, overall." The song opens with a playful, melodic hammer-on lick that recalls the late Jeff Buckley's best work—a lick that Cunningham stumbled over at soundcheck during a dark period of a long tour and haunted her until she returned home.
"If someone's only take-away from my music is, 'Sick guitar tone, bro,' I would be bummed. That compliment is always just slightly offensive to me, because it means you didn't get anything from the song and the guitar stole the show."
"That song and 'Anywhere' reflect back the things that I love most in songwriting," she shares. "We were in the middle-of-nowhere Ohio, and it was literally nine below. We were cold and grumpy, and we were warming up onstage. I was just at the point where I'd toured so much that year that I was so tired of hearing the songs we were going to play that night, and that riff came out of nowhere. I just found it at soundcheck, and it made all sorts of sense in certain parts of the fretboard. My band and I jammed on it at soundcheck, and I have this voice memo of it that I took home with me. The first week that we were off tour, I just sat in my house and finished it. It all came out at once."
Another standout guitar moment on Revealer is the fuzzy, snaky, baritone-esque guitar line that underpins the single "Hospital." The riff opens the song and dances with Cunningham's soaring vocal line and a lovely string part. It's an idea that really shows off Cunningham's knack for penning intriguing and fun guitar parts that don't overshadow a song's spirit; it's simply a colorful character within the song. Cunningham describes the origins of "Hospital" as "a test to see if I could just write a simpler song with fewer chords and to not make it about the guitar." And the composition came about in a different order than usual. "The song itself did come first and then I figured out what the guitar needed to be after the basics were written," she says. "Usually for me, it's the reverse."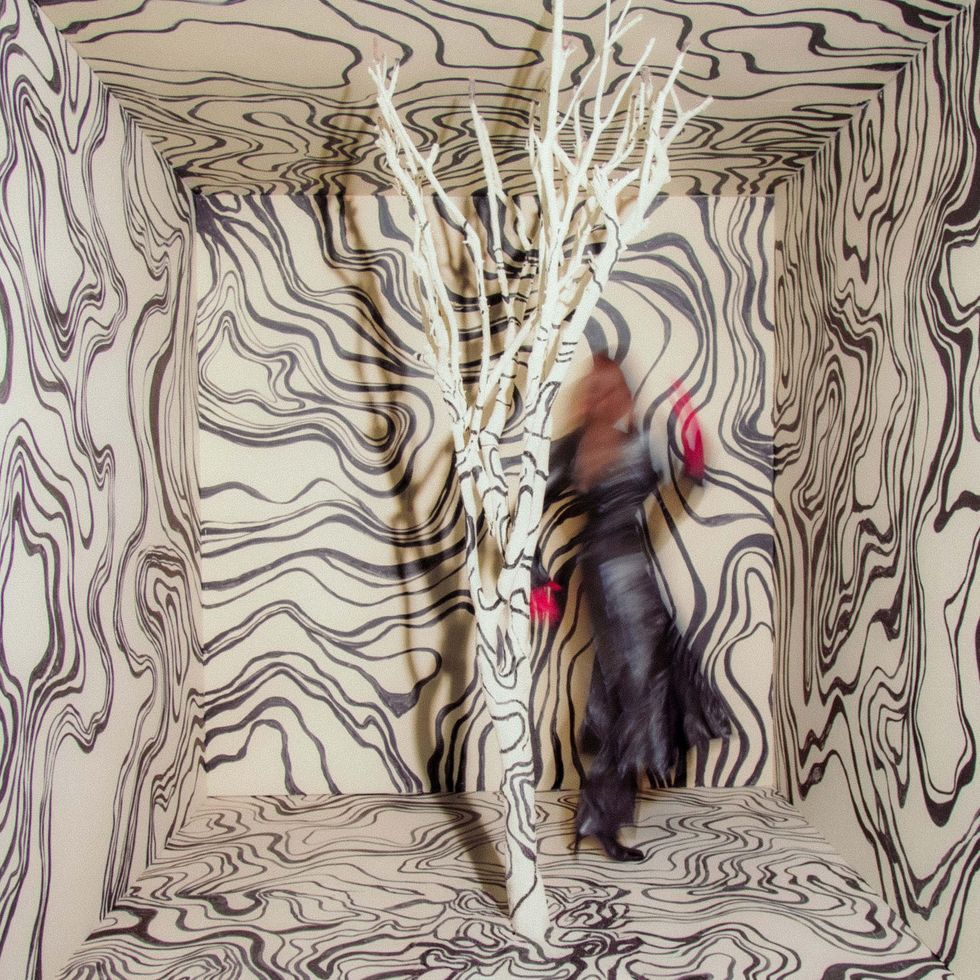 Writing her Grammy-nominated third album, Revealer, was an adventure in self-discovery for Madison Cunningham. Her creative team included producers Tyler Chester, Mike Elizondo, and Tucker Martine.
"Hospital" also provides a shining example of Cunningham's clever approach to shaping unique tones. The guitar part on the song might sound like a baritone, but it's actually a standard-scale guitar in standard tuning, pitch-shifted down to B standard with the help of a DigiTech Whammy pedal. Low tunings are a signature part of Cunningham's sound. She typically tunes her favorite Fender Jazzmaster down to C standard, but the "wacky tone and sound" the Whammy's pitch-shifter gave the riff won out over a guitar actually tuned down to B. "I found if I just tuned a guitar down to B, the weird thing I liked about the sound was gone," she explains. "I use that pedal live, too, but since my Jazzmaster is tuned to C standard live, I don't have to drop it as much with the Whammy."
Revealer's B-side boasts some of Cunningham's most adventurous playing, including the off-kilter, Eastern-sounding stabs that lace up "Collider Particles," and a proggy, finger-twister of a riff that punctuates "Your Hate Could Power a Train." She wrote the pair of tunes in the studio with co-producer Mike Elizondo. "It was like I opened up the toy chest for a minute when we wrote them," Cunningham shares. "There was so much of this record where I felt depressed and sad while making it, that these songs were some real bursts of joy for me. It felt like those songs on their own, without a body-of-work like the album, don't necessarily represent the whole of me, but they represent an important part of me. I wanted a playful, curious element to be really an important element of the B-side of the record, and they gave me exactly that."
Madison Cunningham's Gear
Madison Cunningham plays the Sinclair, in Cambridge, Massachusetts, in October 2022. Her Jazzmaster is a made-in-Mexico '60s reissue that she bought right off the wall at Guitar Center.
Photo by Tim Bugbee
Guitars
MIM Fender Jazzmaster reissue
1960s Silvertone acoustic with Old Style Guitar Shop rubber bridge
Amps (typically recorded in stereo pairs):
1967 Fender Princeton Reverb (modified to black-panel spec)
Early '60s Magnatone 670 Stereo
Mid-'60s Gibson Falcon
Effects
JHS Emperor

DigiTech Whammy
Maestro G-1 Rhythm N Sound Processor (vibrato on "Sunshine Over the Counter")
JHS Artificial Blonde Madison Cunningham Signature Vibrato
Strings & Picks
D'Addario Flatwound (.013–.056)
Dunlop Max-Grip 1.14 mm
For the Eastern-flavored guitar part on "Collider Particles," Cunningham's "toy chest" included one of the increasingly famous rubber-bridge guitars luthier Reuben Cox crafts at L.A.'s Old Style Guitar Shop, which was paired with a JHS pedal for a glitching effect. It's an example of Cunningham and Revealer's production team's (which included longtime foil Tyler Chester, as well as Mike Elizondo and Tucker Martine) shrewd ability to include heavily effected sounds without allowing them to consume the track.
"I went through such a weird, barren creative time before it that I was like, 'God, what do I actually enjoy playing or writing?'"
"The rubber bridge thing has been a distinctly Los Angeles sound, and the gospel of them is traveling, and it's becoming a more universally used and sought-after sound," says Cunningham. "They started to pop up around me and immediately sounded like an effect I liked and something I wanted to use. So, Tyler [Chester] lent me his during the pandemic and I just never gave it back. The rubber bridge is responsible for finishing a lot of the songs: "Who Are You Now" and "Anywhere" and "All I've Ever Known" … all those songs were kind of a result of that guitar. I couldn't speak more highly about it, and now that it's becoming a sound that people are using, I'm trying to find new ways to make it sound like something else, not just a rubber bridge. I still want to get the 'what is that?' effect, because I think that's its original intent, to make people tilt their heads a little bit and go, 'What the heck is happening with this?' It's the kind of guitar that has so much room to explore within it."
Cunningham borrowed this 1960s Silvertone acoustic with an Old Style Guitar Shop rubber bridge from her producer, Tyler Chester, and never gave it back. She wrote several Revealer tracks on this guitar
Photo by Noah Torralba
Though Cunningham found the rubber bridge to be the perfect tool to finish much of the album's songs, her trusty Jazzmaster did most of the heavy lifting. The guitar is a bone-stock made-in-Mexico '60s reissue that Cunningham plucked off the wall at Guitar Center, bonded with immediately, and never looked back. "I never made the conscious decision to be like, 'I'm a Jazzmaster girl now!' That particular guitar was the first one I ever played, and it was just immediately comfortable for me, and very versatile," Cunningham says of the sunburst offset. "And it immediately held all the deep tunings that I'm always tuning my guitars to. It was like, 'This is the sound that I hear in my dreams.' It became a staple for the last six years and I'm pretty married to this one because it's got my imprint now. It feels like home."
Another homebase for Cunningham, and font of inspiration, is Joni Mitchell, who returned to the stage this year for the first time in decades at the 2022 Newport Folk Festival. Cunningham reflects on the Canadian icon's gifts and influence on her own path as an artist.
"It immediately held all the deep tunings that I'm always tuning my guitars to. It was like, 'This is the sound that I hear in my dreams,'" says Cunningham of her Jazzmaster."
Photo by Tim Bugbee
"Joni's playfulness is her strength. She wasn't ever in the business of showing off before she was in the business of moving people, and those were firm priorities in her writing and performing. Those priorities stuck with me, and I'm very conscious as a guitar player to toe that line. There are moments to step out with it and to let it shine, but for me it's all about the song. Hearing her records early on left a huge mark on me, especially as a guitar player. I played in open tunings and understood guitar, and I knew the nuance and the complexities of what she was actually doing and that no one could replicate that—she invented her own tunings! But all of that was supporting this theme and propping up the main point of the song, and it's so powerful to be able to have her voice, her writing, and her guitar playing work together like they do. All three of those elements are always working so clearly for the same thing in her music. That is the most beautiful combination. I constantly strive for that, and I'm haunted by that way of thinking. If someone's only takeaway from my music is, 'Sick guitar tone, bro,' I would be bummed. That compliment is always just slightly offensive to me, because it means you didn't get anything from the song and the guitar stole the show. There are moments for big guitars, of course—balance is the key—but my priorities are the song first and everything else second.
"My whole journey as a guitar player, from the moment I started playing to now, has been trying to find my voice and my home in it."
"Making Revealer was an undeniably cathartic process for Cunningham, but it was also a learning experience. As one who is dedicated to her own songcraft, but a reverent student of songwriting in general, she's had time to analyze things now that the dust in Revealer's wake has settled a bit. When asked if she has any advice for fellow songwriters, Cunningham's clarity comes through in her answer:
"Don't let your curiosity for the process die out because it is a process. I had to remember during this record that you need to have a lack of preciousness, and that's not a lack of thoughtfulness, but it's preciousness. You need to be able to break the song down again if it needs it, but you have to be led by the nose of your curiosity, and that has to inspire your bravery to go back in again and build a song up all over again if it isn't quite there. And don't let the business side of everything weigh you down, because in the end, none of that really matters. Putting the process and what it takes to build a good song before any other decision is the most important thing to me now."
YouTube It
We've reached the final step in this series on how to superficially age a guitar. Let's add the finishing touches to complete our Harley Benton relic project.
Hello and welcome back to Mod Garage. This is the final installment of our DIY relic'ing series, and I hope you enjoyed it as much as I did. Today, in the last step, we'll add some dings and dongs to the guitar. You can decide if you only want a slightly aged look or if you want to bash it up like hell for a heavy-used relic look. There are many ways of adding dings and dongs, and if you do a Google search, you'll find a galore of pages and blogs about this. I will show you the way I do it in the shop, but this is only one way of doing it. In other words, I'm not saying you must do it exactly this way or that other ways won't work. Many roads lead to Rome.
My goal with this little series was to show you what's possible and how you handle such a project, step by step, and in a sensible order. In time, you can adopt and develop your own techniques, getting better from guitar to guitar.
"You can decide if you only want a slightly aged look or if you want to bash it up like hell for a heavy-used relic look."
When it comes to dings and dongs, you don't need much for a good result. I usually only use a round metal bar and a collection of old and obsolete keys (Photo 1). The metal bar should be a massive one—hollow ones don't work well because of their kickback behavior. I prefer a small but heavy one because it gives me a lot of control when using it. In my key box, I have a mix of mortice and cylinder keys in different sizes. I found this collection of old and obsolete keys on eBay for virtually nothing many years ago and it still works great for me.
Photo 2
Let's start with the metal bar. Hold the guitar in playing position and start tapping on the edges with the metal bar to create a random pattern of dents. It's easy to control the effect with your hand. If you hit the edges slightly, you create a slight dent. The heavier you hit, the deeper the dents, and with some very hard hits you can crack the lacquer to create the typical spots exposing bare wood (Photo 2). Start tapping the edges slightly and see if you like the effect. Work your way up to more damage if you want more. Don't forget: Less is more if you want to make it look authentic.
I receive the best results when tapping in a rhythmically constant pattern of about 45 degrees with the bar. If you want to get a cheap used-guitar body on eBay, it's a good idea to get some training on this. It's not difficult to do, but it helps to have some experience before tapping the real deal. Please do yourself a favor and wear goggles and gloves, because if you crack and burst the lacquer, it can jump off with high speed, and you don't want to get any in your eyes. Just as you don't want any splinters of wood in your fingers. Tap the body, the headstock, and the neck if you like.
Photo 3
If you're done and satisfied with your work, it's time to bring in the keys (Photo 3). If you want to leave some spots on the guitar free of dings and dongs, you'll need to cover and protect this area with strong cardboard or the like. A piece of paper or thin cotton won't work; the keys will win. Because the keys will jump off the guitar, it's a good idea to lay the guitar flat on a carpet or somewhere that the keys can't disappear. You know the "confetti effect" after a New Year's Eve party? No matter how often you clean your room, you'll still find some confetti right before Easter. It's the same with the keys; they'll jump off in any direction and gone they are.
Anyway, the process is very simple. Your guitar is lying flat on the ground, and you simply drop the keys on the guitar. You can do this one by one or all at once. I usually use the individual keys first, followed by some massive shots of several keys at once. You can simply hold them above the guitar and let them fall, or you can smash them. Be creative and see what you like best. I usually leave out the fretboard with this, covering it with a piece of carpet. But if you like, you can also treat the fretboard this way.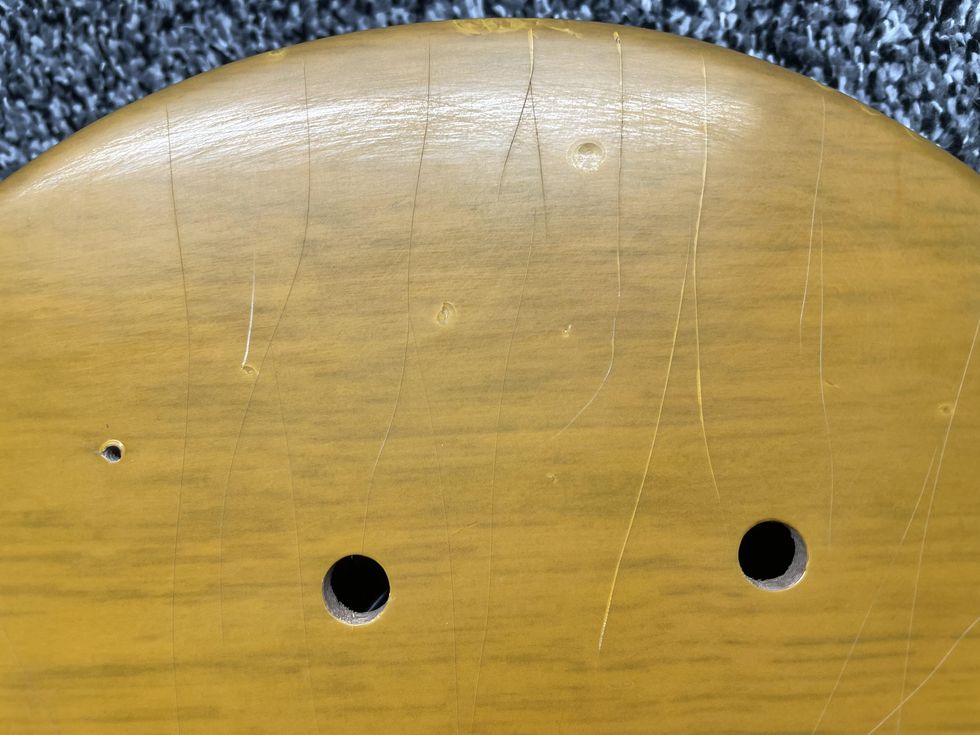 Photo 4
Don't be in a hurry. It will take some time to do it right, so don't stress yourself. You can see some of the dings and dongs I made with keys while treating the Harley Benton in Photo 4.
Photo 5
Remember the wood-aging dye from the last part of this series? You'll need it now to add 50-plus years to the exposed wood. Depending on the size of the spot, you can use a small brush or a Q-tip to put the dye on. Before doing this make sure you remove all loose parts from the lacquer. I simply use a small flat screwdriver and a brush for this. Depending on how dark you want the exposed wood, you'll need to repeat the process with the dye. Because the body of the Harley Benton guitar is already a dark mahogany, you won't need much of the dye (Photo 5 and Photo 6).
Photo 6
Congratulations, you're done aging your first guitar all alone with your bare hands. If you have the chance to look at some vintage guitars, you should. Over time, you'll get an eye for how old guitars look and you'll find typical signs of age and wear that you can duplicate for your own projects. This relic'ing guitar project will soon be available as a Premier Guitar eBook, with all steps in one place and downloadable as a PDF.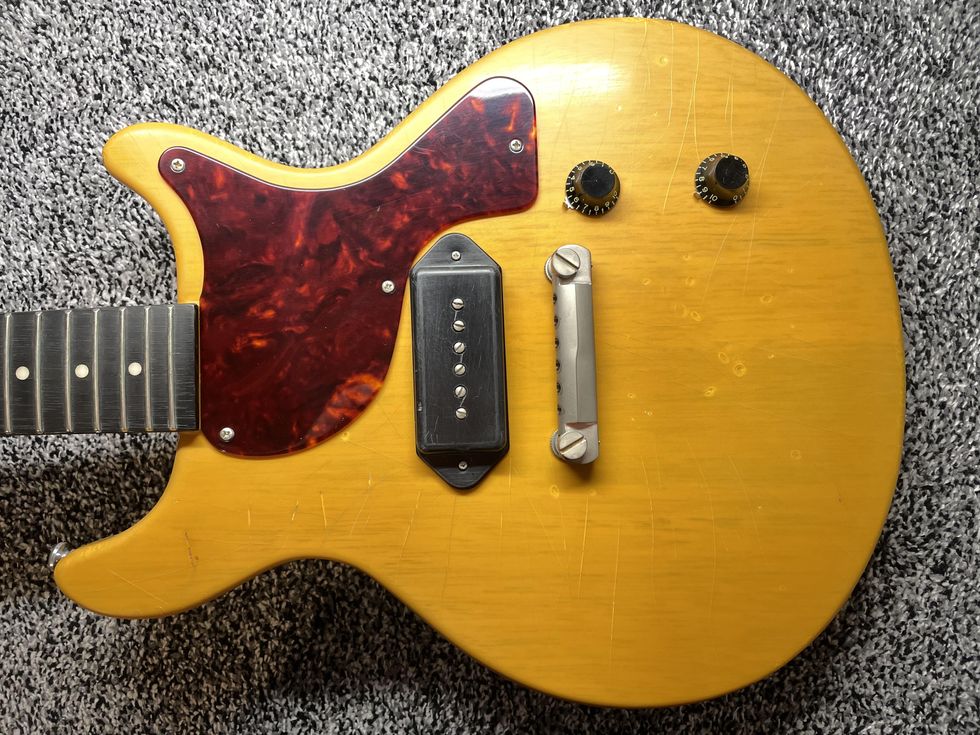 Photo 7
Our finished Harley Benton DC-Junior double-cut that we used to demonstrate the individual relic'ing steps is a cool-looking and great-sounding guitar (Photo 7). I decided to auction it, donating all the money to my local animal shelter, which is usually bursting at the seams this time of the year.
Next month, we'll have a deeper look into some typical Gretsch wiring basics, so stay tuned. Until then ... keep on modding!
What started in Sacha Dunable's two-car garage has now expanded to include a dozen riff maniacs building impeccable riff machines. Join PG's Chris Kies to go inside these guitar junkies' L.A.-based shop.
Dig into this inside view of the Dunable guitars shop in Los Angeles, conducted by PG's own Chris Kies and namesake builder Sacha Dunable. It's a major step up from the two-car garage where the company started in 2012! Dunable grew from making one-off guitars for Sacha and his fellow Intronaut guitarist, Dave Timnick, by generating word-of-mouth about the instrument's easy playability and biting rock tone. "Before I know it, I was getting orders for guitars," Dunable says.
Our tour starts in the tonewood storage room: mahogany, limba, maple—mahogany primarily for guitar necks and maple primarily for bass necks. Fretboards are ebony. For bodies, it's mahogany, limba, and swamp ash. Watch a run of bodies for Dunable's Gnarwhal model in the saw shop (check out the stunning buckeye burl wood for tops) and eyeball the varieties of raw ebony for fretboards. In the CNC shop, you'll see how to design a custom guitar and then observe one of Dunable's two CNC machines in operation. "It's about the consistency, not the speed," Dunable assures.
Also, you'll see that all the final cut and trim work is done by hand, as is the artful sanding. (You'll eyeball a Yeti being smoothed.) In the neck area, Dunable explains the various scale lengths on the company's instruments, and how some of their production-run necks are farmed out to Grover Jackson's Tennessee shop. Frets? Dunable's come from respected fret-wire company Jescar, and they're typically nickel extra jumbos. After the necks are glued in place, it's time for paint prep: removing minor blemishes, etc. A gel wood sealer is part of Dunable's finishing process, "so you can really feel the wood grain and hear the wood resonate," Sacha explains. He displays a fresh black rainbow sparkle finish with nitro lacquer and a rose-gold over swamp ash, which really lets the wood grain show. Also, get a look at a beautifully finished Dunable Minotaur, plus a rare 9-string Yeti (with doubled treble strings).
In the assembly shop, it's time to check out Dunable's own pickups. They're double-wax-potted by hand (unless requested otherwise). Some Cave Bear pickups are displayed—the latest in the company's 10-humbucker line. And the last step is final assembly for Dunable's roughly 50 guitars shipped per month, and includes custom setup if requested. As the video concludes, Dunable talks about his Southeast Asia-made, lower-priced DE Series, which are setup, tested, and quality checked at the L.A. shop before leaving for stores and individual owners.