Stompbox Gear Finds Fall 2022
Check out the ALL-NEW PRS Pedals and more in this edition of our Stompbox Gear Finds!
---
PRS Guitars
The PRS Horsemeat transparent overdrive pedal is designed to enhance your sound without coloring your tone. Horsemeat adds harmonic midrange richness and overdrives without cutting out your high notes – all while giving you more available headroom. It features a robust EQ section so you can dial in your tone and has a wide range of gain on tap. Depending on the setting, Horsemeat can be used as a clean boost, straight overdrive, or even enhance your amplifier's distortion by slightly pushing the front end of the amplifier's preamp section.PRS pedals were created to be high-end pieces of audio gear. Designed by PRS Guitars in Stevensville, MD, USA. Made in the USA.
Maestro Pedals
The Maestro Comet Chorus pedal uses iconic analog bucket brigade device (BBD) technology to deliver warm, classic chorus tones. This all-analog pedal boasts a Mode toggle switch for increased sonic versatility. The Earth mode provides an optimized, shimmering chorus effect. The Orbit mode adds some amplitude modulation to the chorused sound to more accurately simulate the sonic complexities of a rotary speaker. An internal trim pot lets you adjust the level of the rotary speaker Orbit effect to taste. The intuitive 3-knob control layout lets users quickly dial up the Depth (amount of pitch variation), Speed (modulation rate) of the chorusing, and adjust the amount of pitch modulated signal that is blended in with the dry signal by using the Mix control. The true bypass footswitch triggers the LED lights in the bugles in the Maestro logo when it's on.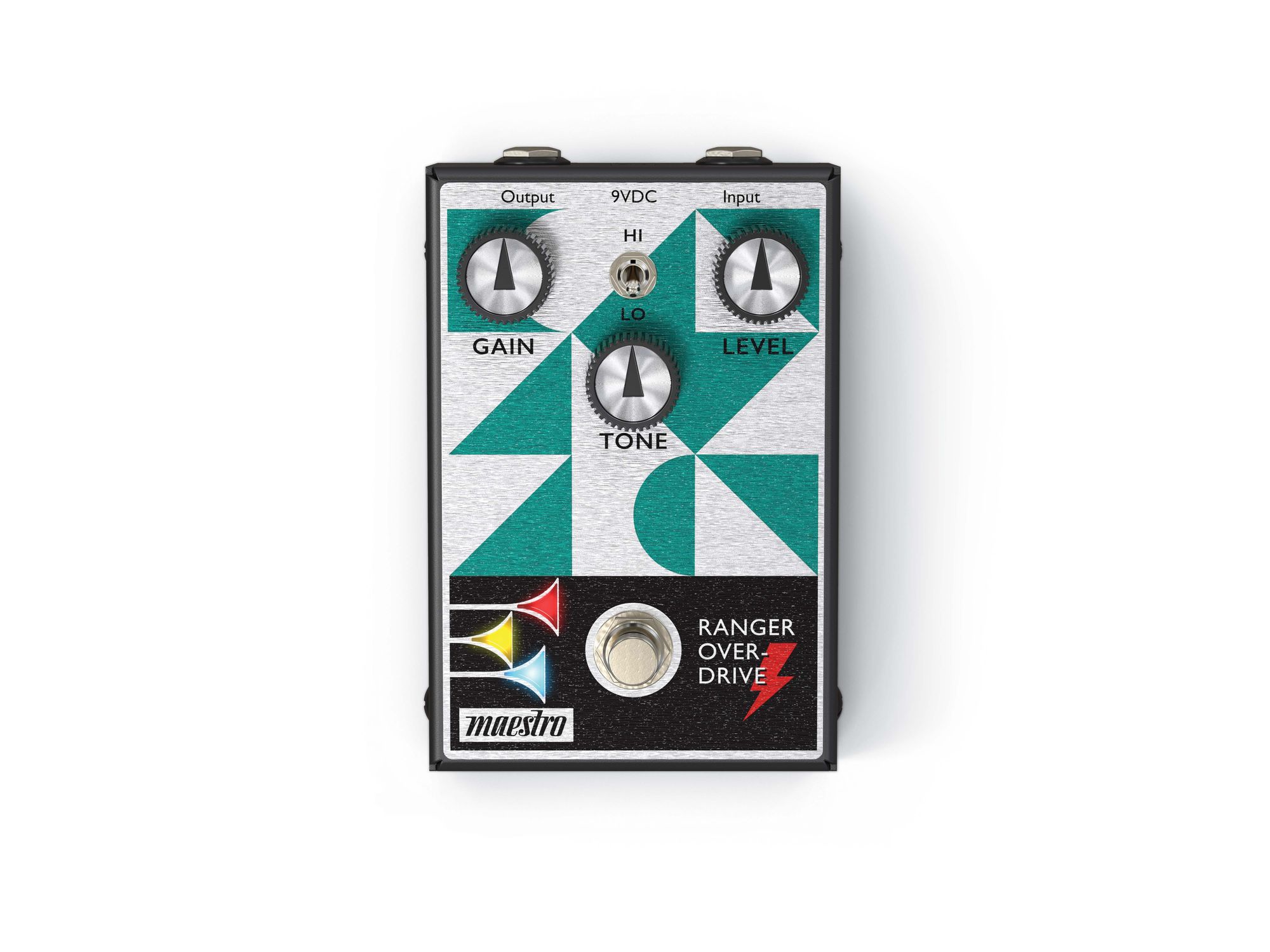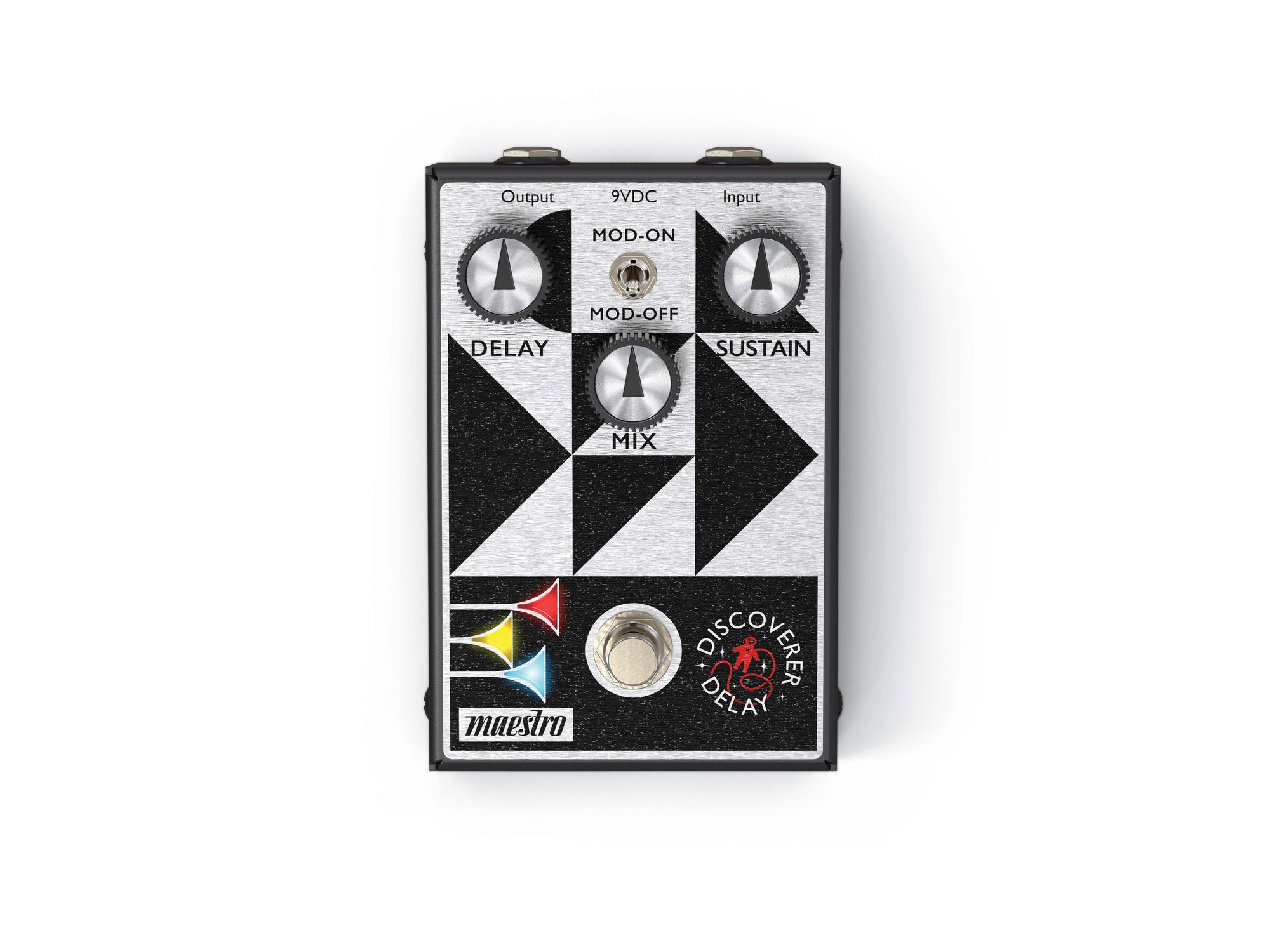 Tech 21
The SansAmp Character Plus Series celebrates the unique chemistry between specific historic amplifiers and specific historic pedals, and cleverly unites them together in single packages:

Screaming Blonde = Fender-style + Tube Screamer-style
English Muffy = HiWatt-style + Big Muff-style
Fuzzy Brit = Marshall-style + Fuzz Face-style
Mop Top Liverpool = Vox-style + Rangemaster Booster-style
Each of the individually-voiced Character controls sweep through an entire spectrum of eras within their particular amp style. Screaming Blonde tones range from the '50s Fullerton to blackface and silverface. The English Muffy spans from classic UK rock to prog rock. Fuzzy Brit goes from classic hard rock to all current rock genres. The Mop Top Liverpool embodies the British invasion through "Bohemian" rock.
These 2-channel multi-function pedals are each like having a stompbox within a stompbox. You can use the SansAmp amplifier emulation on its own or just the effect on its own. The all-analog SansAmps Character Plus Series pedals can be used as stand-alone pre-amps to drive a power amp, a studio mixer, or a PA system, or to complement your existing amp. Other features include built-in speaker simulation individually tuned to match each of the speaker/cabinet configurations associated with each amplifier type; 3-band active EQ, XLR Output, included 9V DC Power Supply. Rugged all-metal housing measures 7.75"l x 2.5"w x 1.25"h and weighs just 12 oz.
EARTHBOARD Music
Never before has an effects pedalboard been so effortless to build and painless to change or rearrange on the fly - So you can Focus on the Music, Not the Set-Up!

Our game-changing design incorporates Rare Earth Magnets ("cupped" so there is no risk to your pedals!) and a long-lasting Battery to give you the neatest, cleanest sounding and looking rig! All of the hassles of using a traditional board are gone. No more messy cobweb of cords and cables. No need to look for outlets and extension cords. No need to deal with dirty noise at gigs. Increase voltage and isolate those "picky" pedals without adding more mess and expense of separate power bricks and adapters. NO MORE SOUND OF RIPPING VELCRO!!!

Here's what's possible with EARTHBOARD:
- Your choice to use our Battery or AC Adapter
- Jacks are on both sides to accommodate YOUR style and the unknowns of the gig space
- All of our power supplies have built in circuit protection to safeguard your pedals
- Built-in cross board audio patch cable saves you money and the hassle of finding the right length cable to connect your top and bottom rows of pedals
- Ability to power large pedals off the board to maximize board real estate - make room for one more pedal!
- The built-in, under mounted, Blue LED lights enhance visibility and the "cool factor"
- Daisy-chain multiple boards and power them all with a single battery
- Rearrange or add pedals on the fly, between sets, in a matter of seconds
Large tour grade pedal board and flight case for 10-14 pedals with removable 24″x11″ pedal board surface and inline wheels

Features:
Pro-grade shock absorbing EVA foam interior
Removable pedal board surface 24" x 11"
Two (2) rubber-gripped handles for easy lifting in and out of the case
3M Dual Lock» hook and loop fastener for pedal installation
Cable and accessory storage under the removable pedal board
Retractable tow-handle and inline wheels
Plywood construction with aluminum edging to create a secure closure between lid and base
Protective ball corners at vulnerable points
Commercial grade Gator red signature hardware
Lockable latches
Spring-loaded rubber gripped handles
George L's Effects Cable Kits
Enhance the tone and clarity of your pedalboard with award winning sound.
The George L's effects kit.
The kit comes with 10' of cable, 10 right angle plugs and 10 stress relief jackets.
Available in black, vintage red and purple.
As easy as 1, 2, 3 no soldering!
Cut, poke and screw your way to 47 years of sound excellence.
George L's
NV Photography
The guitarist's experimental string band music opens new vistas for bluegrass, jazz, classical composition, and improv on his stunning debut album, Imitation Fields.
Ben Garnett's debut album opens bravely, almost daring the casual listener to give up before anything recognizable as a tune emerges from the speakers. Instead, we hear a collage of abstract sound—a tape spooling backwards, spectral voices, and stringed instruments being rubbed and scraped. Out of these two minutes of gentle cacophony, an angular theme emerges, tentative at first, played on banjo and fiddle. Then the idea organizes itself into the punchy, gypsy-derived melody of "Thirty One Mouths." And with that, the remarkable Imitation Fields gets underway.
Garnett manages to not imitate anyone on record or in his burgeoning performing career in the progressive acoustic arena. With electronic overlays, judicious use of noise, and passages of richly composed chamber music, he pushes the avant-garde boundaries of the string-band sound. And within this album lies the story of a guitar player who's evolved from instrumental rock, through formal jazz studies, to cutting-edge acoustic music—all with intuition and skill.
Garnett established himself as a Nashville pro playing guitar in the band of bluegrass-star bassist Missy Raines. He also joined the newgrass quartet Circus No. 9 and launched a jazz trio that interprets a repertoire linking Miles Davis to Bill Monroe. So, at 28, with a unique set of influences and a head full of ideas, the time was right for Garnett to make a personal artistic statement. It wasn't an easy or quick journey, but the result is both enthralling and challenging.
Ben Garnett - "The House on Wisteria"
Early in knowing Ben, I discovered he lives at a musically important address—a place folks call the Bluegrass Compound in Madison, Tennessee, just north and east of famously hip East Nashville. It's an old fishing camp getaway from the early 20th century with lodges and houses made of stone and timber that's become a musician's enclave. Ben shares a house on a bluff overlooking the Cumberland River, just a few doors down from the home where string-master John Hartford lived and died. Over the years, musicians from the Grascals, the Sidemen, the Infamous Stringdusters, and Chris Jones and the Night Drivers have lived there, and it's been the site of some epic picking parties.
"It wasn't until halfway through college that I discovered the whole acoustic thing."—Ben Garnett
On one visit, I noticed a stack of volumes from John Zorn's Arcana: Musicians on Music book series, an exploration of advanced music theory that one wouldn't generally see on the coffee table of a bluegrass picker. On another occasion, Garnett hosted a house concert featuring Circus No. 9 and the balladeer banjo and guitar player Joe Newberry. There were no amplifiers or microphones, just the natural resonance of the old room, with its wooden ceiling, walls, and floor making it one of the most ideal sonic experiences of my life. While most guitarists playing progressive string band music are building on a bluegrass background, it became clear Garnett was the opposite—a jazz guy learning bluegrass as an adult, and I found that novel and exciting.
Nashville has long been an epicenter for virtuoso string instrumentalists, but the city is enjoying a new golden age. The members of newgrass quartet Hawktail alone would distinguish the scene, with fiddler Brittany Haas, mandolinist Dominick Leslie, guitarist Jordan Tice, and bass player Paul Kowert. Kowert's other job is playing with Chris Thile and Punch Brothers, and his brilliant guitarist bandmate Chris "Critter" Eldridge lives in Nashville with his wife, the folk singer Kristin Andreassen. Critter and Kowert play a huge role in Garnett's story and his debut record. But that just touches on the acoustic talent and energy in town among pickers under 40. Bluegrass is being showcased at bars and venues far beyond its most traditional stage, the Station Inn. Molly Tuttle and Billy Strings are now mainstream stars. So, while Garnett's in the right place at the right time, how did he get here?
"Early on, I knew that I wanted some kind of X factor element to the music," says Ben Garnett. "I remember in high school being obsessed with Björk and Radiohead, and, like, folktronica."
Photo by Emilio Mesa
Born in Arlington, Texas in 1994, Garnett started on piano before switching to guitar at about age 12. He soon discovered that his older cousin was acclaimed instrumental rock guitarist Andy Timmons. At a time when Ben was catching fire for the music of Joe Satriani and Steve Vai, having Timmons nearby gave him guidance in that flamboyant, electric style. Timmons, Garnett says, is "so expressive with the electric guitar. That definitely stuck with me as an influence, whether that's controlling the notes in a certain way or thinking about touch. And it's been interesting, as I've transitioned more to an acoustic guitar player, to try to hold on to some of that stuff."
Timmons was one source of encouragement to study music formally in college, but so was Garnett's proximity to the nationally renowned jazz program at the University of North Texas—a launch pad for Norah Jones, Snarky Puppy, and others. "It wasn't until halfway through college that I discovered the whole acoustic thing," Garnett relates. Ben was already a fan of the lyrical modern jazz guitarists Bill Frisell, Pat Metheny, and Julian Lage. Then Lage made Avalon with Chris Eldridge in 2014, an album that brought the flatpicking guitar duo into the 21st century. Says Garnett, "That record changed my life."
That taste of neo-traditional picking sent Garnett down the rabbit hole of Tony Rice, Grant Gordy, and David Grier. Another pivotal experience was the Savannah Music Festival's Acoustic Music Seminar, a week of collaboration and instruction for emerging talent. Garnett enjoyed mentoring by Eldridge and Lage, as well as Bryan Sutton and Mike Marshall. "Utterly formative," is how he recalls it. "It was really my first time playing in string bands with like-minded people that were into this stuff. I was like, okay, whatever I can do to feel this way all the time … and honestly, moving to Nashville made the most sense."
A core element of Garnett's new album is natural samples that he manipulated in programs like Ableton Live. One motif on Imitation Fields, for example, is samples of rustling paper that have been twisted, filtered, and reversed, with an ASMR-stimulating kind of crackle.
Music City met him more than halfway when he landed his slot with Missy Raines only a few weeks after relocating in 2017. While her band Allegheny today leans to traditional bluegrass, then it was called the New Hip, and blended bluegrass, jazz, and a songwriter sensibility. Not only was Raines a source of interesting work and a ticket to the acoustic music circuit for Garnett, she began urging him to make a solo album. And as 2018 became 2019, he began consulting Kowert about songs and a way forward. Then Kowert urged Eldridge to step in formally as producer, and he was excited by the prospect. "Ben just had this beautifully learned relationship with music, but he had also clearly come to love string band music," says Eldridge. "I thought this could be really interesting and edifying for me as well. Ben just had such a fascinating relationship to music, with so many cool, big ideas. I thought it'd be really fun."
"I remember in high school being obsessed with Björk and Radiohead, and, like, folktronica."—Ben Garnett
The sessions for Imitation Fields, which took place just before the 2020 shutdown, were built around three fourths of Hawktail, with Kowert on bass, Brittany Haas on fiddle, and Dominick Leslie on mandolin. Garnett also brought in Billy Contreras, a jazz and country fiddler with a fondness for playing outside with Coltrane-like extravagance. Banjo was by Matthew Davis, Garnett's friend and colleague in Circus No. 9. Instructions for the musicians came through a mix of traditional charts with heads, audio demos built in GarageBand, general instructions for improvisational concepts, and some through-composed sections for a supplemental string quartet.
"Early on, I knew that I wanted some kind of X factor element to the music," Garnett says. "I remember in high school being obsessed with Björk and Radiohead, and, like, folktronica. I'm also a big lover of early electronic stuff, like musique concrète and taking found sounds and layering them in different musical ways. And I would honestly say that some of that was more of an influence on the way that this record turned out."
What followed was months of integrating the acoustic performances with electronic textures, something Eldridge says didn't come easily. "If you have sounds that were captured off of acoustic instruments by microphones that are 18" away, the microphone also captures the room, the space around it, to some extent," he says. "But if you have something that was generated by a synthesizer, the way that operates in the sound field is very different. It can sound very present. It can kind of take over the acoustic instruments."
Ben Garnett's Gear 
On his new release, Ben Garnett shares, "I'm a big lover of early electronic stuff, like musique concrète and taking found sounds and layering them in different musical ways. And I would honestly say that some of that was more of an influence on the way that this record turned out."
Photo by Kaitlyn Raitz
Guitars
2013 Huss & Dalton TD-M Custom
1944 Martin D-28 (owned by Chris Eldridge)
1935 Martin 000-18(owned by Chris Eldridge)
Strings

D'Addario Phosphor Bronze Mediums (.013–056)
Picks
Garnett scrapped a lot of his synthesized sounds in favor of natural samples that he manipulated in programs like Ableton Live. One motif on Imitation Fields, for example, is samples of rustling paper that have been twisted, filtered, and reversed, with an ASMR-stimulating kind of crackle. We hear some manipulated vinyl crackles in places as well, and these sonic ideas nest and cradle the acoustic musicians in a kind of aural bubble wrap. "I am not aware of a record where those elements are as integral to the kind of core DNA of how the entire music functions—where those sounds are reliant upon the acoustic sounds and vice versa," Eldridge says.
"If you have something that was generated by a synthesizer, the way that operates in the sound field is very different. It can kind of take over the acoustic instruments."—Chris Eldridge
As I noted at the outset, the opening track acts as a kind of prelude/appetizer, priming the listener for surprise and a bit of healthy disorientation. But with the heart of "Thirty One Mouths," we're on more familiar ground conceptually, evoking the David Grisman Quintet of the 1980s. Next, "Open Your Books" sets a quick pulsing mix of instruments against some pretty, manipulated sounds. Kowert's string bass is particularly thick and mobile in one of the central sections. Solos take place over a sweet, swooping feel. This tune inspired the first video single by the same name that Garnett released for the project, a visual journey that uses a mirror, bending and twisting, in natural locations, like fields and forests—an unstable frame within a stable one. It's a clever and economical special effect that captures the looking-glass quality of the music.
"Moriarty" is slow and serene, with warm chords, long fiddle lines, and some antique spoken-word tape sampled from the internet and filtered. The song is broadly a slow waltz, but it takes a lot of turns in its 8 minutes, ending with a gradual crescendo of string noise and skronking that gets huge before vanishing to nothing. It's one of the best examples of how Garnett's designs work around the thoughtful use of dynamics. And then there's "Nepal," one of the signature pieces on Imitation Fields. Garnett plays looping, cross-picked passages mingled with chordal sequences, establishing a bit of a Middle Eastern vibe that's picked up by Haas' fiddle. The middle features a guitar solo that gives way to the bass, and then a lyrical full-ensemble surge and finale that's among the lushest passages on the record.
Garnett's chance to make a first impression as a leader is a success, but not an easy one to define. He's not vying for the space cleared out by Bryan Sutton as a bluegrass/studio virtuoso or standing in the jamgrass shadow of Billy Strings. His flavor isn't Grisman's "Dawg music" (exactly) or another prog-grass supergroup like Strength in Numbers (though passages will remind fans of that seminal one-off all-star album and band). We're hearing someone minted in rock and jazz with a passion for electronic and modern composed music on a journey in the new Nashville.
Newgrass and new acoustic music have been thriving for 50 years now, long enough that you think you've heard it all, until a Ben Garnett comes along to show us how much more there might be.
Ben Garnett & Skyler Hill - "Today Into Night"
Ben Garnett (left) and Skyler Hill play their composition "Today Into Night," providing a close focus on Garnett's organic playing technique.
This feature-rich distortion palette will sculpt shred with precision.
Lots of range. Easy and intuitive to use, despite a detailed control set.
Even with the gain set to zero, it stays crunchy, so you can't use the EQ and noise gate for cleaner sounds.
4.5
4
4.5
4
During a long-ago brief dalliance with shredderism, I bought a Boss Metal Zone. Although that phase didn't quite stick, my affinity for the iconic distortion pedal did. There's something about that EQ section that's always felt so appealing. When I plugged in the Ibanez Pentatone, I felt like I was reliving that first dive into the high-gain zone.
I easily conjured tones from Zeppelin I-style high-mid screech to Danzig-inspired low-end-forward/scooped-mid crunch, and easily accessed '80s thrash tones.
Of course, the Pentatone is a much more feature-rich offering. The main business here is the distortion circuit—which has bass and treble controls, plus a bright switch, pre-boost, and post-gain boost—and the 5-band graphic EQ. While the Pentatone is definitively targeted toward heavy sounds, the switchable EQ—consisting of blue LED-enhanced sliders that look way cool, each of which has a knob to control the frequency being tweaked—boasts a ton of range. I easily conjured tones from Zeppelin I-style high-mid screech to Danzig-inspired low-end-forward/scooped-mid crunch, and dove headfirst into '80s thrash tones. A switchable noise gate—which has a 1-knob sensitivity control set—keeps things super tight.
In short, the Pentatone is a versatile distortion unit with welcome, deep functionality. It will likely appeal to heavy-minded guitarists, but it's a useful tool for anyone that may need to turn a Deluxe Reverb into a fire-breathing beast.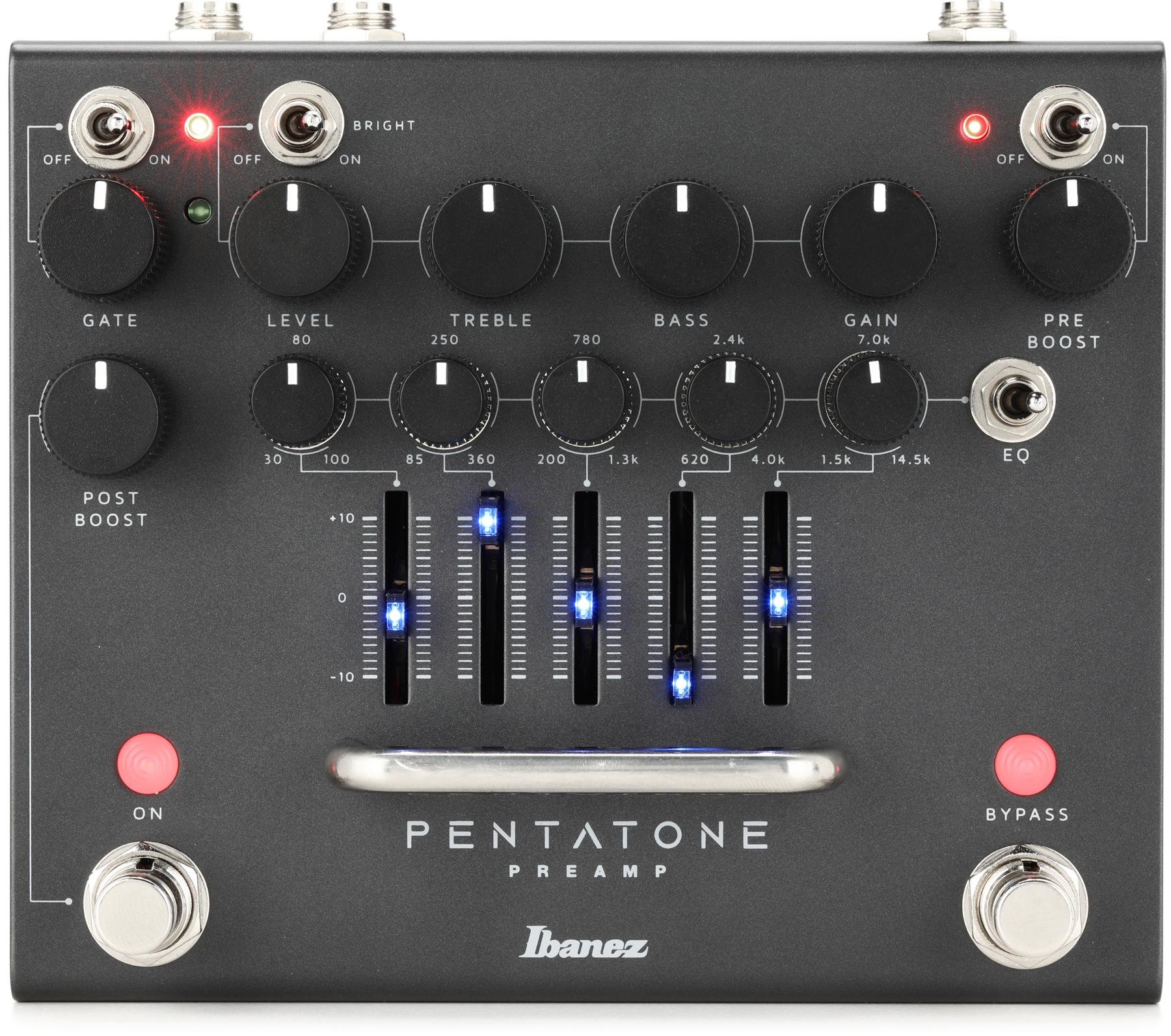 Ibanez
Photo by Alysse Gafkjen
Looking back on their latest releases, the two bluegrass phenoms and friends sit down with one another to talk musical heritage, stage fright, gear, and more.
In any music scene, it's natural that talented contemporaries will find each other and form fast, harmonious fraternity. It's no surprise, then, that Nashville-based bluegrass virtuosos Billy Strings and Molly Tuttle became close friends and collaborators as early as 2017—when they were both just 24—and, as is now somewhat common knowledge, were one-time roommates. Tuttle was first featured on Strings' full-length release, Turmoil & Tinfoil, and a few years later, Strings guested on Tuttle's Grammy-winning 2022 album, Crooked Tree, on the track "Dooley's Farm," while performing together often in the interim.
The pair have a lot in common, and we thought it would be a great idea to put them together to interview one another. "Billy and I, we both grew up playing with our dads," Tuttle shares at the very beginning of the conversation. Tuttle made her first professional appearance as a recording artist at 13, when she and her father, Jack Tuttle, released The Old Apple Tree. Since her 2019 solo debut, When You're Ready, Tuttle has evolved through both warm and peppery country tones and her original, adventurous approach to bluegrass, circling back to the genre's traditional homey twang on Crooked Tree. A new album, City of Gold, is due July 21—and, inspired by her constant touring over the last few years, will offer 13 new tracks that capture the electric energy of the band's live shows.
More recently, Strings felt a sudden sense of urgency to record with his father, Terry Barber, and in November 2022, he put out Me/And/Dad, on which the two play 14 classic bluegrass tunes. As Tuttle comments with fondness below, Strings has a distinctive Doc Watson-esque attack, something that gets flavored by a death metal edge—heard in the every-so-often spectral chord and touch of grimness—thanks to his background in that scene. He recorded his latest single, "California Sober," with Willie Nelson, and can be heard in duet with Tommy Emmanuel on the Australian guitarist's new single, "Doc's Guitar/Black Mountain Rag."
Dooley's Farm (feat. Billy Strings)
While Strings grew up in Michigan and Tuttle the San Francisco Bay Area, much of their upbringing happened in parallel. Both musicians experienced turning-point moments in their teenage years, where they discovered that not only did their peers accept them for their bluegrass aptitude but celebrated them. For Strings, it happened when he excited his "hipster" friends with a performance of "Black Mountain Rag" at a house party, and for Tuttle, around the time Mumford & Sons was gaining popularity, her classmates discovered her banjo talents—and she became the "banjo girl."
"Bluegrass is the music that can make me laugh or cry, that I really feel in my soul, and so my electric guitar started collecting dust."—Billy Strings
Now deep into their discographies, the 30-year-old phenoms took a pause before (and amidst) tour dates to reconnect and discuss the many experiences they've shared in modern Americana music. The following conversation offers a view into that world, as well as unique insights into why the two get along so well as both musicians and people.
Molly Tuttle: Billy, you made that awesome new record with your dad. When you were growing up playing music with your dad, did you ever feel like there was a disconnect between the bluegrass side of what you did and other music you played with your peers, or listened to with your peers?
Billy Strings: Yeah, I remember it was probably around the time I was in middle school—I was a skateboarder, and I was playing video games and just hangin' out with friends. I was getting too cool to be hanging out with my dad's old friends playing bluegrass. I was like, "Man, I want to play music with people with common interests, not just sitting here talking about Gunsmoke or something."
But I joined metal bands and got that out of my system, and eventually, I came back around full circle and just had this realization that bluegrass is what I cut my teeth on and what I was spoon-fed as a boy, and it's really where my heart truly is. Bluegrass is the music that can make me laugh or cry, that I really feel in my soul, and so my electric guitar started collecting dust.
Tuttle: I really resonate with that, because I've gone through so many phases of trying to figure out who I am musically, and it took me longer to accept bluegrass as part of who I am. And it really is what makes me, me. But how do I tell my own story through bluegrass? 'Cause there are those two ends of the spectrum. I feel like I've gone the other way and been like, "Well, I'm not just a bluegrass musician, I play all this other stuff too." And then I've also felt like, I want to play bluegrass and make it authentic to the genre. It kind of came down to songwriting, to me—like, how do I tell my story through this music and show how it came to be such a big part of my life?
The two bluegrass virtuosos both grew up learning how to play from their fathers, one in California (Tuttle), the other in Michigan (Strings).
Photo by Alysse Gafkjen
Strings: What are some of your earliest memories of playing with your dad? Do you have any big moments as a child that you were like, "This is what I'm doing—I'm a guitar player"?
Tuttle: I remember as a kid, I played a lot with my dad and we would play around the area where I grew up, in the Bay Area—play different local shows. One big moment for me, when I was like 12 or 13, was getting to go to Hardly Strictly Bluegrass in San Francisco and seeing Earl Scruggs, Hazel Dickens…. Me and my dad somehow finagled backstage passes and got to go to this afterparty, and Hazel was there. It was just so cool. Gillian Welch was there, and Dave Rawlings. He was like, my guitar hero. I remember going into the greenroom to put my stuff down and seeing him just sitting there with a guitar, and that blew my mind. Just seeing people like that up close was like, "Whoa, I could actually do this, and this world feels like where I belong. I could see myself doing this for a long time." I realized I just wanted to play music as much as possible.
What was the Michigan music scene like for you growing up? Were there festivals or anything that was really important to you?
Strings: Well, I didn't go to many festivals. At least, when I was young and growing up and first learning how to play, it was more just like me and my dad, my uncle Brad Lasko, and a couple buddies sittin' around picking by the creek. But all these years later…. I watch other people on stage and I'm like, "How the fuck do they do that? How do they get up there and just play and sing?" I do that too, but I don't think I do it like other people do. I was at this festival in Texas [South by Southwest], and I was nervous watching other performers! I was nervous for them, like, "Oh my gosh, she's just up there singing and laying her heart out there! That is terrifying!"
Tuttle: [Laughs.]
Billy Strings' Gear
On String's latest single, "California Sober," he plays with the inimitable Willie Nelson.
Photo by Alysse Gafkjen
Guitars & Banjo
2017 Preston Thompson DBA Brazilian Rosewood Dreadnought, "Frankenstein"
2019 Preston Thompson DBA Brazilian Rosewood Dreadnought, "The Bride"
1944 Martin D-28
Rickard Open-Back Banjo
Effects
Grace Design BiX Preamp
Strymon Lex Rotary
Electro-Harmonix Micro Pog
Electro-Harmonix Freeze
Electro-Harmonix Pitch Fork
Electro-Harmonix Intelligent Harmony Machine
MXR Bass Envelope Filter
Red Panda Raster
Source Audio C4 Synth
Source Audio Nemesis Delay
Source Audio EQ2
Boss DC-2W Waza Craft Dimension C
Boss DD-8Boss SY-1
NativeAudio Pretty Bird Woman
Chase Bliss Wombtone MKII
Chase Bliss Mood
Chase Bliss CXM 1978
DigiTech Polara
Peterson StroboStomp HD Pedal Tuner
Ernie Ball 40th Anniversary Volume Pedal
Mission Engineering Expression Pedals
Strings & Picks
D'Addario Medium, XS Coated Phosphor Bronze (.013–.056)
Blue Chip TP48 Speed Bevel Right Hand
Strings: It's definitely a weird thing. I still just do not understand how we can get up on stage and do whatever it is that we do.
Tuttle: Do you get any sort of stage fright ever? For me it comes and goes. If you think about it too much.… Sometimes I'm like, what if I don't remember a single word to any of my songs? [Laughs.]
Strings: I just am always in a state of anxiety because of my career [laughs]. There's all this pressure. But I'm usually fine once I get out there. It's leading up to it. Even right now. I've been home for two or three weeks, and I'm leaving the day after tomorrow to go back on tour, and I'm scared that I don't remember how to do it! I don't know if I remember how to make a set list. I don't know if I remember if I can still perform a show. But once you get back out there, you just throw yourself into the ring and it's kind of like them guys that ride them bulls or something. You just kind of strap on, like, "Fuck it, here we go—8 seconds, hold on!"
Tuttle: [Laughs.] I feel like it's this third thing, like your subconscious takes over and then you remember how to do it. But if you start thinking about it in advance…. We took some time off over the winter break and I had the same feeling, like, "Whoa, how did I do that before?" It really is kind of an extreme thing that we do: traveling all over the place, playing in front of a lot of people.
Strings: But shit, what the hell else are we going to do? Heavy lifting?
PG: Molly, I know Crooked Tree came out about a year ago now. For your earlier recordings, you said that you were trying to experiment musically, whereas this one was more traditional. Is that right?
Tuttle: Yeah, I kind of went back to the bluegrass sound that I grew up with. My first full record, When You're Ready, I'd just gotten to Nashville. I was writing a bunch of songs where I didn't know what category they fit into genre-wise. I had so much fun making that record; I really got to experiment with a different style. But then I think something happened in the pandemic lockdown. I got so nostalgic for that music I grew up with, and I missed my family; I missed the community aspect of bluegrass. I love this kind of music; it is folk music, in a way, where it gets passed down from generation to generation. It's such an organic style of music that brings people together.
So, I started writing bluegrass songs for fun. I was like, "What I feel like I hear bluegrass missing these days, when I turn on the radio, is songs that sound original." So, I wanted to write songs that could be sung in a bluegrass band, but also told my point-of-view and my story. Once I started, it was hard to stop, and I realized, "I have a full album of songs now, I might as well go into the studio this summer and try to knock out a record."
Molly Tuttle's Gear
Tuttle has been performing professionally since the age of 13 but didn't blow her bluegrass cover in school until her later teens.
Photo by Alysse Gafkjen
Guitars
Prewar Guitar Company Brazilian Rosewood Dreadnought
Effects
Grace Design FELiX
Audio Sprockets ToneDexter Acoustic Instrument Preamp
Strings & Picks
D'Addario Medium Coated Phosphor Bronze

Dunlop JD Jazztone 207
Strings: And you won a Grammy for it. And I was so happy, because I was just like, she deserves this so much. Obviously, this always gets brought up, but we used to live in the same house—we used to be roommates. And I would always hear Molly practicing and shit, and I'd be like, "Fuck, man, I suck!" [Laughs.]
Tuttle: [Laughs.] I get that feeling when I hear you play, because I feel like we have such different styles. I'm like, "I could never do what Billy is doing." The way you attack the guitar—I hear Doc Watson, but then there's also your metal influence as well. I'm just in awe of your playing.
Strings: I'm just fakin' it. I'm just wingin' it the whole time, constantly. But are you still usin' the same pick? Those little black things? What are those?
"Sometimes it may not look like I'm tensing up from someone watching me playing, but inside, I am kind of tense. But I think it is almost meditative, where you have to let go and let yourself play."—Molly Tuttle
Tuttle: Dunlop Jazztone picks. I feel like I should switch. They're not fancy picks, and sometimes I'll try out other picks and people will be like, "That sounds really good." [Laughs.] I'm just so used to them; I've used the same picks since I was 10 years old. They're pretty heavy picks.
Strings: Well, that's your sound, where you're comfortable. I'm finding that that's what it's all about, for me anyways, is trying to make it comfortable to play. When I watch other people play, like you, or [Bryan] Sutton, it looks like almost kind of effortless in a way. There's not all this tension, there's not veins popping out [laughs]. I'm straining, but some people I see play and there's just wonderful technique.
Tuttle: I have that too. Sometimes it may not look like I'm tensing up from someone watching me playing, but inside, I am kind of tense. And that's when I feel like my playing doesn't come through as well. But I think it is almost meditative, where you have to let go and let yourself play.
When Strings and Tuttle lived together in Nashville, they both felt intimidated when overhearing the other practicing.
Photo by Alysse Gafkjen
Strings: What kind of strings do you use?
Tuttle: I use D'Addario medium gauge [phosphor bronze]. I use the coated ones because my hands are very acidic.
Strings: Me too! I use the same ones! Shout-out to D'Addario .013–.056 medium gauge phosphor bronze, right? Gotta have that medium gauge, gotta have that coated, 'cause we sweat like crazy. And they don't break! What guitar are you playing mostly on stage? Which one is the one that's doin' it for ya?
Tuttle: Right now, I'm using my Prewar Guitar Company. It's a Brazilian rosewood D-28 style. I feel like the action and setup stay pretty even on tour, and I love the tone of it. That's my current fave—what about you?
Strings: Still my [Preston] Thompson that I've been using forever. Brazilian, spruce-top dreadnought. I've been playing it for several years and that's the guitar that I play on stage. It's been through hell. It's been smashed and it's been put back together. But it always sounds the best plugged in. I use a K&K pickup and I run it through a [Grace Design BiX]. Also, I have a '45 Martin that I just put a pickup in. I just wanted to have an old one that I can play on stage. But every time, I go back to Old Faithful. I started calling that guitar "Frankenstein" originally because I put all those different pickups in it, and the switch, and it's got a microphone installed on the inside that goes to my in-ears. And I had them make me another one just like it, and that's "The Bride."
This isn't guitar nerdy stuff, but I have this song, "Away from the Mire." I wrote it when I got into a fight with my brother. Then, one night when I was on stage singin' it, I realized that I wrote that song for myself; I was the one that needed to hear it. Do you have a song like that?
Tuttle: Definitely. I think the first therapeutic song that I remember recording of mine was "Good Enough," that I recorded on my first ever EP. It's about accepting yourself. I think I was struggling at the time with anxiety, and just getting started in my career and not knowing where things were going. I was trying to help myself stay in the moment. And I feel like that's still a theme that I still write about. It means different things to me throughout my life.
"I think our duty is just to bring a little joy to people's day. And sometimes they can give it back to us by accepting our audible diaries that we pour into our songs."—Billy Strings
Strings: Well, just keep doing the work, because it's beautiful stuff and we all need it! I think our duty is just to bring a little joy to people's day. And sometimes they can give it back to us by accepting our audible diaries that we pour into our songs. We're lucky to be able to do what we do, and I'm stoked watching you and your band out there kicking ass. It's just fuckin' awesome.
Tuttle: Likewise! I just love how you're bringing this music to the masses, really educating people too about where it came from and your heroes and why it's so important to you.
Strings:
I guess we just gotta keep our sticks on the ice and keep truckin'. 'Cause I think we're both doing good, and if we just keep our heads down and keep playing guitar, I think we're going to be alright.
YouTube It
It doesn't take a trained eye to appreciate the wild shredding energy of Billy Strings and Molly Tuttle, seen in this live performance of Strings' "Billy in the Lowground."